Projects, Outings and Events
16 June 2022
Great Houghton WI played host for a fabulous Royal Ascot Ladies Day Afternoon Tea with members from Weston Favell,
Quinton
, East Hunsbury and Harpole WI's joining in. Lovely to see everyone dressed up for the occasion.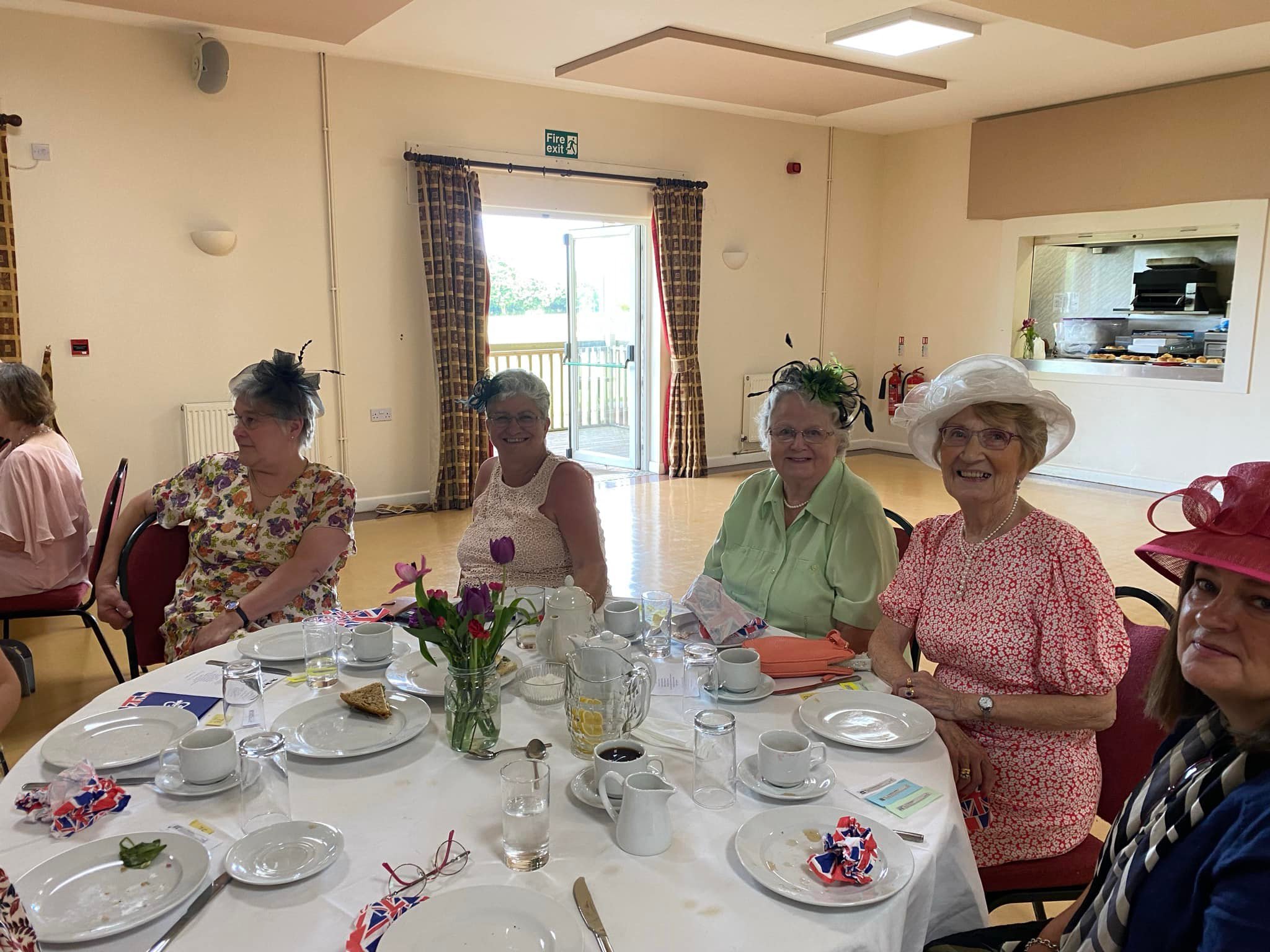 14 August 2021
We are very proud of Joan Adams who came First in the Decorated Cake competition subject Lockdown, at "Quintonfest" a community event held under the auspices of Quinton Parish Council. Nick Hewer, best known as "Countdown" host was the judge.
A bit of fun and the day got even better for Joan as her dog, Daisy, won the Best in Show Dog competition for scoring highly in the various sections including: the Waggiest Tail, Best Trick, Most Appealing Eyes, Best paw shaker, Best treat catcher, Musical sit (like musical chairs but cushions instead of chairs)
August 2021
We had a treat by visiting Kathey Brown's Garden and what a treat it was! Kathey gave an introductory talk and the gardens offered a new experience around every corner. The afternoon tea included the most delicious cakes made with natural ingredients, including raspberries, ginger, tangerines, elderflower cordial. Something we will all remember for a long time.
February 2021
We celebrated Valentine's Day by making Green Hearts for the We#showthelove resolution. These will be displayed on the WI Oak Tree on The Green for the whole month of February to highlight climate change. @ The Climate Coalition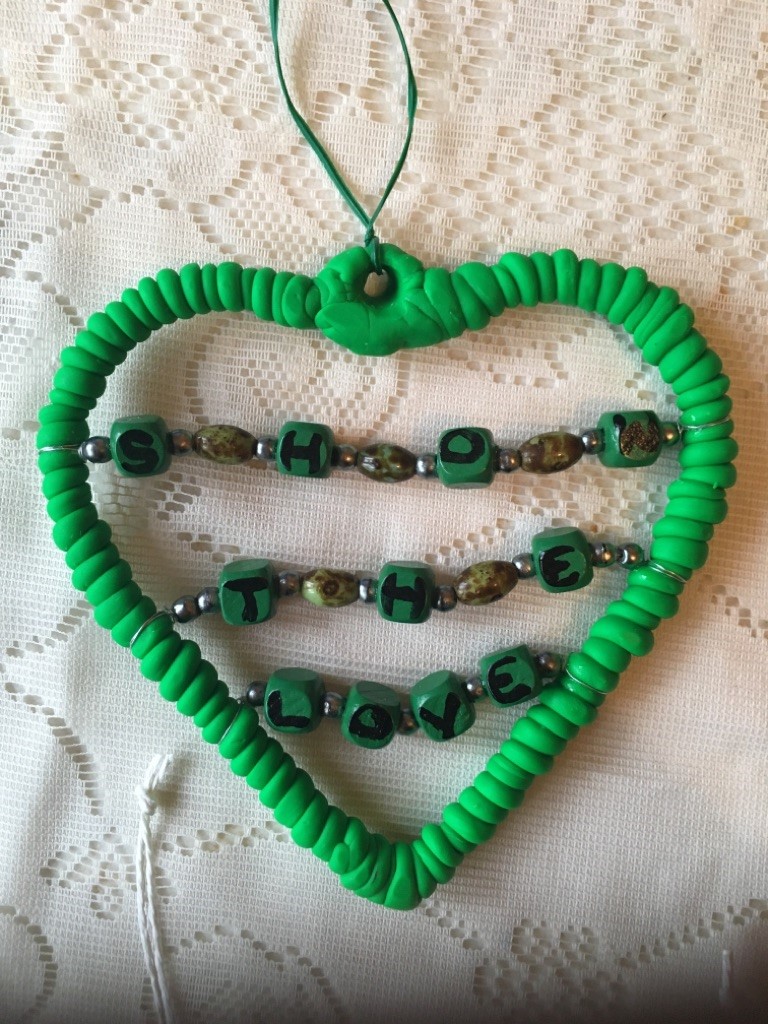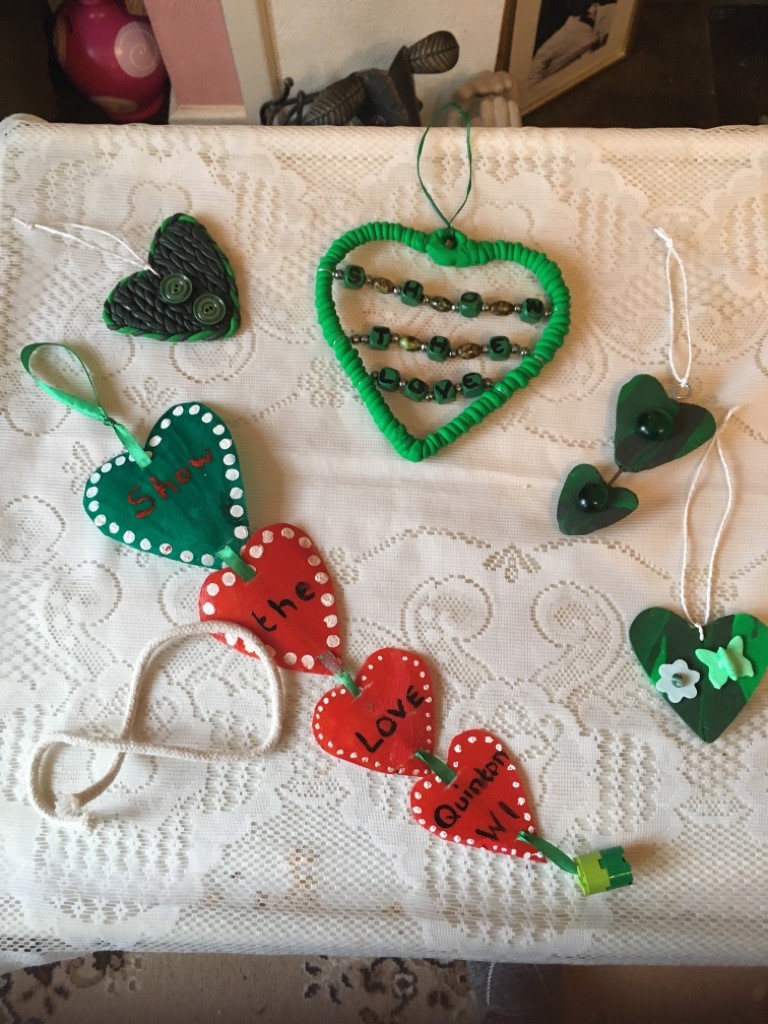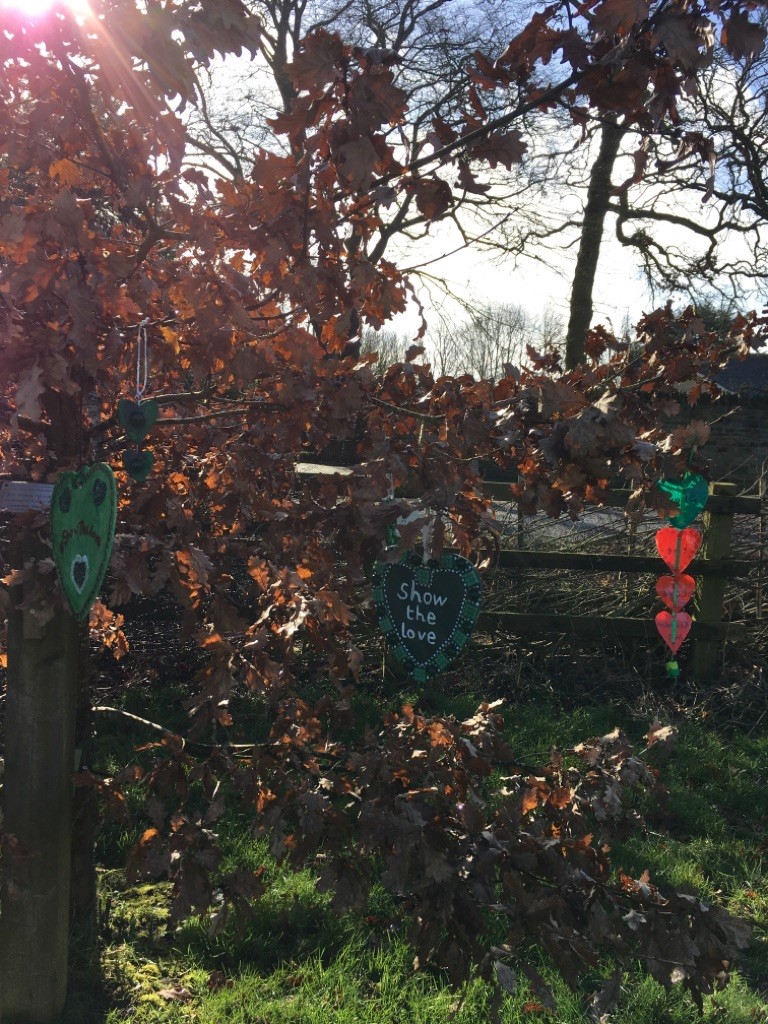 September 2020 - We appeared in Northamptonshire News!

Quinton WI is very community minded. Joan Adams, a retired nurse, has been shielding but has been occupied sewing all kinds of items for the NHS – and making her own arrangements to have them delivered to Northampton General Hospital. Joan has made numerous bags and masks, and is still sewing masks for local people. Prior to this, Joan sewed over 200 gowns for the Pyjama Fairies charity which provides gowns for children undergoing operations in hospital, with ones to match for their parents. She has also hosted events for breast cancer charities amongst others. An inspiring lady.
Most of our members wear more than one "hat" including supporting families, whether it be parents, children, brothers or sisters. Three members are Parish Councillors, we have three Church Wardens, one Reverend, a church organist who set up the village community Facebook page and publishes the Village News sheet, a member who is part of the local benefice team, a member who is co-ordinating a virtual art show, a member who normally produces plays/pantomimes, two members who normally co-ordinate the Senior Citizens regular Monday afternoons, two members of the Village Gardening Club which provides planters around the Village, four members who normally open their gardens for the Church Annual Open Gardens event - and that is only a start.
Throughout lockdown, as a WI we have held Zoom meetings (one with a speaker), held socially distanced coffee mornings or afternoon teas, kept in touch with members without technology and welcomed non-members to our Zoom meetings. Two of our members sit on Federation committees.
A very busy WI with equally busy members and it shows what you can do with only thirteen members.
.
Wednesday 4 September 2019
A trip to see Lion King. Huge treat for members and friends. Much enjoyed
Monday 6 May 2019
Members ran the Tea Tent for the crowning of Quinton's May Queen 2019.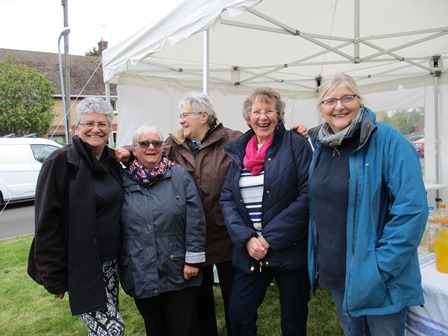 Wednesday 18 July 2018
Kinky Boots - Adelphi Theatre, London
A super time was had by all, both at the Show and beforehand, whether it be enjoying a meal or exploring nearby attractions. Thanks Val for arranging it all, mini bus and everything!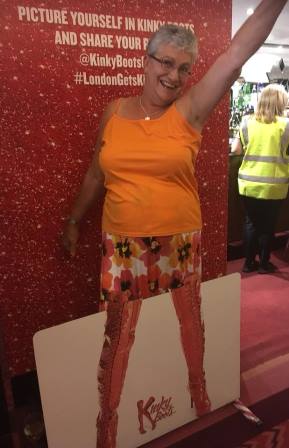 Tuesday 7 August 2018
For our August meeting, we walked across the fields to Piddington and what a brilliant evening it turned out to be! Liz and Roy Friendship-Taylor took us round the site of the Roman Villa at Piddington, where they've been excavating for 40 years, and then round the Museum to see the amazing 'finds' from the Dig. We loved it so much that we're hoping that they'll come and talk to us about what they've found in the area around Quinton - watch this space.
In the meantime, why not visit the Museum - it's open Sunday afternoons in August (check ref pandemic). Liz and Roy - thank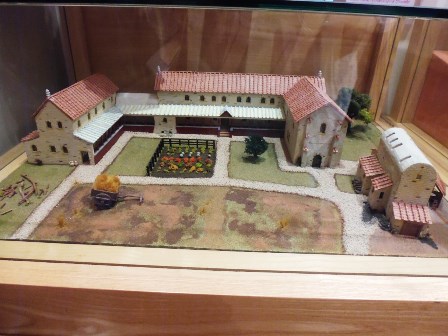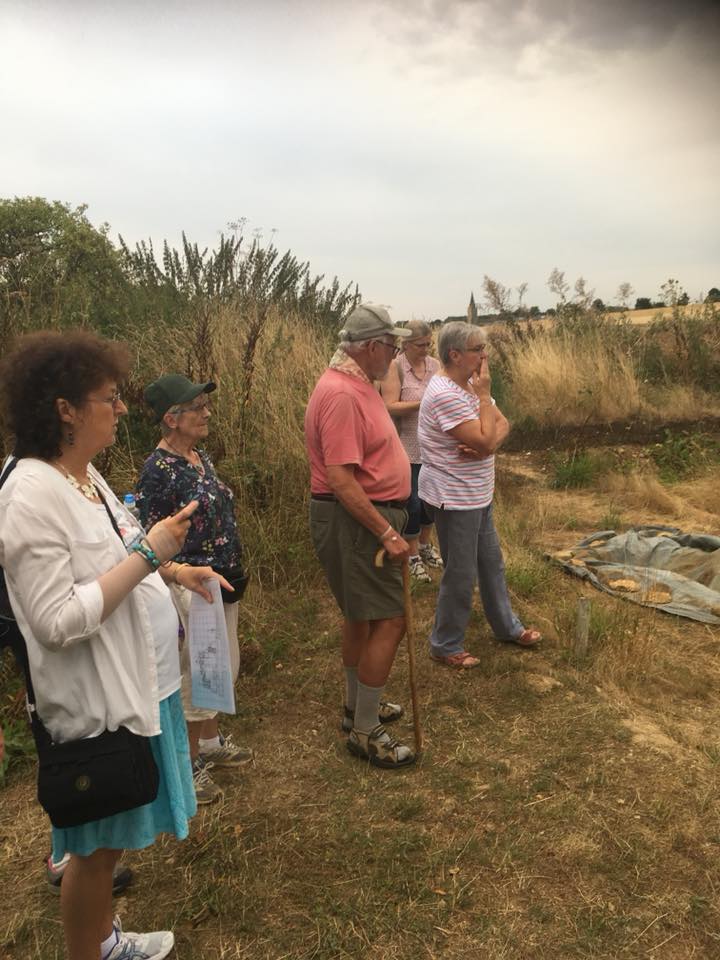 2017
Wednesday 25 April
Boston market/river cruise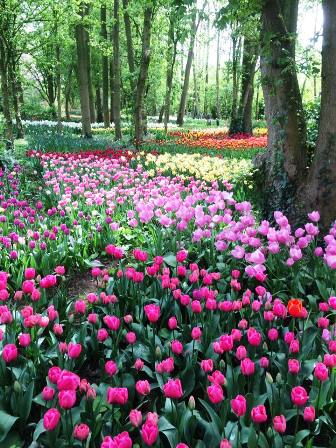 Tuesday 22 May
Peak Shopping Experience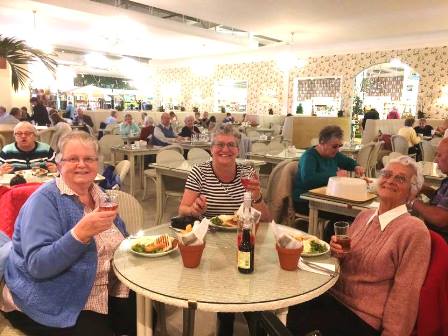 Wednesday 27 June
Wisbech Rose Festival
Wednesday 1 August
Boston/Skegness
Theatre Trip "The Girls"
Members enjoyed a very special trip in July to the Phoenix Theatre London
to see the musical "The Girls".
We all cried and laughed in equal measure at the wonderful story (based on Calendar girls). The trip was made in memory of Mrs Constance Travis as she was an actress in her younger life. She was also a keen supporter of Quinton WI.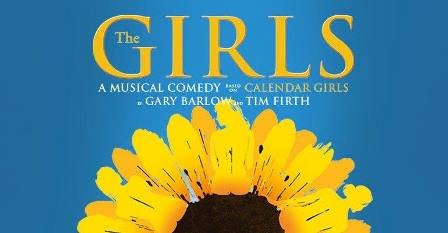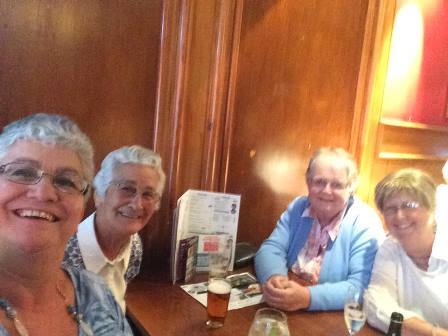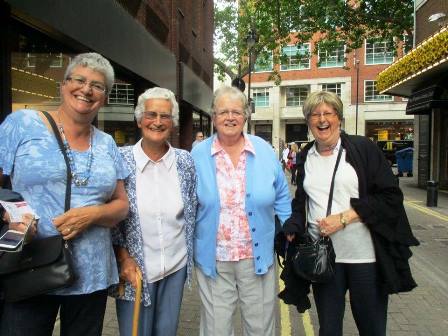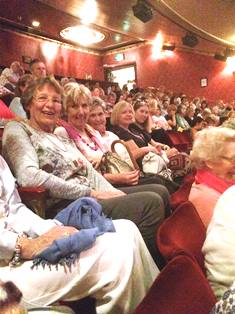 Hunstanton & Langham Glass
A lovely day out. Lots of laughs and a big Thank You to Collingtreee Coaches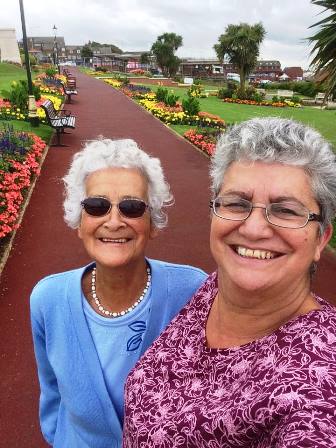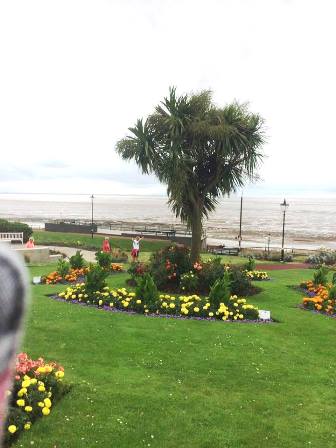 Quinton's May Day 2017
Members manned the Tea Tent, kept warm and had fun too!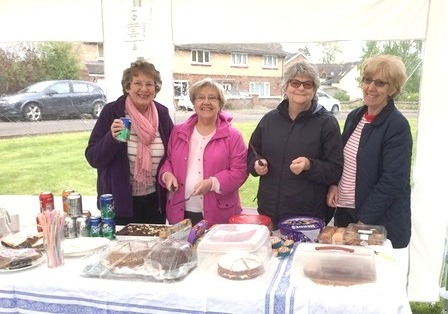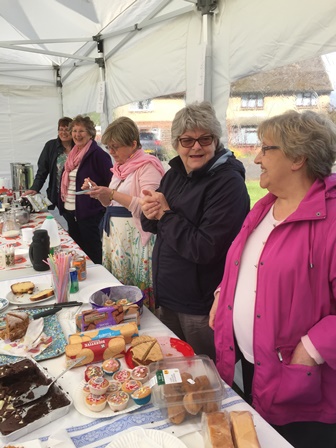 Visit to Spalding - April 2017
A truly enjoyable day out admiring the tulips!
200870
Celebrating HM the Queen's 90th birthday
Great Houghton WI invited us and other local WIs to celebrate.
177223
Visit to Houses of Parliament - Friday 8 January 2016
Fantastic trip. Tour took two hours, never imagined it was so vast. Ready for our tea break! Great day with great company.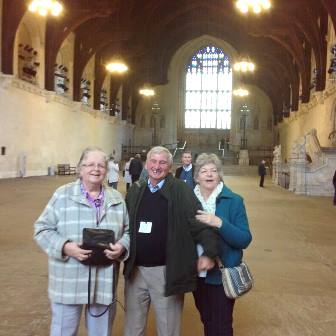 May Day 2015
WI members Julia, Suzanne and Barbara manned the Tea Tent with help from Emma. A traditional village event much enjoyed by all. Here is Julia setting up and is that Kate in the background setting up the PA?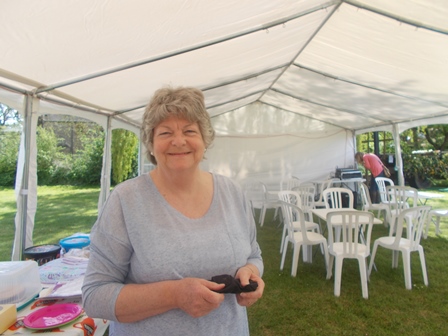 A lovely April day out at Barnsdale Gardens with equally lovely ladies!
127443
Barbara is also a dual member of Wootton WI and joined them at Althorp for a private tour of the house followed by Christmas themed Afternoon Tea.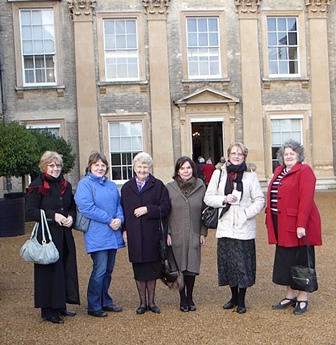 The Centenary Baton made a flying visit to Quinton
Members of Quinton, Wootton, Grange Park and Roade WIs congregated in Quinton in October to greet the Centenary Baton which was visiting the local areas of each Trustee. Afterwards tea and cake were enjoyed at Barbara's home in Quinton.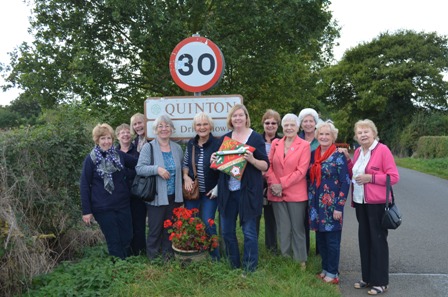 Supporting our local "High Street Shops"
In Quinton or Courteenhall, we do not have a High Street, but we do have Peter Clarke and his Mobile Shop. Photo shows our President, Val, at the Butchery Counter.
May Day 2014
We were delighted to be invited to man the refreshments tent.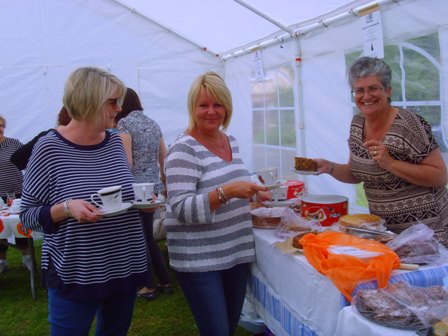 We erected a plaque by an Oak Tree on the Green which was donated by Sainsbury's at a national AGM and was planted by Sheila Randall in November 1999.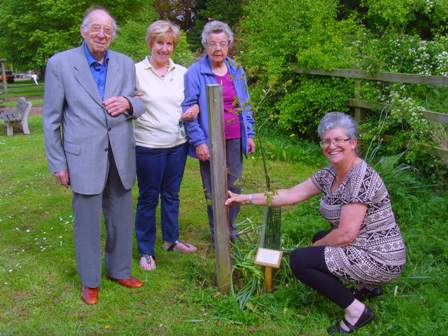 Ladies in the kitchen!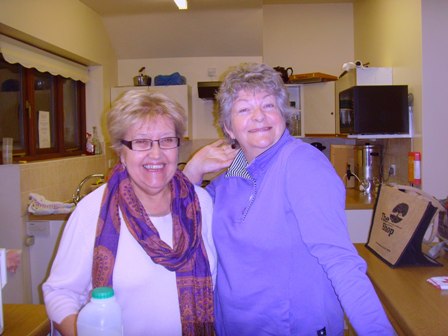 Competition for 3 cup cakes. Don't they look delicious - and they tasted as good as they looked!