CORONAVIRUS STATEMENT FROM
NORTHAMPTONSHIRE COUNTY FEDERATION OF WIS
Northamptonshire County Federation of WIs understand that some members may be concerned about the spread of Coronavirus and the impact this may have on WI meetings and events. We are closely monitoring the situation and Government advice. We will issue updates accordingly if there are any major changes to advice around meetings and gatherings. However, we urge all WIs and individual members to keep a watchful eye on the advice given by Public Health England as this will be the most up to date and immediate source of any changes to advice on the situation.
https://www.gov.uk/guidance/coronavirus-covid-19-information-for-the-public
.
Click here for more NCFWI updates on COVID 19
Here are some ways in which WIs are spending their time during the pandemic
Ashley Welland Valley WI member Helen has been asked back again to present another show. Quite a lot of Ashley Welland Valley WI members will get a name check in the songs. Her music choices celebrate women and friendship and Helen will tell the world just how wonderful the WI is and how it's helped her during this Lockdown.
The latest show is "Desert Island Discs" with discs chosen by members. Helen will read out the reasons the discs have been chosen.
Tune in on www.beatrouteradio.co.uk at 5pm on Saturdays

Ashley Welland Valley WI reported that five members met in the garden of their only member who has no computer, no smartphone, terrestrial TV, no car and not in one of our villages. They made sure that she has been in contact and fully up to date with things, but the socially distancing visit was different.
Milton Malsor & Collingtree WI have produced a booket for all to enjoy. War memories from family and friends were added to make the book more interesting. You can find it on our website - http://tinyurl.com/miltonmalsorcollingtreewi under Archives and Photos. Take a look and enjoy!

Hunsbury Hill WI has joined the Hope Centre 'Street by Street' campaign. HH WI had amazing success in just one street, when more than 100 food and household items were collected over one weekend and were taken to the Centre. Since then, more streets have donated. Congratulations HH WI. We know how much your efforts are appreciated.

Ashley Welland Valley WI Member, Now A Lockdown Radio DJ
Helen Chown, of Ashley Welland Valley WI, normally waves her husband off to his, "Mr Slimm's Radio Show," on www.beatrouteradio.co.uk on a Monday night. Helen got bored and so recorded her own Lockdown themed music, interspersed with talk about her choices and it was aired on a Saturday night in May.
Her hour of music included songs such as, David Bowie's, "Heroes," for all the keyworkers, The Police, "Don't Stand So Close To Me," Steely Dan, "Stuck in the Middle With You," etc. etc. The choices were personal to Helen, or in sympathy with all women, "Stuck In." We are hoping that she will be doing another hour soon – all our WI Picks!

Northampton Martinis WI is finding lots of ways of keeping in touch and having fun "virtually", including quiz nights, a pudding club and a book club. Below are some fabulous photos from their weekly craft challenge, the Food Art competition and the Rainbow competition!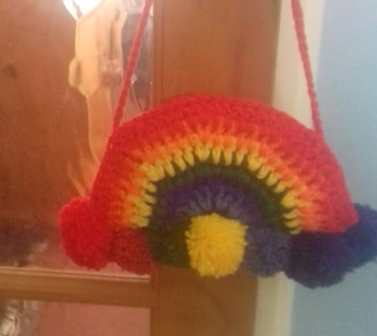 Towcester Evening WI
Thanks go to our members who made these drawstring bags for NHS staff. They were delivered to Northampton General Hospital and were very much appreciated- in fact pounced upon!
It has been great that TEWI has been able to help the NHS in a practical way during this pandemic and it is not just those that have the sewing skills that have contributed but members who donated fabric and did the collecting and delivery of the bags. Great work from Inspiring Women!

Towcester Evening WI collected hand creams from their members and delivered to the hardworking staff of the NHS

Towcester Evening WI learned that the local Care Home residents were missing seeing fresh flowers, so the Gardening Club delivered a few! Such kindness.

Great Houghton WI shows support for the NHS
A display of blue hearts and pom-poms in High St, created by the WI to show support for the amazing NHS staff and key workers.