WI News
An interesting and memorable evening was held at Croughton WI where they were fortunate enough to have their local herpetologist and friend come along to their meeting. It was an opportunity for members to learn about the life of snakes and have the experience of being able to touch and hold (if they wished to do so!!!!), the various species and sizes of snakes that the visitors brought with them from their collections.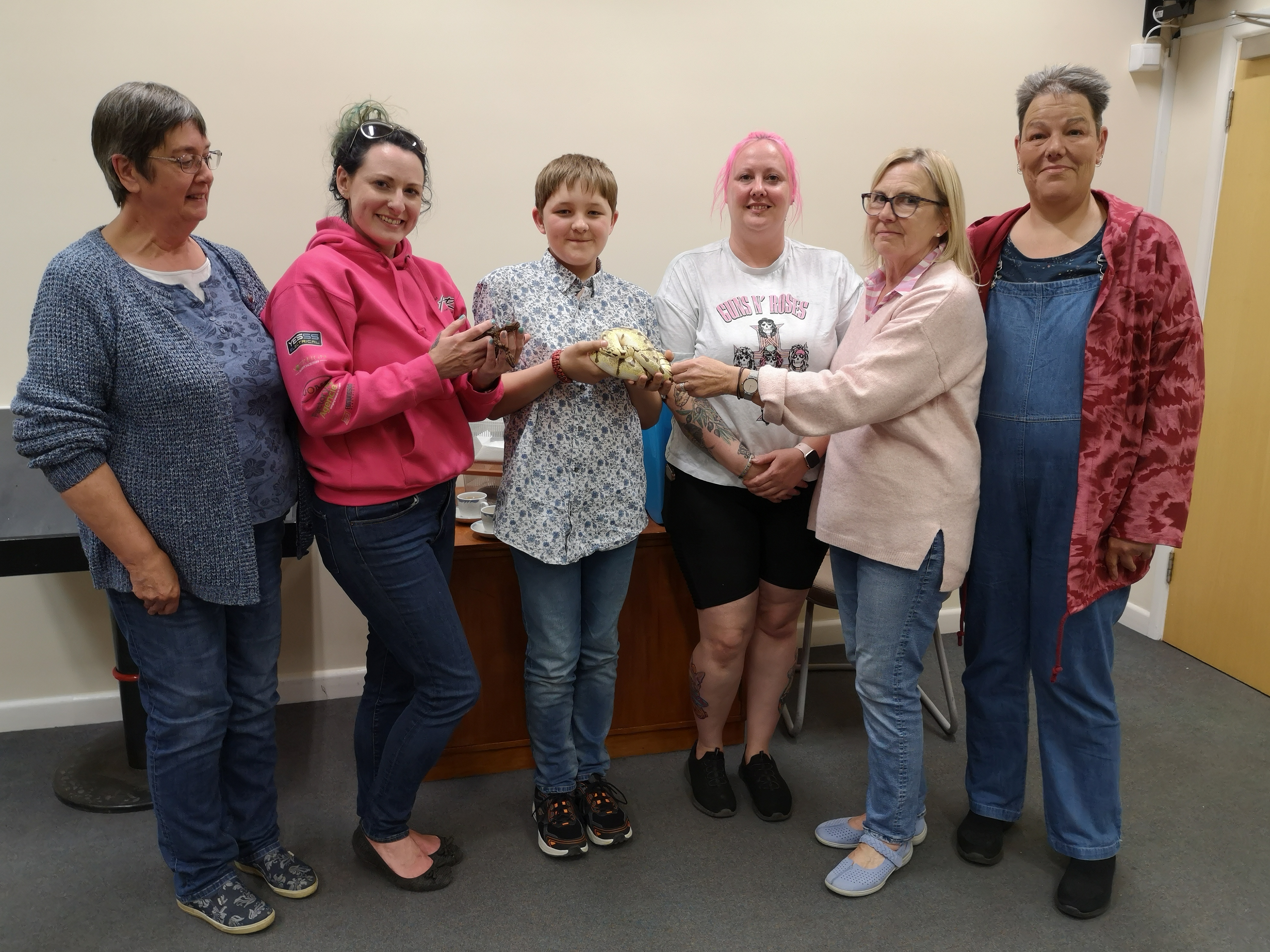 WOMEN WALK THE WORLD on ACWW DayPhoto shows members of Helmdon WI setting out on their 'Women Walk the World' walk . Donations have been received for ACWW funds and the total is still growing. Well done Helmdon WI.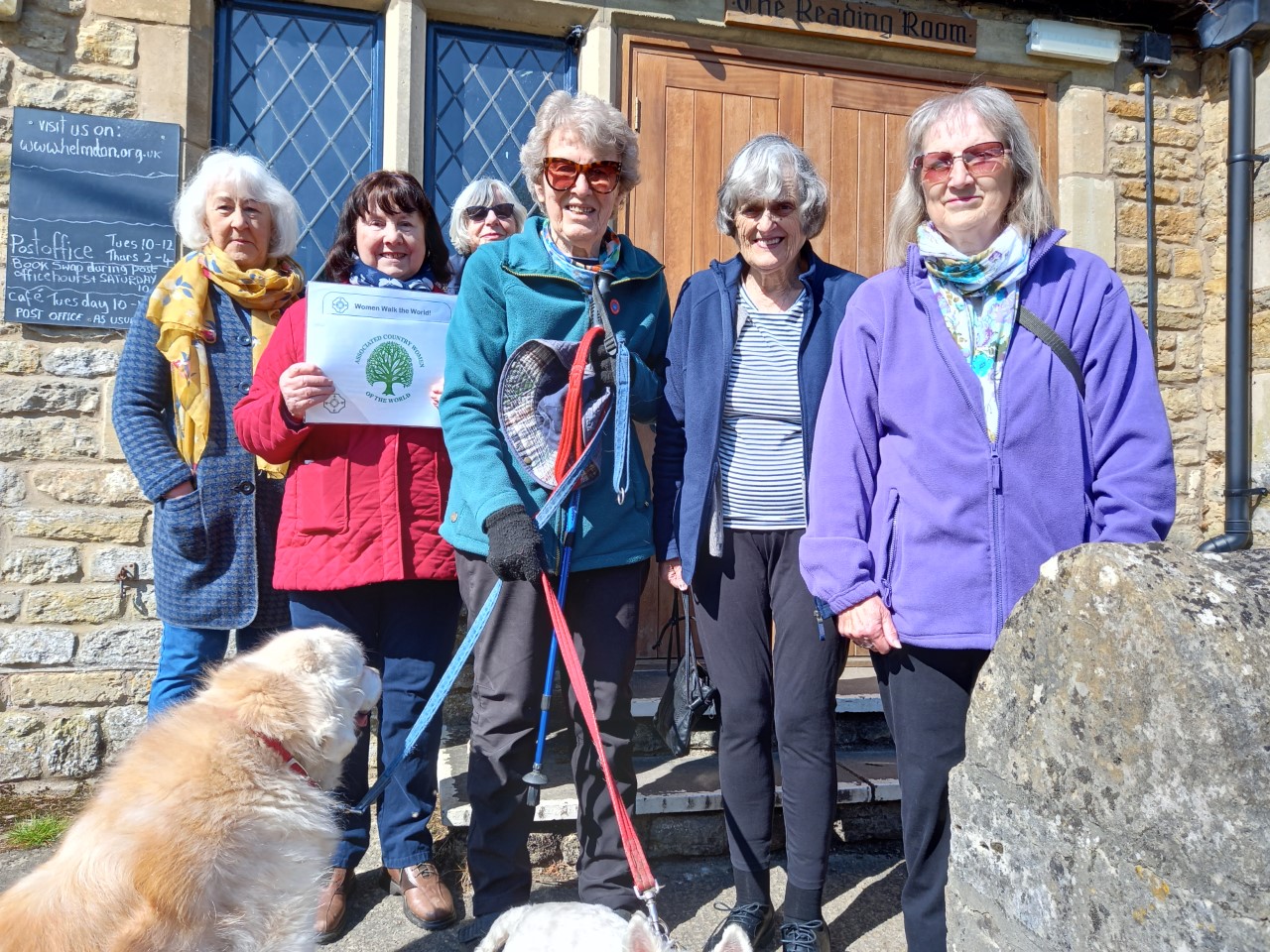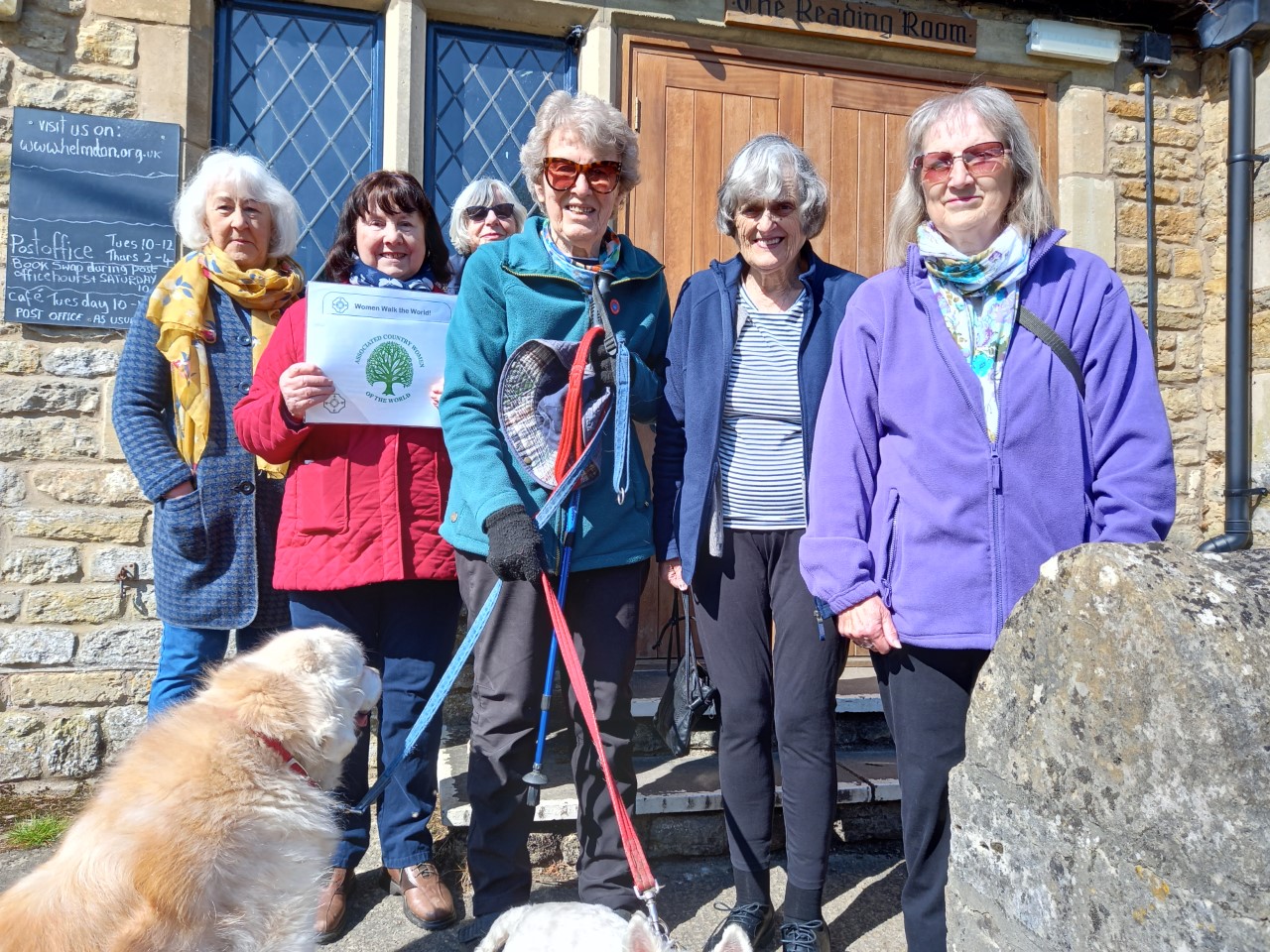 Wootton WI is rightly proud to have reached its 104th birthday. Congratulations!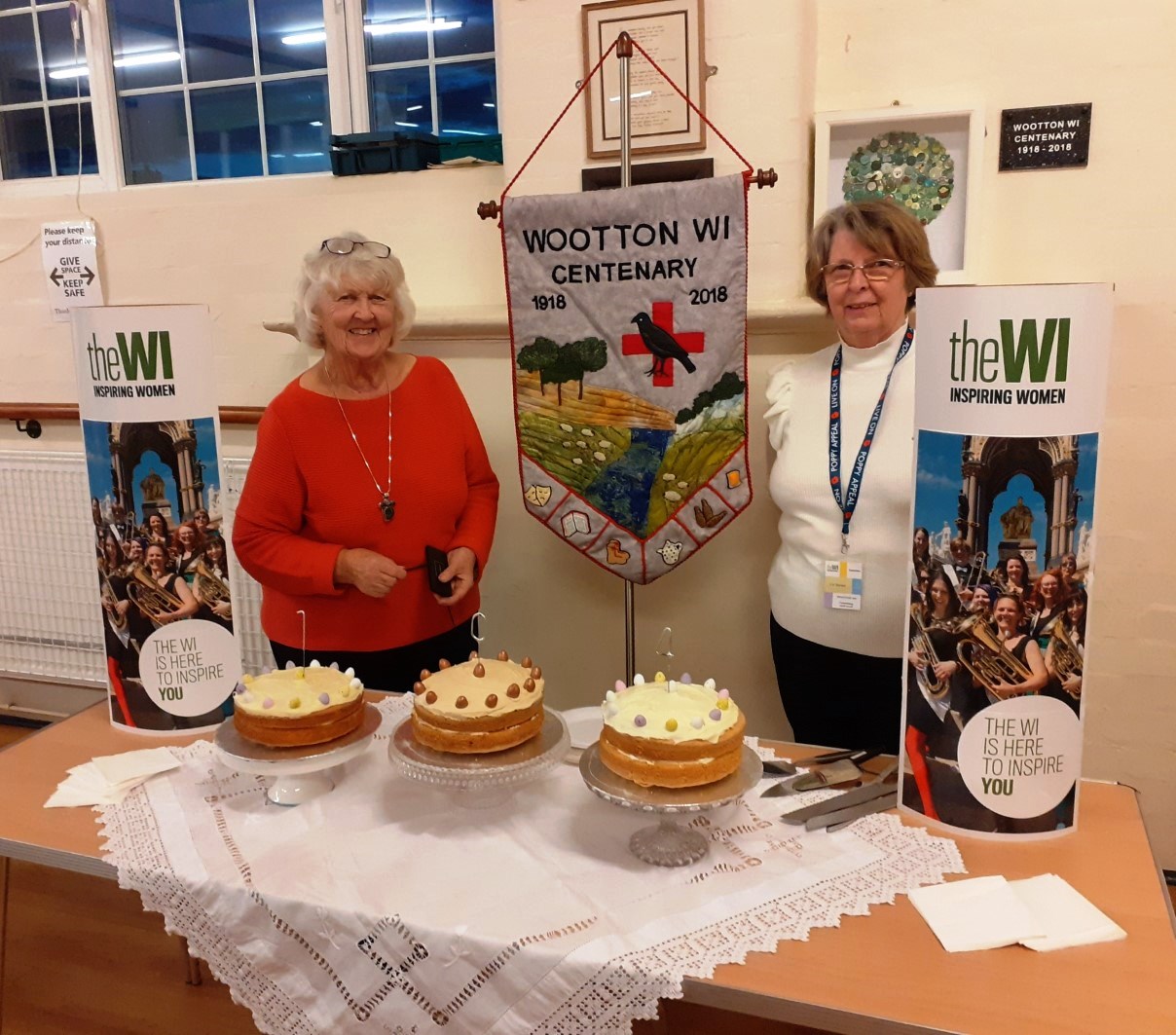 Broad Green WI members ventured from Wellingborough and took a bus ride to Abington Park in Northampton, with the inevitable pit stop at The Park Cafe! The Cafe staff told them how busy they had been over the Bank Holiday weekend - what a relief for all such businesses that the weather had been glorious.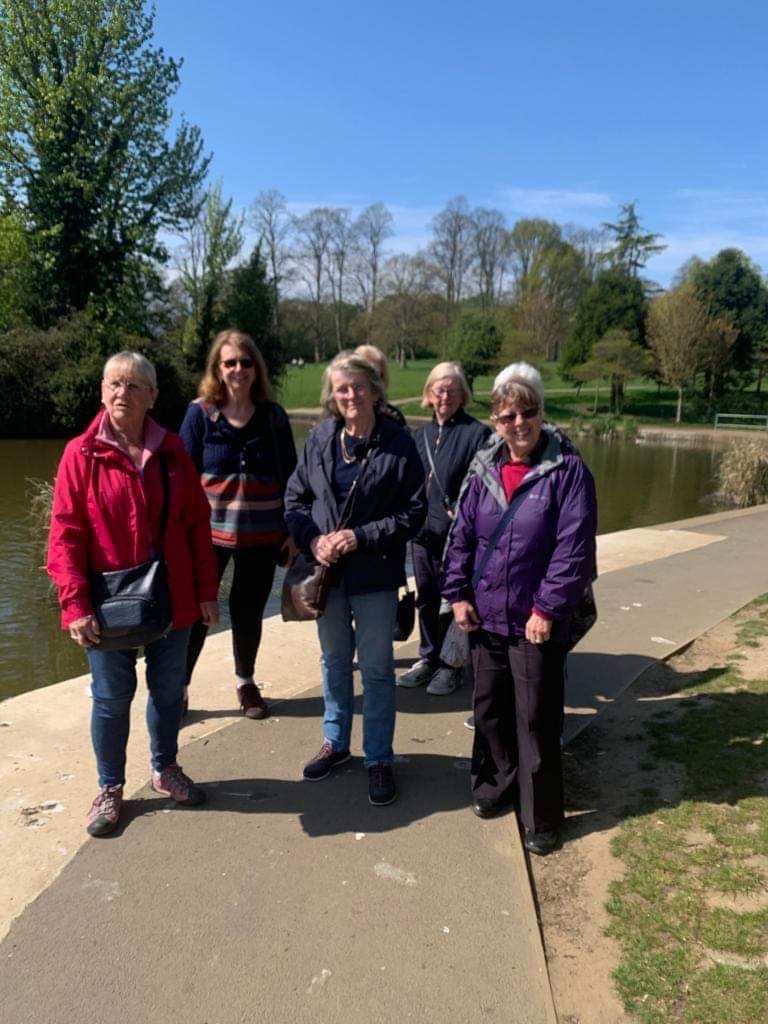 Brigstock WI recently held round two of their "Triumph With a Tenner." The profit from the marmalade sales was used to fund a cream tea. 30 members and friends listened to a talk on silversmithing while enjoying scones and cakes! This was given by Joy Thompson (photo below) who is a long serving member of Brigstock WI. Joy shared with us her training in silversmithing and showed us many of the beautiful items she has produced over the years.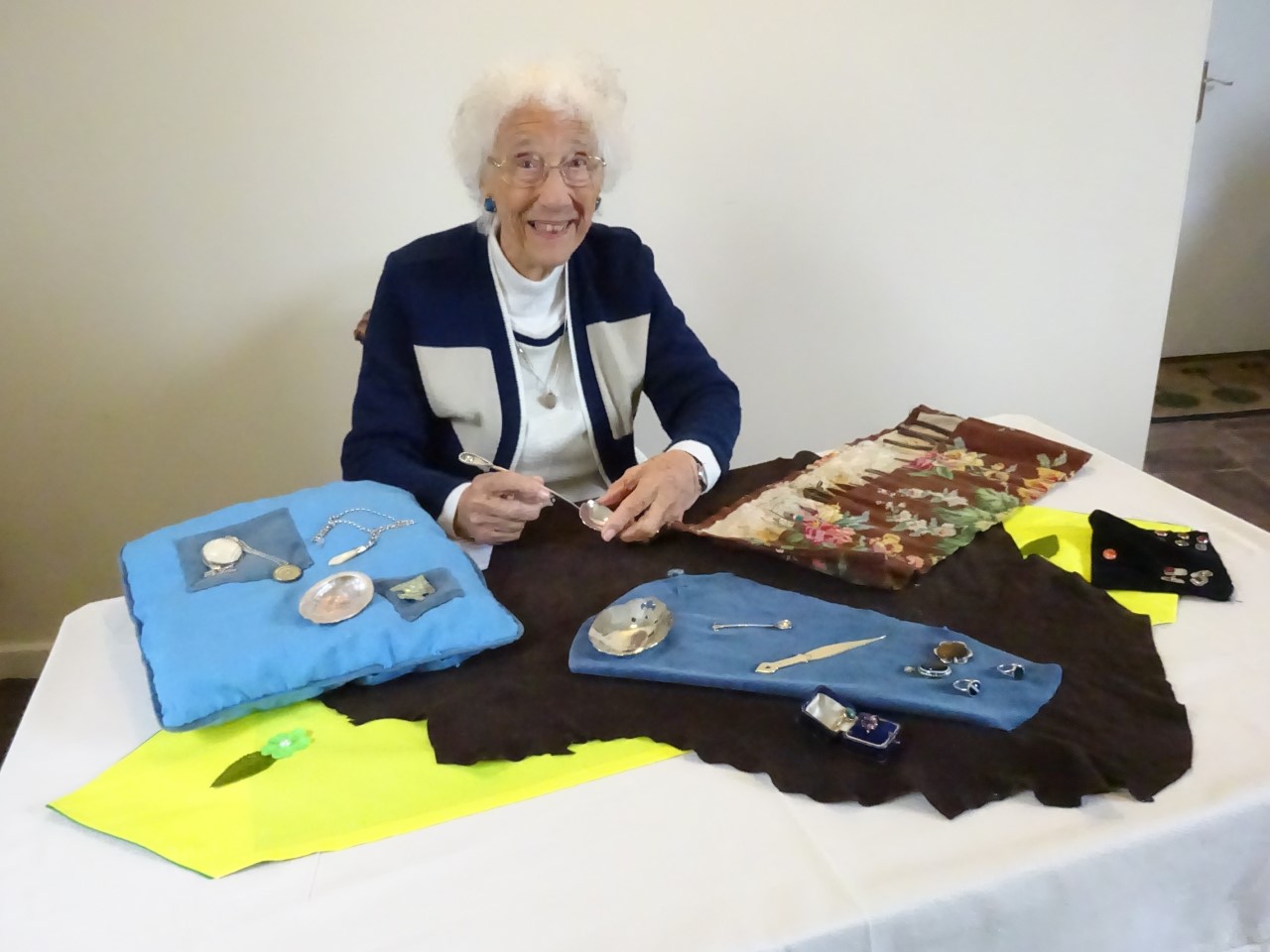 To celebrate the Queen's Jubilee Hunsbury Hill WI decided in conjunction with the Friends of West Hunsbury Parks to change last year's suffragette into Queen Suzie together with a handsome Grenadier Guard to protect her.
The two scarecrows were erected at the entrance to West Hunsbury Country Park to coincide with the Scarecrow Festival organised by the Parish Council.
In June they will grace the Jubilee celebrations being held on Friday June - look out for them!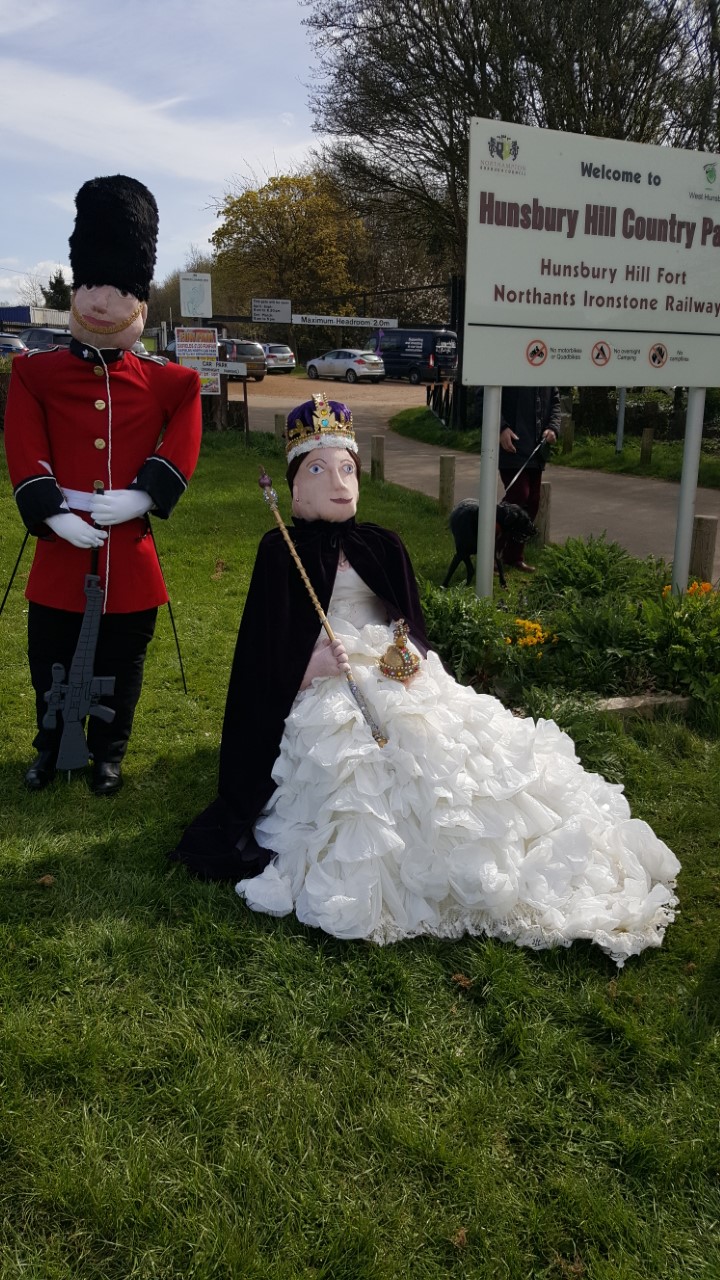 Bozeat WI members have been busy knitting Easter chicks, rabbits and daffodils to decorate the village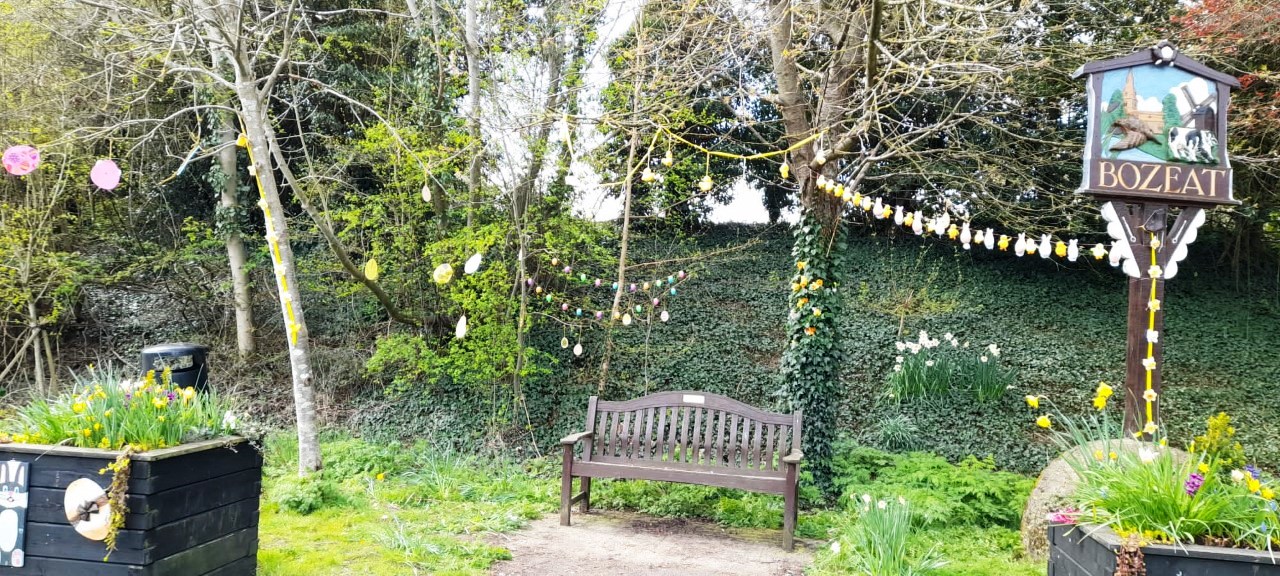 The ladies of Woodford and Hinton WI enjoyed an afternoon of pampering at Grafton Spa. They all had a massage, and exclusive use of the sauna, steam room, and jacuzzi with a lovely afternoon tea. What a treat after two years of uncertainty.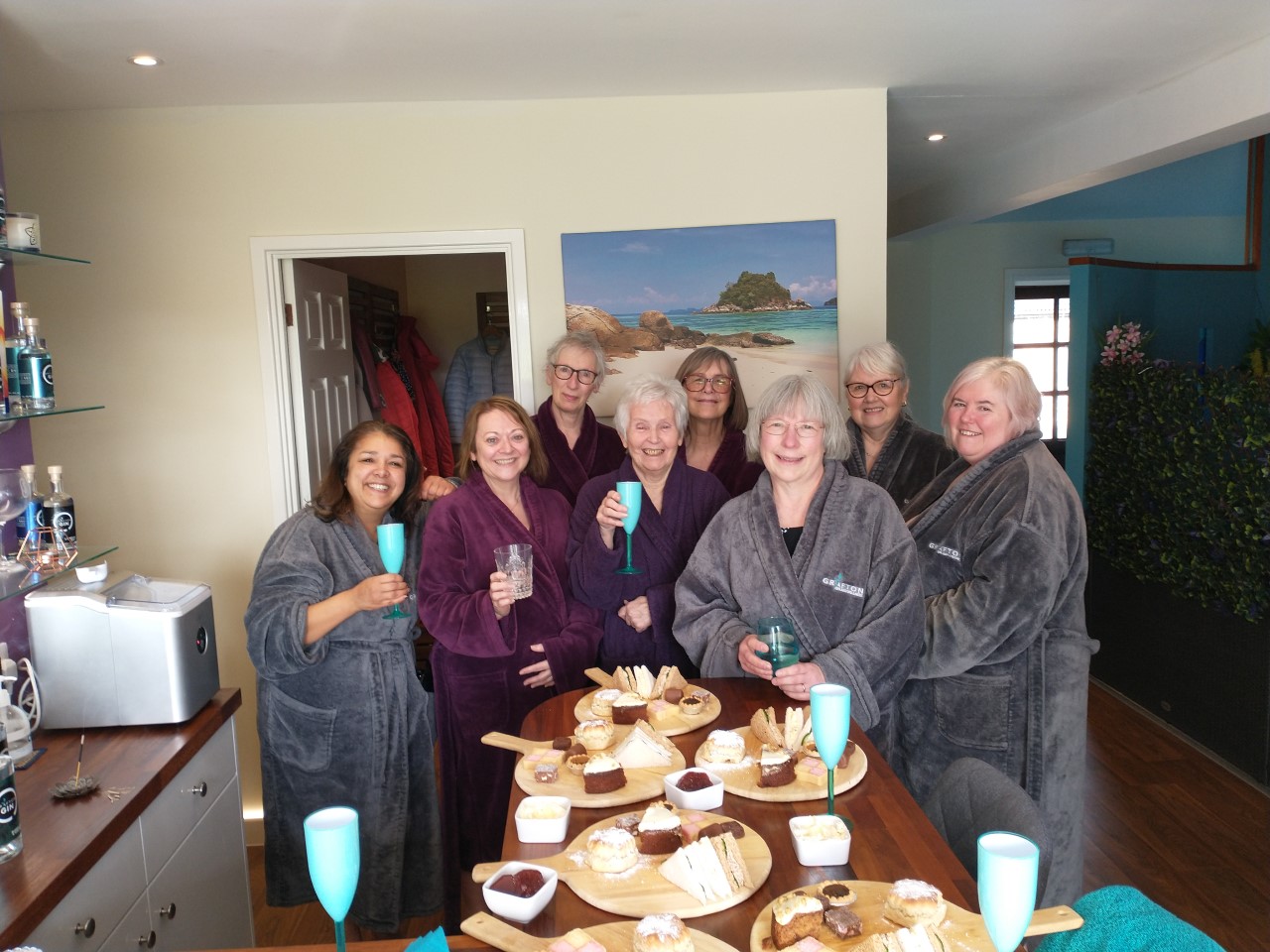 Gail Stewart spoke to Ringstead WI about life with her father Eric Morecombe. The hall was packed with members, villagers and members of other WIs in Thrapston, Islip, Raunds, Chelveston, Stanwick, Kettering Kosmos, Barton Seagrave and Wollaston.

Staverton WI enjoyed another excellent speaker which you can see from the photo. Sue Bentley joined them to talk about the many childrens and adult books she has written and how they came about. She should have bought more to sell!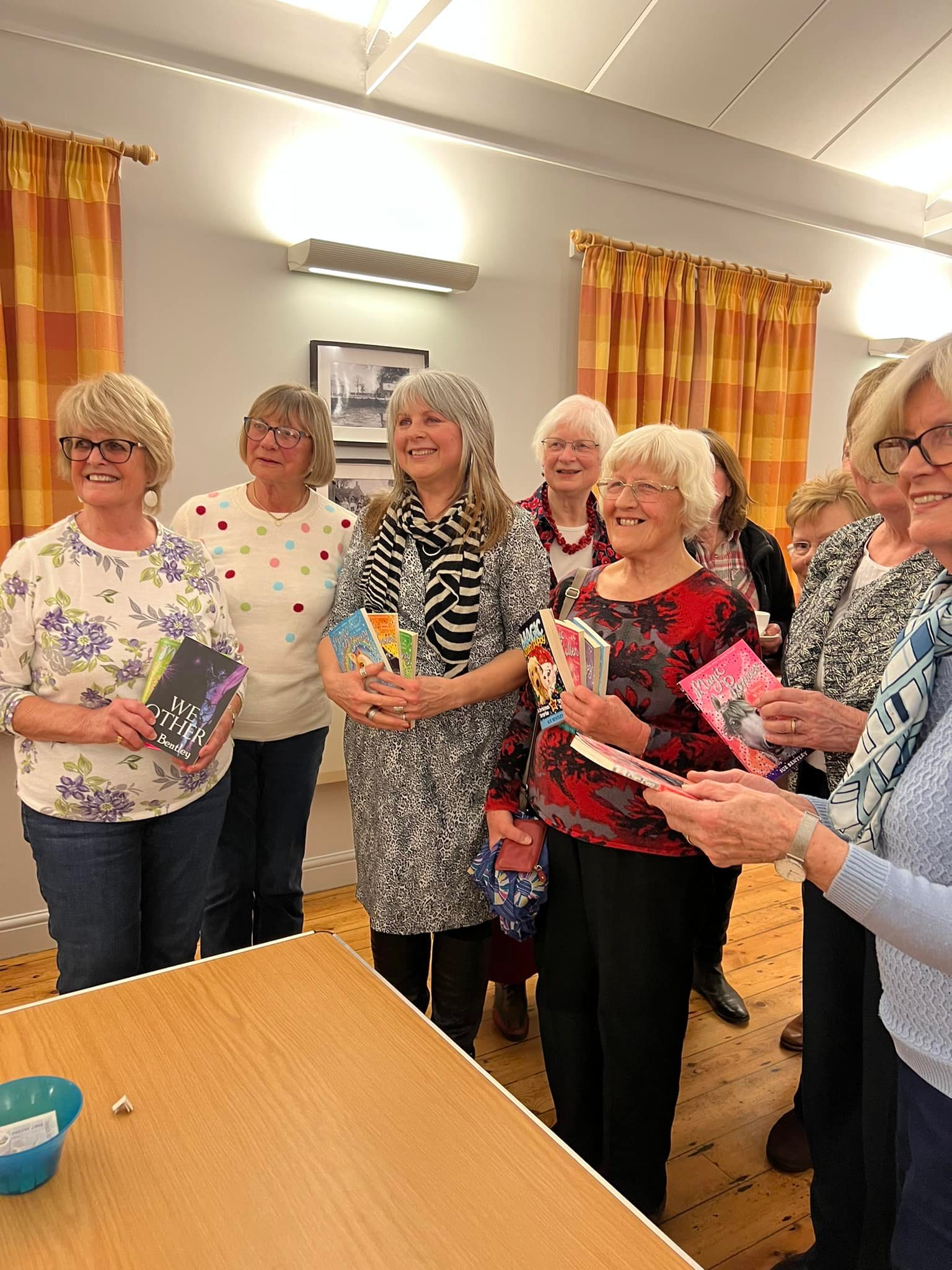 Roade WI had a most entertaining evening painting plates with Clare Castagna from the Little Green Pottery Studio in Rothersthorpe.
The plates were taken away to be fired, then everyone got to see their accomplishments at Roade WI's 94th Birthday celebrations in March. A faith supper was held and the ladies were so generous with their cakes and savoury offerings.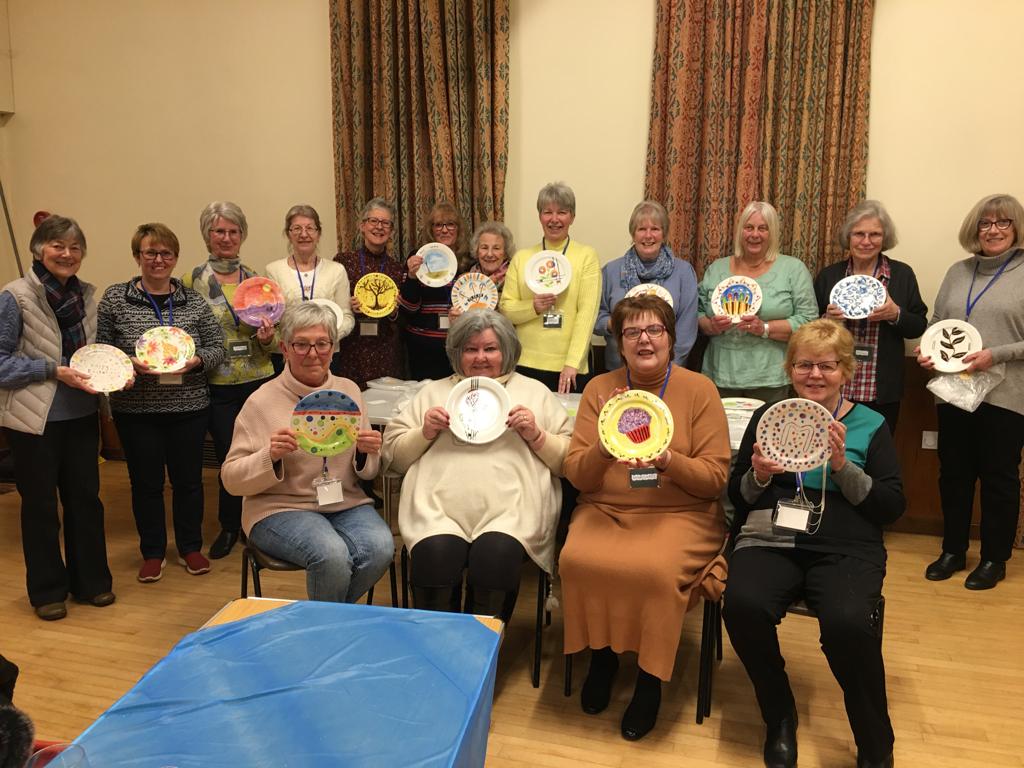 Brigstock WI has started their "Triumph with a Tenner Challenge." A member who makes marmalade, sold it at the March meeting. All jars quickly went quickly !!!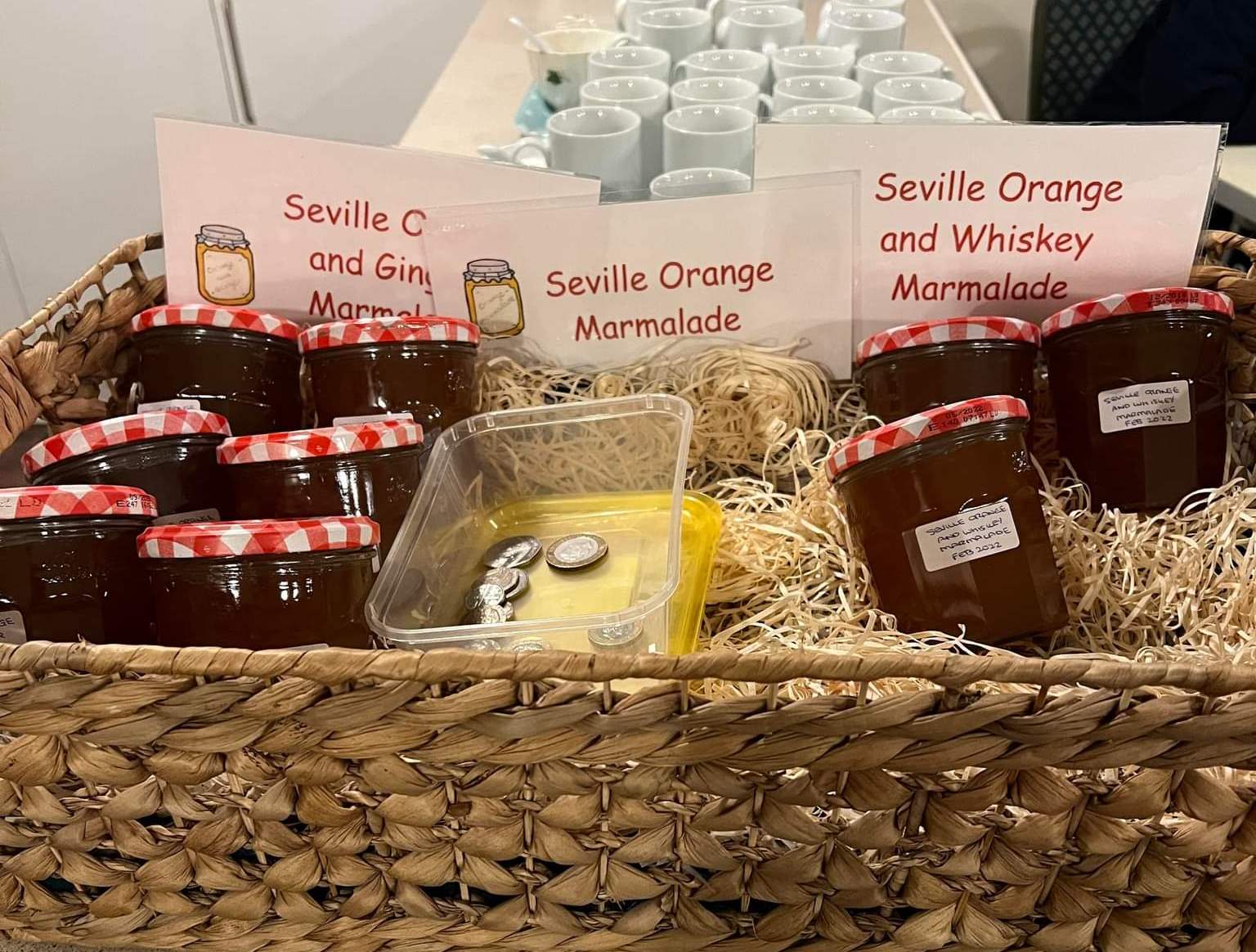 A group of
Broad Green WI
members met in Higham Ferrers for a walk around the Higham Ferrers Heritage Trail. Afterards they went to a small cafe on the market square and had refreshments in their snug.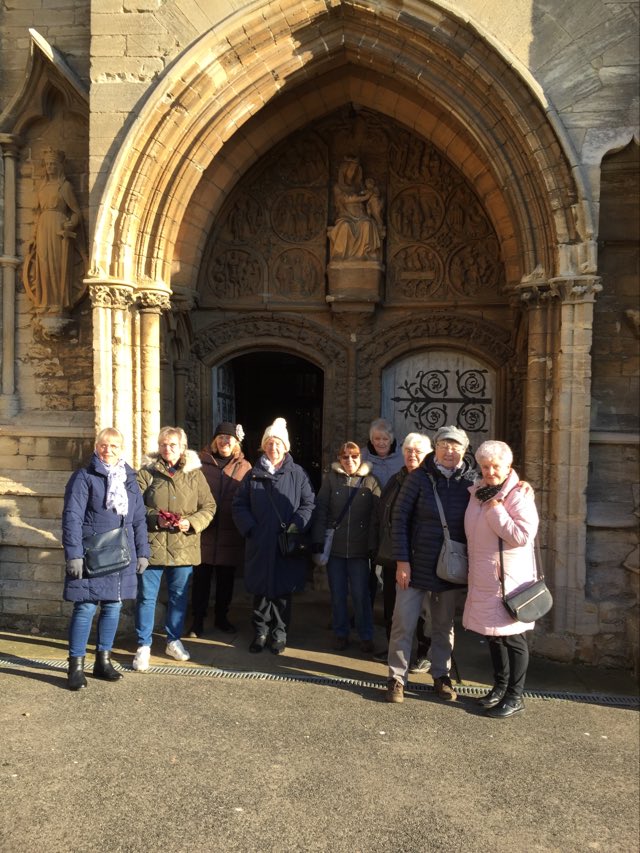 The ladies at
Roade WI
became thespians for their December meeting. They thought it might be different to hold a Murder Mystery evening. It was called "Death By Chocolat" and set in Paris in the 1900's. You can see from the photos that the "actors" made a tremendous effort to become their characters by dressing for the part. It was a great laugh and a fun way to end 2021.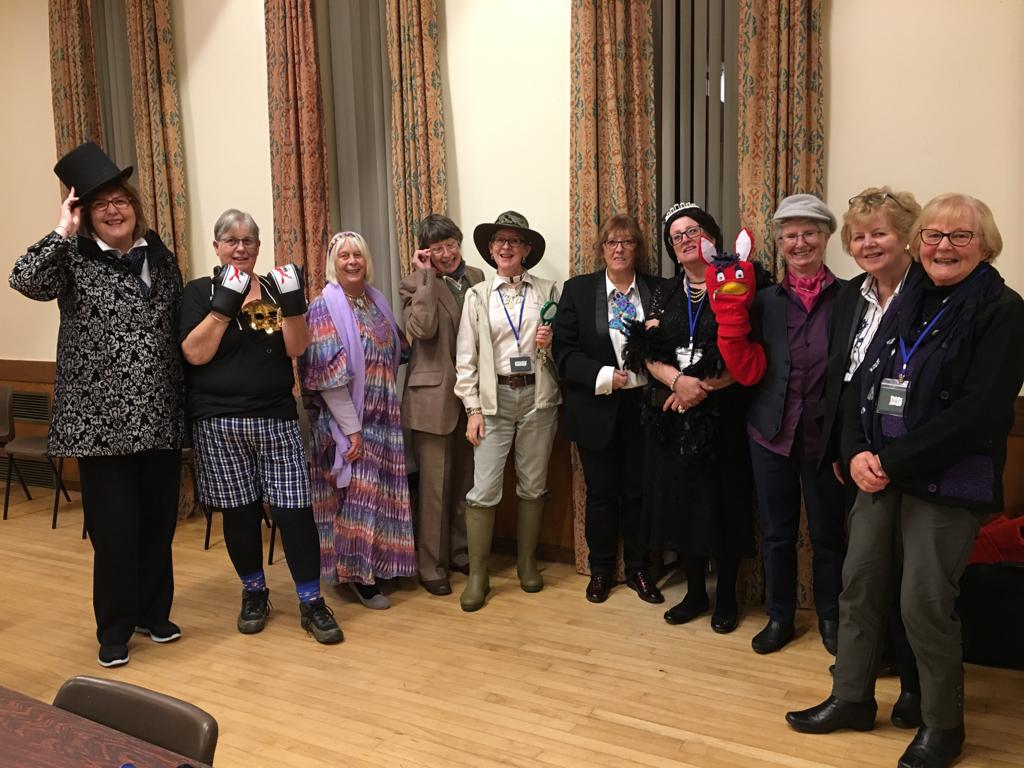 See the photos of crocheted Christmas trees made by Welford WI ladies on their Monday craft afternoons.
Some members could not crochet 8 weeks ago but with help at the Monday craft afternoons, they have learned a new skill! Well done ladies.
Some of Bozeat WI members have been knitting Christmas hats and Santas to decorate the postboxes around the village.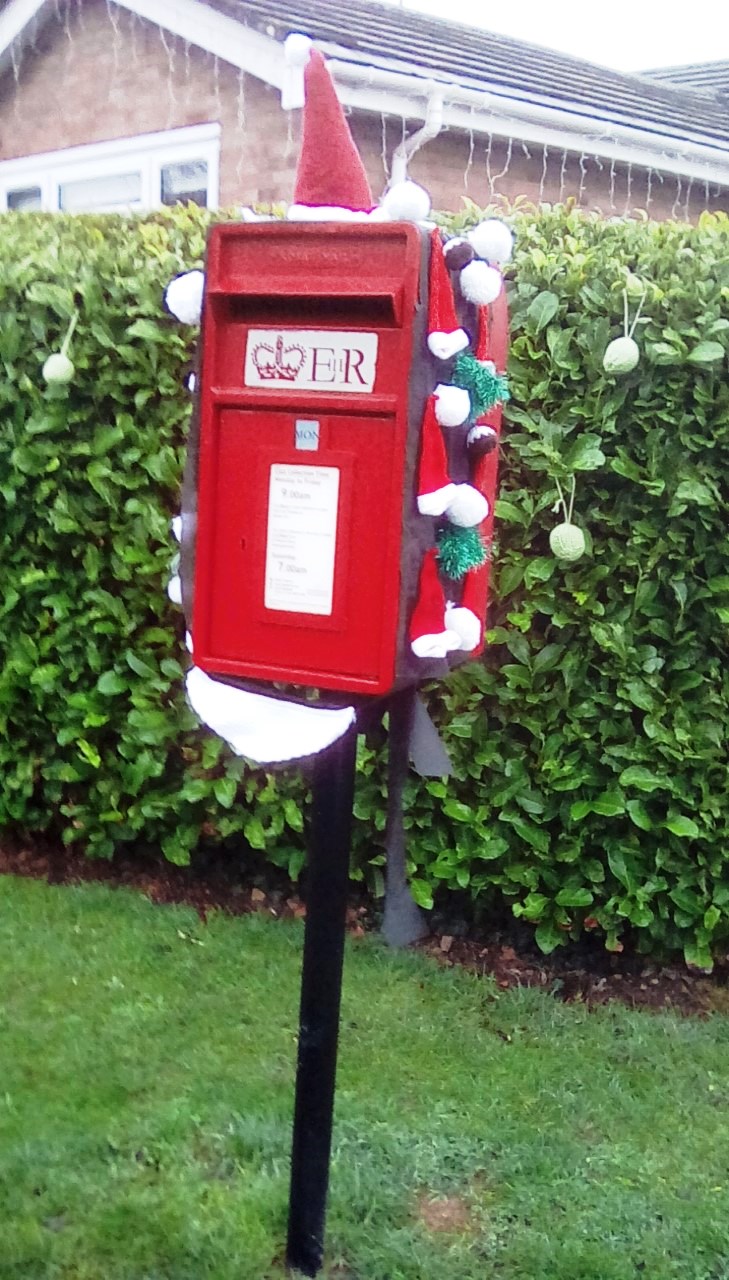 Hunsbury Hill WI's Craft Club is now enjoying a return to face-to-face meetings after months on Zoom. At the recent meeting envelopes/packets for small gifts were made.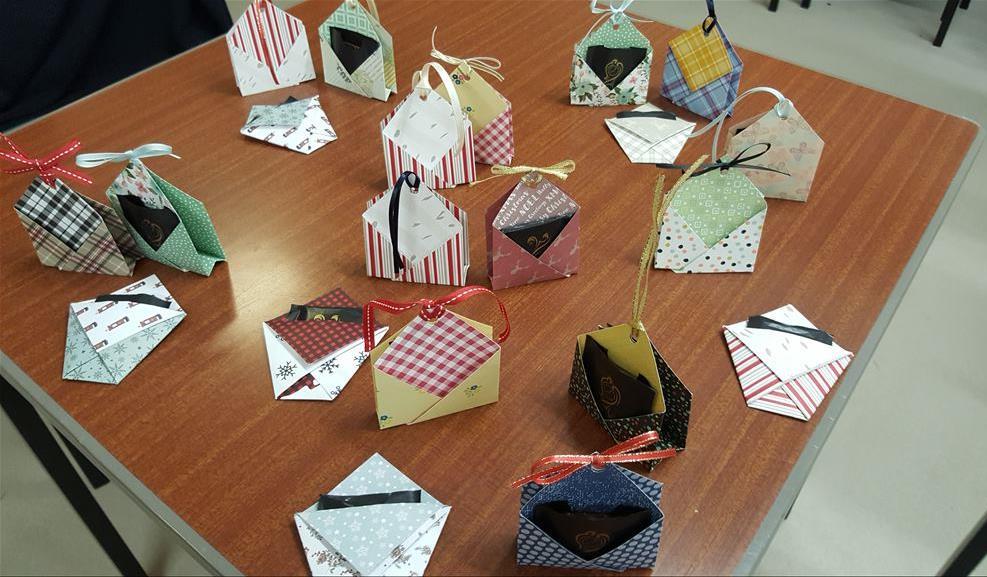 Creaton WI was delighted that St Michael's Church Fayre could take place once again. Members were able to display all the lovely items handmade during lockdown, and earn some much need funds.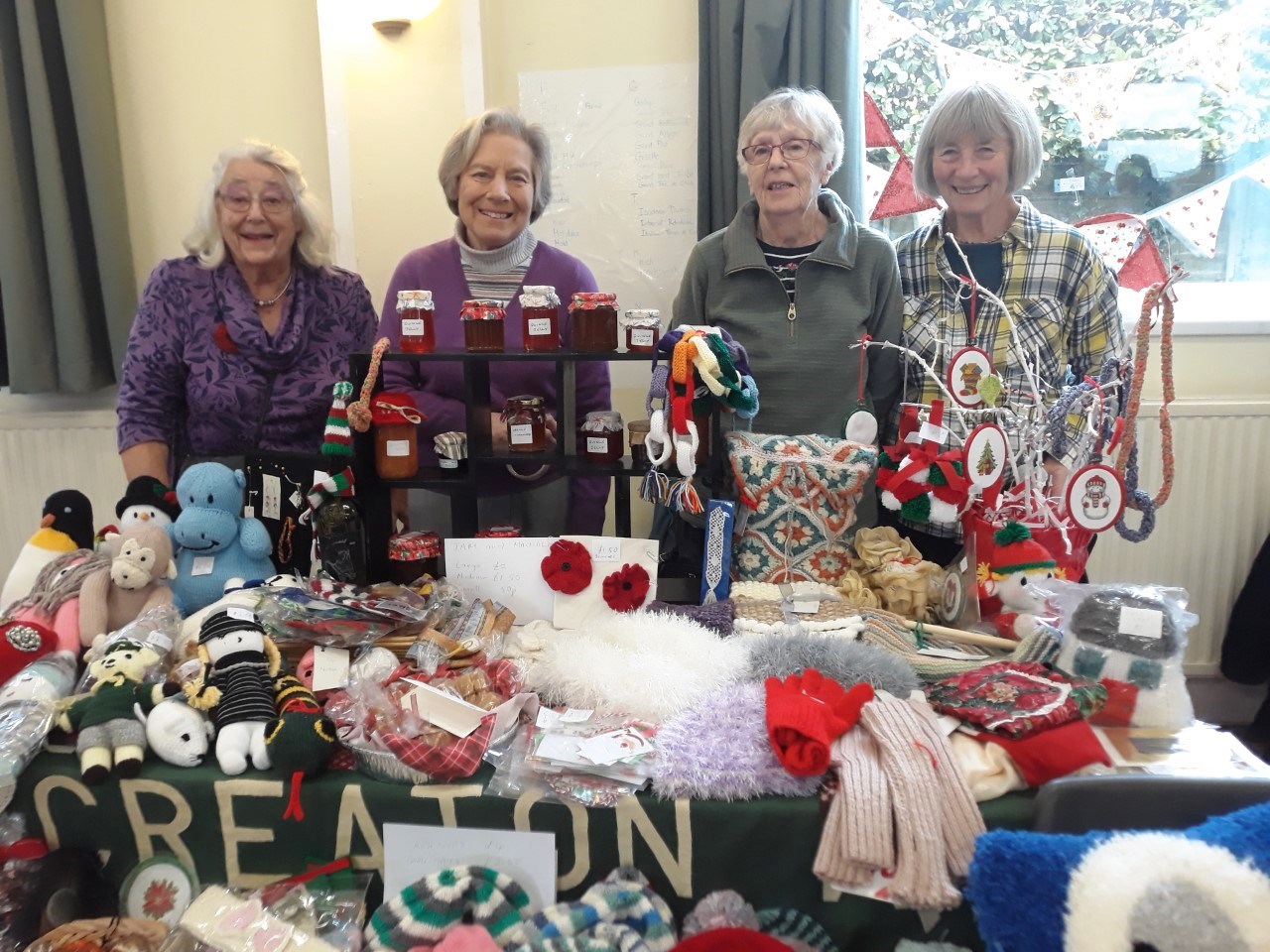 Bozeat WI members made scary spiders, ghosts and witches to decorate the village for Halloween.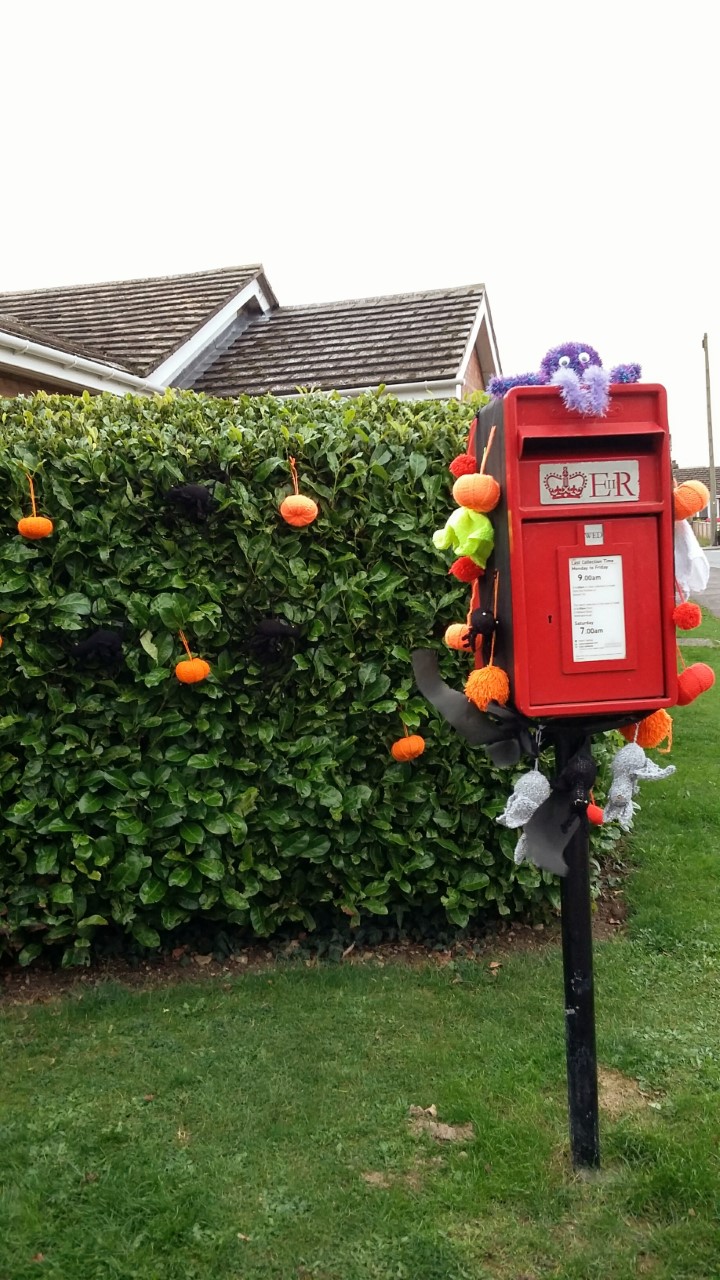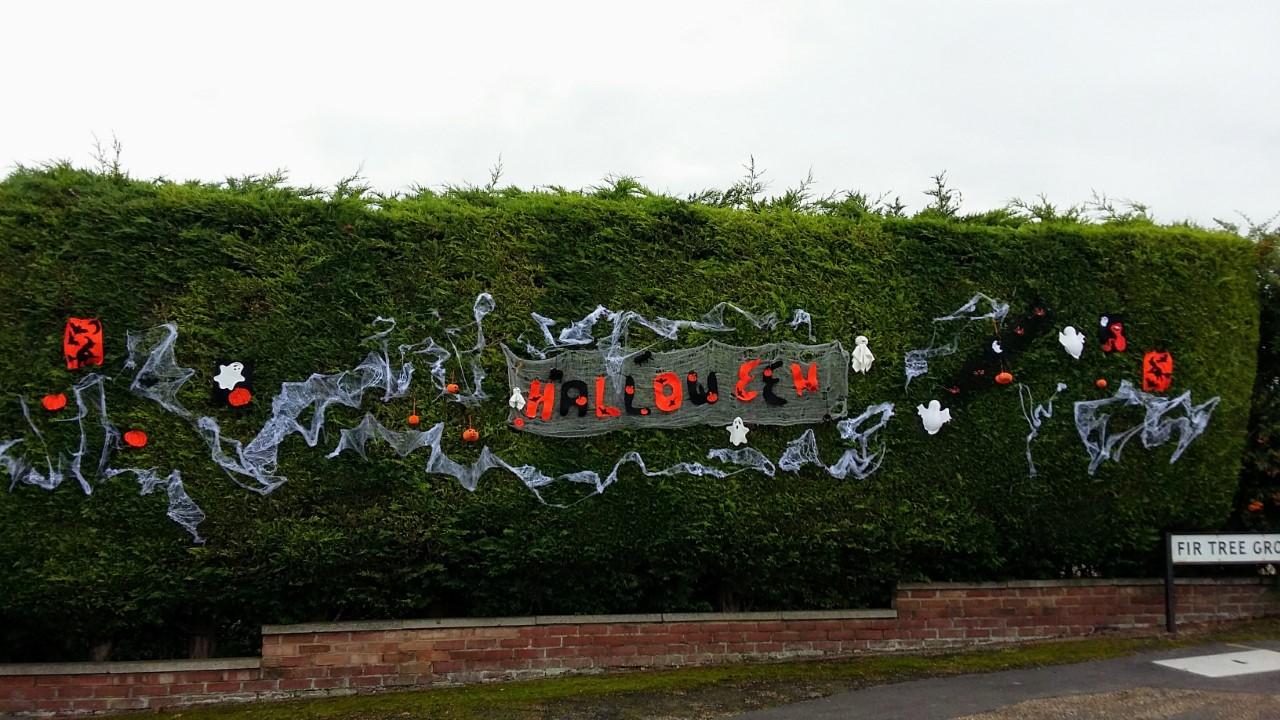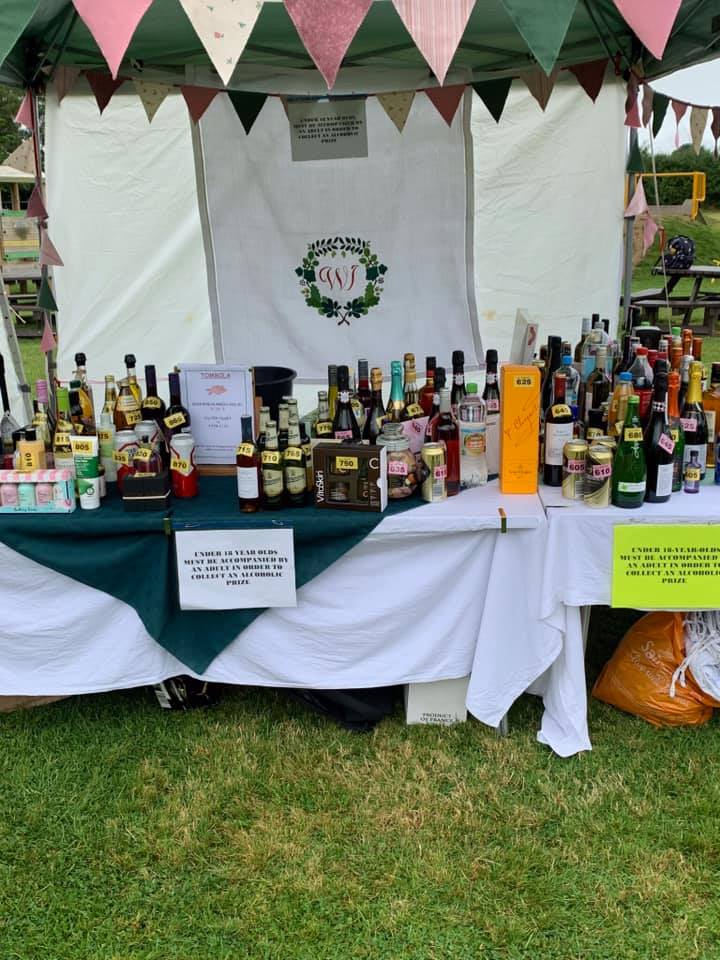 Boddington WI was invited by the Parish Council to have a presence at the Fete to celebrate the opening of the new Cycle Track in Cowper's Field, next to the Village Hall.

The WI held a Cake Stall and a Bottle Tombola. Cakes and other home made produce were donated by WI members and Boddington residents very generously donated bottles for the Tombola.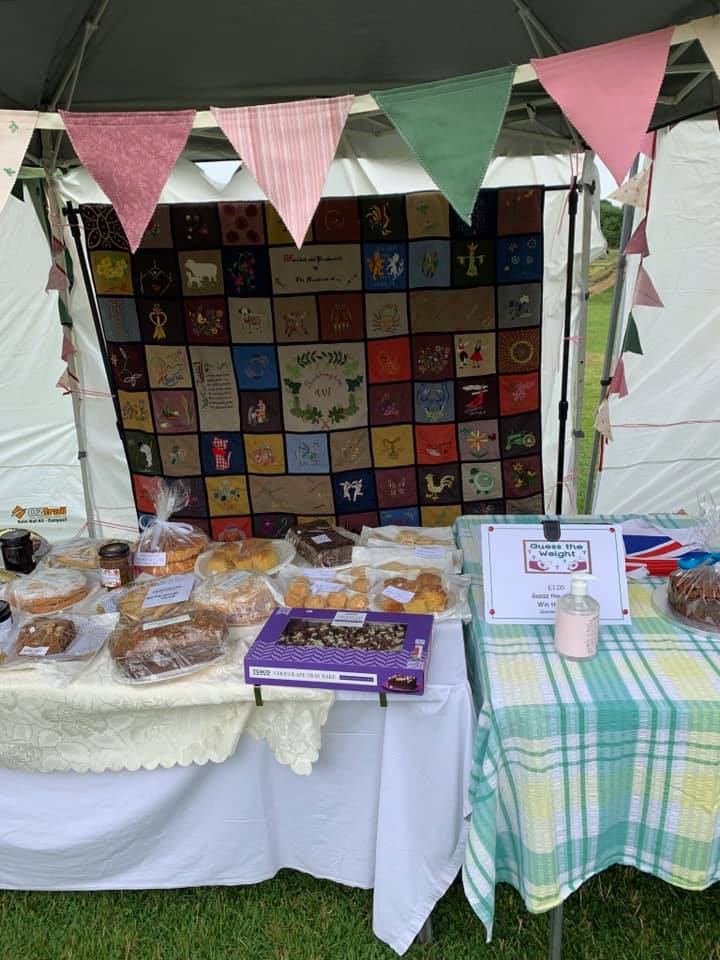 .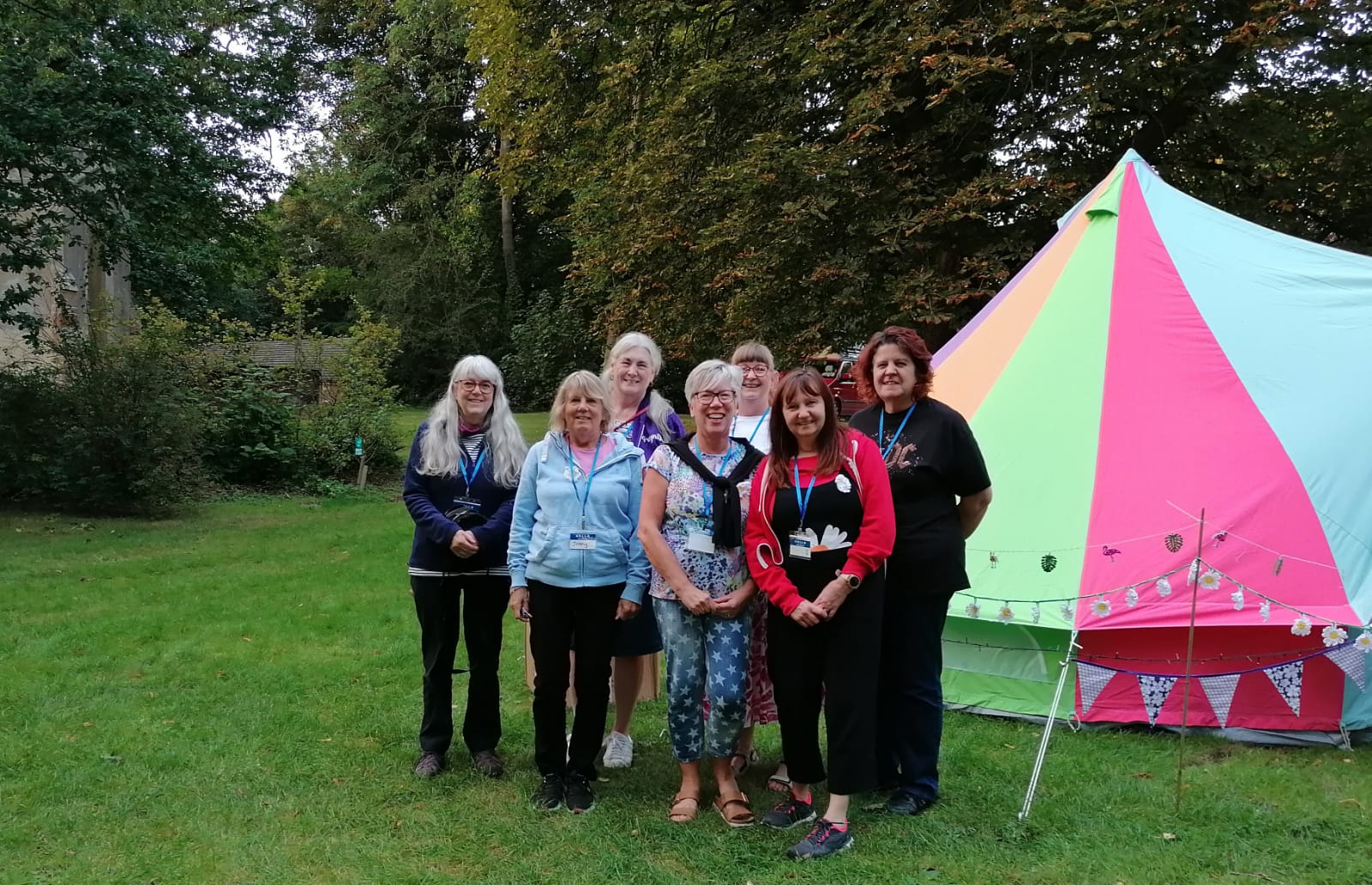 Seven members of Northampton Town Roses WI had a great time at the inaugural "Crazy Daisies Go Camping" event at Willesley Scout camp site. Pirates, flower crowns, afternoon tea and Dirty Dancing (the film that is!) were some of the fun activities.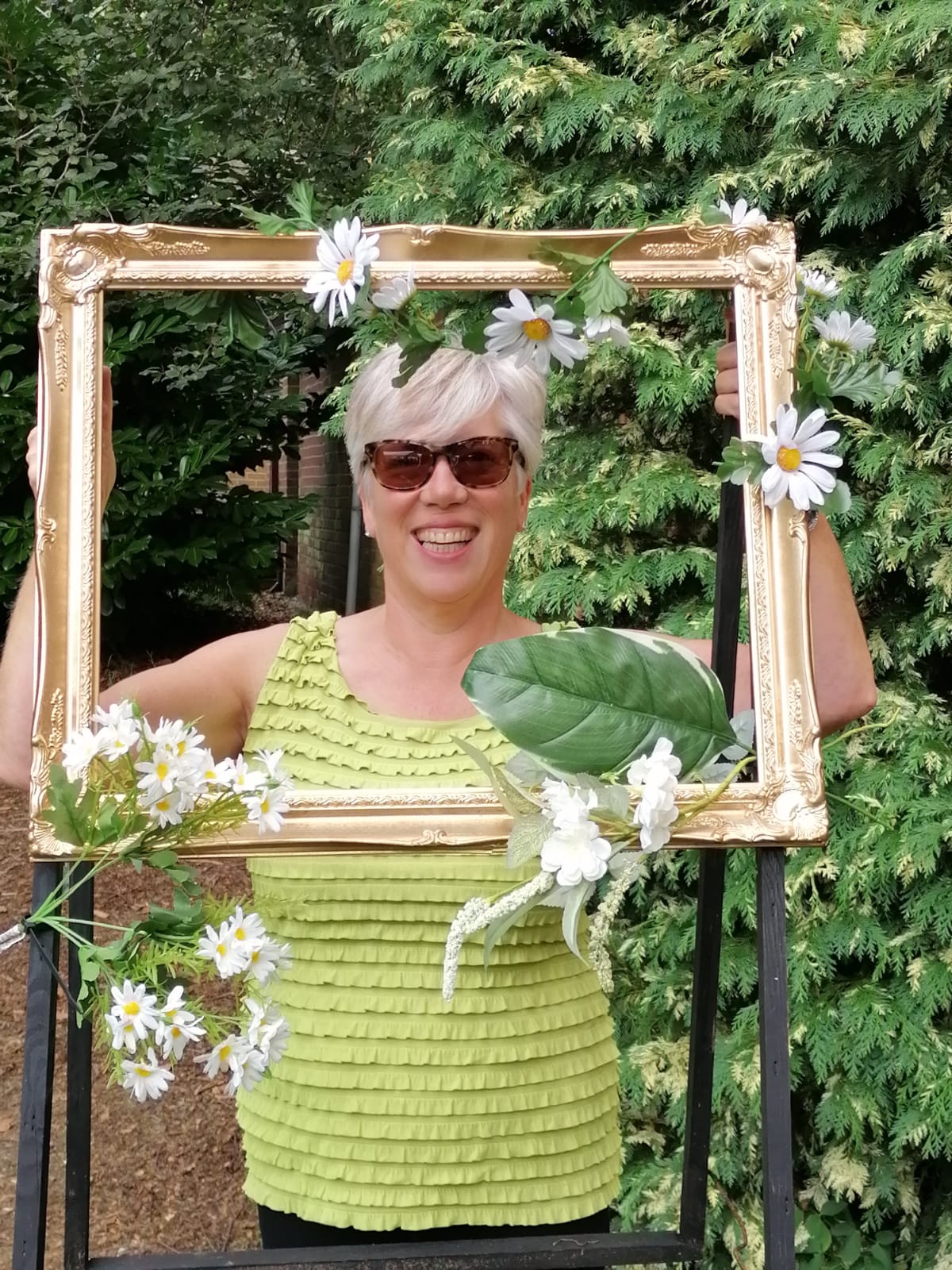 ,
.
.
.
.
.
.
Harlestone WI held it's first indoor meeting in August when members were entertained by the musical group Cut a Caper and local actress Mo Shapiro.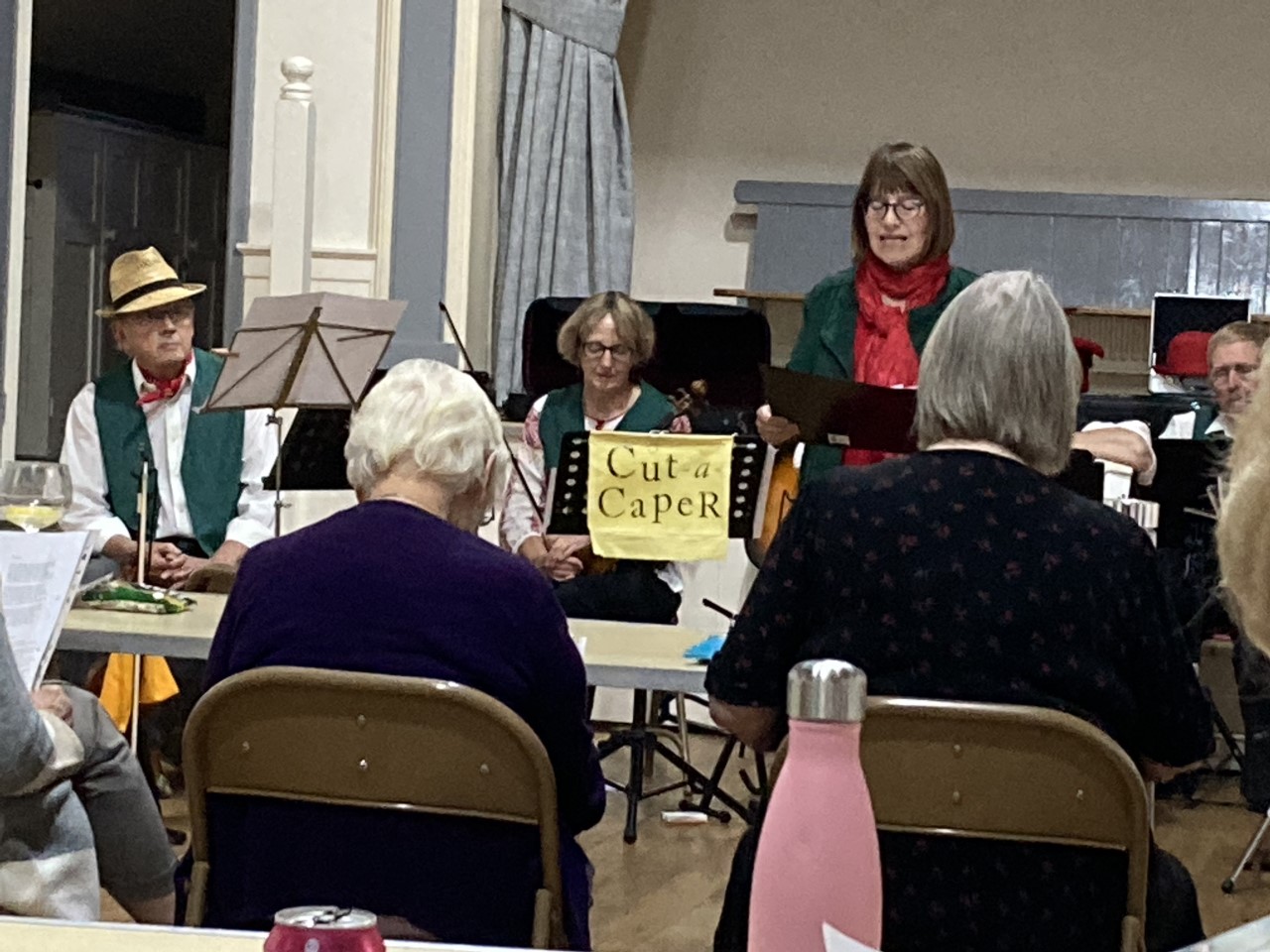 Bradden WI co-hosted an Afternoon Tea on the Lawn at Bradden House on Sunday 5th September 2021. The weather was kind, and an afternoon of delicious cakes, scrumptious scones, refreshing beverages and live music in the grounds was enjoyed by all. With stalls, pony rides, and a Prosecco bar too, there was something for everyone.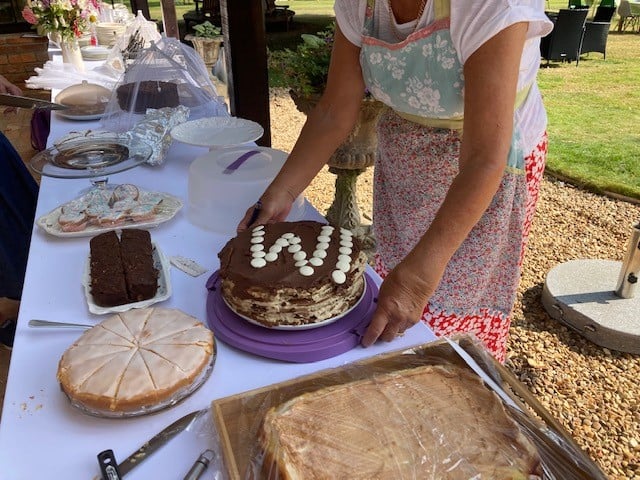 Wootton WI says
We're back ………….. what a lovely evening and it was SO good for us all to be together again. Add fizz, cake and tea - a winning combination.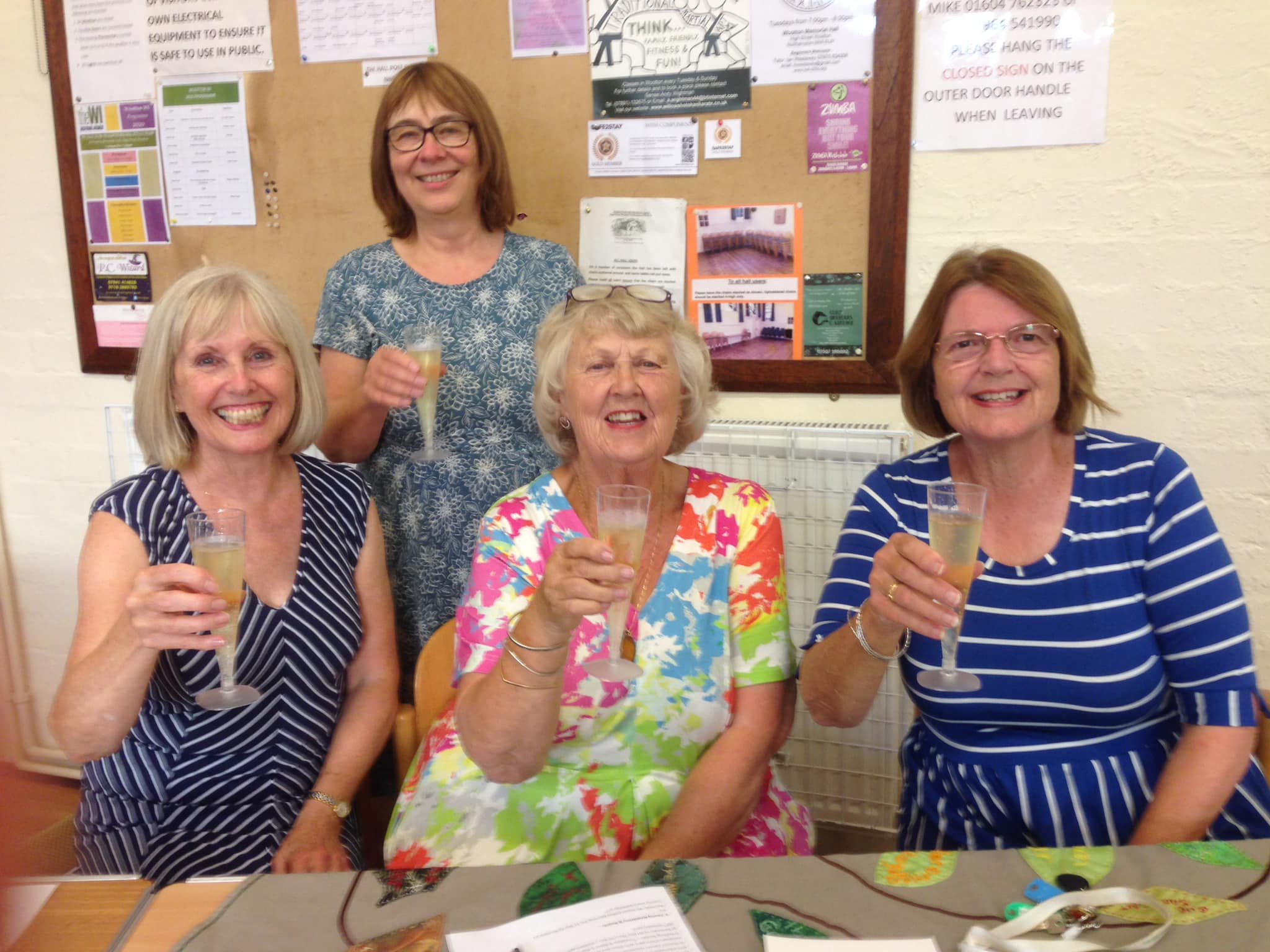 Yardley Gobion WI had a recent presence at the village's Big Birthday Bash - a party, fun day and fete in celebration of all the birthdays missed during the pandemic.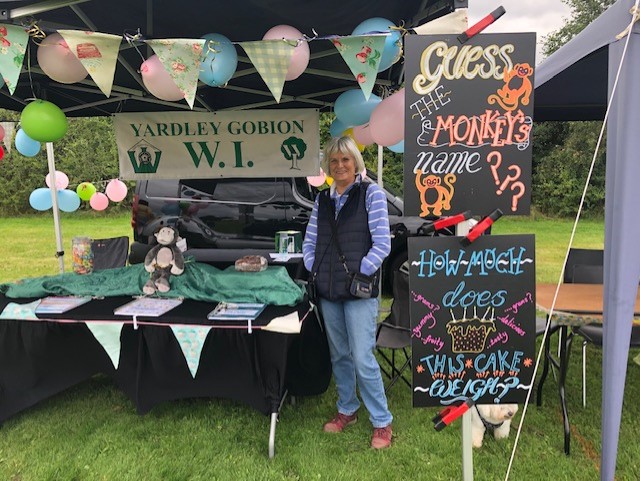 Daventry WI held it's first full face-to-face meeting since February 2020 with a Birthday Party Picnic at the local park. Sixteen members attended and enjoyed being able to catch up with friends – even the weather behaved.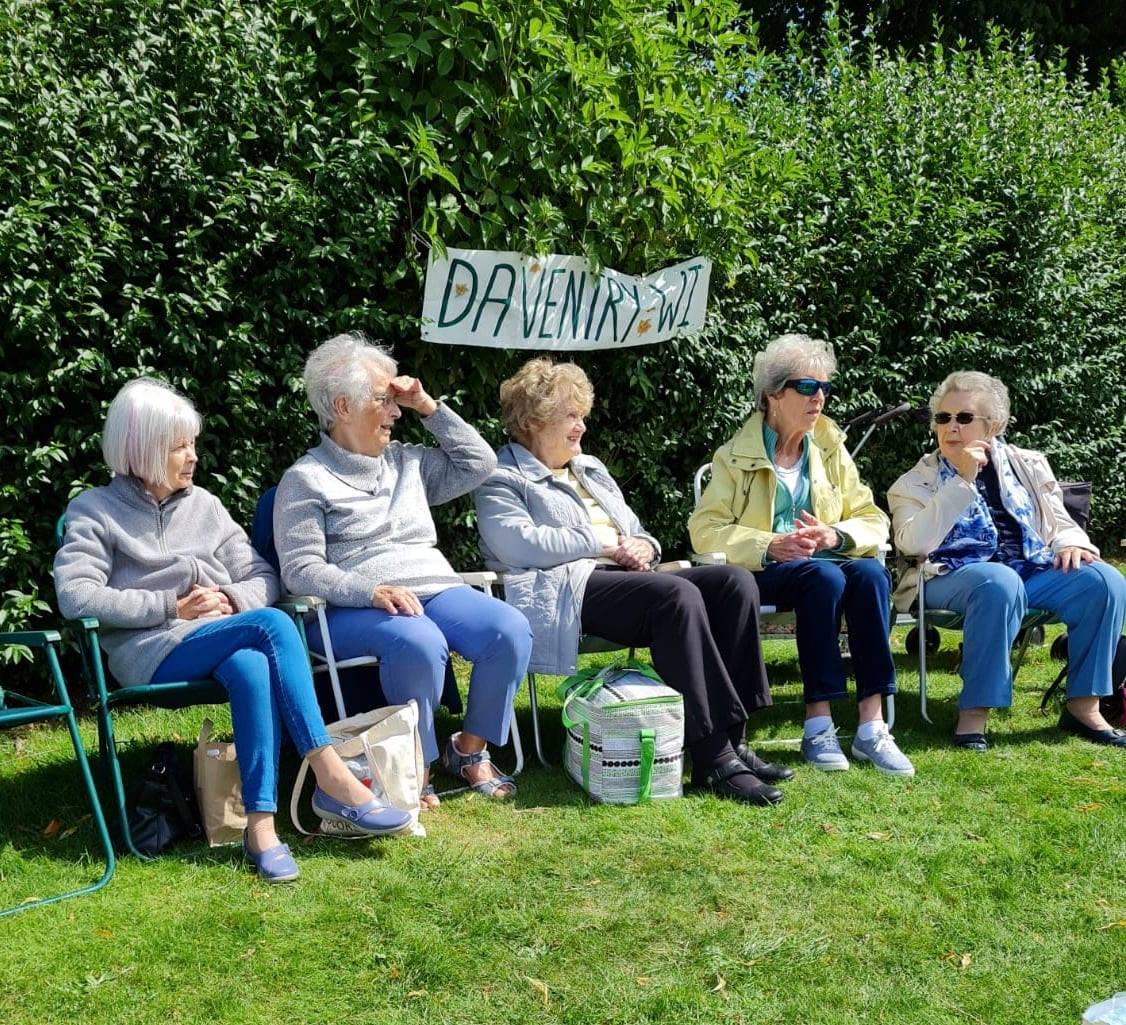 Bozeat WI held their second Scarecrow Festival in July and were once again very impressed by the imagination and expertise of the entrants. The theme was ' A Book or Film' . More images on Facebook. Northants WI
A tale of Two Days! Weston Favell Evening WI has 68 members, so they offered two afternoons to get-together in Abington Park. On the first one members 'braved the elements'. A couple of weeks later the weather was more co-operative!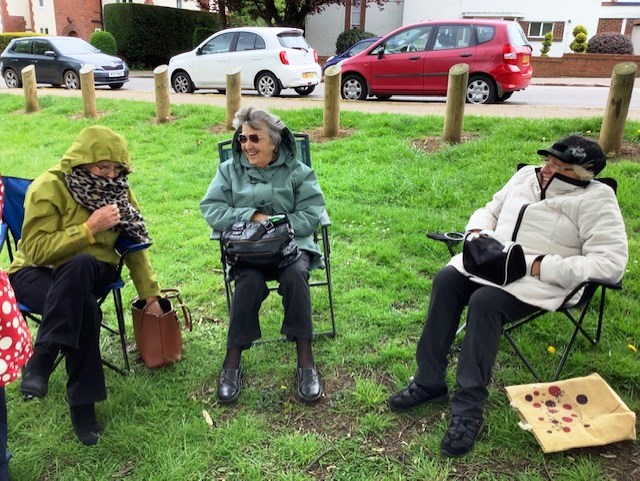 Barton Seagrave WI enjoyed strawberries and fizz in beautiful sunshine.They have been keeping in touch with walks, coffee mornings and garden visits (socially distanced where applicable).


Woodford and Hinton WI held their first face to face meeting with a garden party at the home of a member in her lovely garden.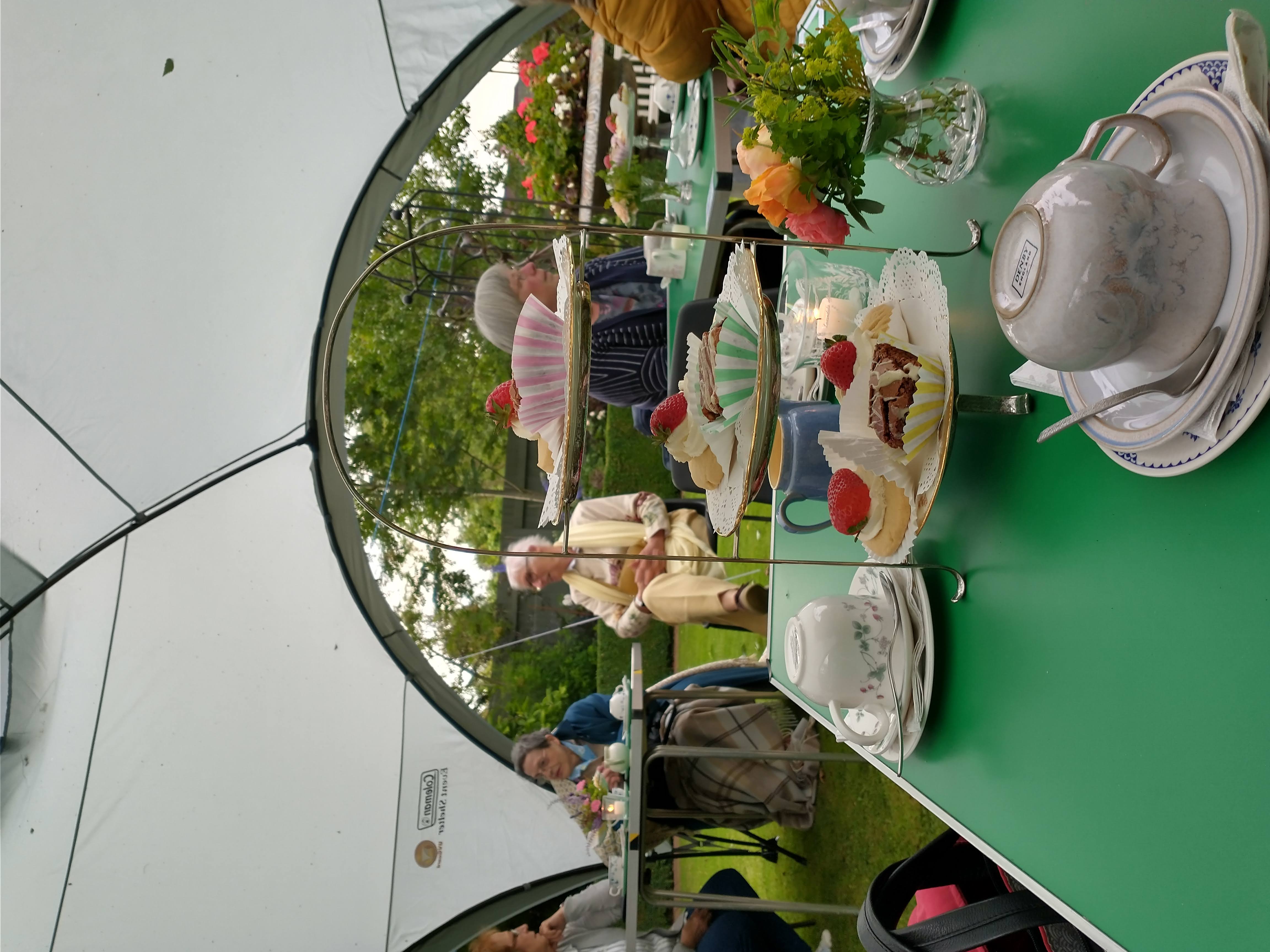 Towcester Evening WI delivered home baked cakes to NHS staff and key workers at Greens Norton Vaccination Centre, Towcester Medical Centre, Brook Health Centre, Towcester Ambulance Station, Greens Norton Medical Centre and Ridgway House Care Home. It was their way of saying a big thank you to them all for the care they have given to our community during the pandemic. We hope they enjoyed all the treats. #NHSBigTea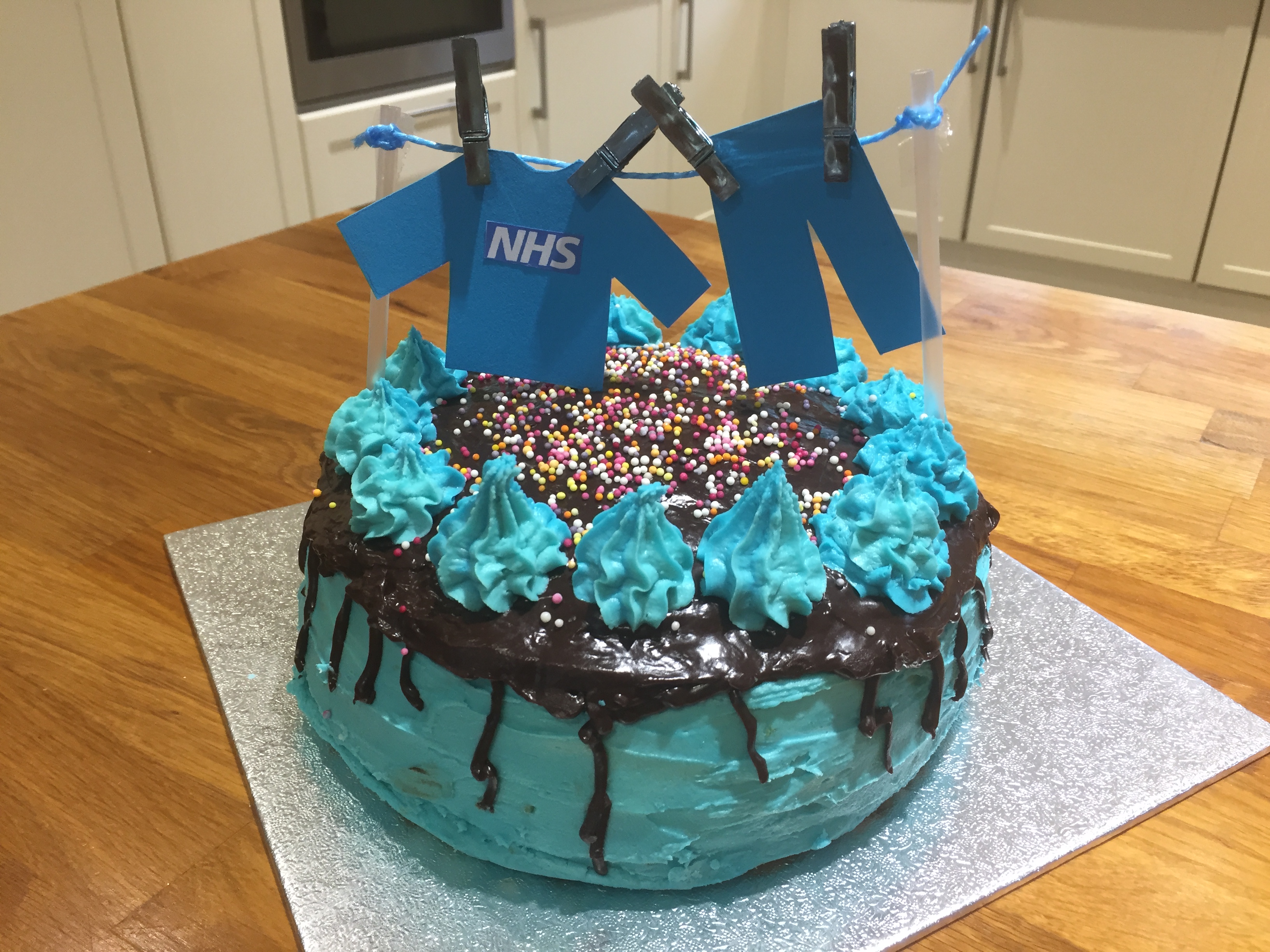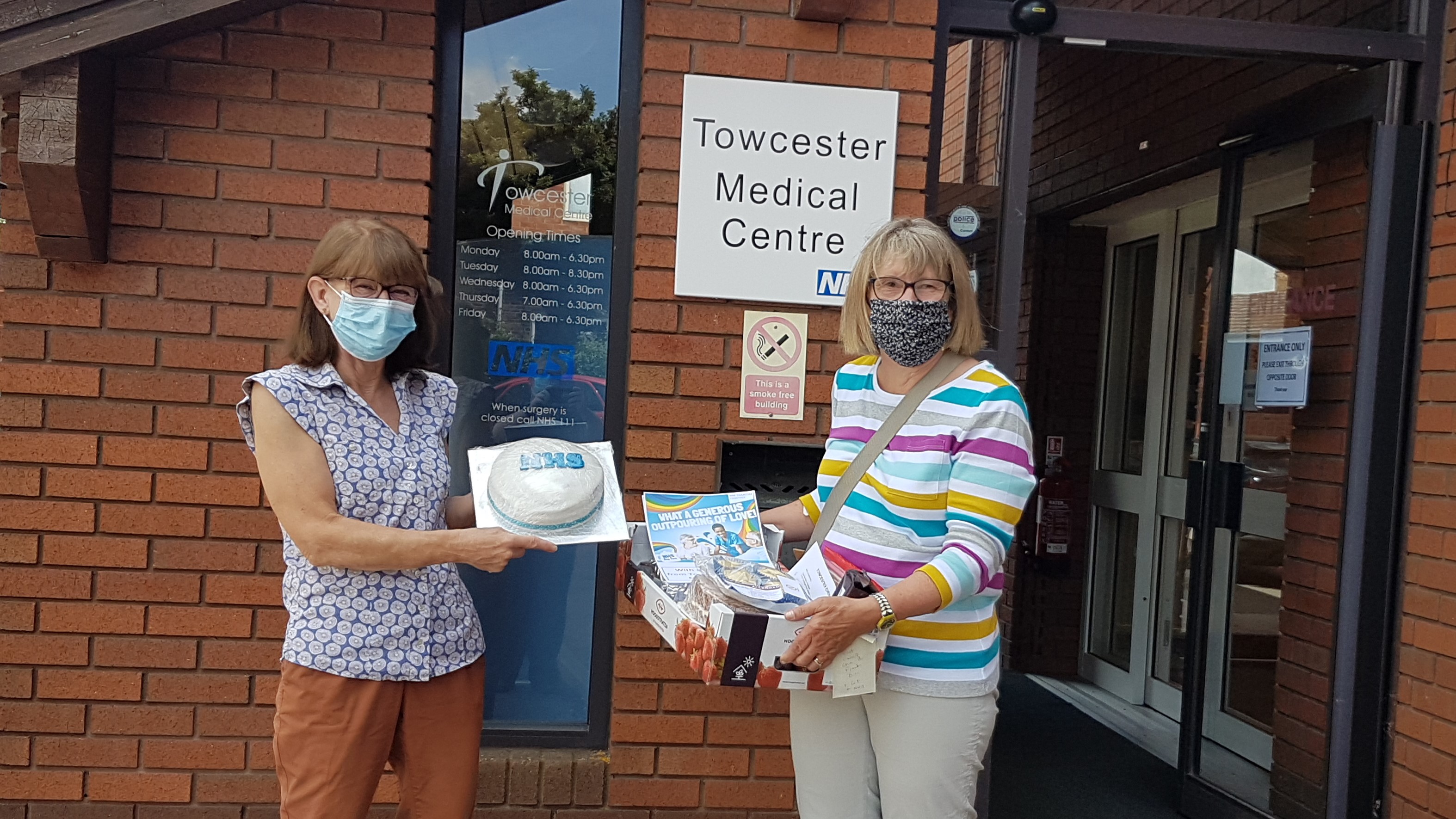 Bozeat WI members enjoying the sunshine on the village green while celebrating the wonderful NHS with wine, water and a blue cake!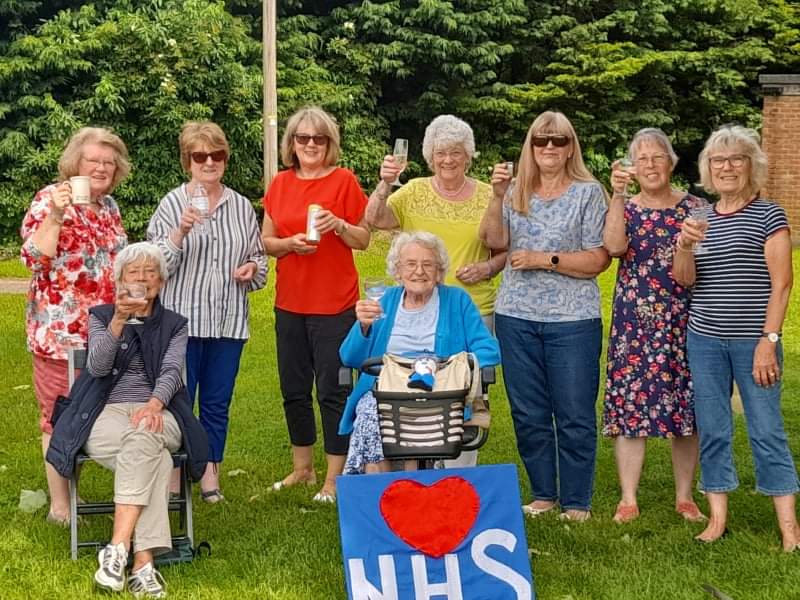 Towcester Evening WI members contemplated running away with the circus when they met at Towcester Recreation Ground for their social. Apparently it was only there for the school children though. However, the Big Top made a lovely backdrop to their photos!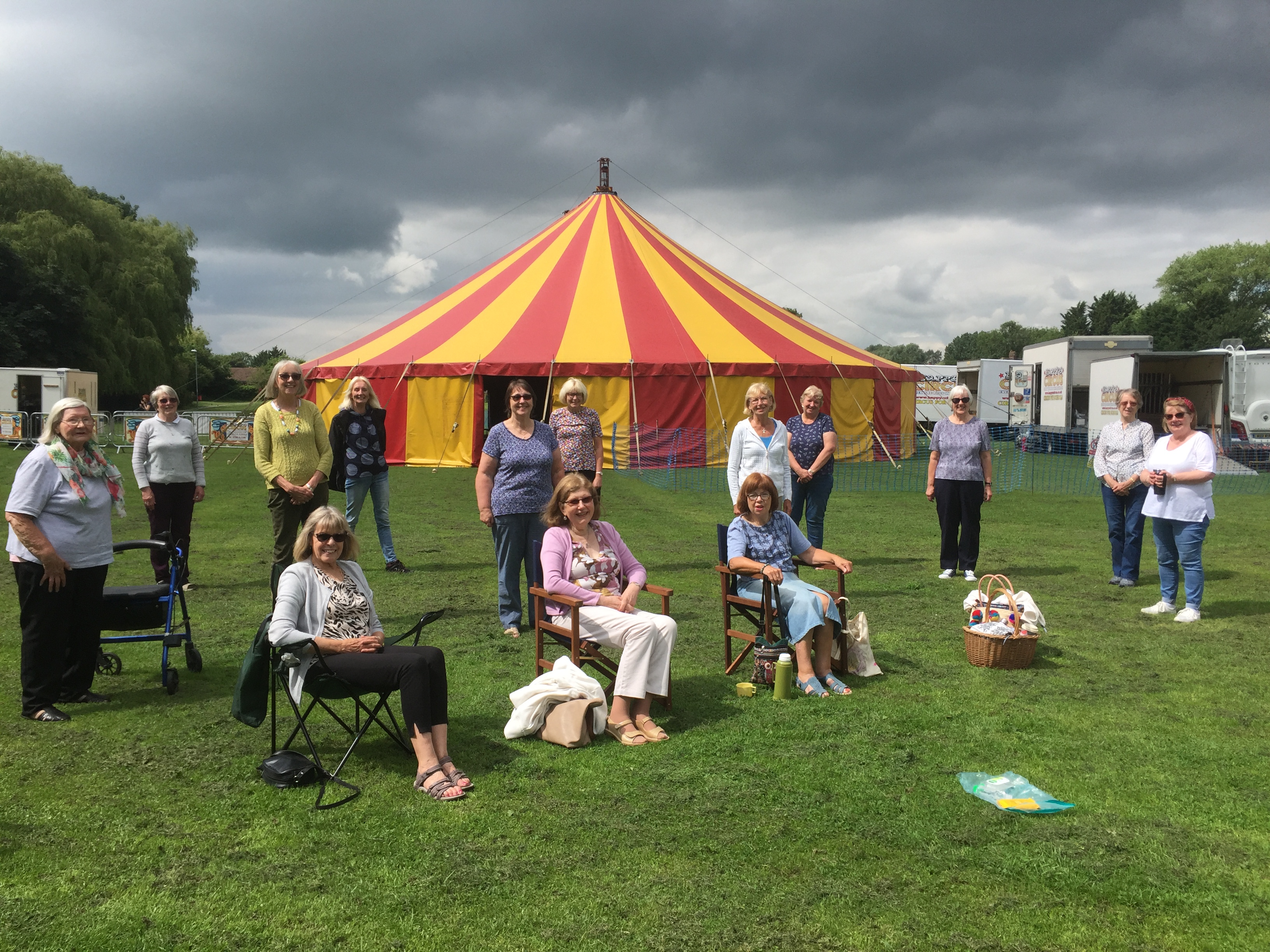 East Hunsbury WI have contributed to a community display outside Hunsbury Library for "Thankyou NHS" day. The WI knitted the yarn bomb and painted some green stones the rest of the stones were painted by local school children.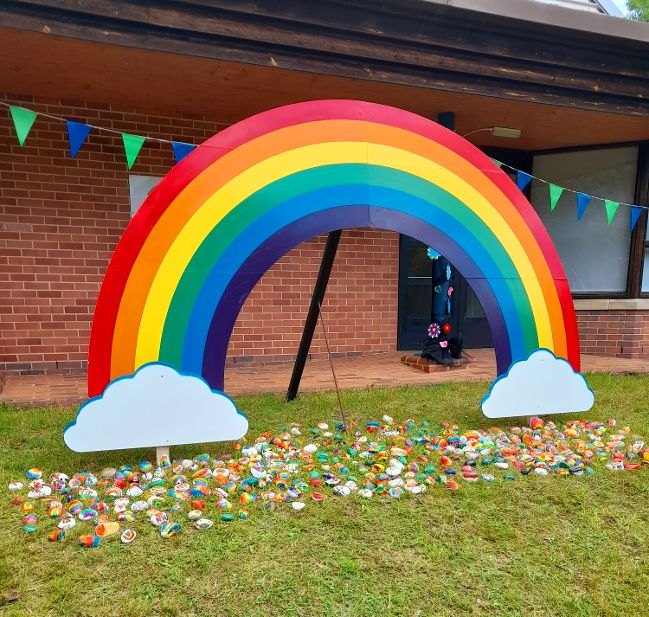 Twenty five members of
Moulton Evening WI
celebrated the NHS with a Tea Party, their first large gathering after lockdown. Members took the opportunity to dress up, the weather was great and a good time was had by all.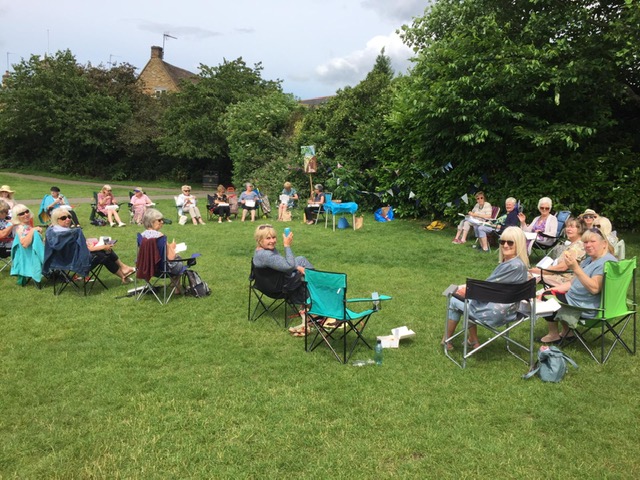 THANK YOU Cranford WI who held a Plant Stall at Cranford Village Hall and were delighted to make £265. All proceeds from the sale are going to Federation Funds, which is greatly appreciated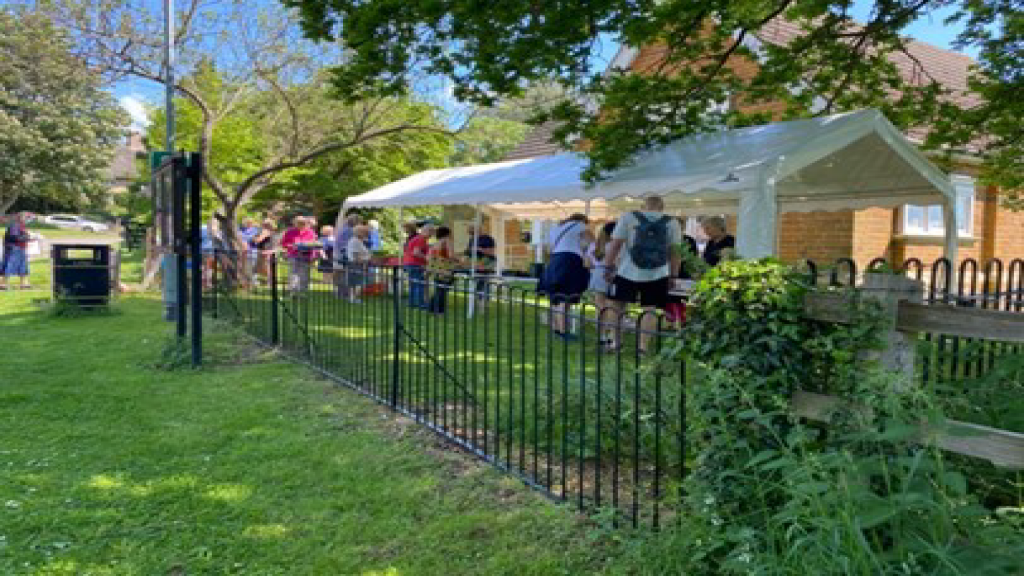 The Roade WI planter on the village green has been given someTLC with a varnish and new plants.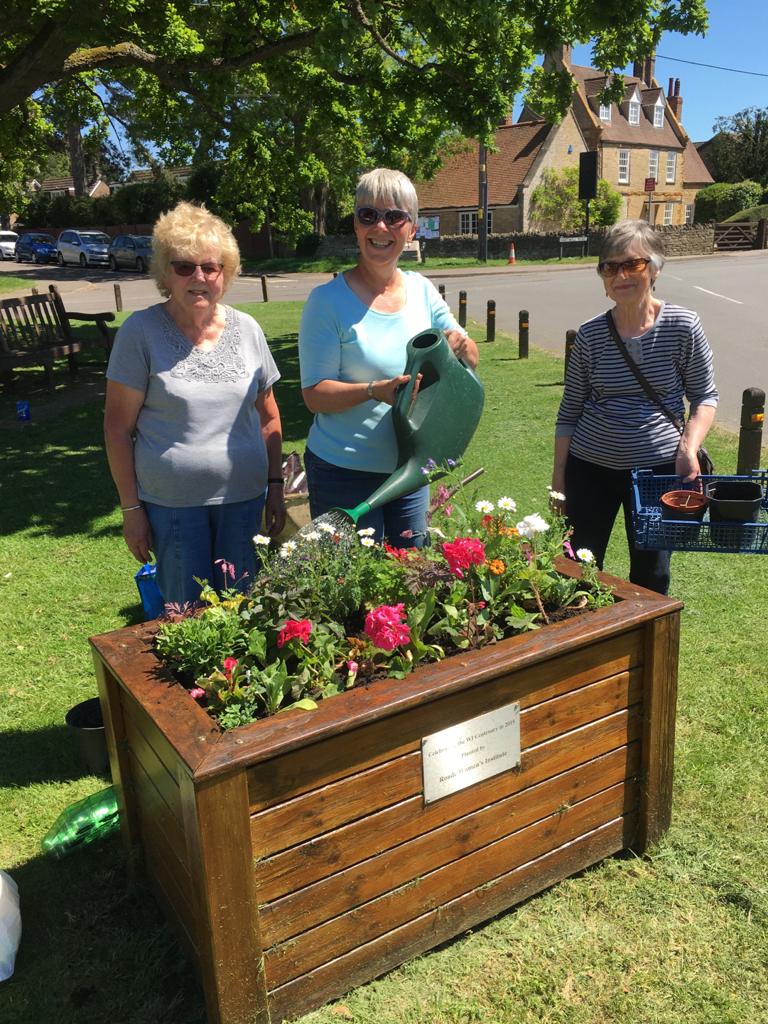 In May 2021 seven members of Wootton WI participated in a socially distanced walk around the Brackmills and Hardingstone area, raising £150 in sponsorship for ACWW.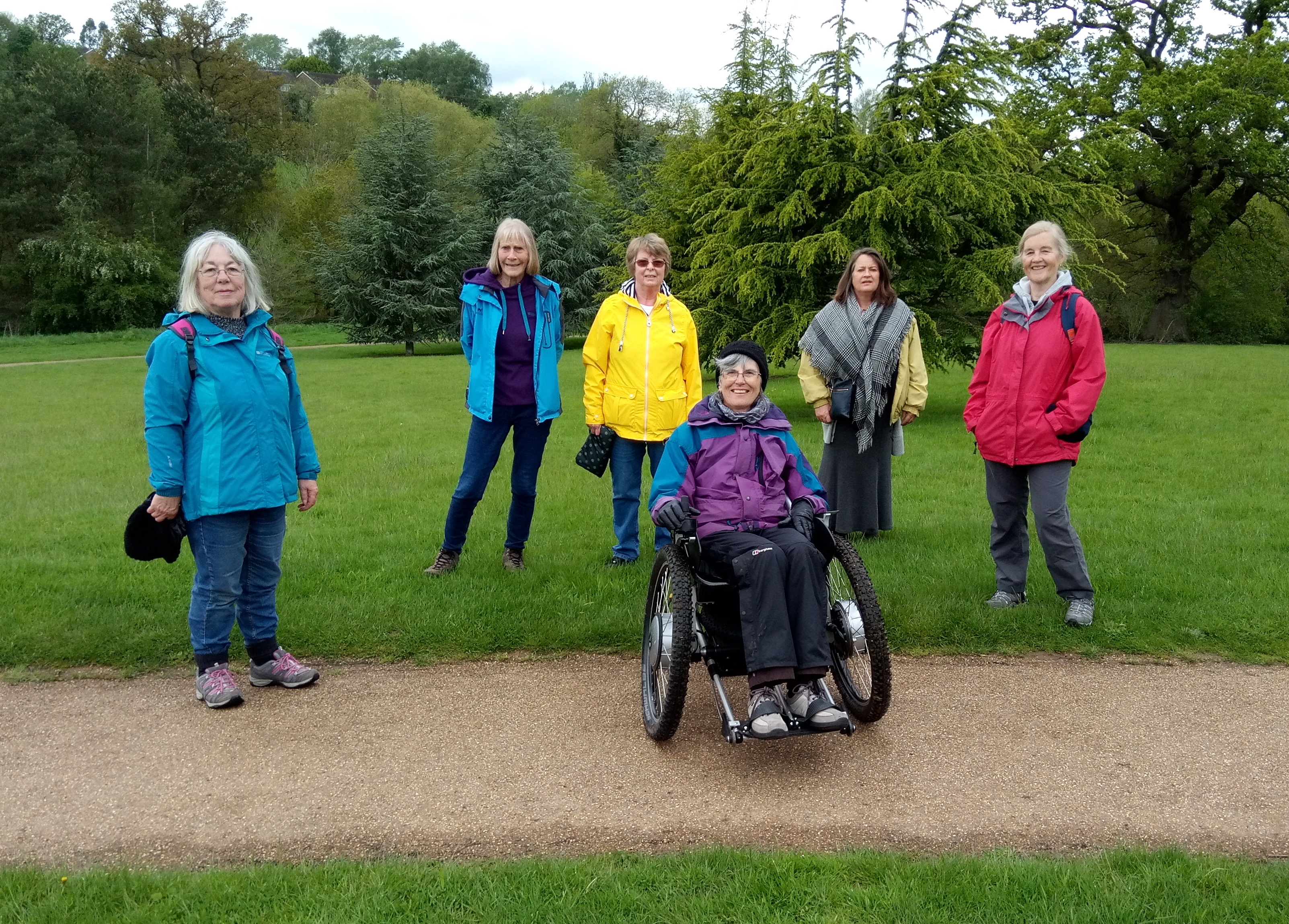 Creeping out of Lockdown!
In May, Harlestone WI visited Saxby's Cider. They were given an introductory talk by Farmer Philip Saxby, a tour of the orchards and finally a trip to the Farm Shop. There was an opportunity to see a day old foal, with proud mother, and many swallows. A hugely enjoyable evening where members felt they were doing something "normal" at last.
East Hunsbury WI participated in a community project to give the library, and the outside area around it, a face lift. Local residents cleared and planted the overgrown raised beds, Tesco cut back the trees to let in more light and WI members planted up two planters for the front entrance. The flowers in the planters are in the WI colours of white, purple and green.
.
Many WIs have been enjoying Easter treats and finding innovative ways to collect subscriptions during lockdown!

Aynho WI committee distributed beautifully hand-made lavender sachets to all members to wish them Happy Easter. There was also a reminder that their subscriptions were due! This brought a good response.

Creaton WI members received an Easter Egg in return for their subscription, also bringing a good response!
The committee at Chelveston-cum-Caldecott WI delivered a Lindt Easter treat and card to all members and had a doorstep chat.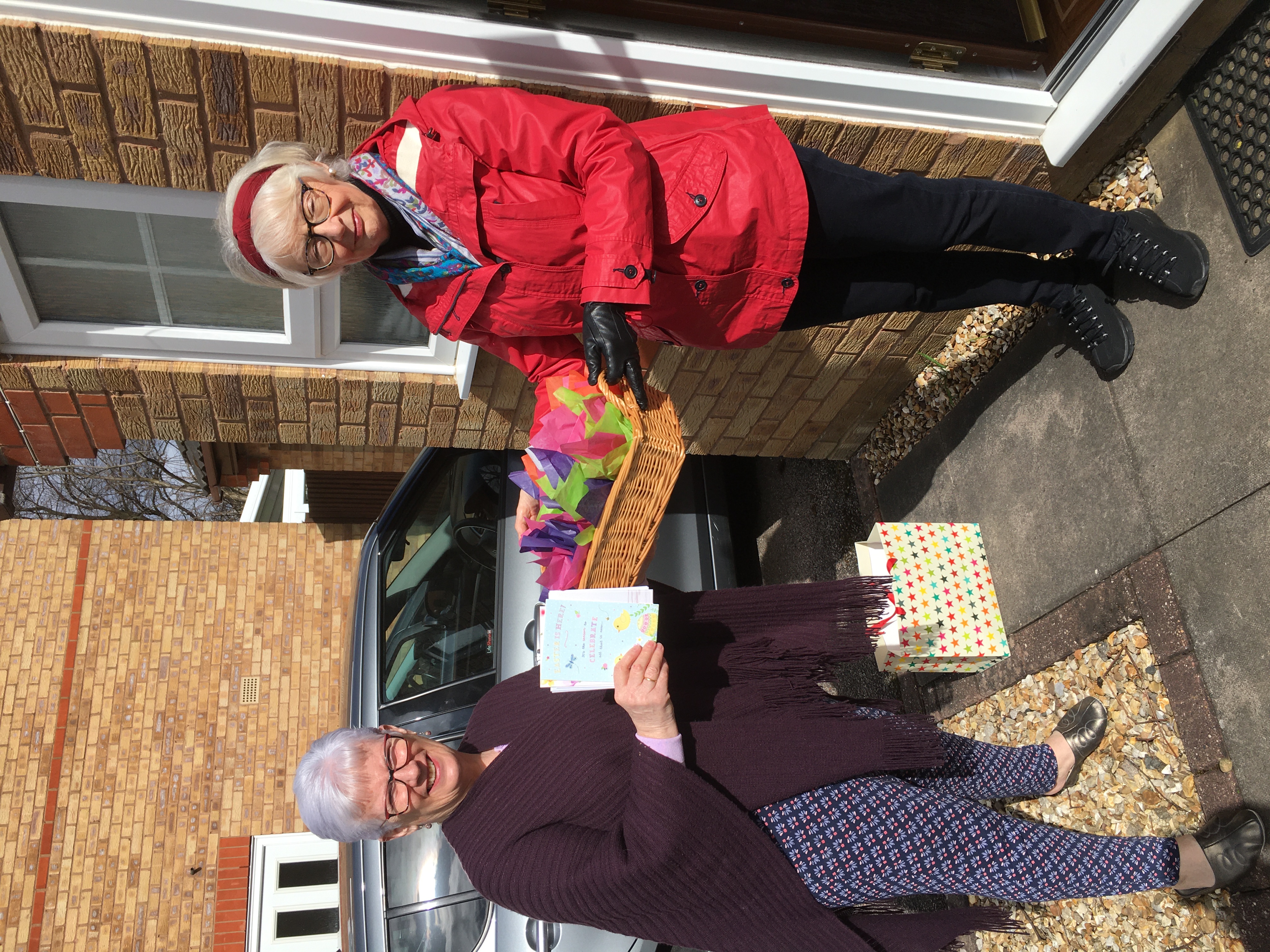 Raunds WI committee has been very good at keeping in touch with members with small goody-bags hand delivered, socially distanced of course. They had the first last summer - a cream tea for them to enjoy. At Christmas there was another with chocolates, a Christmas pud and nice smellies, then at Easter an egg and a flowering plant. Their thanks to all the committee for these thoughtful gifts. They are all hoping to meet up outdoors in June.
Roade WI had a great talk in April from Alan Marchant on "How Bletchley Park changed the Course of History". It was fascinating and thoroughly enjoyed by all who attended on Zoom. We all remember Alan Turing from Bletchley Park, as seen in the recent film with Benedict Cumberbatch but we forget others, like Gordon Welchman, who was one of the early recruits. He worked on traffic analysis in breaking code but his main contributions were to the process of breaking the German Enigma machine cipher. Also, around 8000 women worked at Bletchley Park making up 75% of the workforce there. Alan has a separate presentation just about them. President, Chris Jackson, delivered Birthday bags to members to celebrate Roade WI's 93rd birthday.
| | |
| --- | --- |

Hunsbury Hill WI had a very instructive and entertaining meeting with speaker Leila Khassal who demonstrated paper craft from her home in Sweden! Amongst the items she made were hanging ornaments, flowers and cards. As well as an excellent demonstrator she was also an interesting speaker who kept everyone enthralled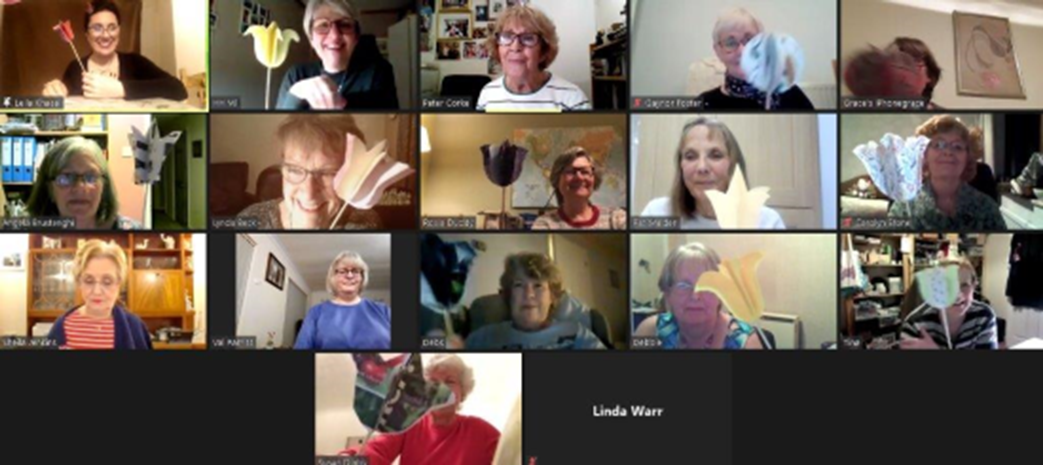 Members of Woodford and Hinton WI enjoyed an Easter treat of a Meeting in a Bag. This WI continues their monthly meetings via Zoom along with their Book and Craft groups and Coffee and Chat meetings.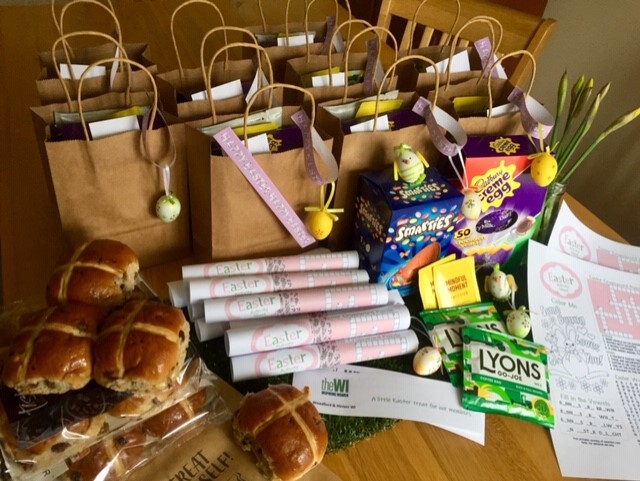 On Maundy Thursday, Northampton Kingsley WI committee was out and about as Easter bunnies, delivering a gift to each member: 2 hot cross buns, an Easter Egg, egg cosy and a handcrafted card.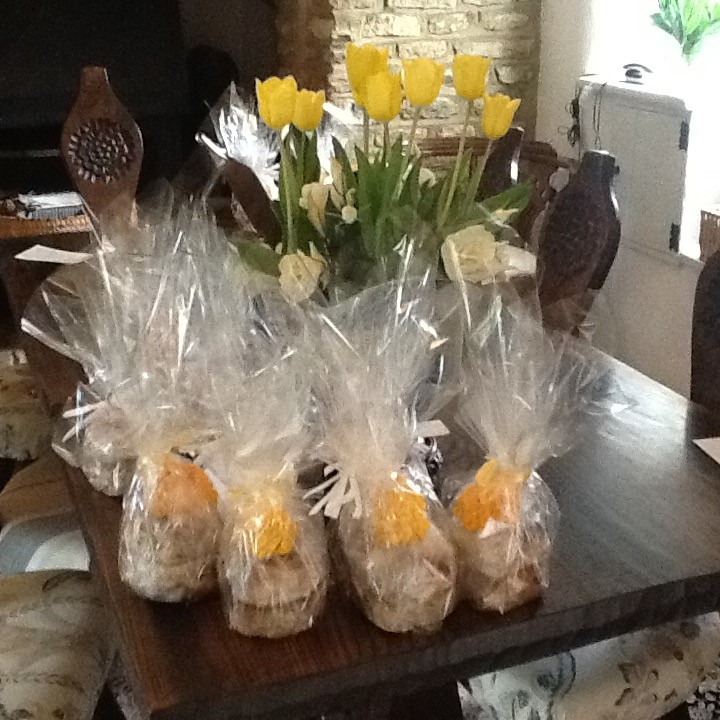 Geddington & Newton WI
Easter bunnies have been busy bearing eggs and flowers to members. Visits appreciated as much as the gifts.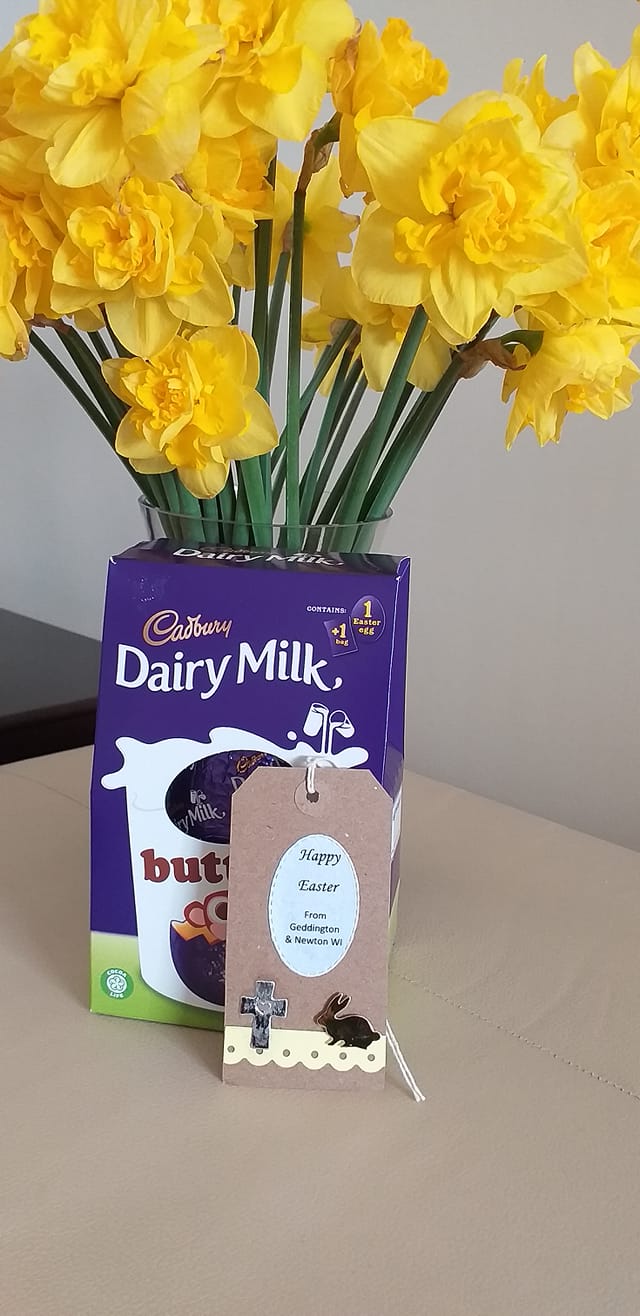 KHA (Kelmarsh Harrington and Arthingworth) WI members received Easter bags, including a handmade mask holder made by one of their members. Just look at those goodies!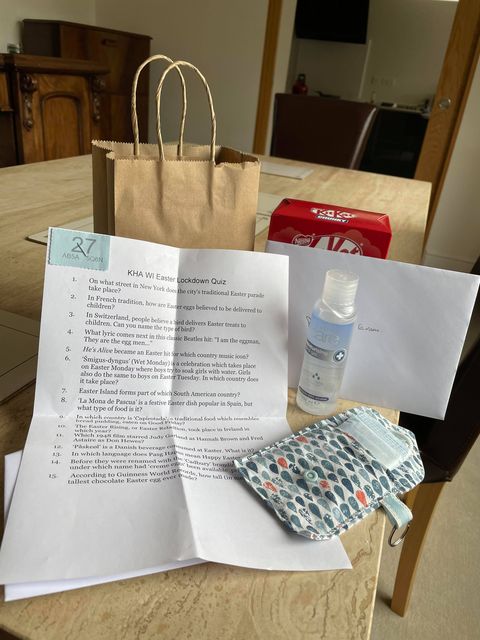 Silverstone WI committee has been out and about delivering Easter goody bags to its members.
Have very happy Easter Silverstone WI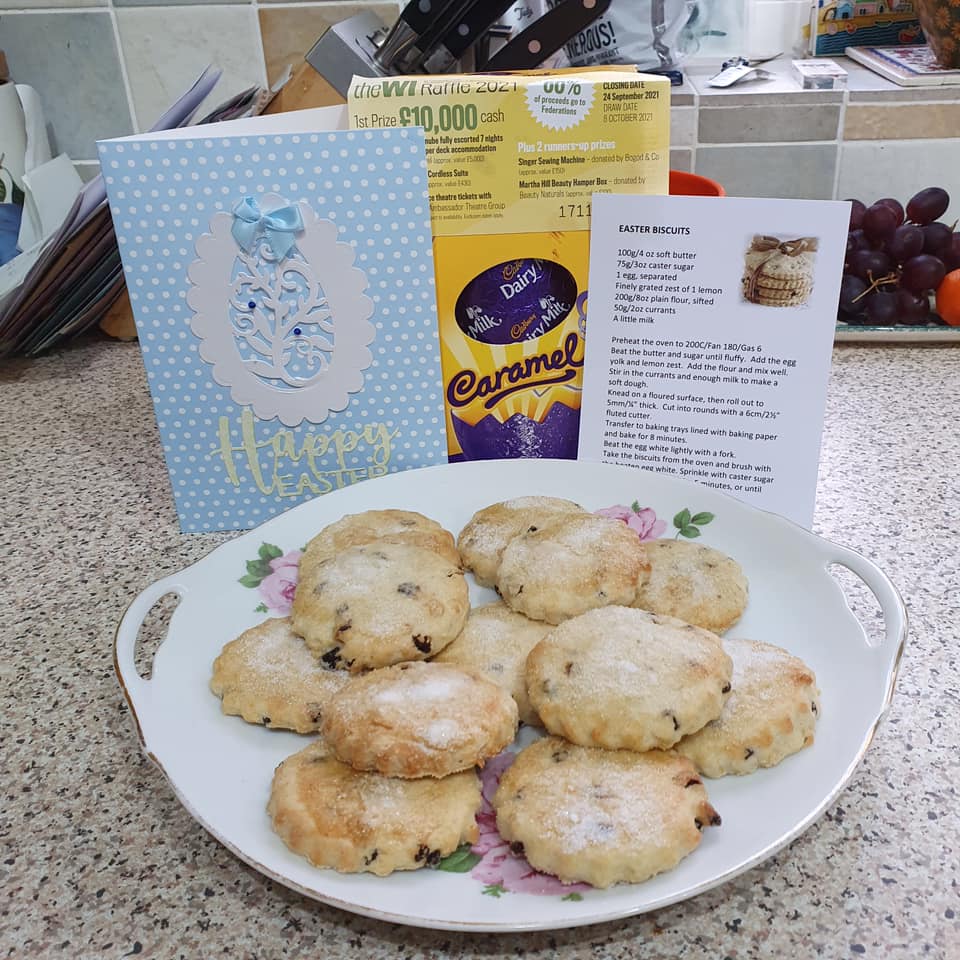 Happy Easter! Badby & Fawsley WI members received an Easter gift and card after stay at home restrictions were lifted.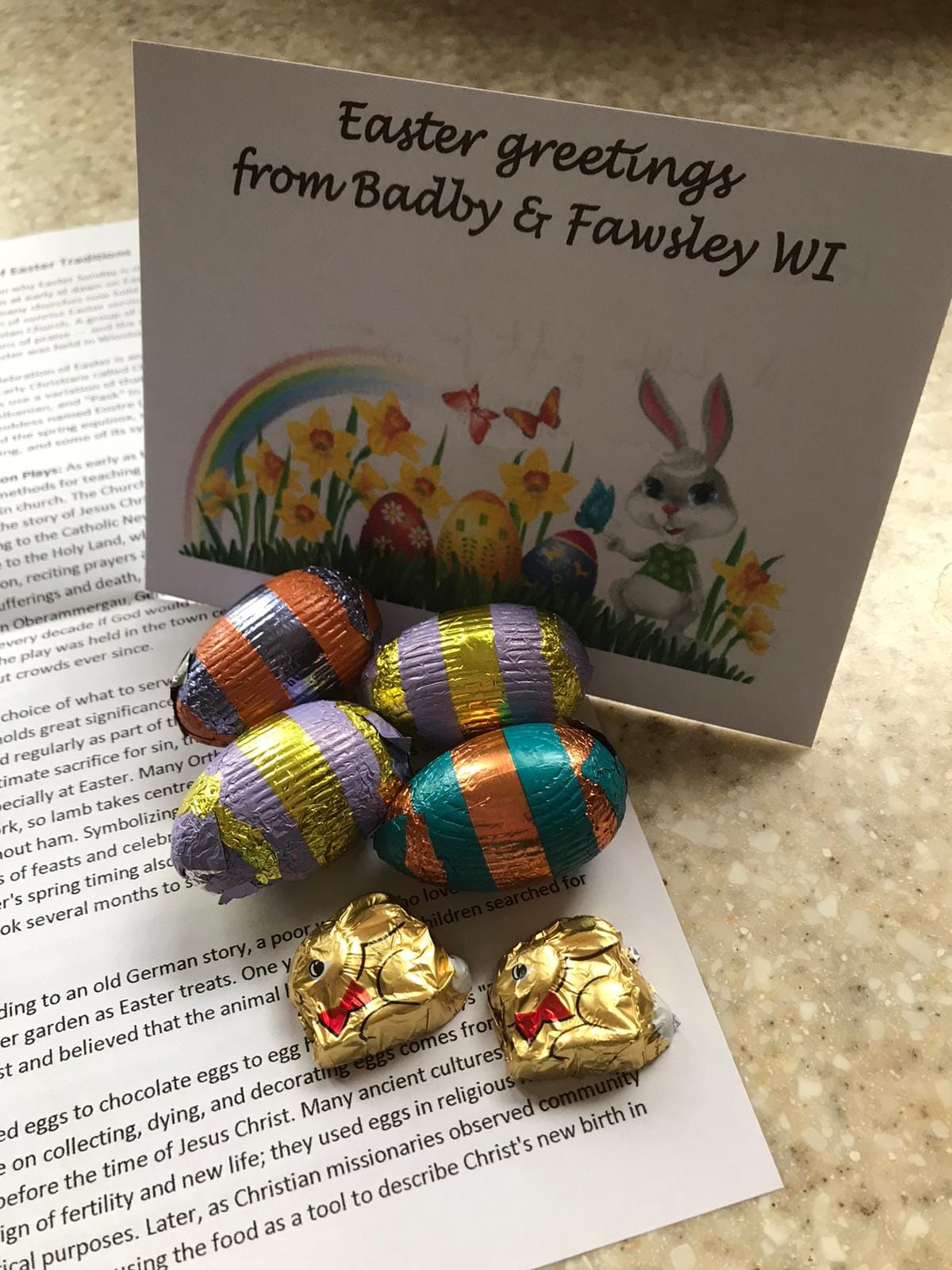 Stanwick WI made wonderful Easter Wreaths at their March Zoom meeting followed by a few games of bingo with Easter egg prizes.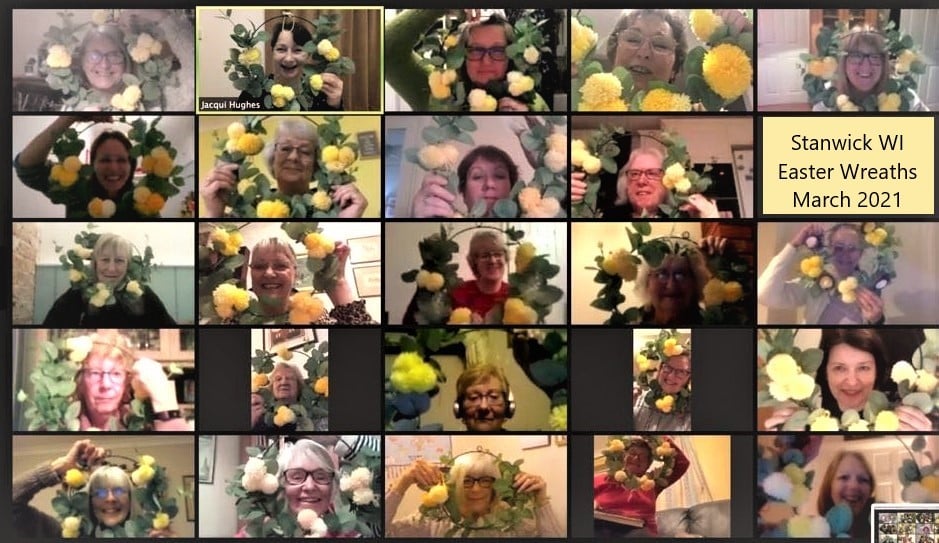 Happy Easter to all our members and friends.
Towcester Evening WI
delivered a Spring bunch of daffodils and chocolates made by Jane Napier @simplychocolatewhistable. Jane demonstrated tempering chocolate and making Easter eggs at our meeting on Thursday 1 April 2021 and we were then allowed to eat the chocolates!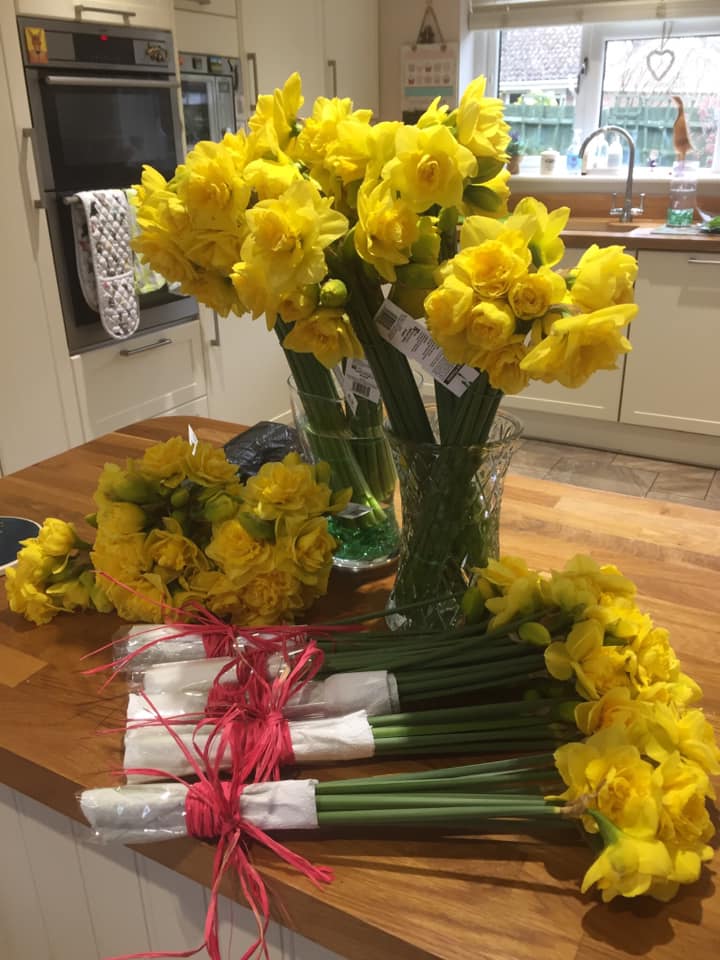 Congratulations to Jenny, Jane and Brenda of
Mawsley WI
who were nominated for
#ThankYouThursday
They worked as NHS volunteers at the local vaccination surgery, making hot drinks for the nurses and doctors, as well as helping to keep the flow of patients. Well done ladies!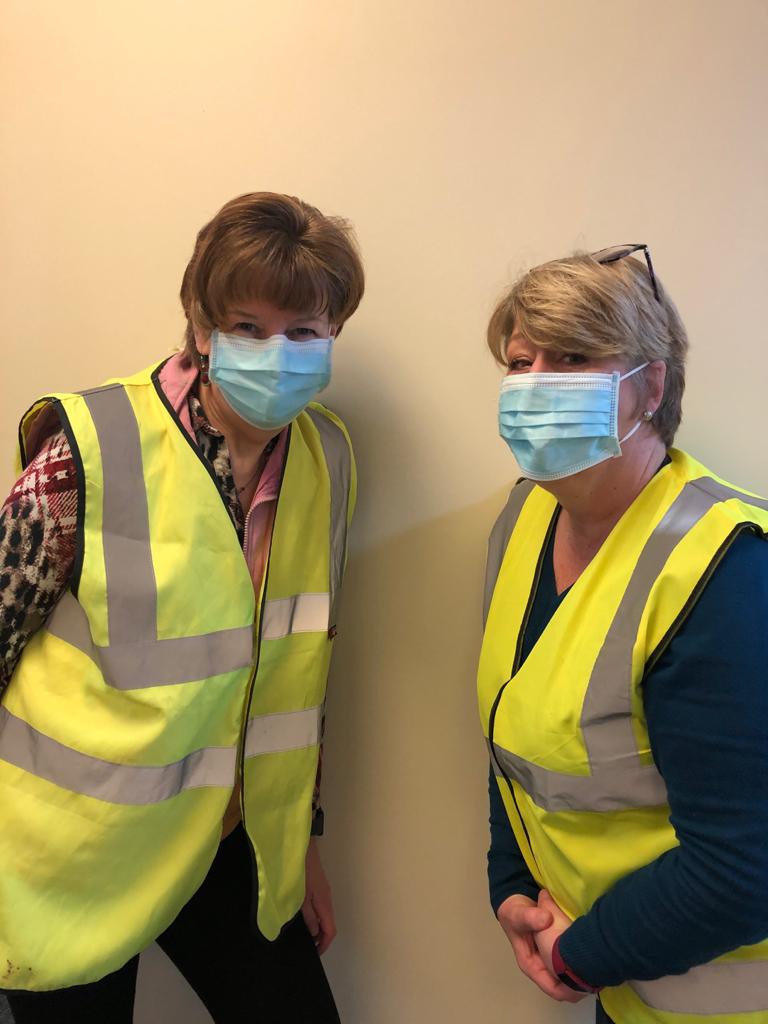 Roade WI had their first Zoom speaker in February 2021 on Forensic Pathology given by Anne Webb. Albeit a few gruesome pictures, it was a very interesting evening. Also it is their 93rd Birthday this year and even though their members couldn't celebrate as normal, "Birthday Bags" were dropped at front doors on an exercise walk, so that they could all celebrate on zoom with chocolates, party poppers, recipes for Summer cocktails and mocktails, along with a smiley stress ball for fun and a scented candle. They also held a raffle and a session on Keeping Fit in a Chair.
Blisworth WI members were surprised with a Valentine gift. The yummy biscuits were made by a committee member and very much appreciated. They continue to enjoy Zoom meetings and phone chats with all their members.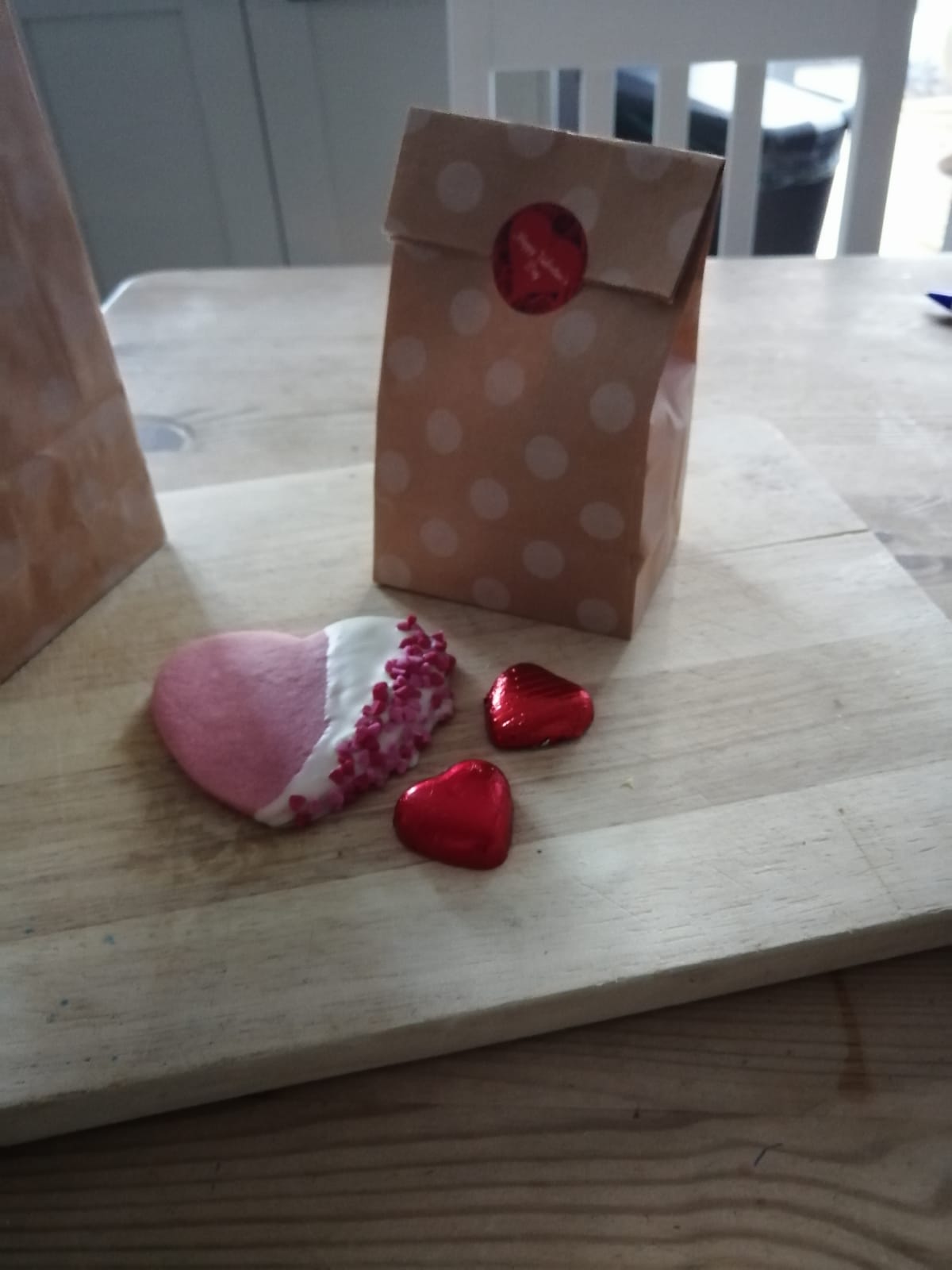 Members of Woodford and Hinton WI were busy during February knitting fingerless mittens for the Northamptonshire Winter Well-being appeal.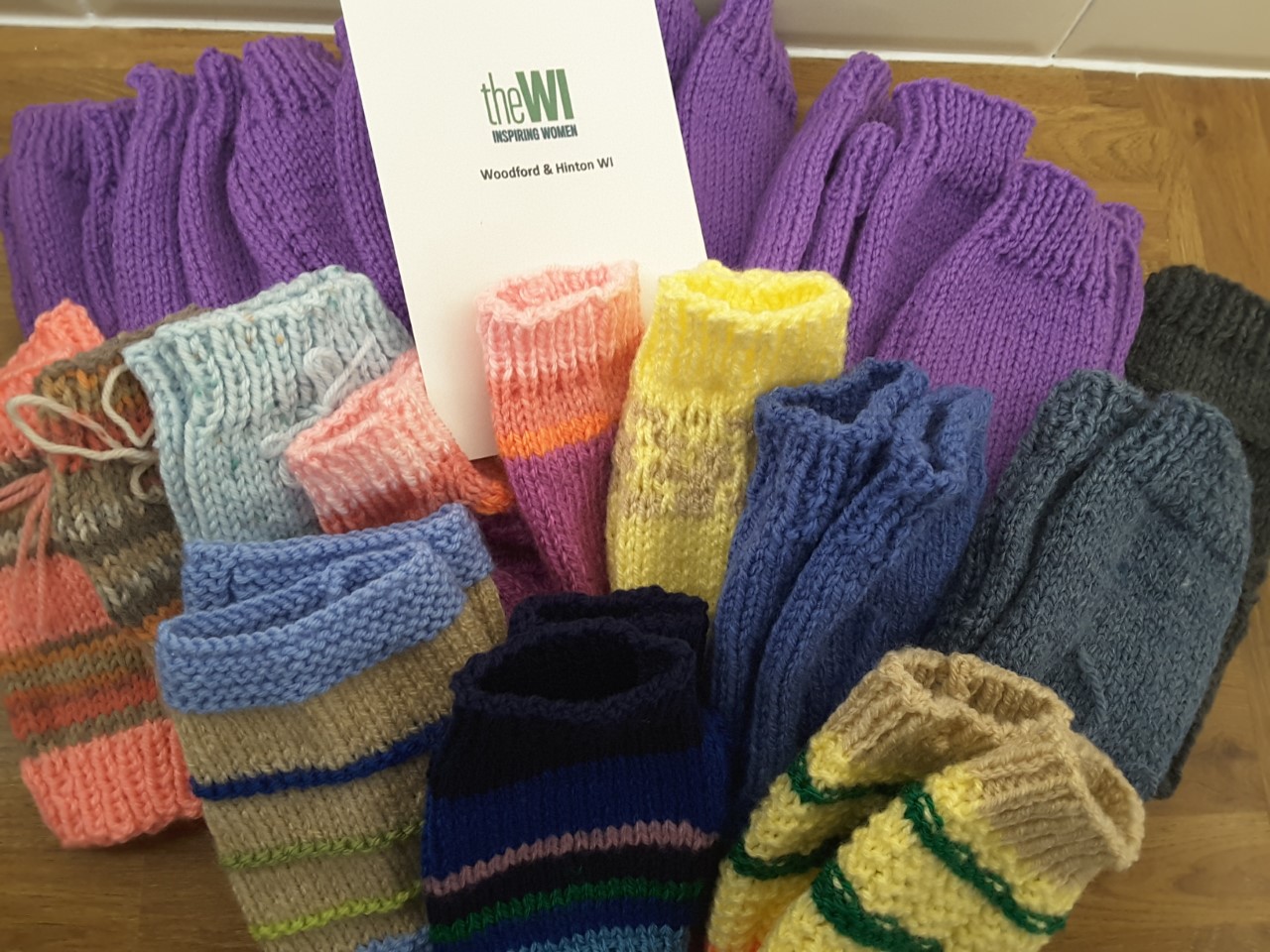 Towcester Evening WI delivered nine more bags of children's knitted items to the Growbaby project in Northampton (part of re:store Northampton food bank). Thank you to all our knitters who have contributed to this project.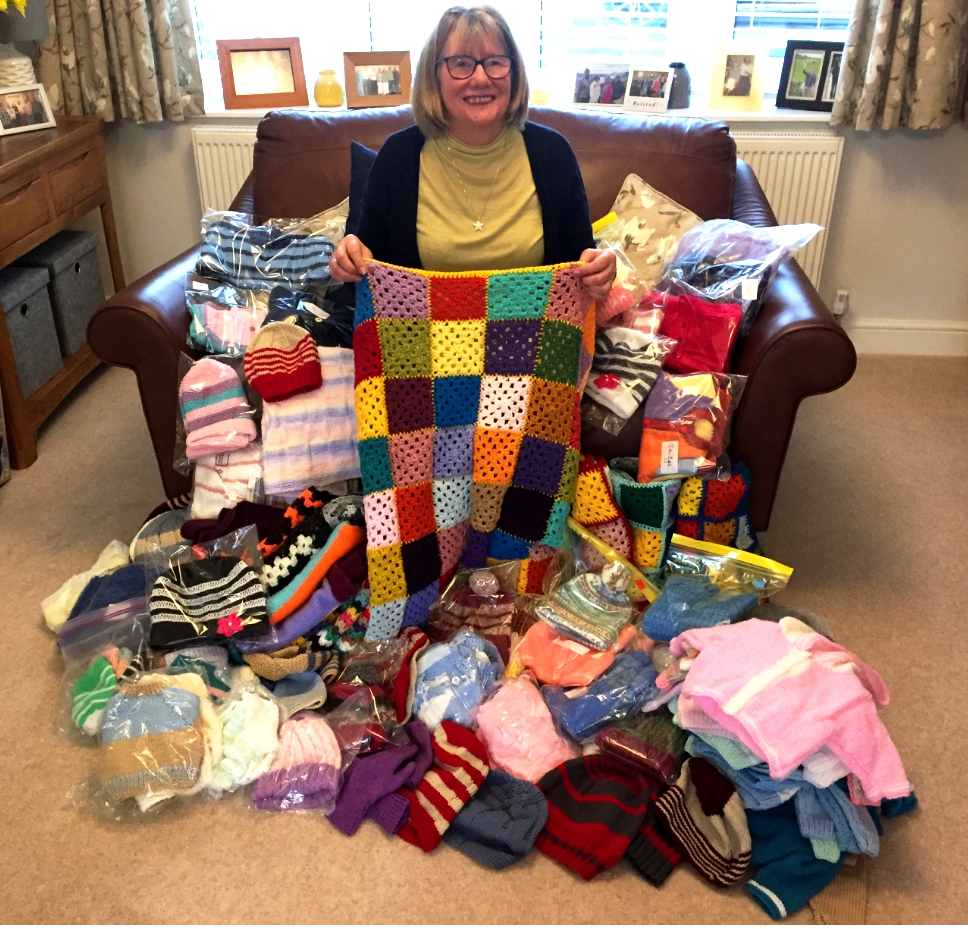 HUNSBURY HILL WI Craft Club is keeping busy and active via zoom they made beautiful dragon fly designs from silk ribbon. Tina Bodsworth demonstrated and the results can be seen by linking here.
Members of Ashley Welland Valley WI have tried most things during lockdown."Panto Time" occupied a few weeks of writing and rehearsal and it's amazing what you can do to stop yourself going crazy! However, here is one President who will never be voted back into office after her Panto performance. The President will never forget either, having to answer the front door, while in rehearsal, in full Cruella-de-Covid costume!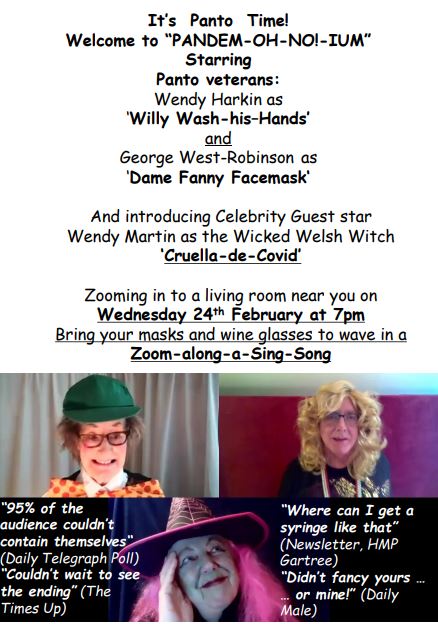 Also at
Ashley Welland Valley WI,
someone had the great ambition of wanting to knit socks, so a zoom session was set up, with the intention of learning how to knit socks. Our beloved Angela –Sock Knitter Supremo in Chief –sent us an easy pattern, guided us with the correct wool purchase and explained that we COULD manage to knit using four needles. Huge thanks to Angela and another club has been formed – a sock club.(Photo attached below)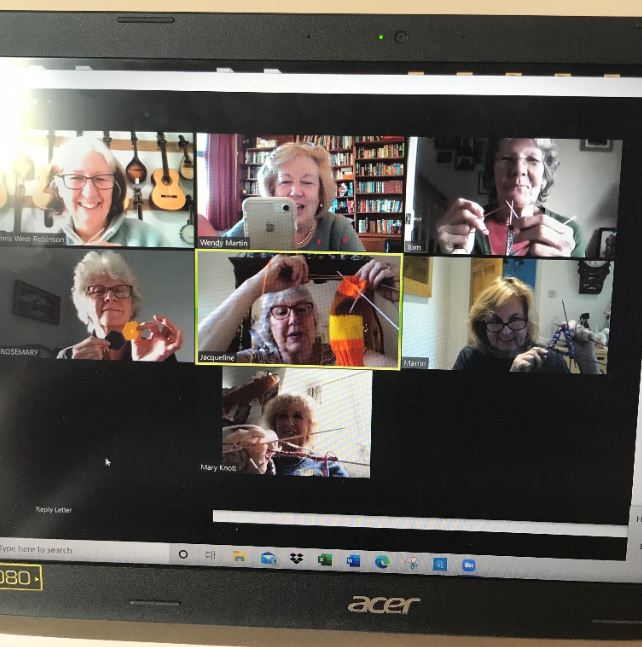 Hunsbury Hill WI play reading group gave a wonderful on-line performance 'Blatant Disruptions' which certainly brightened up the week. Below are two of the cast in their lockdown costumes!!!
Bozeat WI
members have been busy making red hearts to decorate the village for Valentine's Day to cheer everyone during lockdown.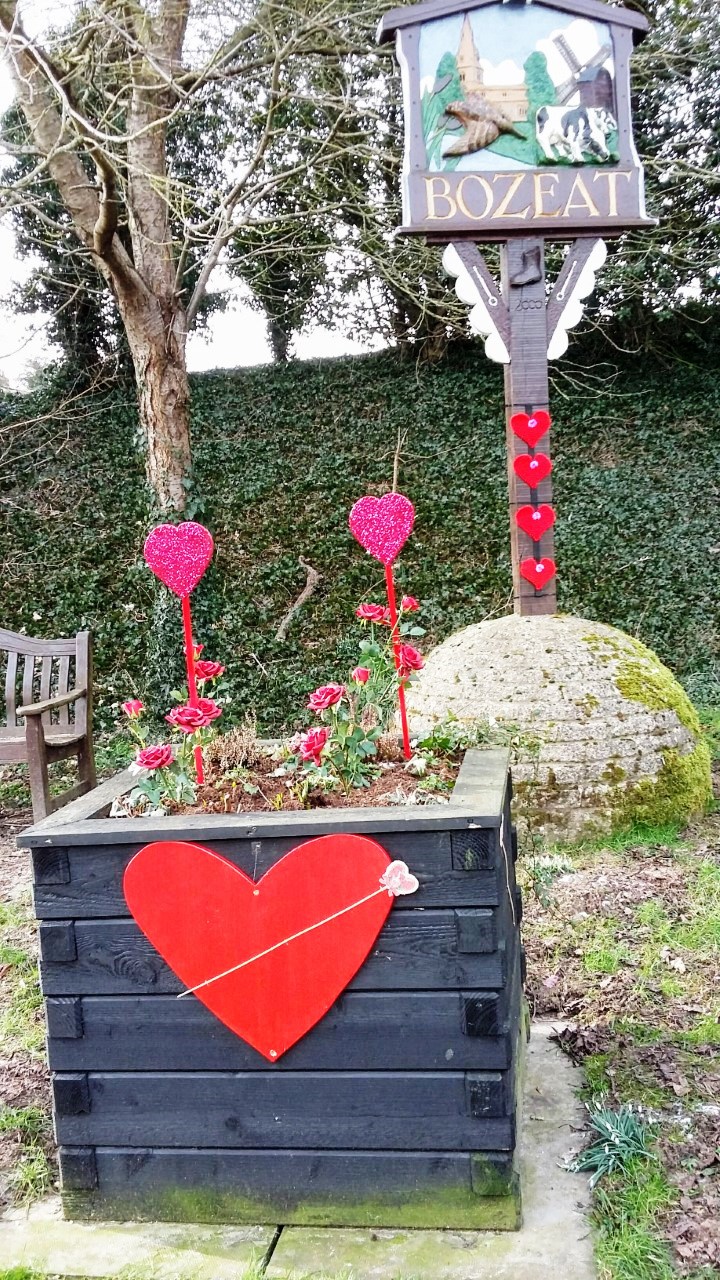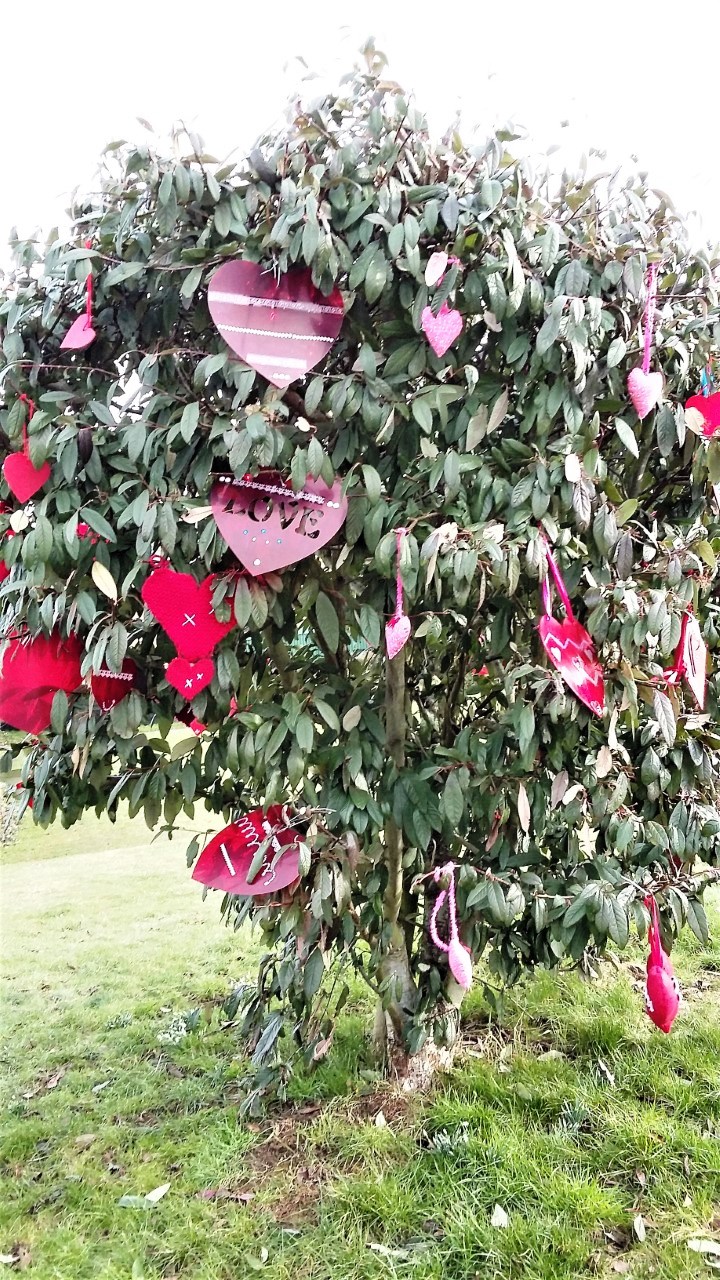 Blisworth WI
member, Denise, was inspired to make festive cookies from the recipe in November/ December WI Life. She says they were easy and delicious but it was time consuming putting the flaked almonds on one by one, but worth it as they look very effective.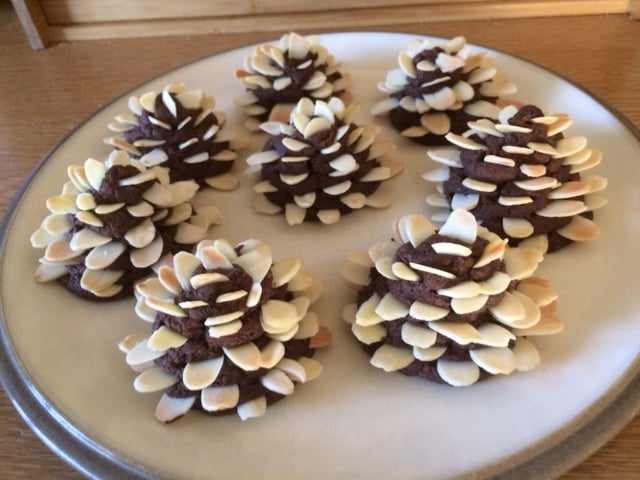 Milton Malsor and Collingtree WI
committee gave a goody bag to each member before Christmas to say thank you for remaining loyal to the WI throughout the last year. Three members packed the bags before the rest of the committee delivered them. Items included were a Christmas cake, 2 mince pies, 2 packs of biscuits, hand cream, chocolates, a tree decoration, a quiz and the WI booklet. All were delighted to receive their gift. The gift card was made using a photo from last year when our WI had a display in the local church depicting The Holly and the Ivy.
.
Cosgrove WI
committee prepared Christmas goody bags for their members. The bags contained a Christmas card from the committee, a pot of tete a tete daffodil bulbs, home-made mince pies and shortbread, some chocolate, an orange pomander made by one of the committee, hand cream and a couple of Christmas quizzes.

(The photo has been photoshopped as social distancing rules were complied with!)
Raunds WI
's Committee worked together to produce and deliver a lovely Special Christmas gift bag for each of its members. The Santa package consisted of a surprise wrapped present, chocolates and Christmas Santa, Christmas card, Christmas pudding and an orange. The Committee members pictured are Sandy, Maria, Sue Jane (President) and Lesley.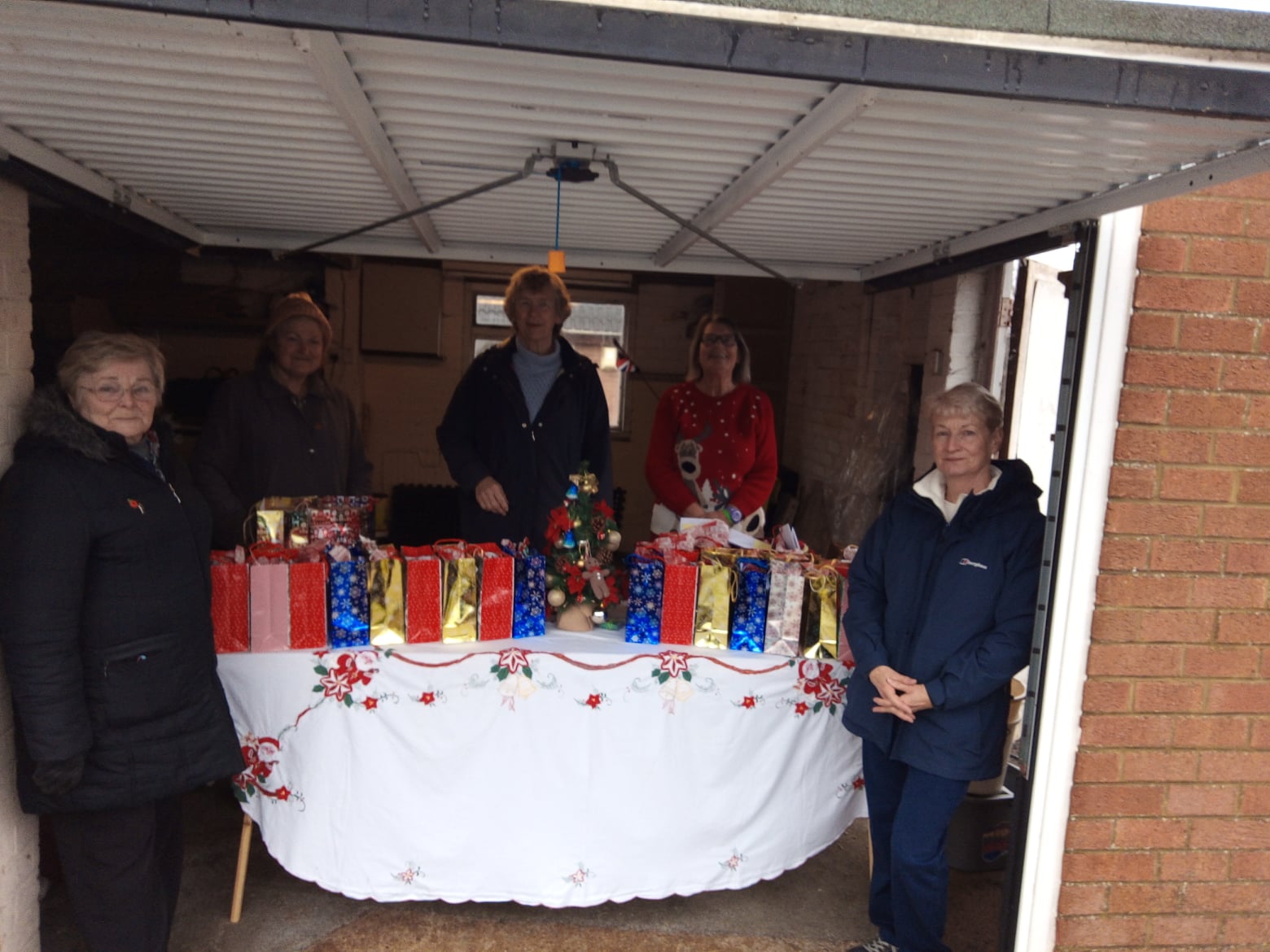 .
Northampton Kingsley WI banner was completed in March 2020. They hoped it's first outing would have been their annual afternoon tea, but sadly it had to be cancelled. Maybe 2021!
In December 2020 the committee delivered afternoon tea, made by Heather on Kingsley Park, to members.This had been preceded by all members receiving an Advent Calendar.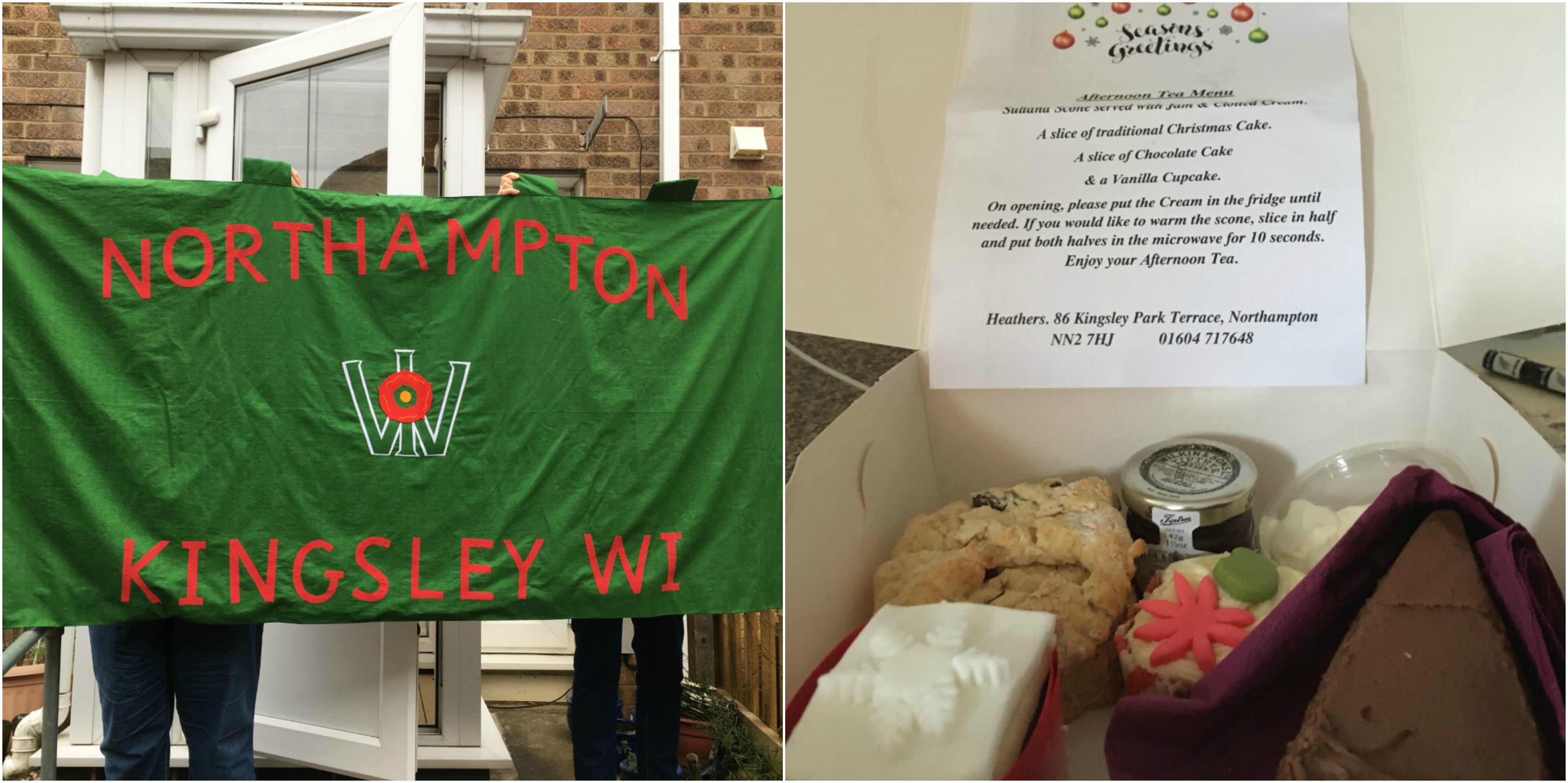 Hackleton and District WI Christmas goody bag was delivered to members on the morning of their Zoom Christmas party and contained prosecco, a cracker, a bingo card and party popper which were all used to let us partake in the party, as well as mince pie and other goodies. The party included a quiz, bingo, a demonstration on how to make a cracker and they sang carols.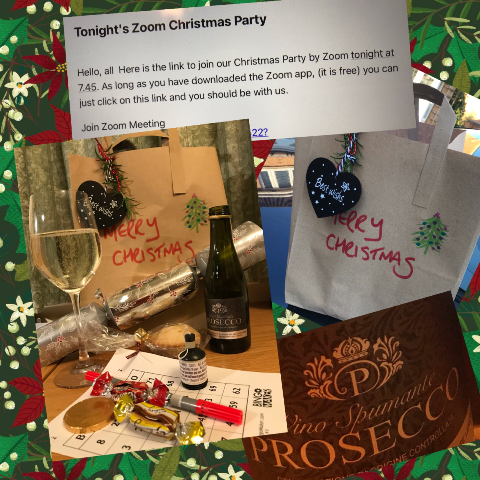 Northampton Martinis WI made and delivered Boxes to all members.They were opened all together at the December meeting where the speakers demonstrated how to make cocktails.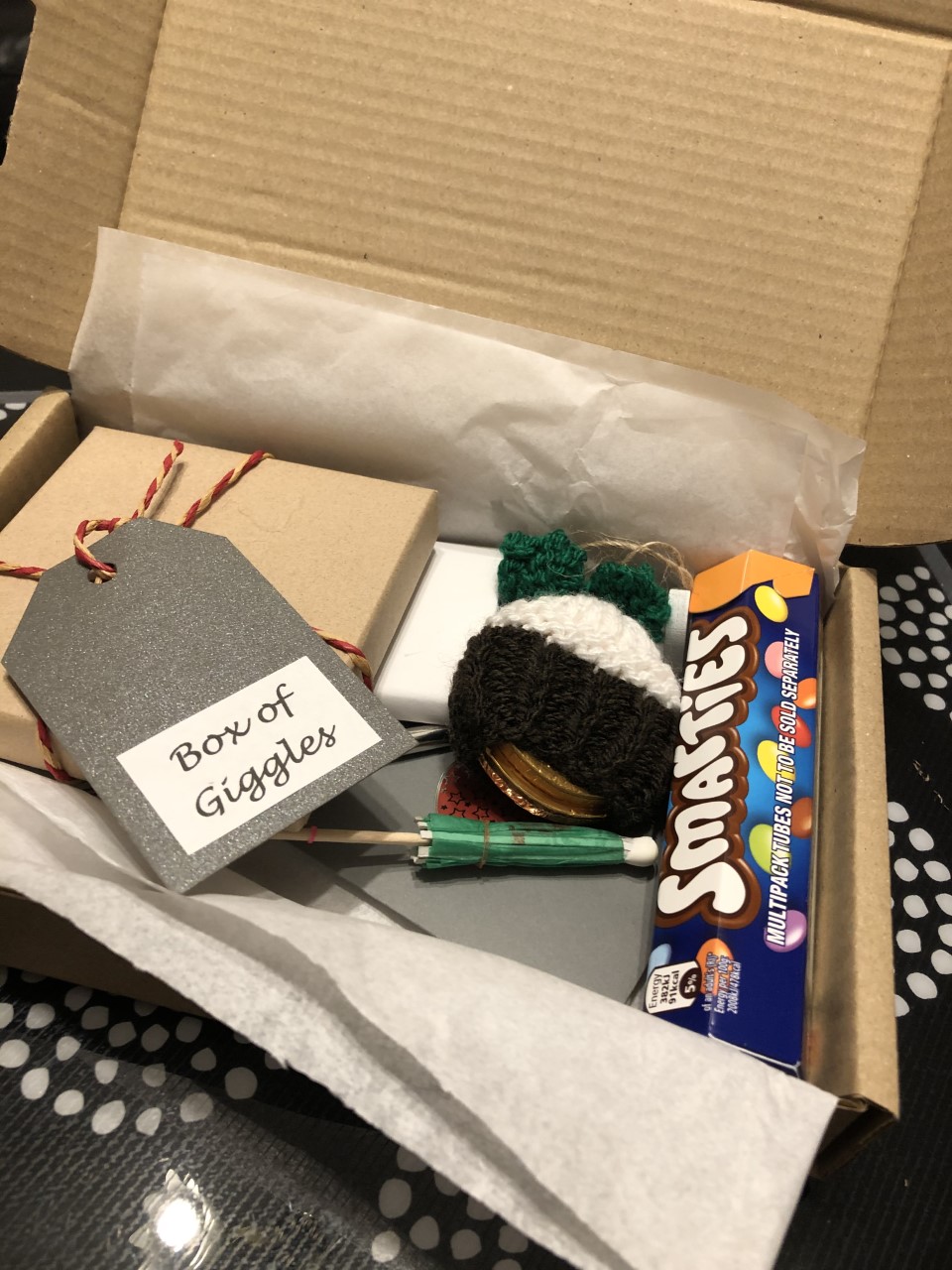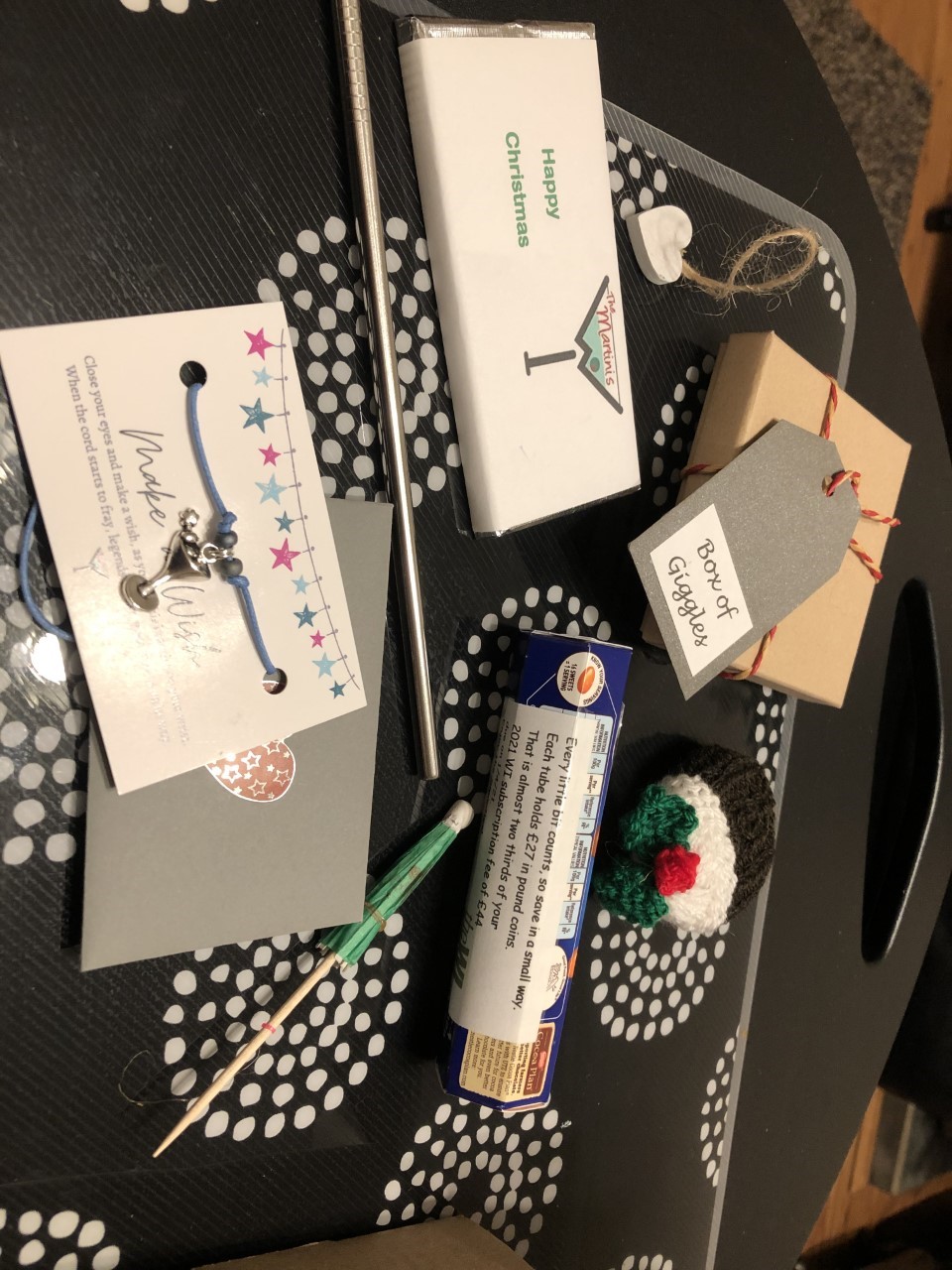 Cranford WI delivered splendid Christmas Goody Bags to their lucky members!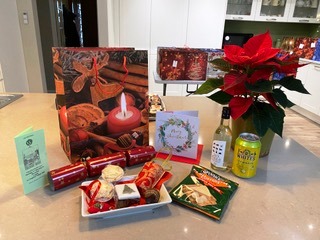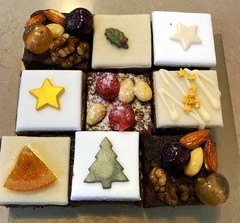 Members of Daventry WI received an early visit from Father Christmas - a little bag of fun and treats made, and delivered, by the committee to wish them all as Merry a Christmas as possible and a Happier New Year!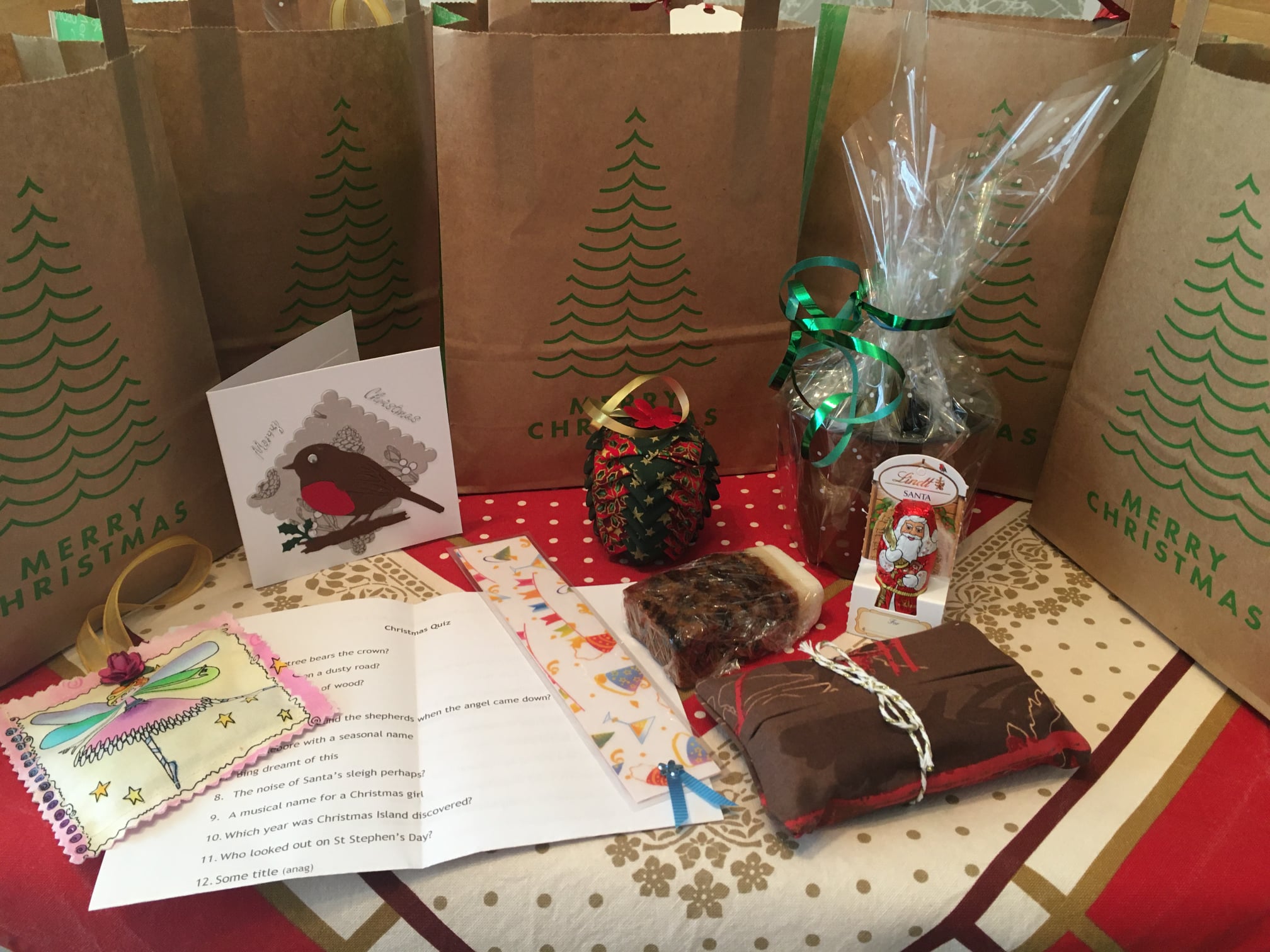 Stowe Nine Churches' shares its special seasonal meeting:
"One of the benefits of a virtual meeting is only a few committee members are required to circumnavigate utility works. Nothing was going to stop Stowe Nine Churches members receiving everything they needed for their Christmas craft meeting, along with a couple of festive treats and a free draw ticket, all suitably wrapped.
Fast forward a couple of days, holding up a box of Elastoplast, President Audrey Mason welcomed everyone to the meeting reminding members to listen carefully to the opening safety brief which followed. The seasonal paper cutting workshop, was led on zoom by the talented Christine Green from Crafting at the Cottage.
It was an enjoyable evening filled with chatter & laughter along with delight, as the craft unfolded and everyone enjoyed learning this new skill. The workshop finished with Christine sharing some fascinating history and facts about her craft from around the globe.
Before the meeting closed, the raffle was drawn with four members winning an extra Christmas gift of a WI 'bunting' apron, "Recipes to Remember" the Cynthia Spencer cookbook, 'she leaves sparkles wherever she goes' Tote Bag and a WI pen. While everyone enjoyed a real giggle, sharing chocolates and drinks, virtually in the warmth and safety of their homes, we, like all members, are really looking forward to safely meeting up in person at some point during 2021. In the meantime the warmest of wishes to everyone."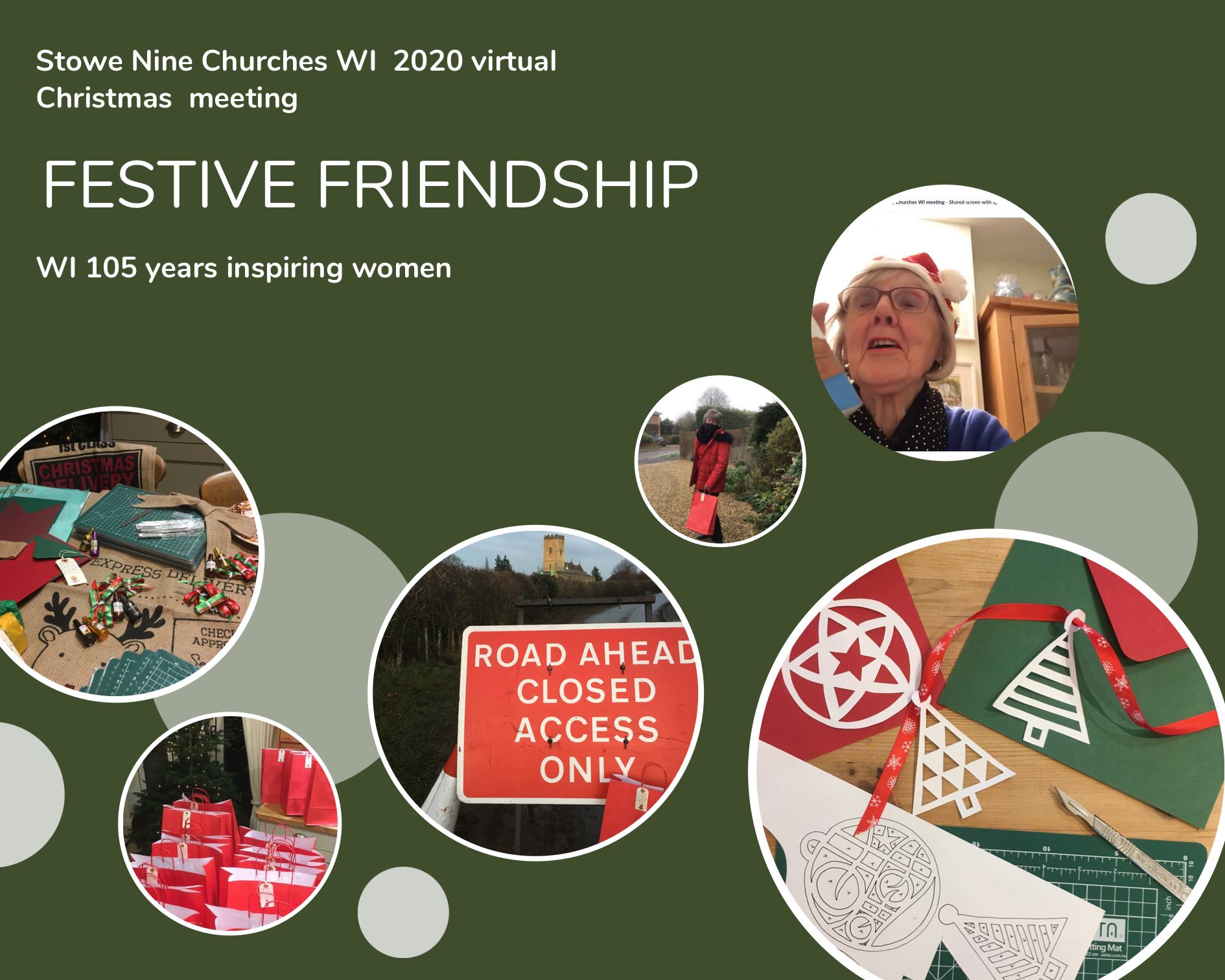 Creaton WI
president delivered to each member a gift bag containing, amongst other goodies, items handmade by each member of the committee - a padded coat hanger, a lace bookmark, medlar cheese, redcurrant jelly and a knitted Christmas pudding hiding a chocolate. This was followed by Creaton's very first Zoom meeting which was great fun, with everyone opening one of their gifts to share a Christmas toast!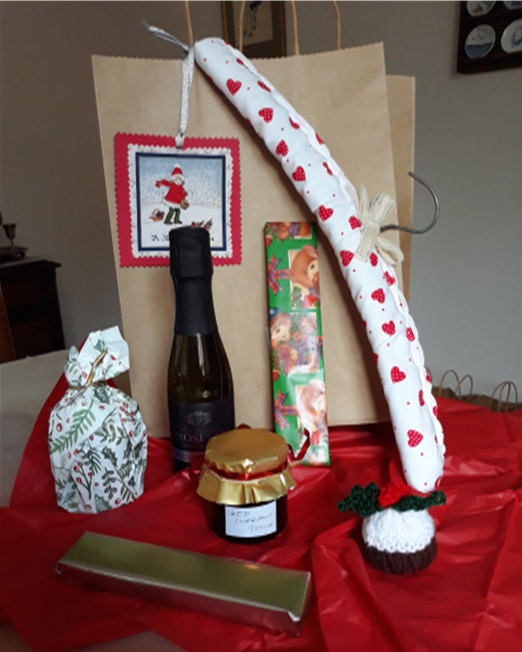 Aldwincle WI
committee decided to buy every member a Christmas present of an amaryllis plant, a card together with a personal letter from Ruth our president, a 2021 programme and finally the 2021 Membership Booklet, all packed into a lovely Christmassy bag. These were distributed by the committee members.
It has been suggested that we have a competition to see whose grows the best. They will be judged at the first meeting we have in 2021. Watch this space !!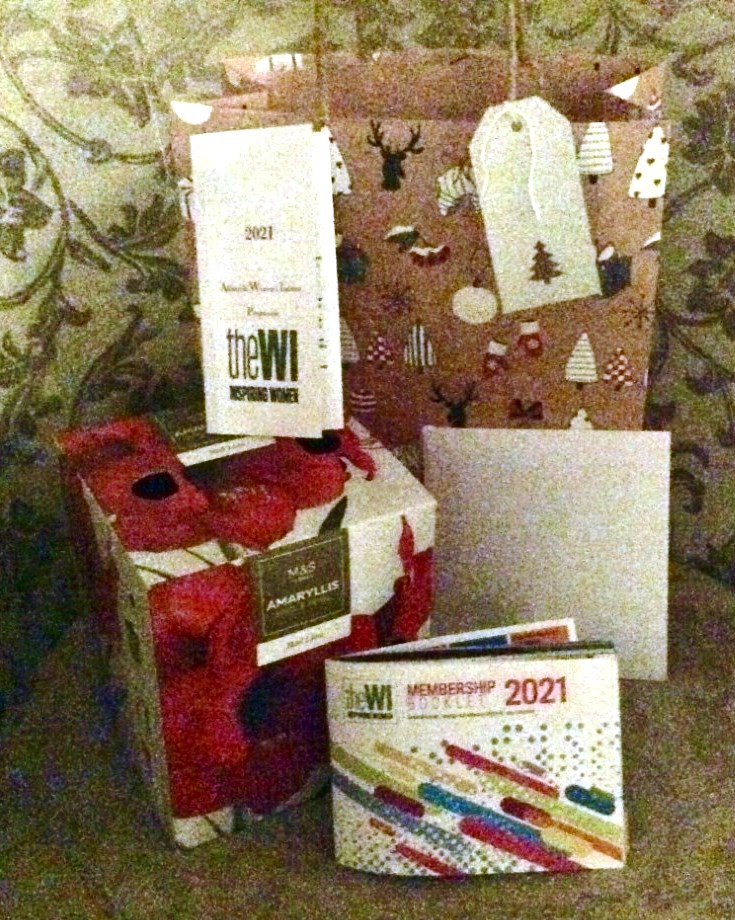 Wootton WI
members received a lovely bag of goodies, which was much appreciated and kindly delivered by members of the committee. So much thought put into the contents, plus all the craft (mask, card, bag). Someone worked very hard. PS There was chocolate - but that disappeared before photo was taken!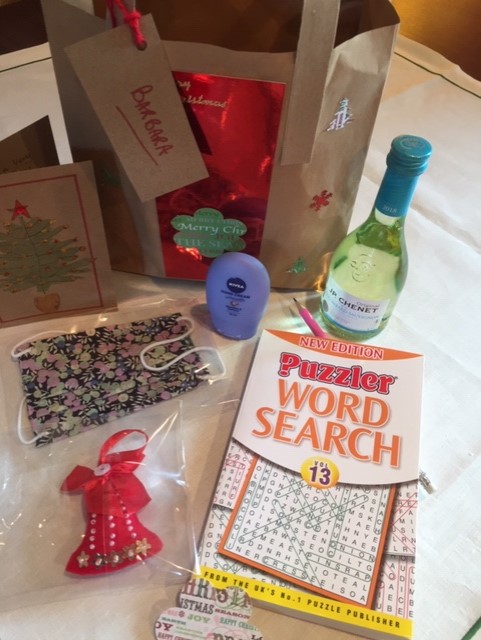 Suzy from The Good Loaf was
Quinton WI
s December Zoom speaker. Before the meeting, members received a mince pie and chocolate brownie from the Good Loaf, plus cheesy nibbles baked by Jane. Our generous President Val kindly gave all a bottle of Prosecco. We also ordered bread, rolls and other goodies from the Good Loaf and hope to have a regular weekly delivery to Quinton in the future. Re:store Northampton also received donations from members, instead of members exchanging Christmas gifts. PS The tiny elf just popped by!!!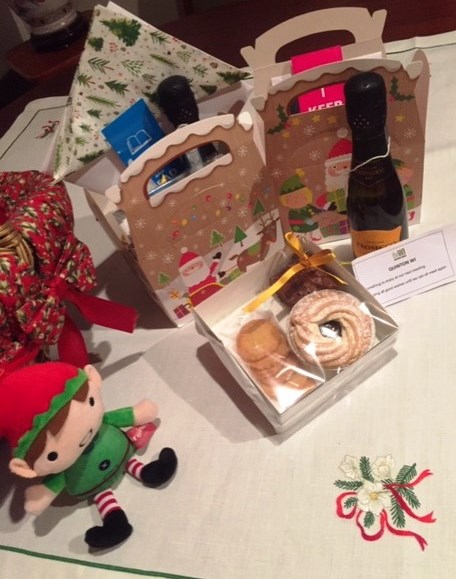 Oakley Vale WI treated their members to a postable
Christmas
gift.The card they received is impregnated with seeds. Once finished with, plant the card on compost, give it a jolly good water then put somewhere warm and sunny. Once the various seeds have grown, plant them into the garden or keep in your pot. You should end with a beautiful display of flowers.The card composts down. A great ecological
Christmas
gift.
But that's what WI is all about. Our members were delighted and the committee got lots of phone calls and emails of thanks.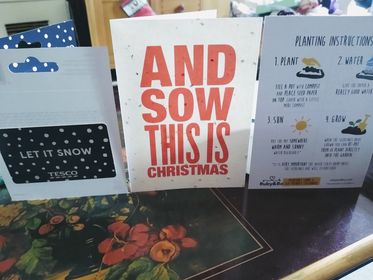 .
KHA (Kelmarsh Harrington and Arthingworth) WI provided
Christmas
bags for their members to brighten their days in this long and difficult year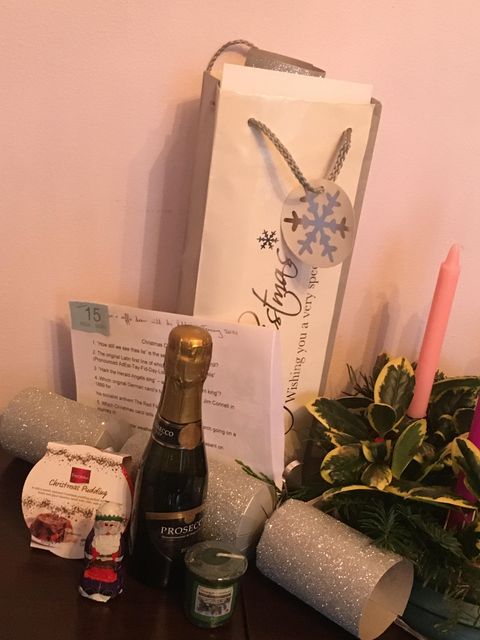 The President of Woodford and Hinton WI, festively attired, delivered a 'Meeting in a bag' to members, including a Christmas mask she made for each member, home made mince pies and biscuits plus a word search. Everyone was surprised and delighted to see her and it made their day!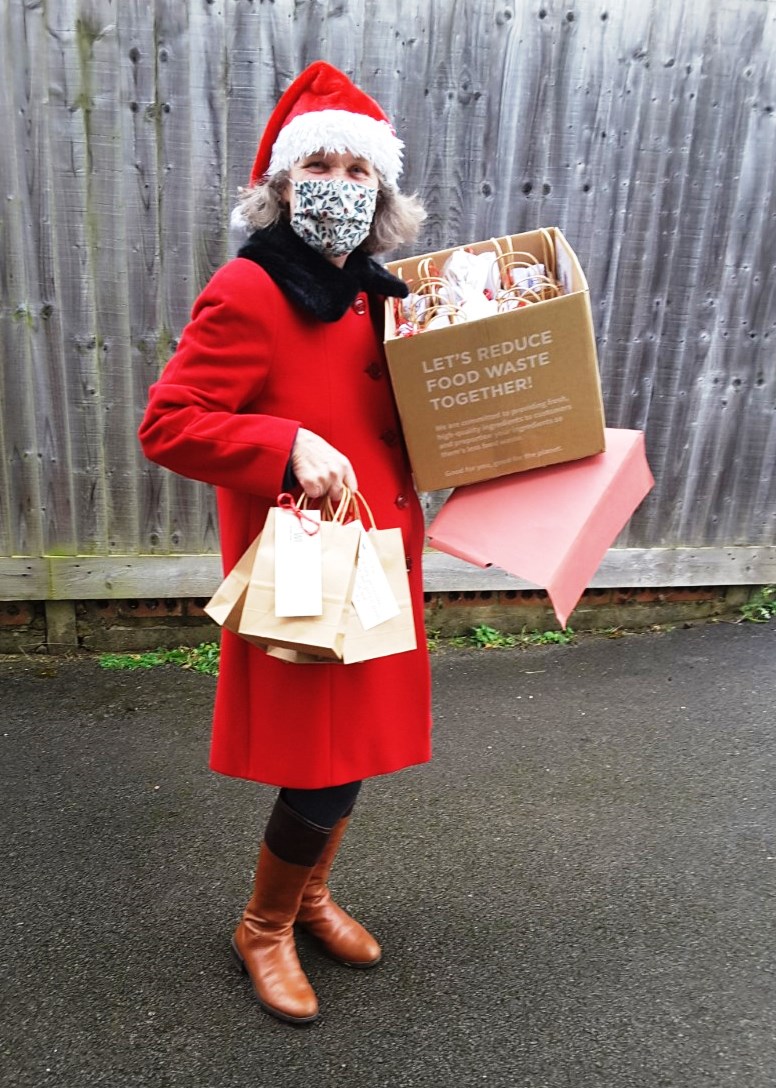 Since Covid restrictions began, Welford WI members have been kept in touch.
On WI day in September- a cream tea and a teabag, something to soothe and relax - hand cream, something to look forward to - Aster seeds (the flower of September).
On 25 November each member received an Advent jar, containing 24 slips of paper with various quotes, rhymes, jokes and tasks to complete which will feature as competitions next year.
All much appreciated by Welford WI members.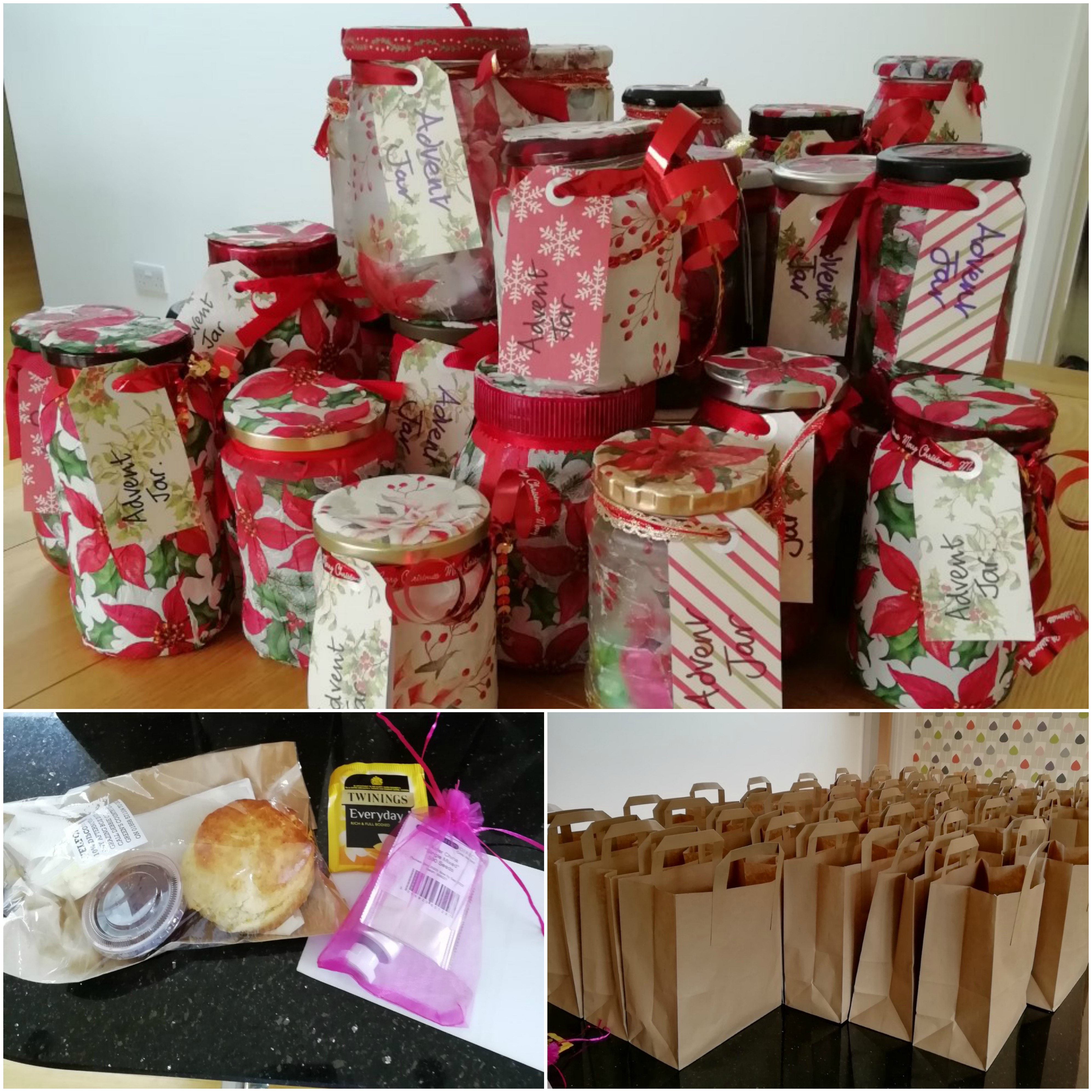 Just had this December meeting goody bag delivered by Towcester Evening WI treasurer. Cheered me up immensely.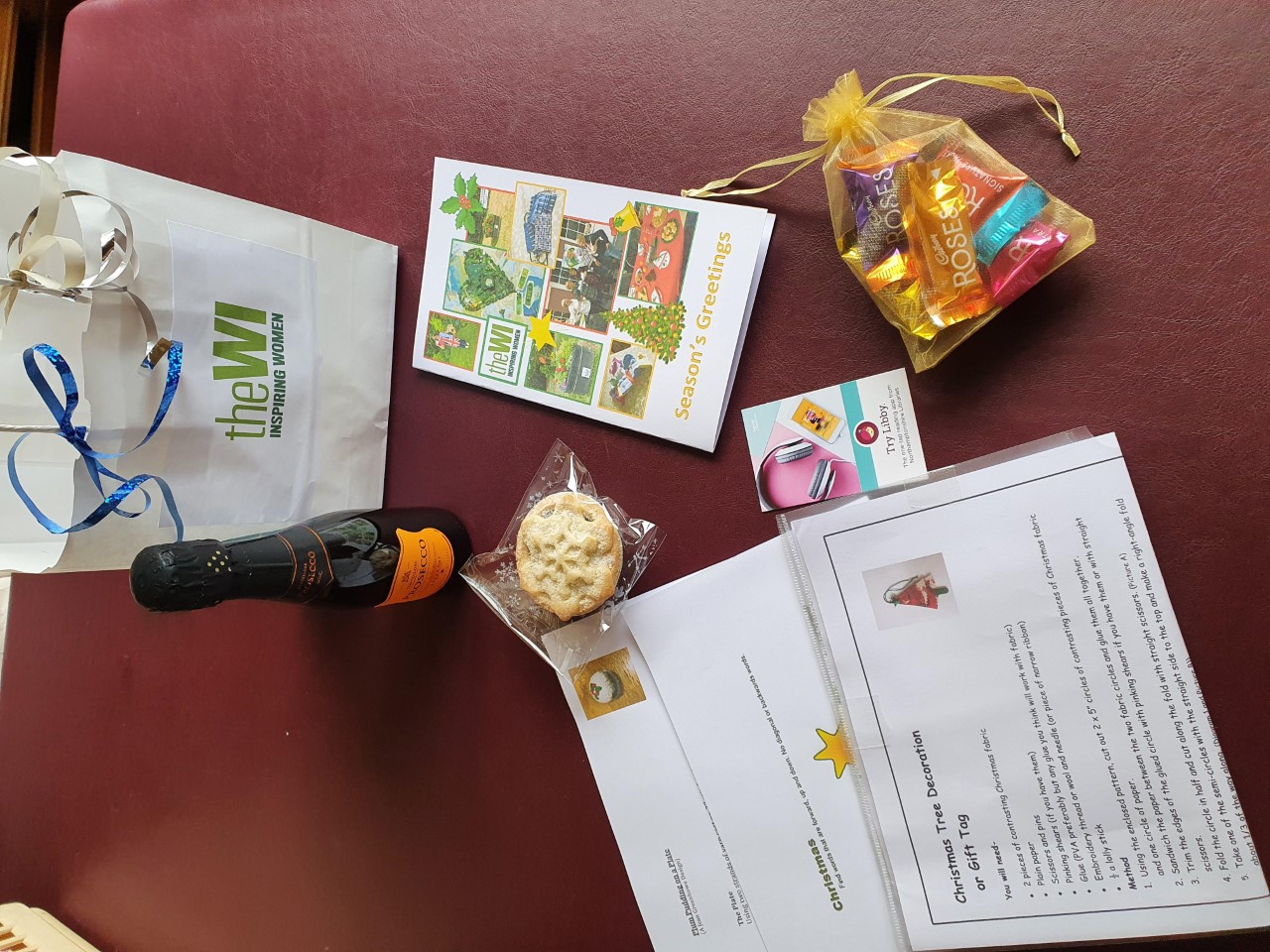 Kings Sutton WI members, family and canine friends, wishing longstanding member Ba Harris a Happy 90th Lockdown Birthday.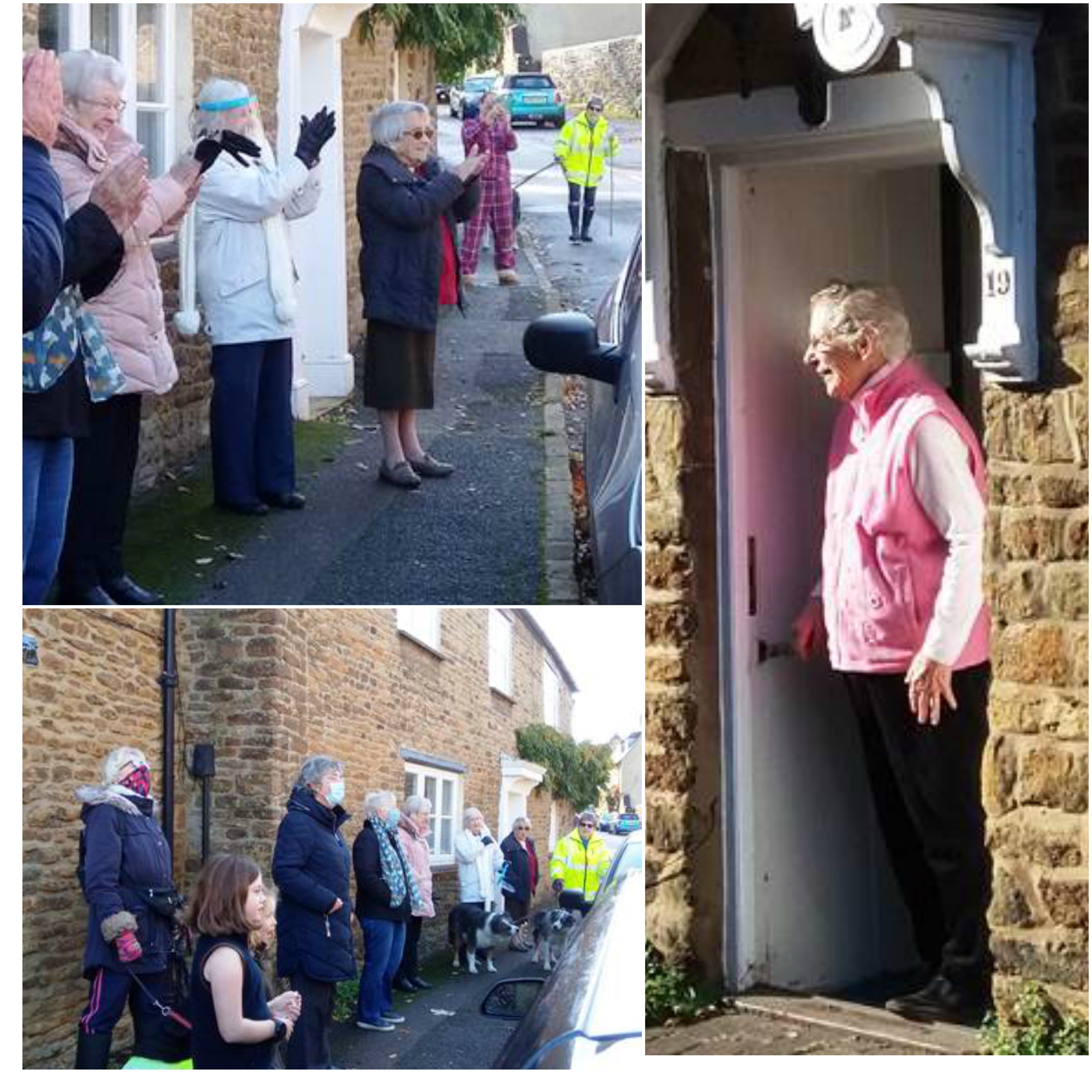 Ashley Welland Valley WI gave 'an evening in a bag' to members who then made beautiful gift tags, guided by our very own Chris. Gift tags really easy to make. "It's beginning to feel a bit like Christmas"!!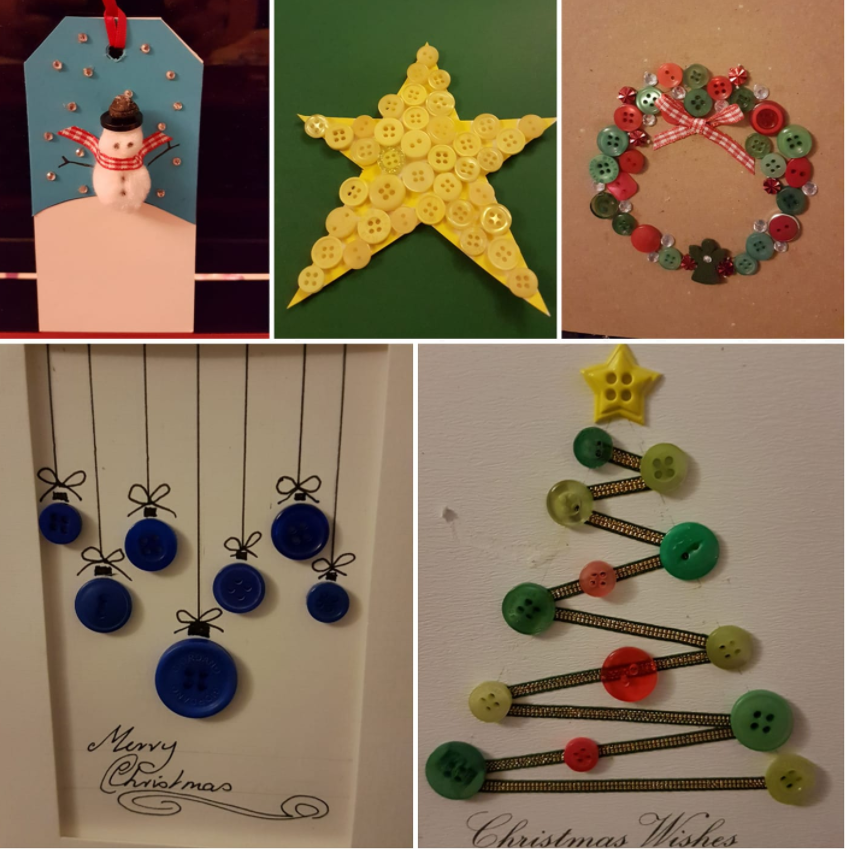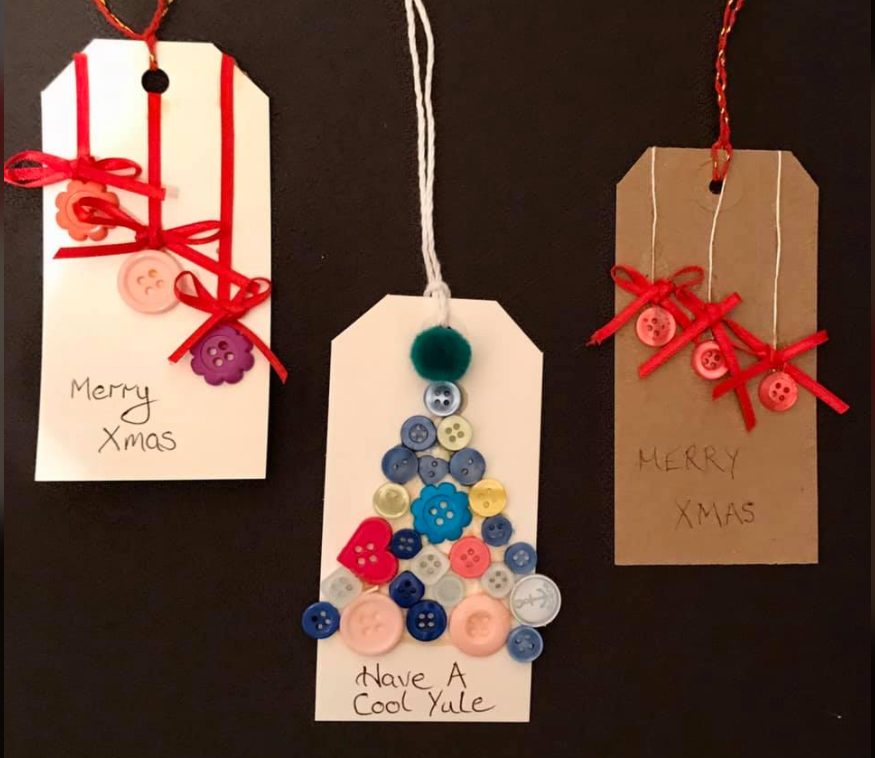 On World Kindness Day, our thanks also to Great Houghton WI who, with wonderful help and support from Helmdon WI (and Stitchers Group) and East Hunsbury WI, delivered another batch of beautiful knitted clothes and blankets to the Growbaby Project.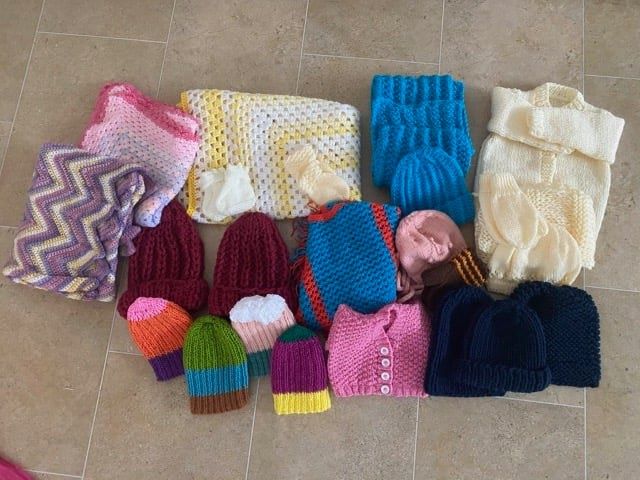 Earls Barton Millennium WI members were both surprised and delighted to receive a Goodie Bag containing a WI Tea Towel, Puzzle Book, scented candle in a tin, hand cream, flower seeds, tea bags, biscuits and chocolates all in a glittery bag. It helped in a small way to keep connnected in these unprecedented times. Lucky them!!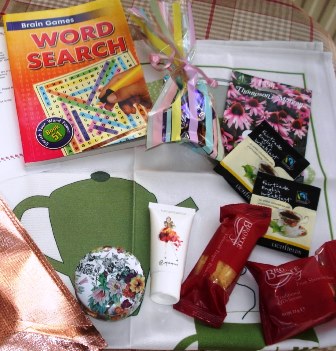 Daventry Timken WI got into the Christmas Spirit by making crackers via Zoom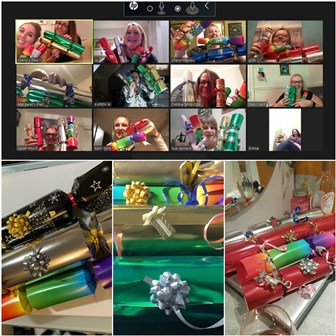 A Bozeat WI member showed other members how to make poppies from old plastic bottles. Many hours were spent during the Covid 19 lockdown painstakingly shaping and painting hundreds of poppies. Some were made into a Wreath which was placed on the war memorial in the cemetery and others were attached to netting and displayed on the WI flower planters in the village.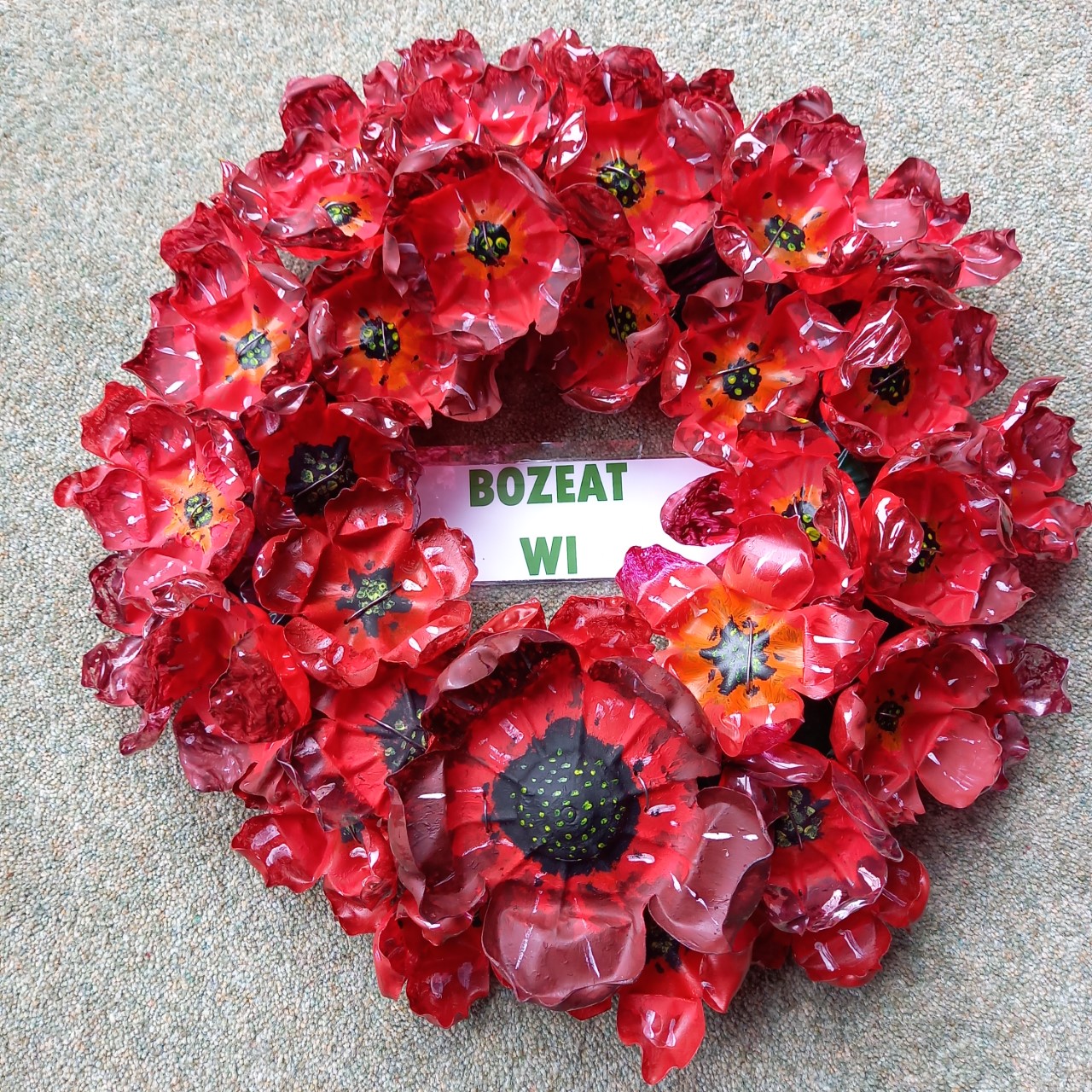 Hunsbury Hill WI
We will remember .... a beautiful display of poppies at Hunsbury Hill Country Park. Many thanks to all those members of HHWI who contributed to this years memorial display which has seen the addition of a variety of coloured poppies:
Red - remembrance & hope Purple - in honour of the animal victims of war
Black - African, Caribbean, Indian and Asian contributions White - peace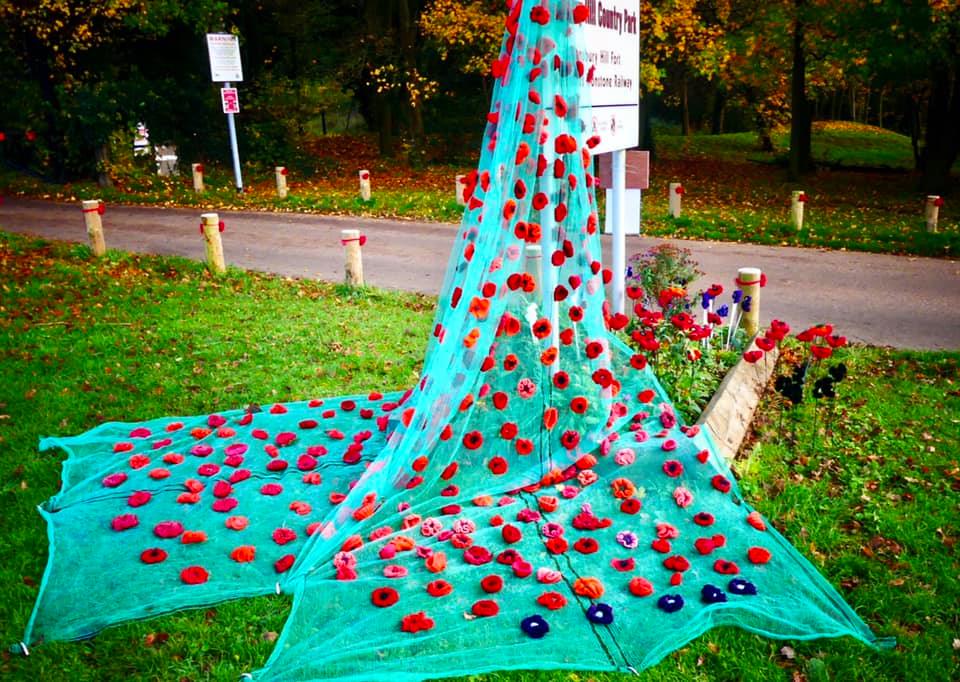 East Hunsbury WI members crocheted and knitted poppies to contribute to a wonderful Remembrance Day display outside the library. One member made the large felt poppies and the President worked on attaching poppies to the display.
Another member laid a wreath, on behalf of East Hunsbury WI, at a ceremony at the memorial bench with Parish Councillors.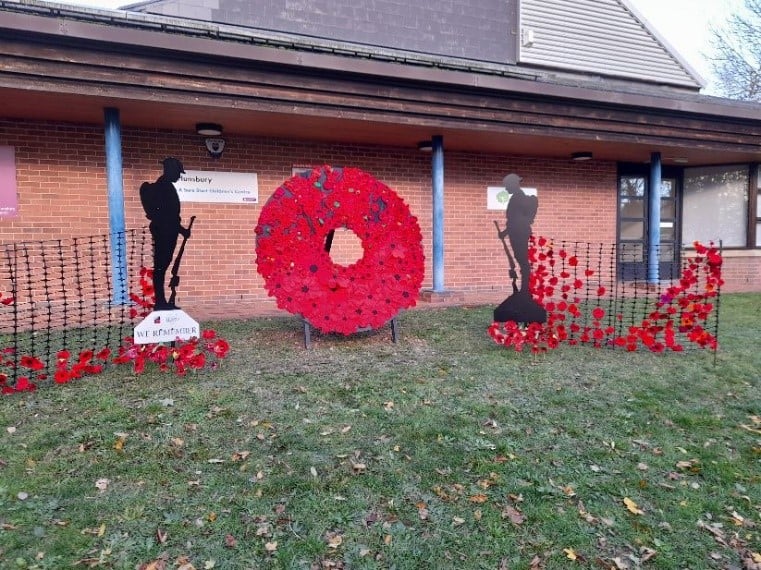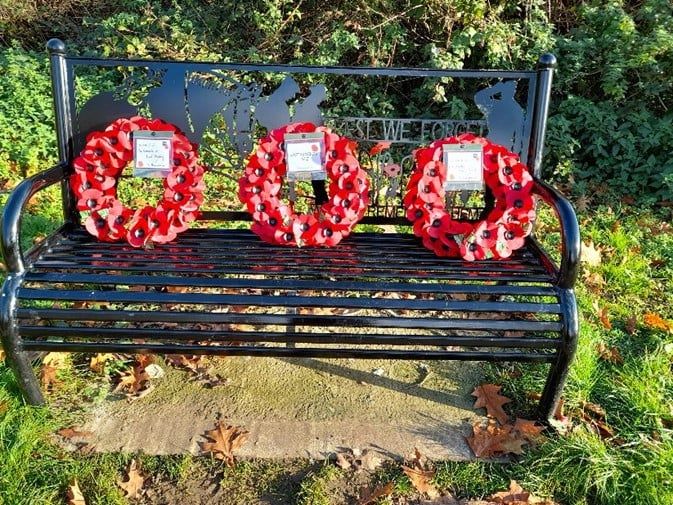 Ashley Welland Valley WI had a "carve and show" evening for Hallowe'en. Fruit, pumpkins and other vegetables were carved and even knitted, with wonderful results!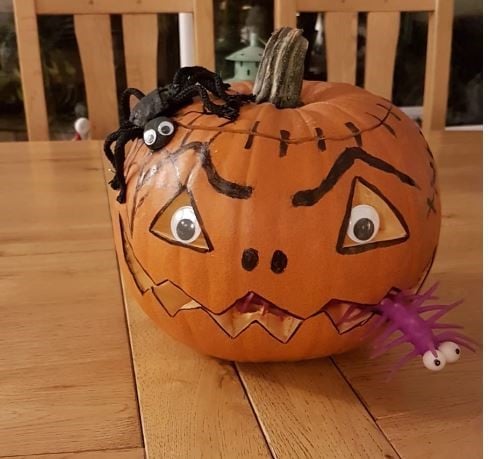 ---
Shivering members of Bozeat WI held their socially distanced October Committee Meeting in the garage of their Secretary. Keep up the good work ladies!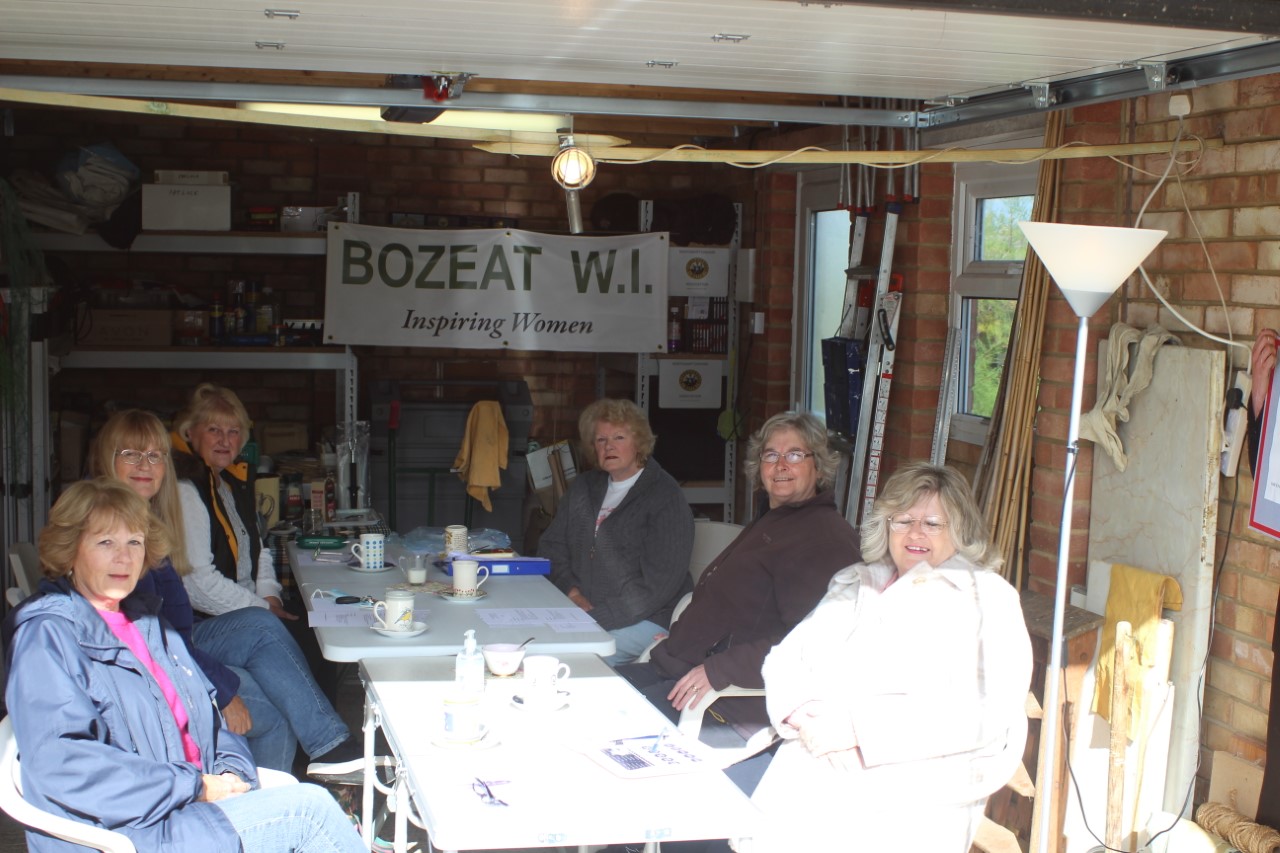 Broad Green WI Committee Members, Hubble, Bubble, Toil and Trouble, ready to deliver the October meeting bag which had a Halloween Theme!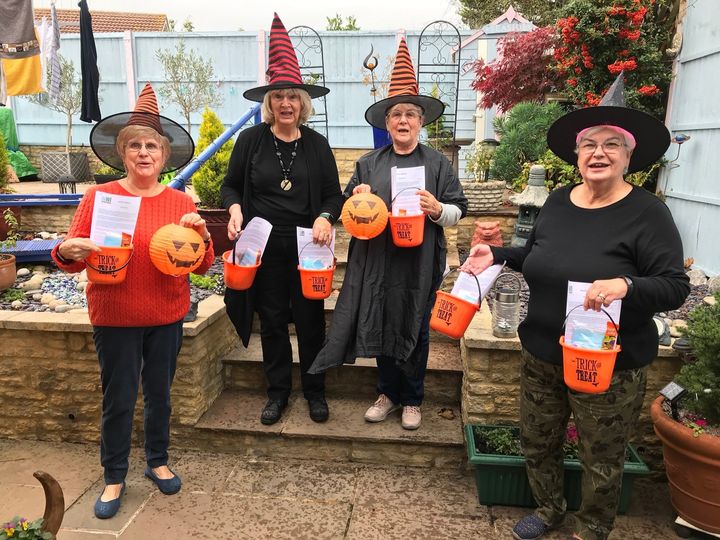 Hunsbury Hill WI - Celebrating
It was National WI Day on 16 September 2020, and to celebrate
Hunsbury Hill WI
held a coffee tea and cakes day. They restricted numbers throughout the day, to stay Covid-safe and socially distanced. The weather was very kind, with warmth and sunshine, so we were able to hold the event outdoors. Members bought raffle tickets for the tombola that Chris Gorton organised and gifts from the craft items supplied by Carolyn Stone and Tina Bodsworth. And, of course, there were delicious, home made cakes for everyone. All proceeds went towards St Benedict's church porch project, and they were very grateful to receive a donation of £105!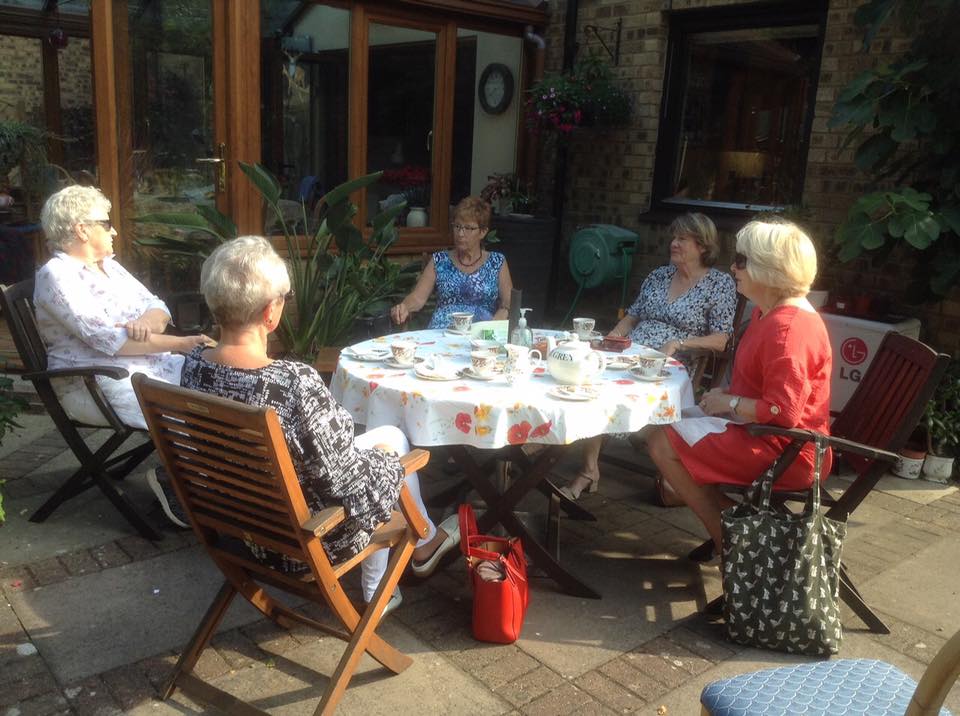 When Bozeat WI was thinking about ideas to involve the local community, President, Jill, thought a Scarecrow Festival would be a good way to involve both adults and children. Everyone had a lot of fun creating their scarecrows and the Judges found it impossible to choose a winner from the excellent entries. Everyone got a prize!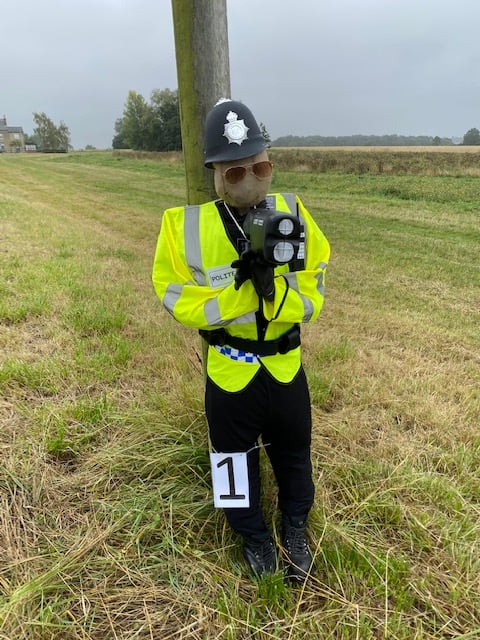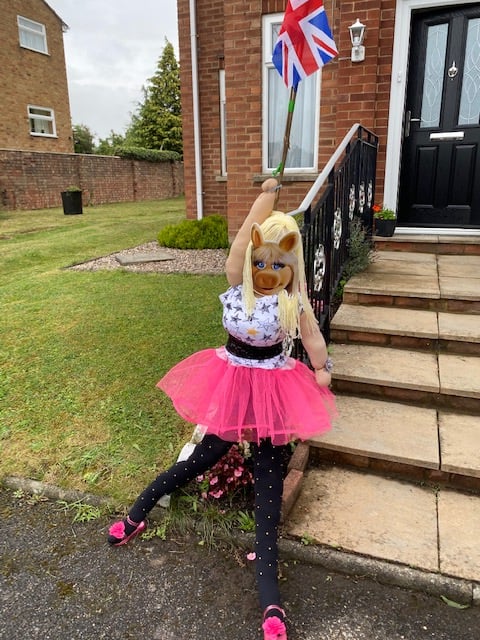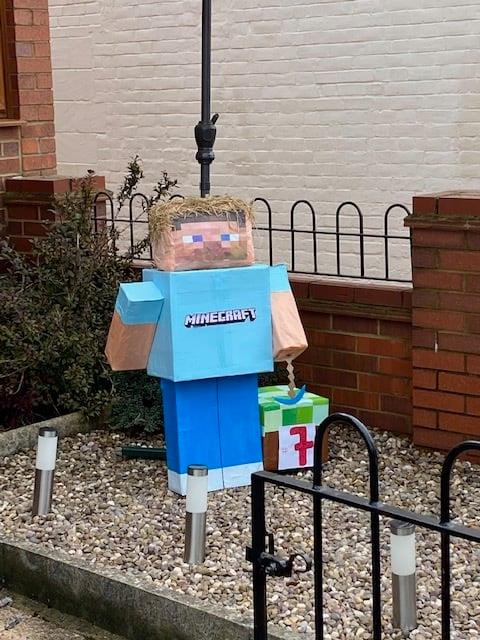 Cranford WI - Celebrating the WI 105 Year Old Birthday
We had great plans for celebrating the W.I's 105 year old Birthday on 16 September. Hazel Fenton, our President, had arranged for us all to meet in Wicksteed Park for a picnic. The Government had different plans for us. A hastily 'Cobra' meeting was arranged and plans were made to celebrate this important day.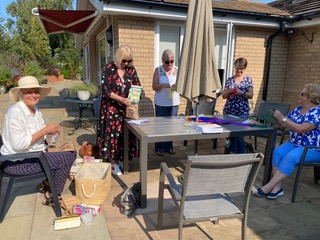 Gill Denton, a very creative member, made two beautiful cake toppings. Small bags were bought as well as bulbs and sweets. A visit to Bookers proved very useful and on the advice of some of their staff Hazel bought some delicious small cakes beautifully wrapped and sealed, ( all Covid friendly)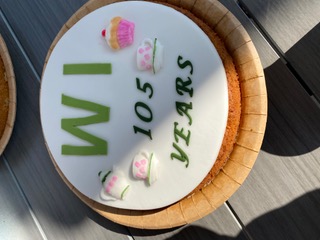 The Cranford WI committee met.The two small cakes were cut and,whilst enjoying a small slice with coffee, we filled the bags. Each bag contained, sweets, a cake, bulbs for members to grow, a 'Lockdown Questionnaire ' and a stamped addressed envelope. We intend to keep the filled in questionnaire's as a record of this very unusual time in our history.
We have had some very appreciative comments about the small 'Birthday Present'. Committee members had the chance to talk to members at length and although our original plans had to be altered, we all agreed that we still celebrated in style.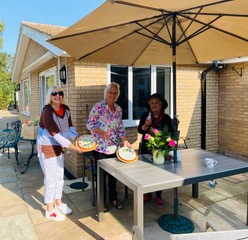 Harlestone WI decided to hold a number of mini meetings in members gardens during July and August. They were a great success allowing members to meet up socially in small groups and to get to know each other a bit better.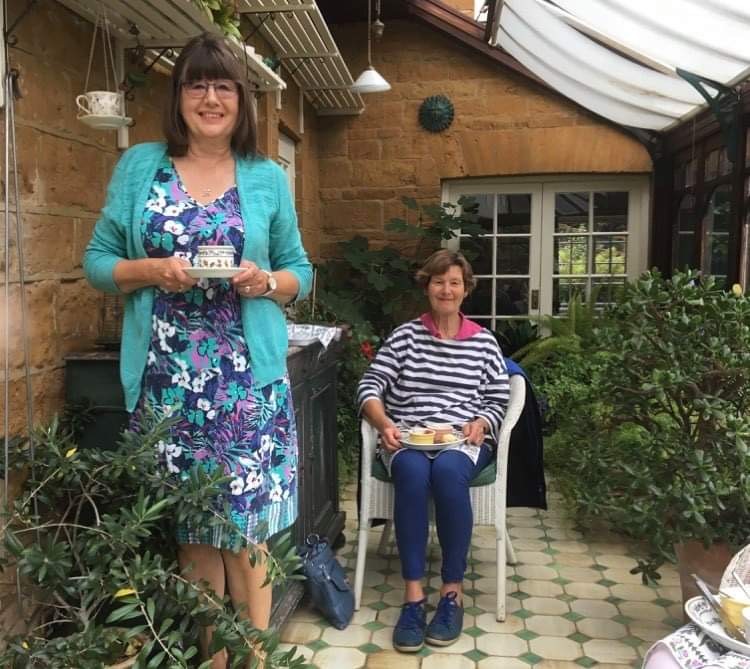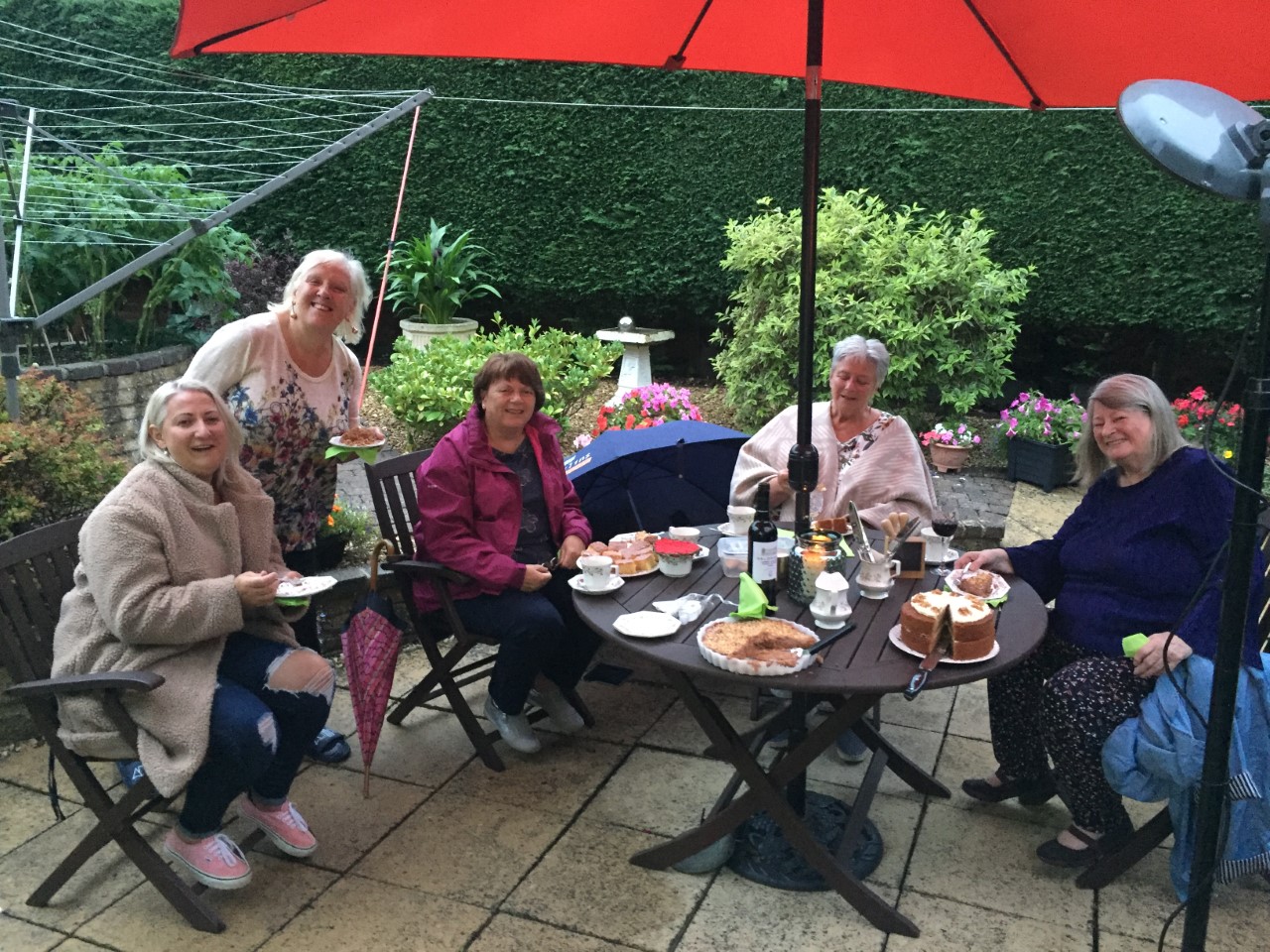 Members of Great Houghton WI with some of the contributions they make monthly to take to Re store and Growbaby project at Northampton Foodbank — with Restore Northampton and Growbaby - A Project of Re:store Northampton.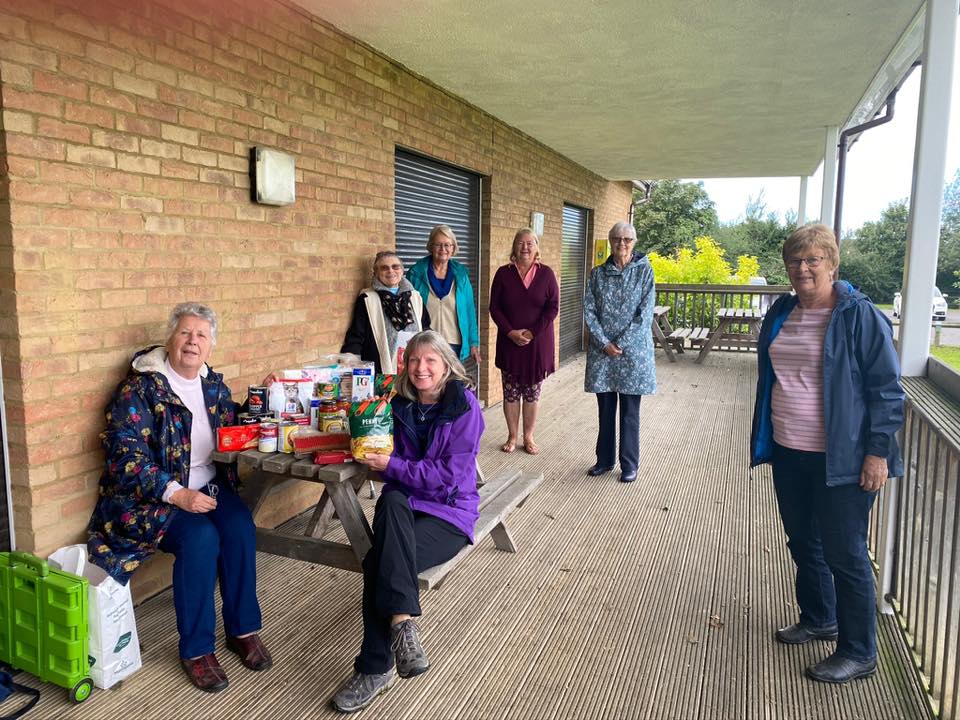 Blisworth WI is pleased to add this painted stone to the village Covid 19 pebble snake started at the beginning of lockdown. There are now over 500 stones representing numerous organisations and people's thoughts during the last six months.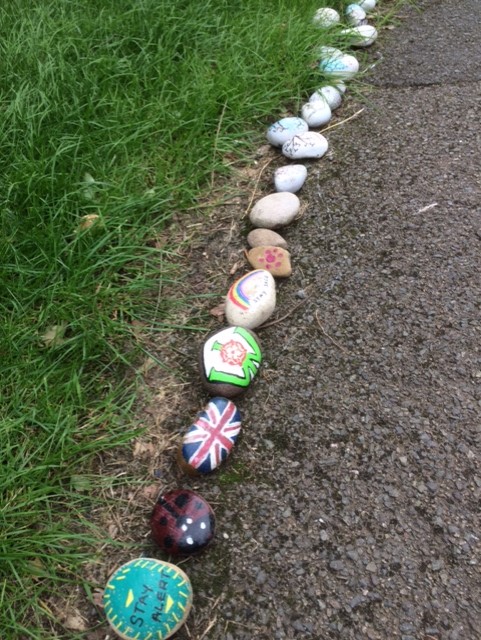 Ashley Welland Valley WI determined to take advantage of the good weather, arranged an outside Keep Fit / Wiggling session with Julie Matthews of Corby Health and Fitness. Members met outside the cricket club in East Carlton and entertained the village with their energetic wiggling. In honesty, we are just trying anything together in the sun at the moment. Really good session.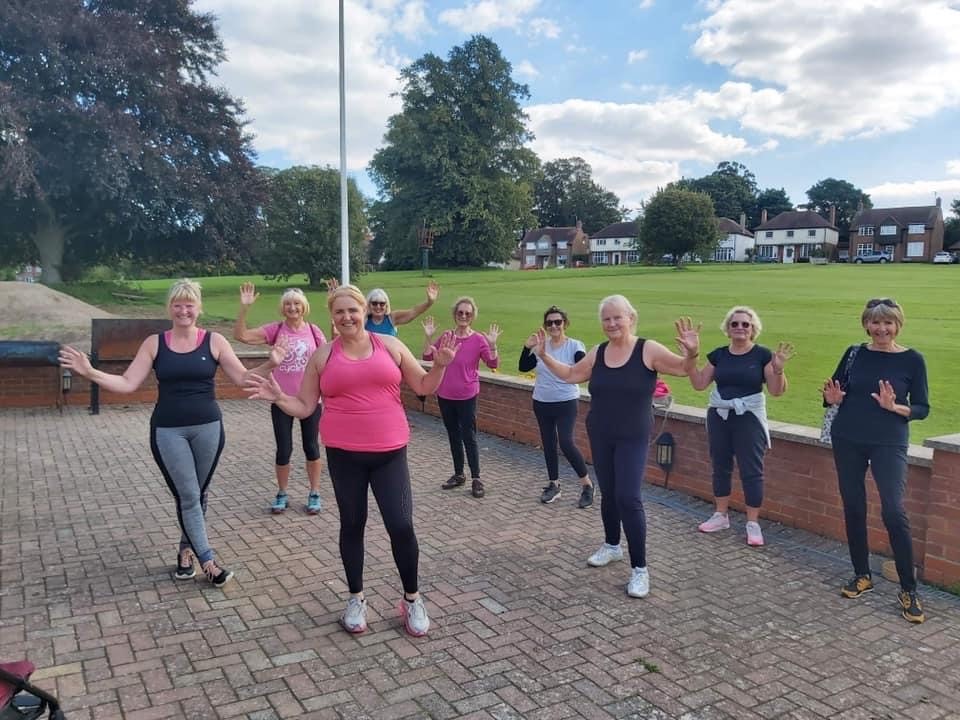 Cranford WI
In August we held our very first club meeting using Zoom with a speaker and it really was a great success. At 7pm, 17 members eagerly joined the first Cranford WI Zoom meeting to hear a talk by Rachel Dymott. It was based on her favourite hobby of getting close and personal to the natural world around her. Rachel who began her talk by telling us a little about herself. She gained her love of nature from her grandmother who would take her and her siblings on country walks, showing them the beauty of natural things.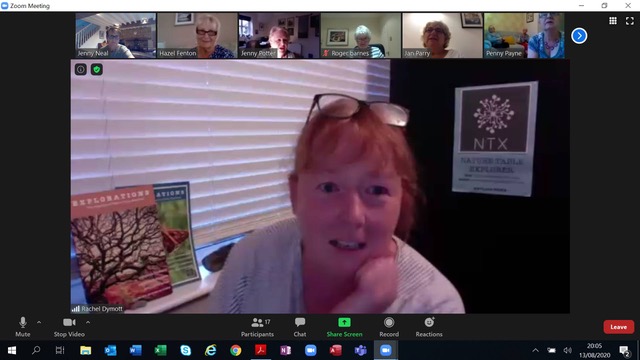 Brigstock WI
Brigstock WI celebrated its 102nd birthday with a stunning cake made and decorated by Lesley French. Although the Birthday Dinner had to be cancelled, every member received a piece of the wonderful cake. It must have been hard to cut up such a masterpiece! Happy Birthday Brigstock WI !
Harpole WI
Members enjoyed a Prosecco Afternoon Tea and the opportunity to catch up with friends again after 'Lockdown'.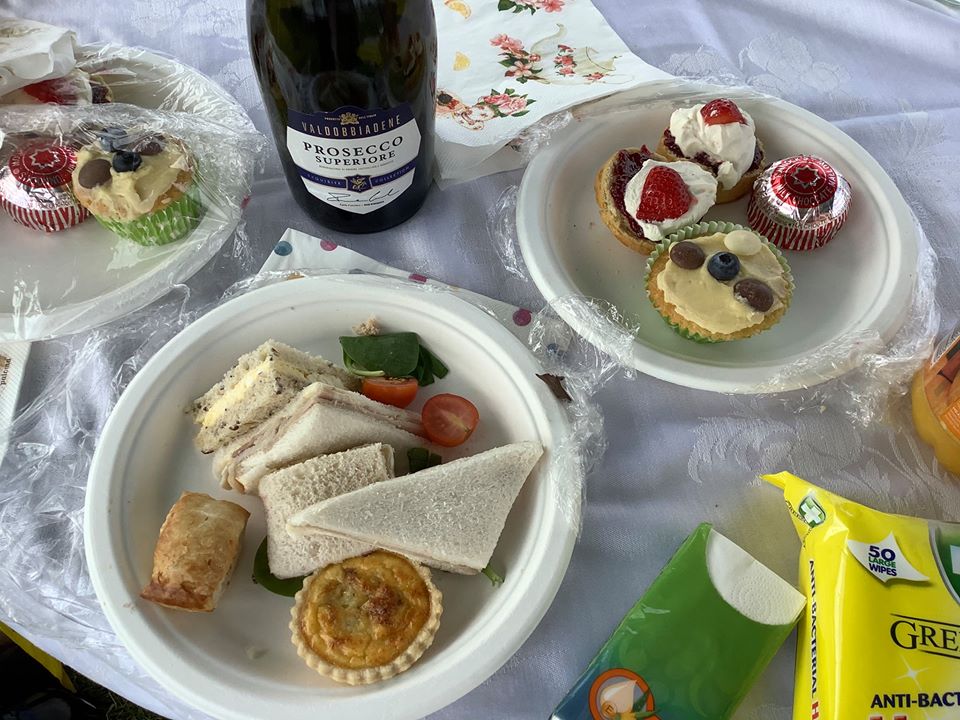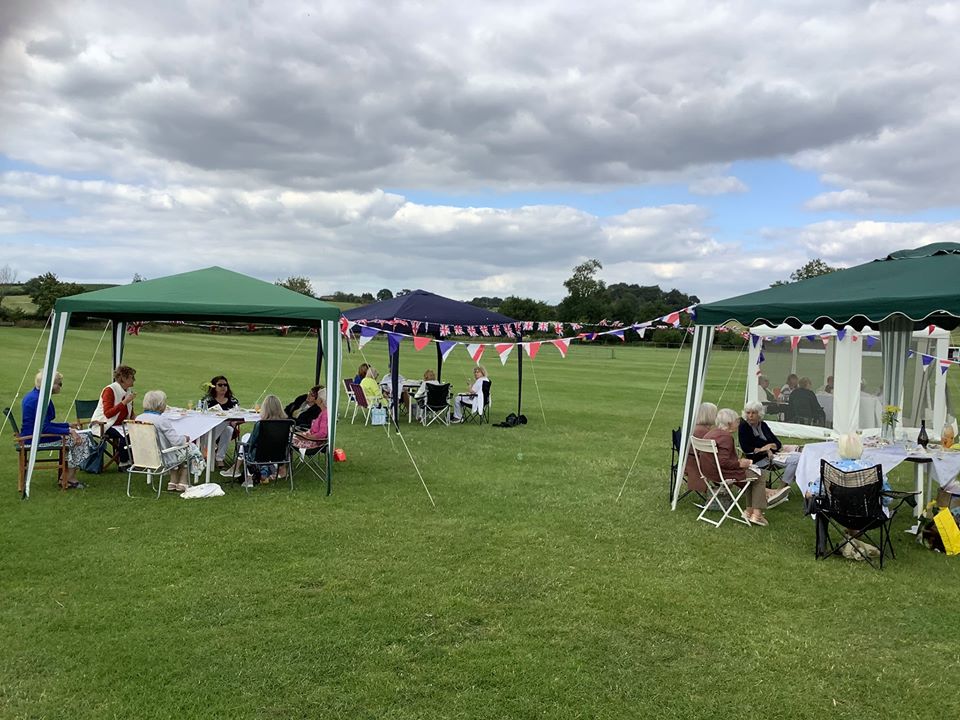 Bozeat WI
So many WIs have been coming up with inventive ways to spend lockdown and Bozeat WI is no exception, deciding to 'blitz' the street signs in the village! With the blessing of Wellingborough Council and a very welcome 'thank you' donation from Bozeat Parish Council, Bozeat's intrepid ladies donned their Marigolds and, buckets in hand, set off to clean the grime from the street signs and make them sparkle. Wonderful "before" and "after" photos! Well done Bozeat Blitzers!

Before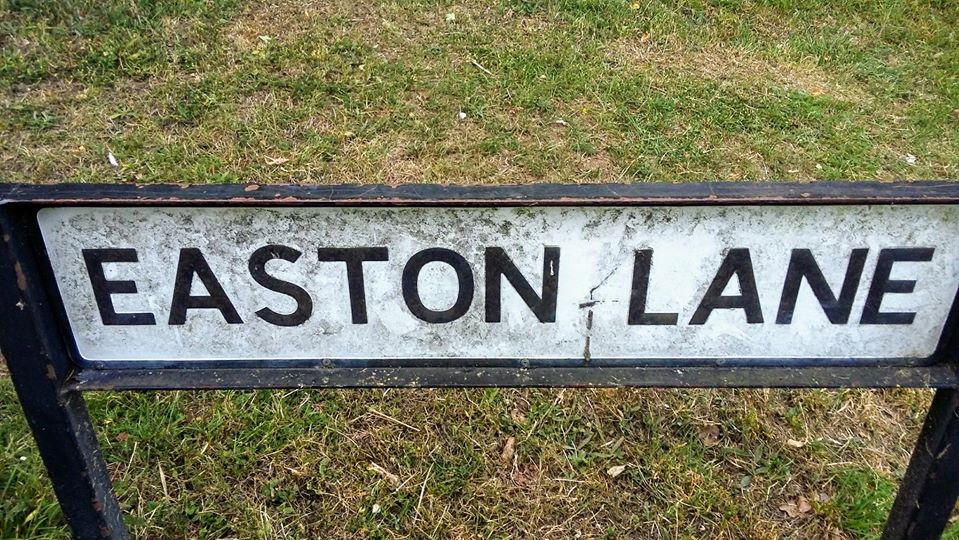 After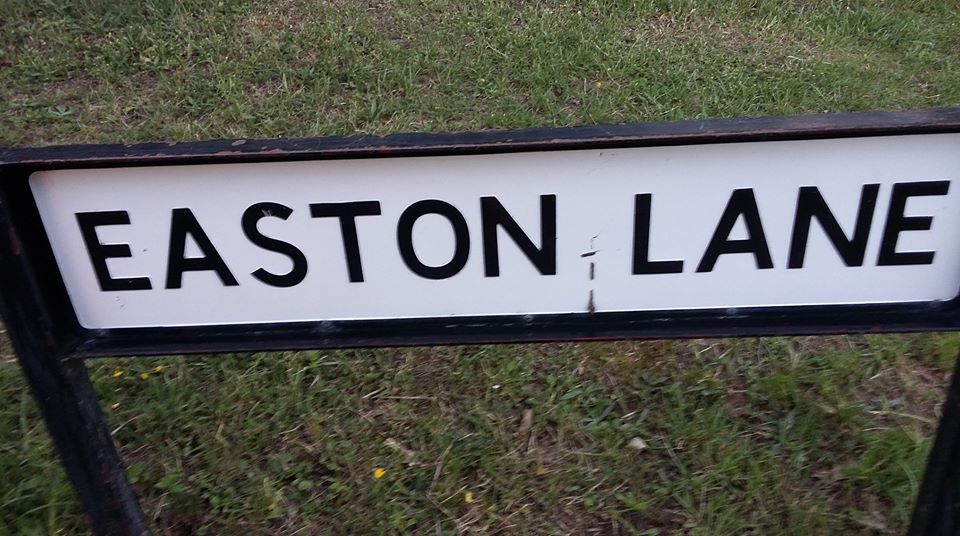 Great Billing WI
The committee made posies for all our members. A small gift was added in a little organza bag with a label with a suitable message. Along with the gift the President made rainbow brooches out of felt.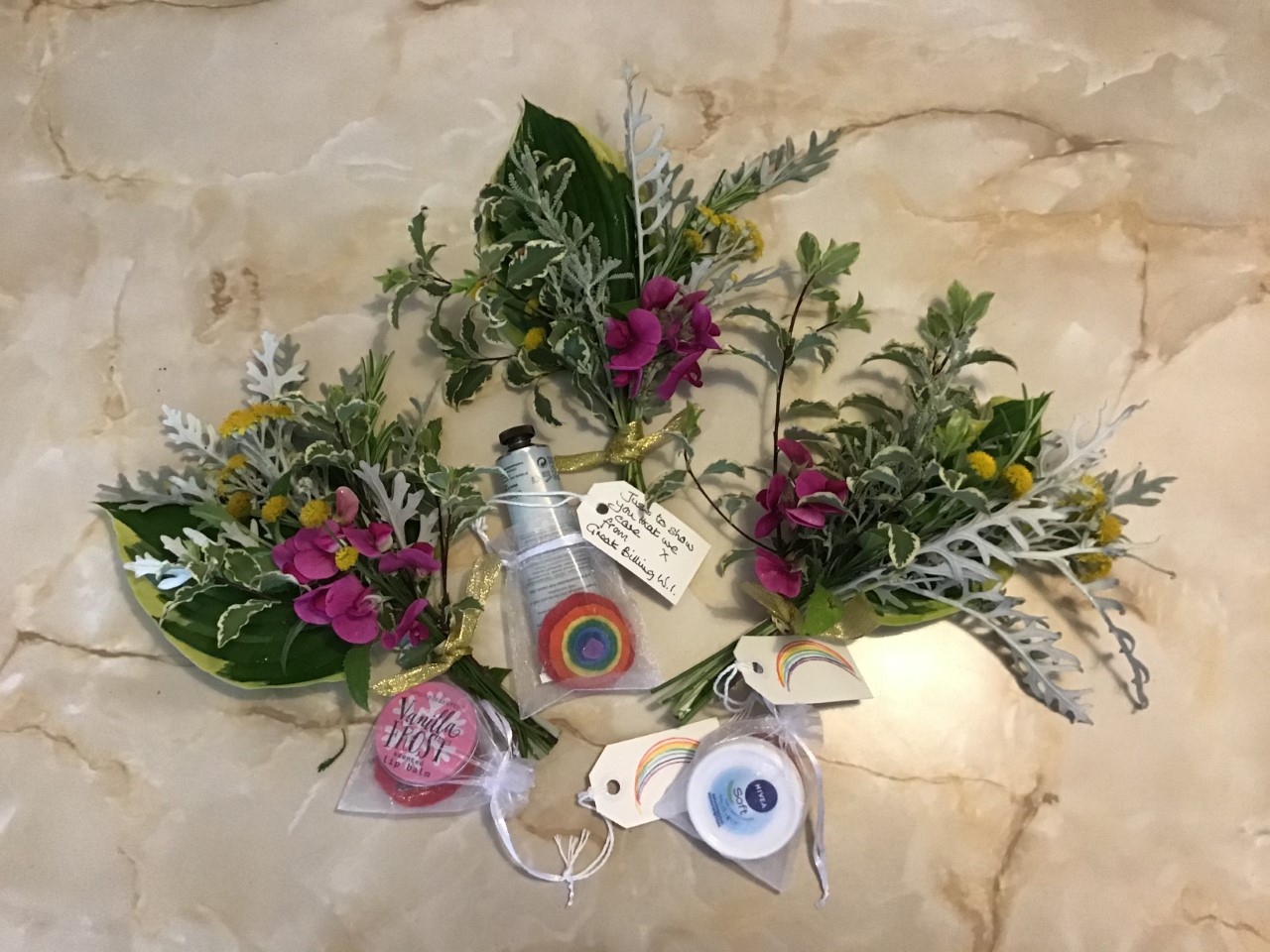 The President received this one - very pretty - she is drying the lavender to put in the organza bag. She also received a tea light in a glass holder and a scrummy chocolate!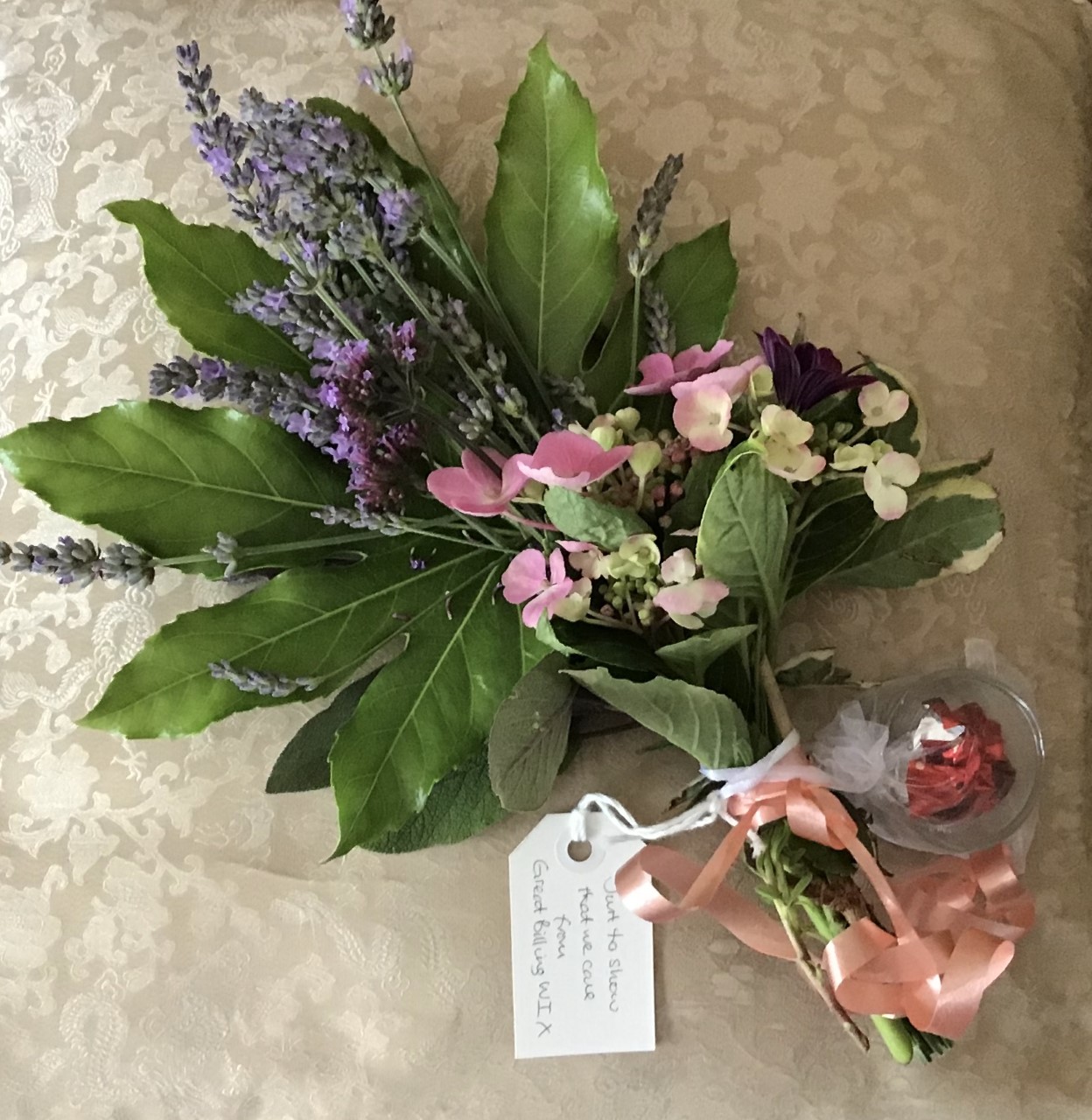 Northampton Martinis WI
This week Northampton Martinis sent off 66 pairs of bonding squares for premature babies and their mums.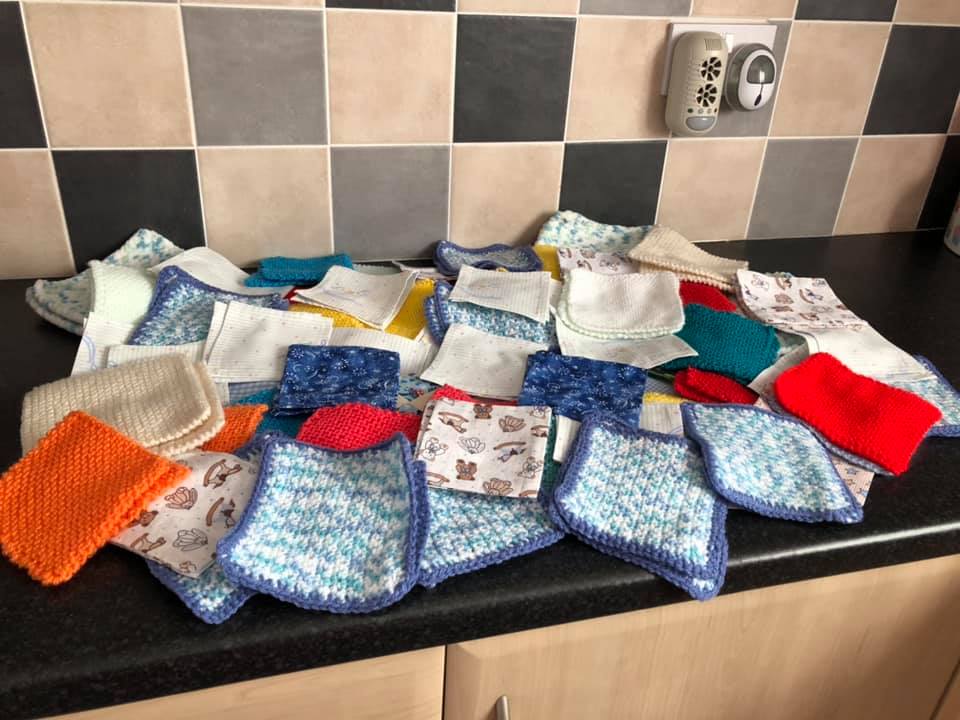 Kilsby WI's members received a treat!
Ashley Welland Valley WI member Helen has been asked back again to present another show. Quite a lot of Ashley Welland Valley WI members will get a name check in the songs. Her music choices celebrate women and friendship and Helen will tell the world just how wonderful the WI is and how it's helped her during this Lockdown.
The latest show is "Desert Island Discs" with discs chosen by members. Helen will read out the reasons the discs have been chosen.
Tune in on www.beatrouteradio.co.uk at 5pm on Saturdays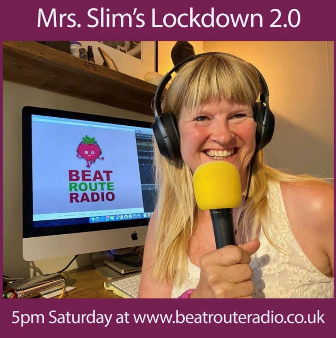 Ashley Welland Valley WI reported that five members met in the garden of their only member who has no computer, no smartphone, terrestrial TV, no car and not in one of our villages. They made sure that she has been in contact and fully up to date with things, but the socially distancing visit was different.
Milton Malsor & Collingtree WI have produced a booket for all to enjoy. War memories from family and friends were added to make the book more interesting. You can find it on our website - http://tinyurl.com/miltonmalsorcollingtreewi under Archives and Photos. Take a look and enjoy!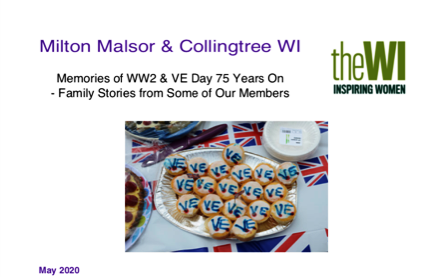 Hunsbury Hill WI has joined the Hope Centre 'Street by Street' campaign. HH WI had amazing success in just one street, when more than 100 food and household items were collected over one weekend and were taken to the Centre. Since then, more streets have donated. Congratulations HH WI. We know how much your efforts are appreciated.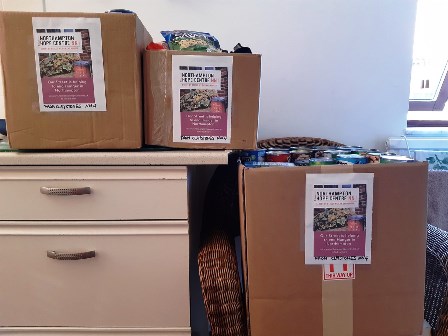 Ashley Welland Valley WI Member, Now A Lockdown Radio DJ
Helen Chown, of Ashley Welland Valley WI, normally waves her husband off to his, "Mr Slimm's Radio Show," on www.beatrouteradio.co.uk on a Monday night. Helen got bored and so recorded her own Lockdown themed music, interspersed with talk about her choices and it was aired on a Saturday night in May.
Her hour of music included songs such as, David Bowie's, "Heroes," for all the keyworkers, The Police, "Don't Stand So Close To Me," Steely Dan, "Stuck in the Middle With You," etc. etc. The choices were personal to Helen, or in sympathy with all women, "Stuck In." We are hoping that she will be doing another hour soon – all our WI Picks!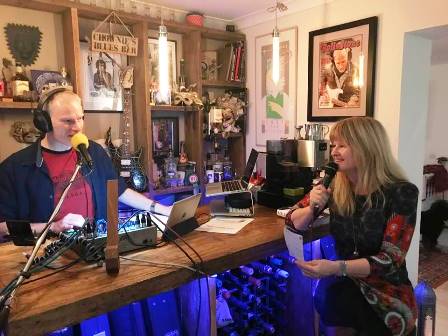 Northampton Martinis WI is finding lots of ways of keeping in touch and having fun "virtually", including quiz nights, a pudding club and a book club. Below are some fabulous photos from their weekly craft challenge, the Food Art competition and the Rainbow competition!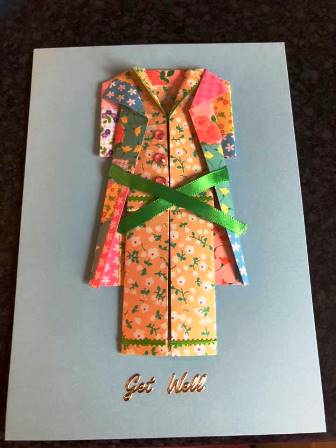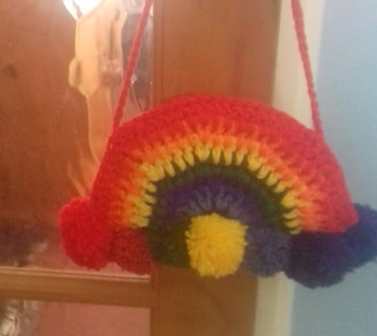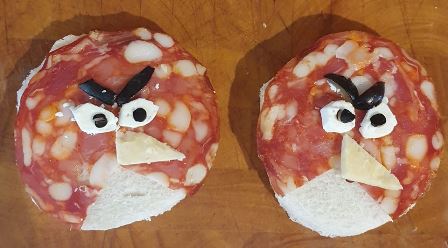 Towcester Evening WI
Thanks go to our members who made these drawstring bags for NHS staff. They were delivered to Northampton General Hospital and were very much appreciated- in fact pounced upon!
It has been great that TEWI has been able to help the NHS in a practical way during this pandemic and it is not just those that have the sewing skills that have contributed but members who donated fabric and did the collecting and delivery of the bags. Great work from Inspiring Women!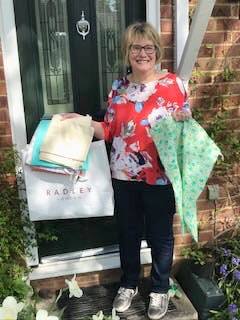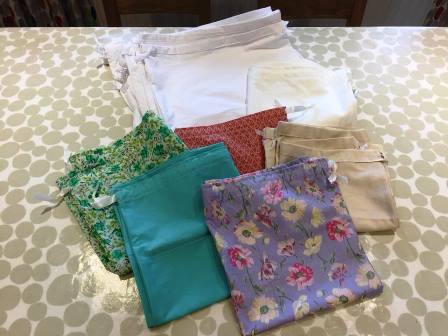 Towcester Evening WI collected hand creams from their members and delivered to the hardworking staff of the NHS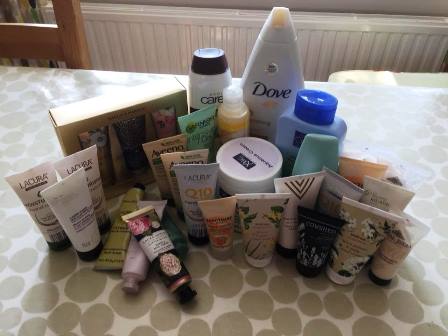 Towcester Evening WI learned that the local Care Home residents were missing seeing fresh flowers, so the Gardening Club delivered a few! Such kindness.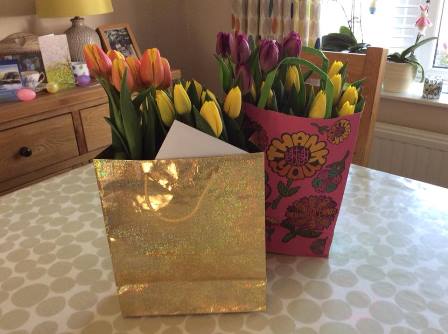 Great Houghton WI shows support for the NHS
A display of blue hearts and pom-poms in High St, created by the WI to show support for the amazing NHS staff and key workers.