Just had this December meeting goody bag delivered by Towcester Evening WI treasurer. Cheered me up immensely.

Kings Sutton WI members, family and canine friends, wishing longstanding member Ba Harris a Happy 90th Lockdown Birthday.

Ashley Welland Valley WI gave 'an evening in a bag' to members who then made beautiful gift tags, guided by our very own Chris. Gift tags really easy to make. "It's beginning to feel a bit like Christmas"!!

On World Kindness Day, our thanks also to Great Houghton WI who, with wonderful help and support from Helmdon WI (and Stitchers Group) and East Hunsbury WI, delivered another batch of beautiful knitted clothes and blankets to the Growbaby Project.

Earls Barton Millennium WI members were both surprised and delighted to receive a Goodie Bag containing a WI Tea Towel, Puzzle Book, scented candle in a tin, hand cream, flower seeds, tea bags, biscuits and chocolates all in a glittery bag. It helped in a small way to keep connnected in these unprecedented times. Lucky them!!

Daventry Timken WI got into the Christmas Spirit by making crackers via Zoom

A Bozeat WI member showed other members how to make poppies from old plastic bottles. Many hours were spent during the Covid 19 lockdown painstakingly shaping and painting hundreds of poppies. Some were made into a Wreath which was placed on the war memorial in the cemetery and others were attached to netting and displayed on the WI flower planters in the village.

Hunsbury Hill WI
We will remember .... a beautiful display of poppies at Hunsbury Hill Country Park. Many thanks to all those members of HHWI who contributed to this years memorial display which has seen the addition of a variety of coloured poppies:
Red - remembrance & hope Purple - in honour of the animal victims of war
Black - African, Caribbean, Indian and Asian contributions White - peace
East Hunsbury WI members crocheted and knitted poppies to contribute to a wonderful Remembrance Day display outside the library. One member made the large felt poppies and the President worked on attaching poppies to the display.
Another member laid a wreath, on behalf of East Hunsbury WI, at a ceremony at the memorial bench with Parish Councillors.

Ashley Welland Valley WI had a "carve and show" evening for Hallowe'en. Fruit, pumpkins and other vegetables were carved and even knitted, with wonderful results!

---
Shivering members of Bozeat WI held their socially distanced October Committee Meeting in the garage of their Secretary. Keep up the good work ladies!

Broad Green WI Committee Members, Hubble, Bubble, Toil and Trouble, ready to deliver the October meeting bag which had a Halloween Theme!

Hunsbury Hill WI - Celebrating
It was National WI Day on 16 September 2020, and to celebrate
Hunsbury Hill WI
held a coffee tea and cakes day. They restricted numbers throughout the day, to stay Covid-safe and socially distanced. The weather was very kind, with warmth and sunshine, so we were able to hold the event outdoors. Members bought raffle tickets for the tombola that Chris Gorton organised and gifts from the craft items supplied by Carolyn Stone and Tina Bodsworth. And, of course, there were delicious, home made cakes for everyone. All proceeds went towards St Benedict's church porch project, and they were very grateful to receive a donation of £105!
When Bozeat WI was thinking about ideas to involve the local community, President, Jill, thought a Scarecrow Festival would be a good way to involve both adults and children. Everyone had a lot of fun creating their scarecrows and the Judges found it impossible to choose a winner from the excellent entries. Everyone got a prize!

Cranford WI - Celebrating the WI 105 Year Old Birthday
We had great plans for celebrating the W.I's 105 year old Birthday on 16 September. Hazel Fenton, our President, had arranged for us all to meet in Wicksteed Park for a picnic. The Government had different plans for us. A hastily 'Cobra' meeting was arranged and plans were made to celebrate this important day.
Gill Denton, a very creative member, made two beautiful cake toppings. Small bags were bought as well as bulbs and sweets. A visit to Bookers proved very useful and on the advice of some of their staff Hazel bought some delicious small cakes beautifully wrapped and sealed, ( all Covid friendly)
The Cranford WI committee met.The two small cakes were cut and,whilst enjoying a small slice with coffee, we filled the bags. Each bag contained, sweets, a cake, bulbs for members to grow, a 'Lockdown Questionnaire ' and a stamped addressed envelope. We intend to keep the filled in questionnaire's as a record of this very unusual time in our history.
We have had some very appreciative comments about the small 'Birthday Present'. Committee members had the chance to talk to members at length and although our original plans had to be altered, we all agreed that we still celebrated in style.


Harlestone WI decided to hold a number of mini meetings in members gardens during July and August. They were a great success allowing members to meet up socially in small groups and to get to know each other a bit better.

Members of Great Houghton WI with some of the contributions they make monthly to take to Re store and Growbaby project at Northampton Foodbank — with Restore Northampton and Growbaby - A Project of Re:store Northampton.

Blisworth WI is pleased to add this painted stone to the village Covid 19 pebble snake started at the beginning of lockdown. There are now over 500 stones representing numerous organisations and people's thoughts during the last six months.

Ashley Welland Valley WI determined to take advantage of the good weather, arranged an outside Keep Fit / Wiggling session with Julie Matthews of Corby Health and Fitness. Members met outside the cricket club in East Carlton and entertained the village with their energetic wiggling. In honesty, we are just trying anything together in the sun at the moment. Really good session.

Cranford WI
In August we held our very first club meeting using Zoom with a speaker and it really was a great success. At 7pm, 17 members eagerly joined the first Cranford WI Zoom meeting to hear a talk by Rachel Dymott. It was based on her favourite hobby of getting close and personal to the natural world around her. Rachel who began her talk by telling us a little about herself. She gained her love of nature from her grandmother who would take her and her siblings on country walks, showing them the beauty of natural things.

Brigstock WI
Brigstock WI celebrated its 102nd birthday with a stunning cake made and decorated by Lesley French. Although the Birthday Dinner had to be cancelled, every member received a piece of the wonderful cake. It must have been hard to cut up such a masterpiece! Happy Birthday Brigstock WI !
Harpole WI
Members enjoyed a Prosecco Afternoon Tea and the opportunity to catch up with friends again after 'Lockdown'.

Bozeat WI
So many WIs have been coming up with inventive ways to spend lockdown and Bozeat WI is no exception, deciding to 'blitz' the street signs in the village! With the blessing of Wellingborough Council and a very welcome 'thank you' donation from Bozeat Parish Council, Bozeat's intrepid ladies donned their Marigolds and, buckets in hand, set off to clean the grime from the street signs and make them sparkle. Wonderful "before" and "after" photos! Well done Bozeat Blitzers!

Before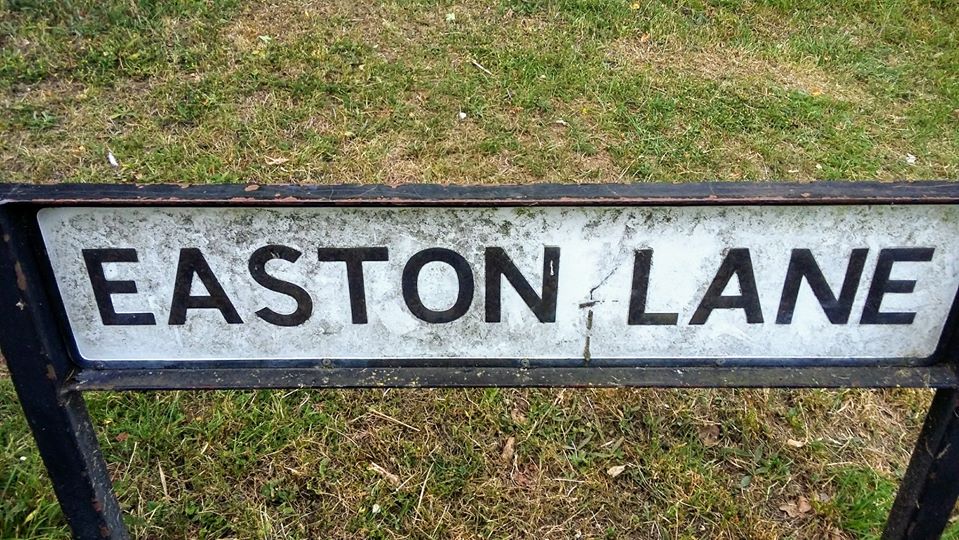 After

Great Billing WI
The committee made posies for all our members. A small gift was added in a little organza bag with a label with a suitable message. Along with the gift the President made rainbow brooches out of felt.



The President received this one - very pretty - she is drying the lavender to put in the organza bag. She also received a tea light in a glass holder and a scrummy chocolate!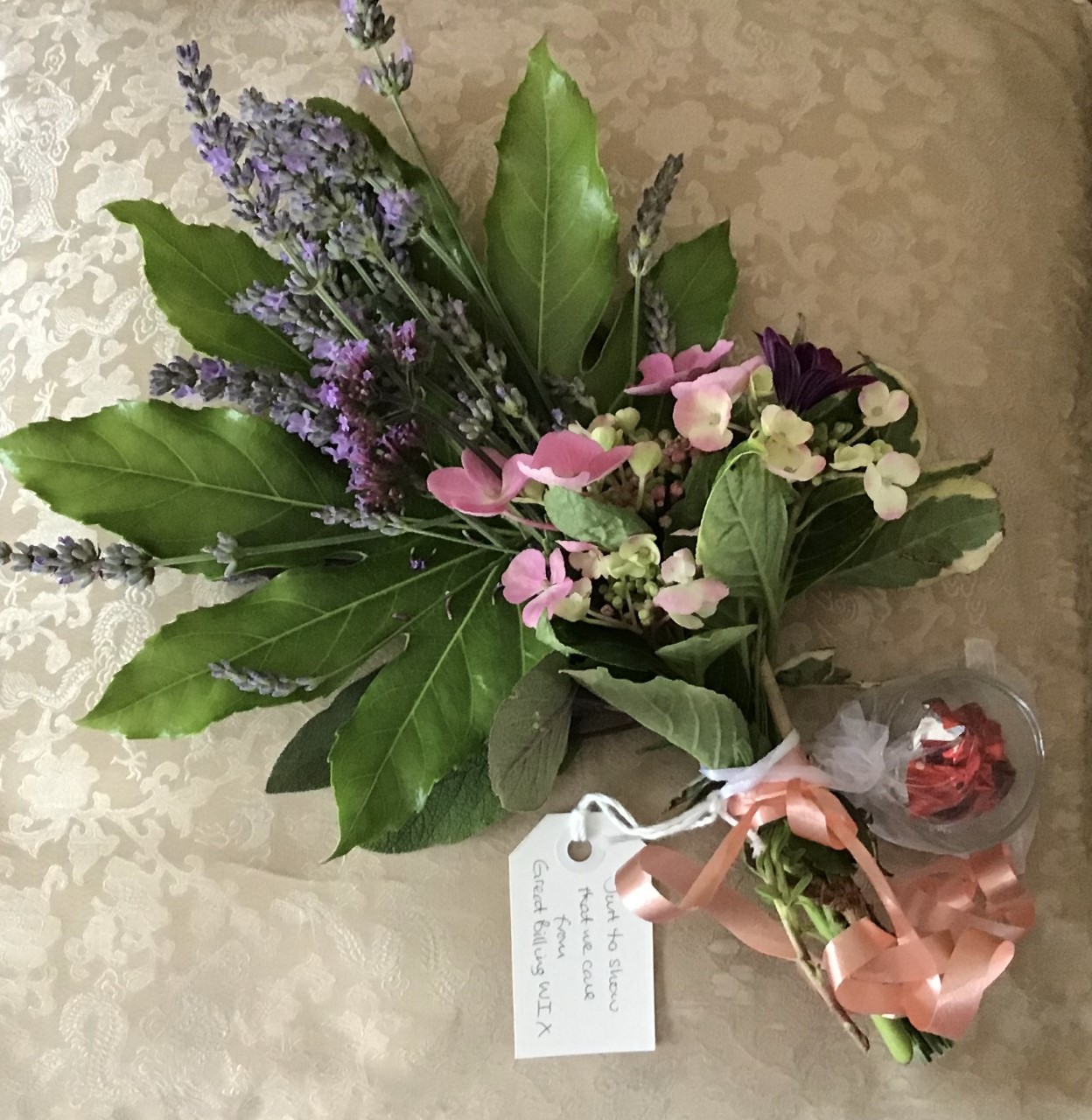 Northampton Martinis WI
This week Northampton Martinis sent off 66 pairs of bonding squares for premature babies and their mums.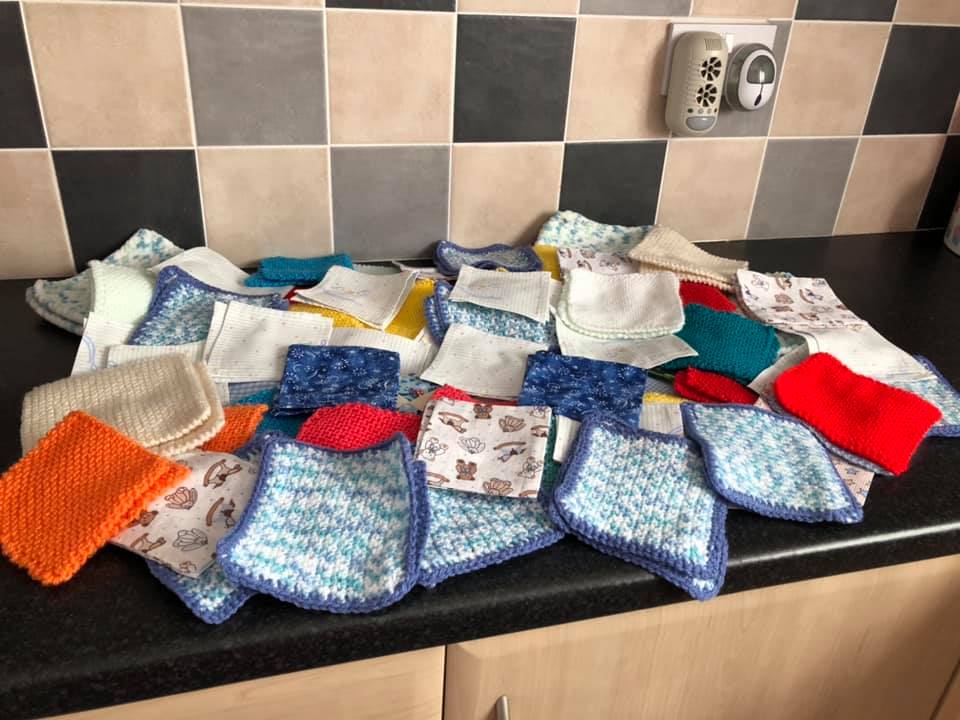 Kilsby WI's members received a treat!
Ashley Welland Valley WI member Helen has been asked back again to present another show. Quite a lot of Ashley Welland Valley WI members will get a name check in the songs. Her music choices celebrate women and friendship and Helen will tell the world just how wonderful the WI is and how it's helped her during this Lockdown.
The latest show is "Desert Island Discs" with discs chosen by members. Helen will read out the reasons the discs have been chosen.
Tune in on www.beatrouteradio.co.uk at 5pm on Saturdays

Ashley Welland Valley WI reported that five members met in the garden of their only member who has no computer, no smartphone, terrestrial TV, no car and not in one of our villages. They made sure that she has been in contact and fully up to date with things, but the socially distancing visit was different.
Milton Malsor & Collingtree WI have produced a booket for all to enjoy. War memories from family and friends were added to make the book more interesting. You can find it on our website - http://tinyurl.com/miltonmalsorcollingtreewi under Archives and Photos. Take a look and enjoy!

Hunsbury Hill WI has joined the Hope Centre 'Street by Street' campaign. HH WI had amazing success in just one street, when more than 100 food and household items were collected over one weekend and were taken to the Centre. Since then, more streets have donated. Congratulations HH WI. We know how much your efforts are appreciated.

Ashley Welland Valley WI Member, Now A Lockdown Radio DJ
Helen Chown, of Ashley Welland Valley WI, normally waves her husband off to his, "Mr Slimm's Radio Show," on www.beatrouteradio.co.uk on a Monday night. Helen got bored and so recorded her own Lockdown themed music, interspersed with talk about her choices and it was aired on a Saturday night in May.
Her hour of music included songs such as, David Bowie's, "Heroes," for all the keyworkers, The Police, "Don't Stand So Close To Me," Steely Dan, "Stuck in the Middle With You," etc. etc. The choices were personal to Helen, or in sympathy with all women, "Stuck In." We are hoping that she will be doing another hour soon – all our WI Picks!

Northampton Martinis WI is finding lots of ways of keeping in touch and having fun "virtually", including quiz nights, a pudding club and a book club. Below are some fabulous photos from their weekly craft challenge, the Food Art competition and the Rainbow competition!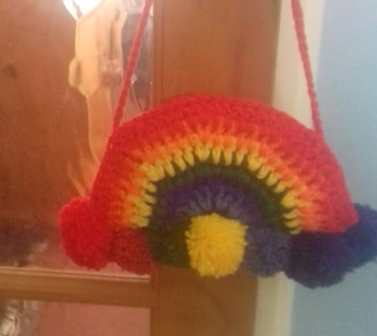 Towcester Evening WI
Thanks go to our members who made these drawstring bags for NHS staff. They were delivered to Northampton General Hospital and were very much appreciated- in fact pounced upon!
It has been great that TEWI has been able to help the NHS in a practical way during this pandemic and it is not just those that have the sewing skills that have contributed but members who donated fabric and did the collecting and delivery of the bags. Great work from Inspiring Women!

Towcester Evening WI collected hand creams from their members and delivered to the hardworking staff of the NHS

Towcester Evening WI learned that the local Care Home residents were missing seeing fresh flowers, so the Gardening Club delivered a few! Such kindness.

Great Houghton WI shows support for the NHS
A display of blue hearts and pom-poms in High St, created by the WI to show support for the amazing NHS staff and key workers.