WIs in the community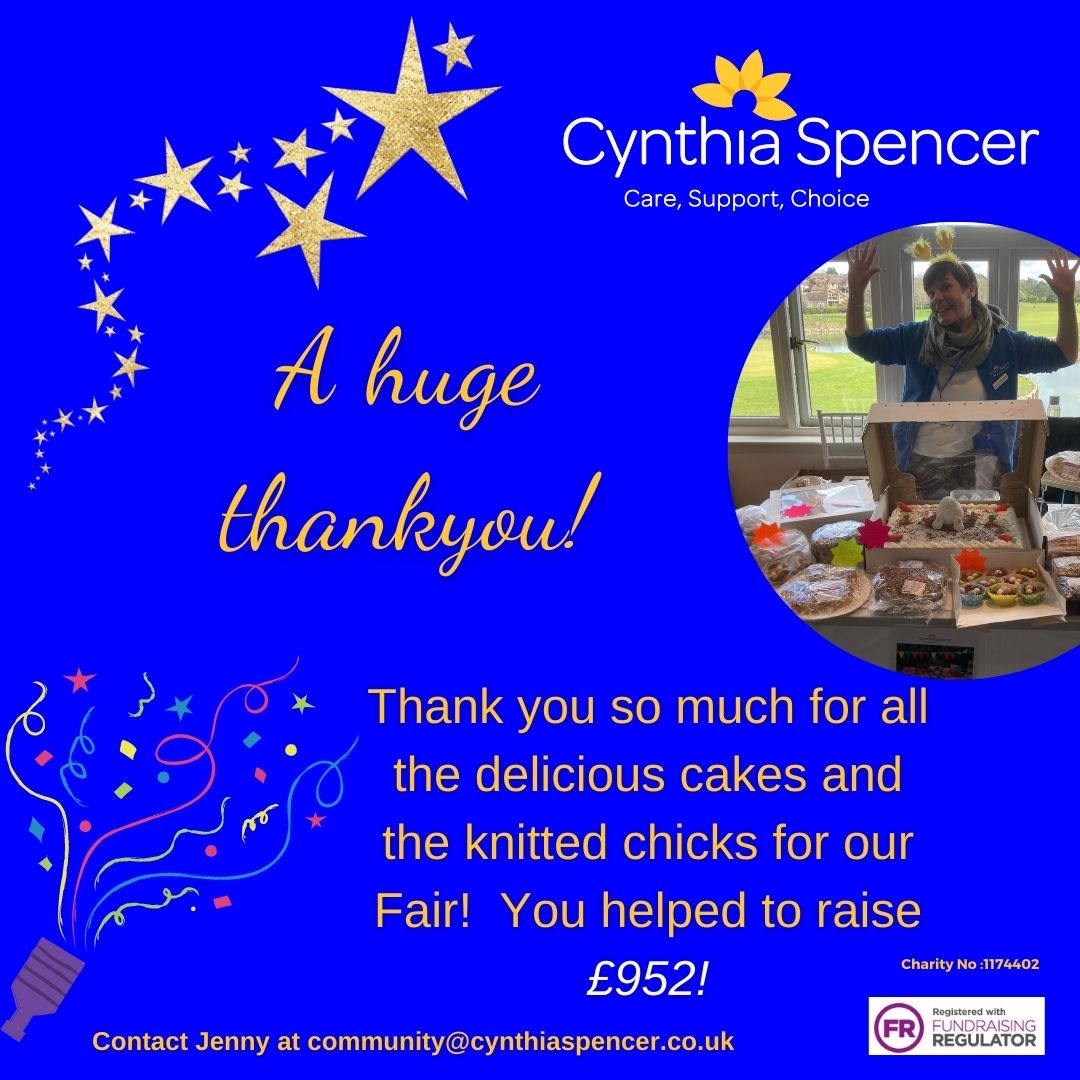 Just before Covid hit, Chacombe WI embarked on a project to create a recipe book of their favourite recipes to raise funds for local hospice, Katharine House. A local professional photographer came to their February 2020 meeting and every recipe in the book was presented, photographed and tasted by the members. Unfortunately, the group photo didn't get taken before lockdown and it has taken two more years to get this completed, during which time costs have rocketed. However, members kept faith with the project and the book will be published on 2 April 2022. To order a copy (£7.50 plus £3 postage) please email chacombewi@gmail.com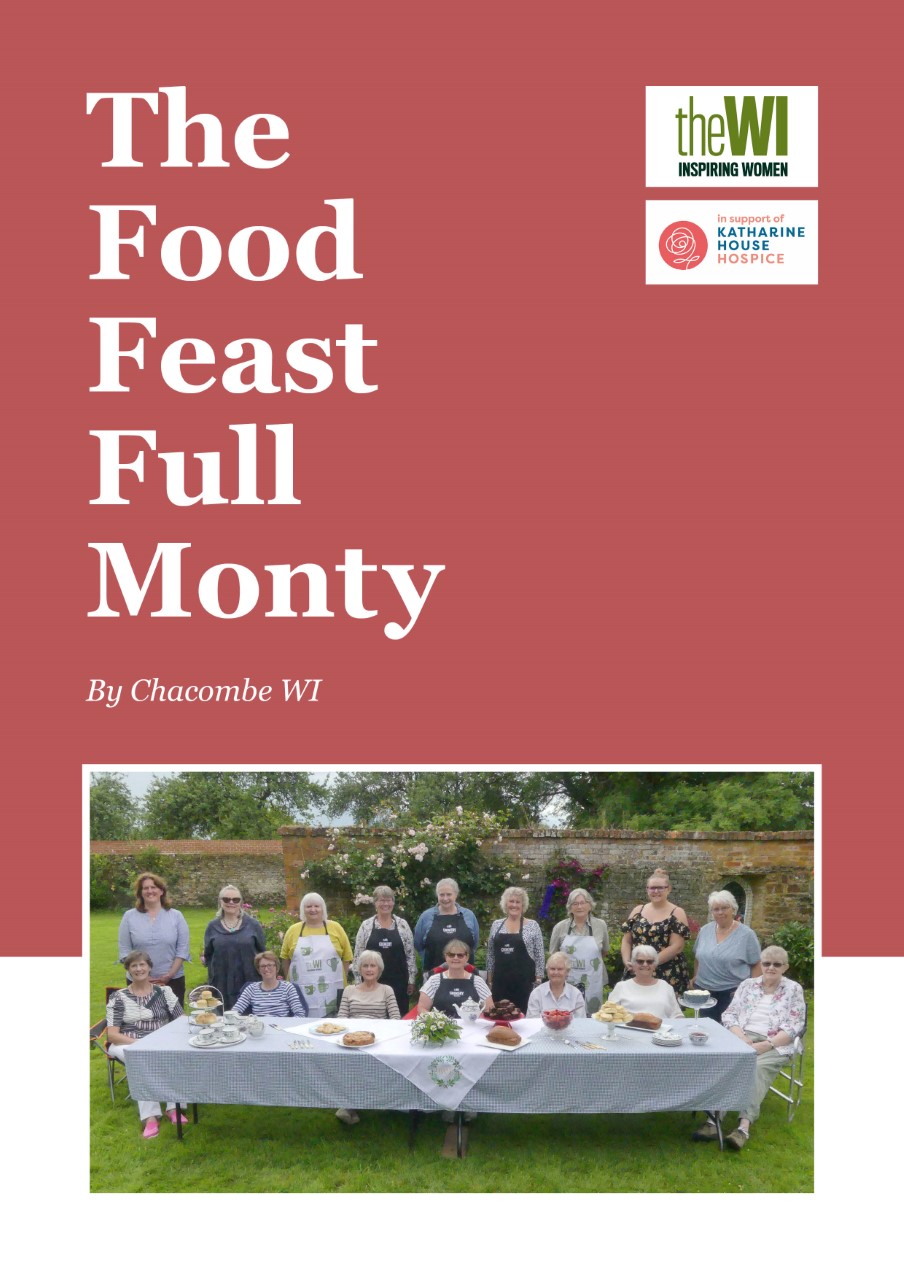 Stowe Nine Churches WI
was delighted to hold another community breakfast in March. Always looking to keep the event fresh and relevant, the Chair of the local Parish Council, WI member, Sharon Henley, planted a Rowan Tree as part of the Queen's Green Canopy initiative.
The breakfast was delicious and very well attended by residents. Cake sales generated £200 for Hearing Dogs for the Deaf and the Gardening Club handed out sunflower seeds for the children to grow.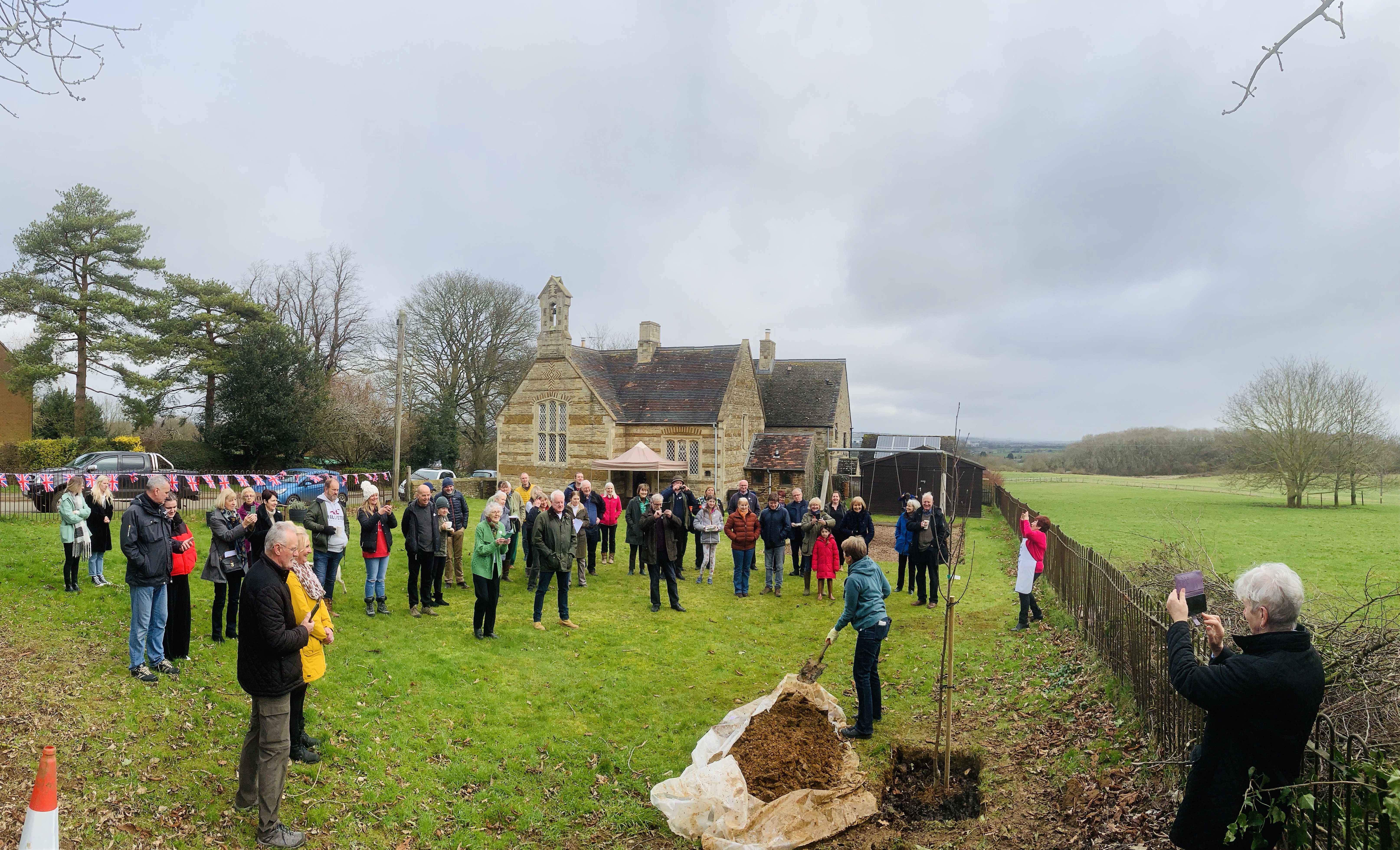 Bozeat WI
Secretary braved the heavy rain to help plant a Magnolia tree on the village green to celebrate the 70 year reign of Her Majesty Queen Elizabeth II.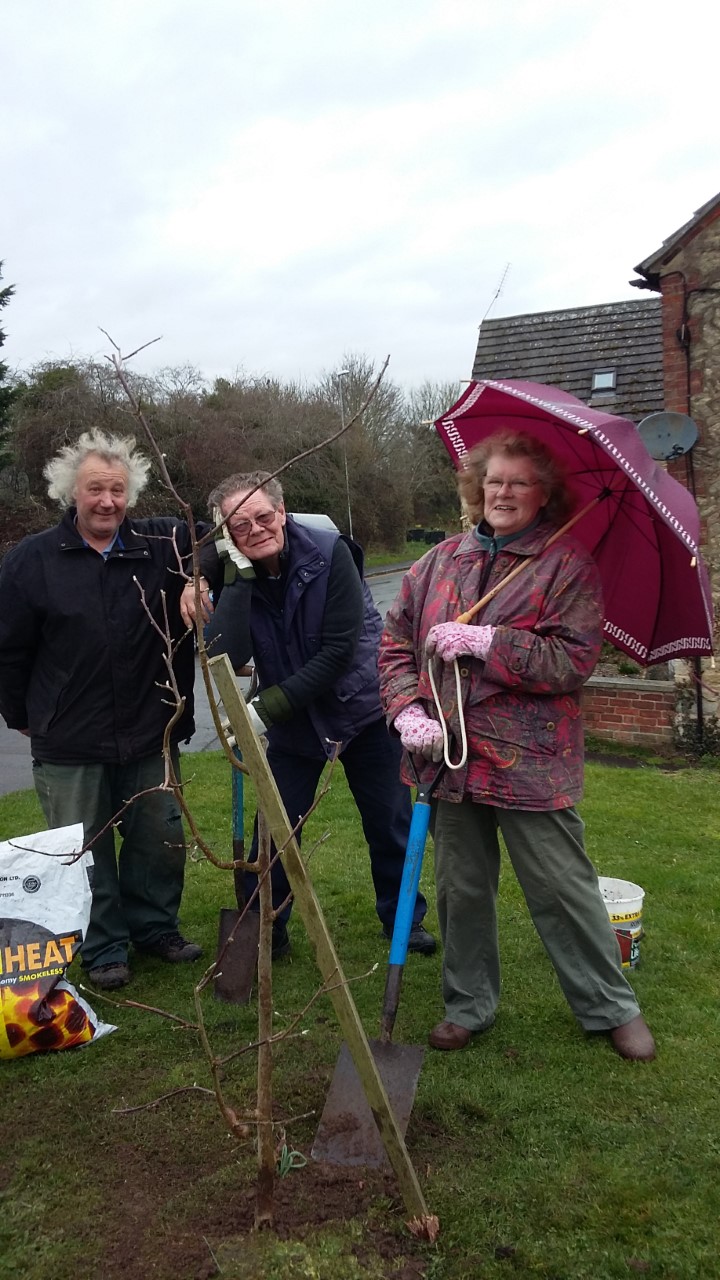 Brigstock WI
members all had a packet of Smarties. After eating the Smarties they were asked to fill the tube with loose change. A volunteer from Air Ambulance visited theFebruary meeting. They handed over a big bucket of Smartie tubes and have just been notified that the Smartie Tube collection raised £276.06.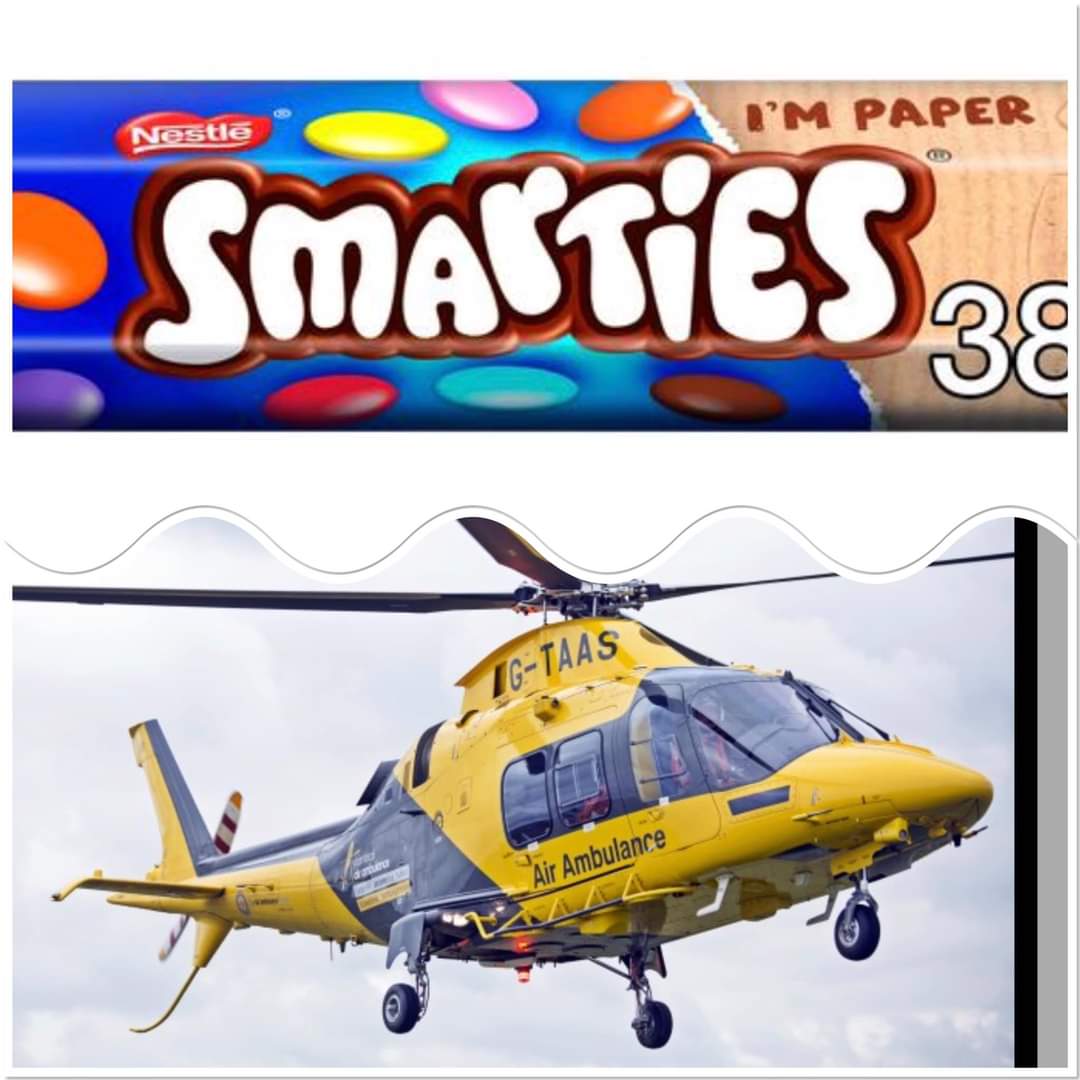 East Hunsbury WI
produced a display to ShowTheLove with a Teddy bear's picnic with the theme of "The good, the bad and the ugly".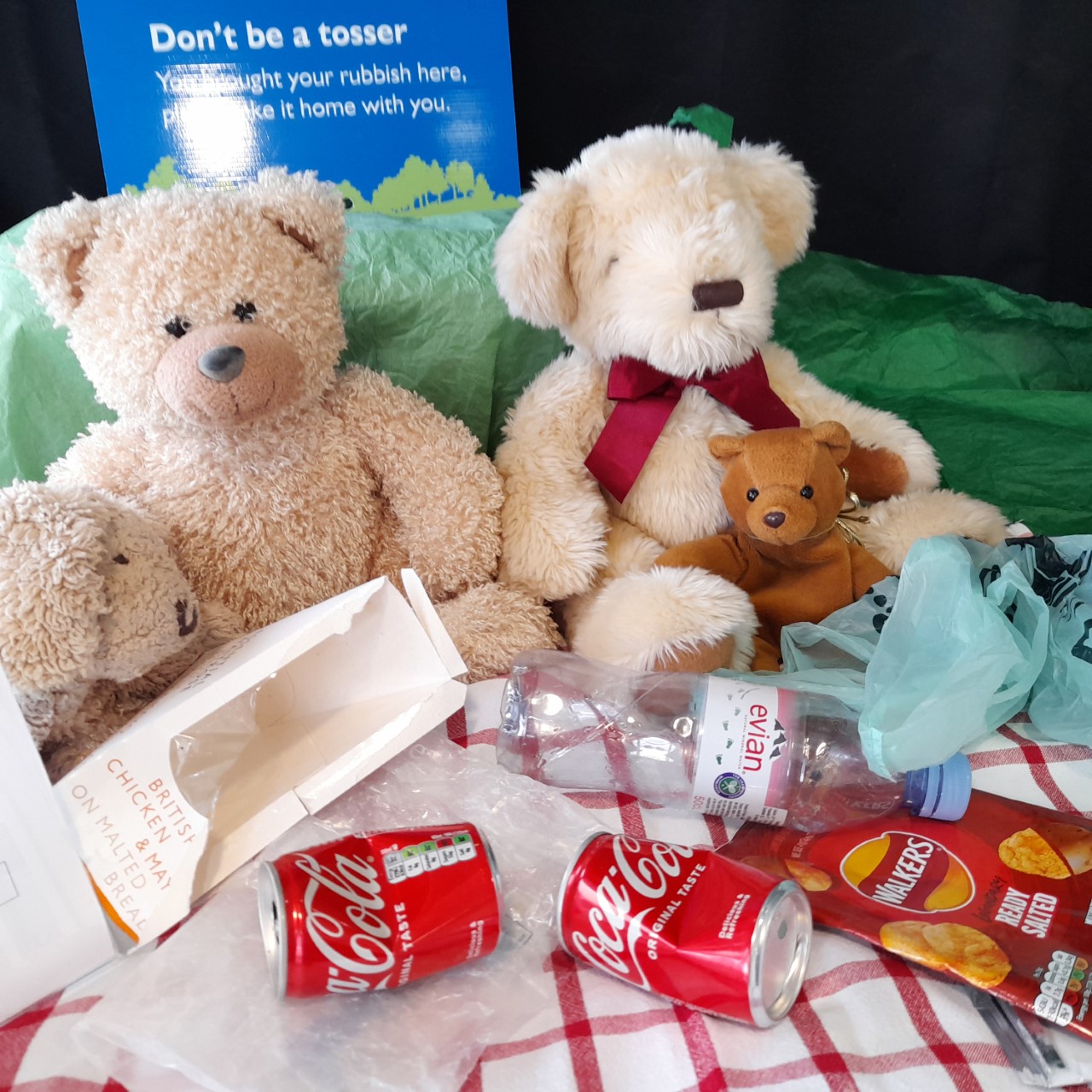 It shows the "good picnic with homemade sandwiches and drinks. Then the bad" with all bought items and lots of rubbish left behind, with a poster detailing how long these items take to decompose. Display is at Hunsbury Library for all to see.
.
Wootton WI has planted a crab apple tree on the Green, joining in the HM The Queen's Tree Canopy to celebrate her Platinum Jubilee.
Blisworth WI
supported HM The Queen's green canopy at their village playing field on a damp and muddy day.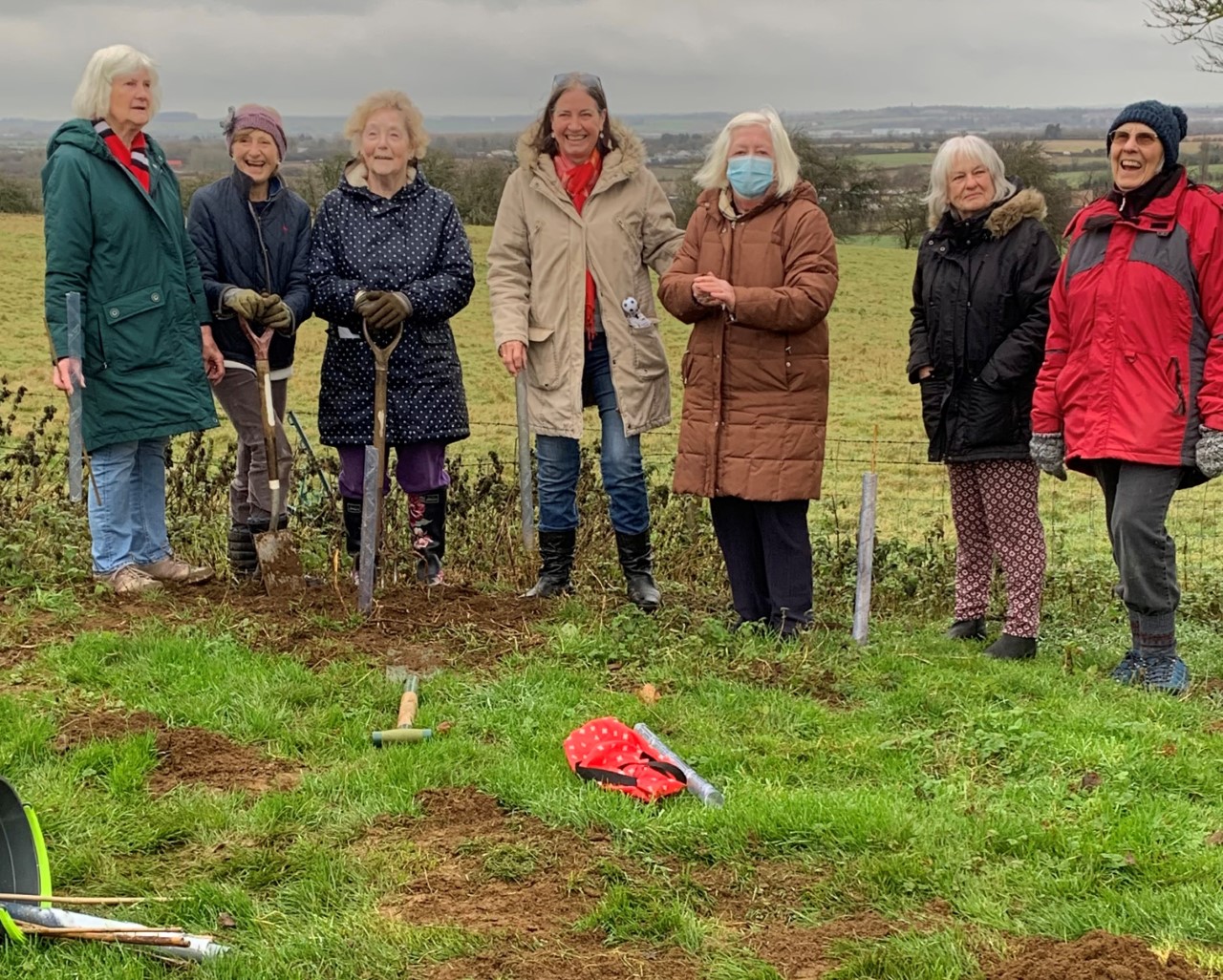 At Welford WIs Carol Service on they collected toys for the Toys on the Table charity in Market Harborough.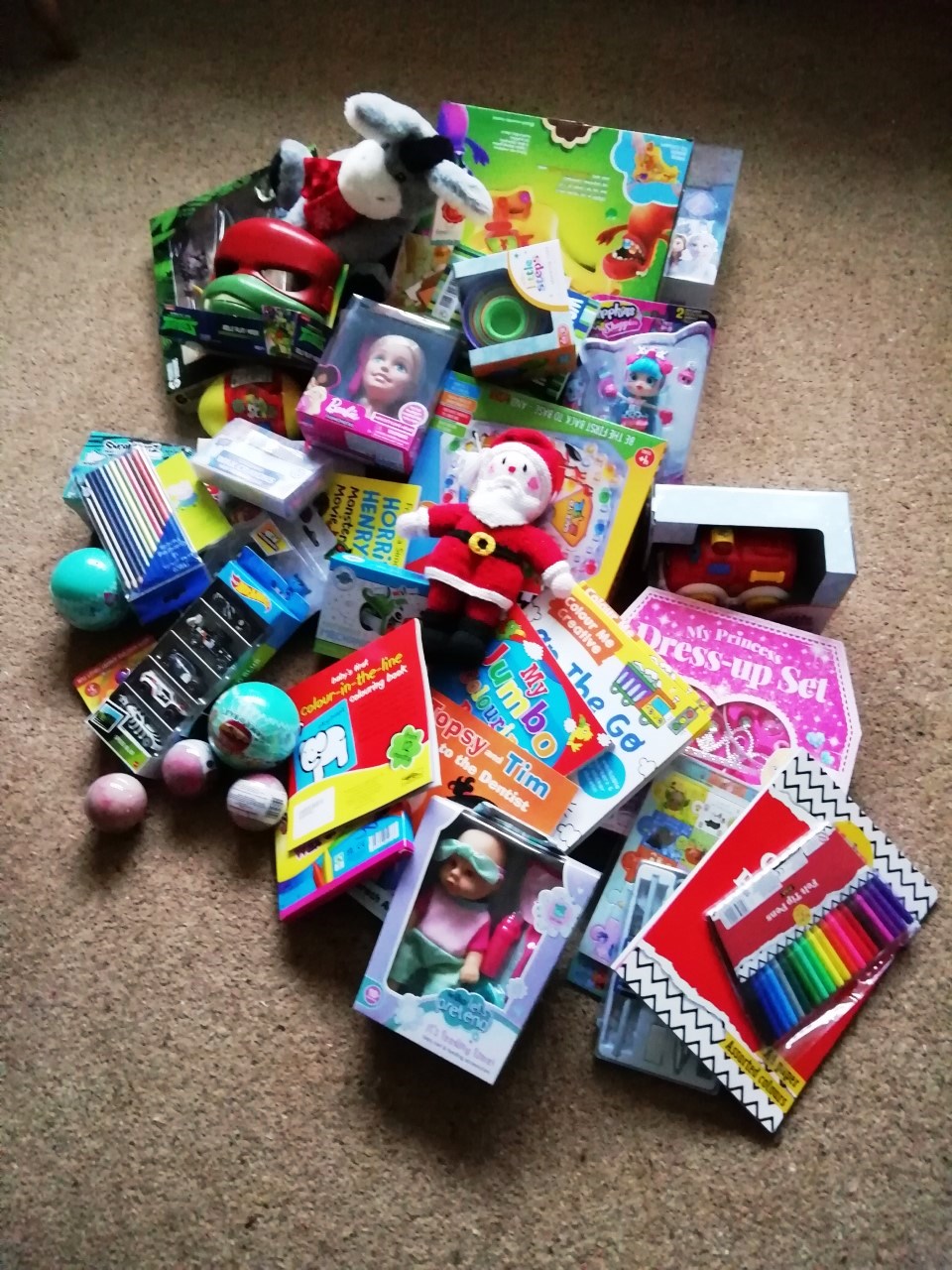 East Hunsbury WI had a pop up cafe at the Christmas fayre held in East Hunsbury library. It was attended by 1300 residents.They were kept busy and sold about 98% of their cakes. Members also had their own craft tables. It was standing room only!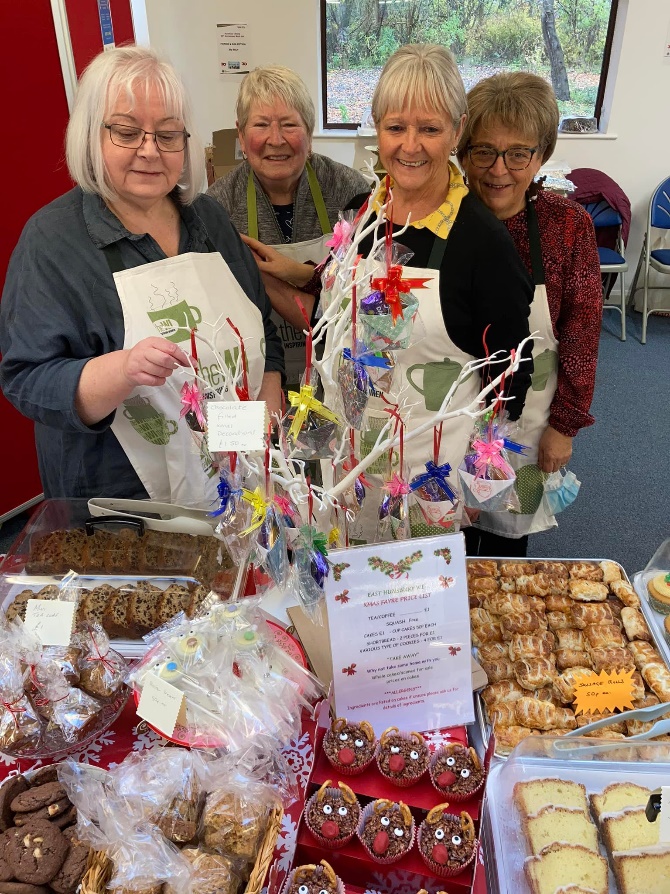 Bacon butties again! Stowe Nine Churches WI autumn breakfast was so successful, they decided to do it again for Christmas. The community came out in force, suitably attired, for their bacon buttie/danish & warm cuppa. A great way to meet up.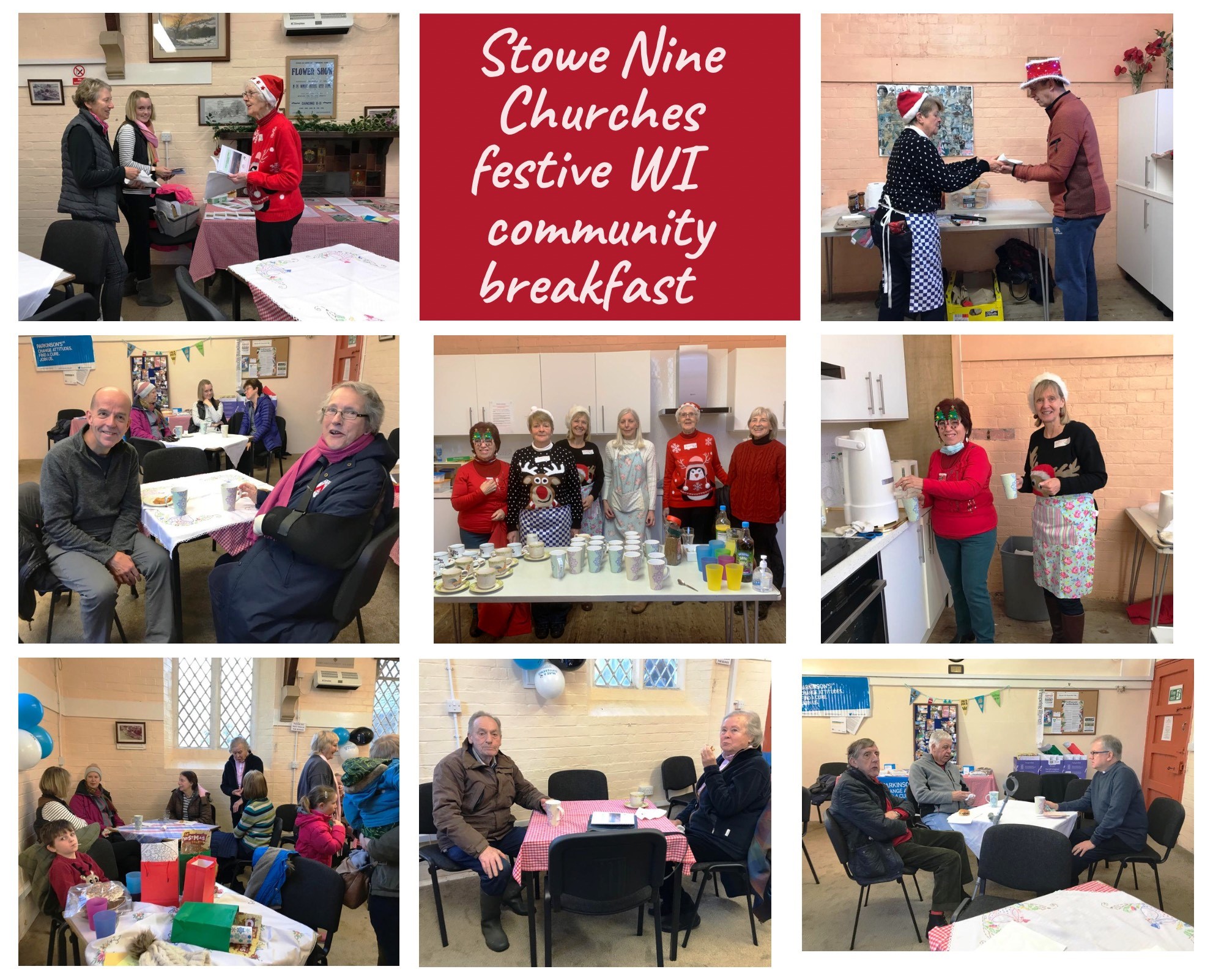 Bozeat WI entered their village Christmas Tree Festival, theme 'Inspiring Women'. They included a huge range of women who have inspired others: HM The Queen, Mother Teresa, Indira Ghandi, even Marilyn Munro, and of course the Suffragettes.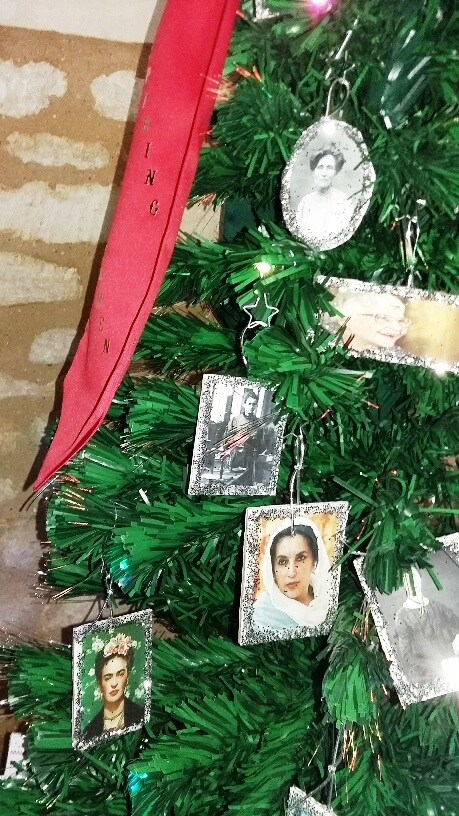 Weston Favell Evening WI collected a wonderful array of Christmas goodies for the local Food Bank.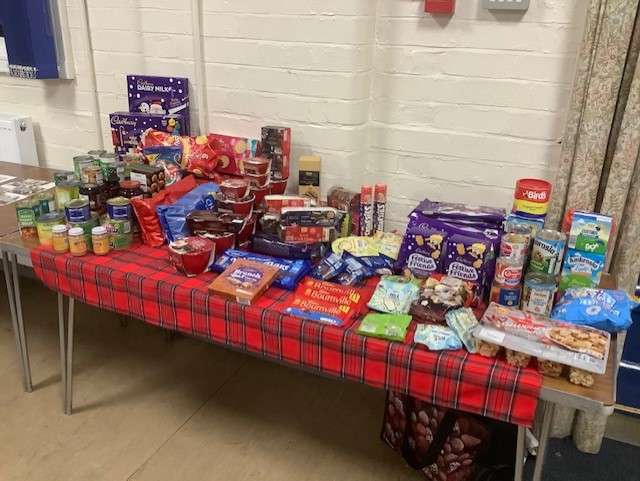 Rushton Village WI took part in a community project to produce a tribute to all who have fought for, and died for their country. WI members, alongside everyone at the village school and many members of the community worked together to knit, crochet, weave and sew over 4000 poppies and attach them by hand to a net. The cascade was hanging from the church tower in Rushton. If you missed it this year, it will be back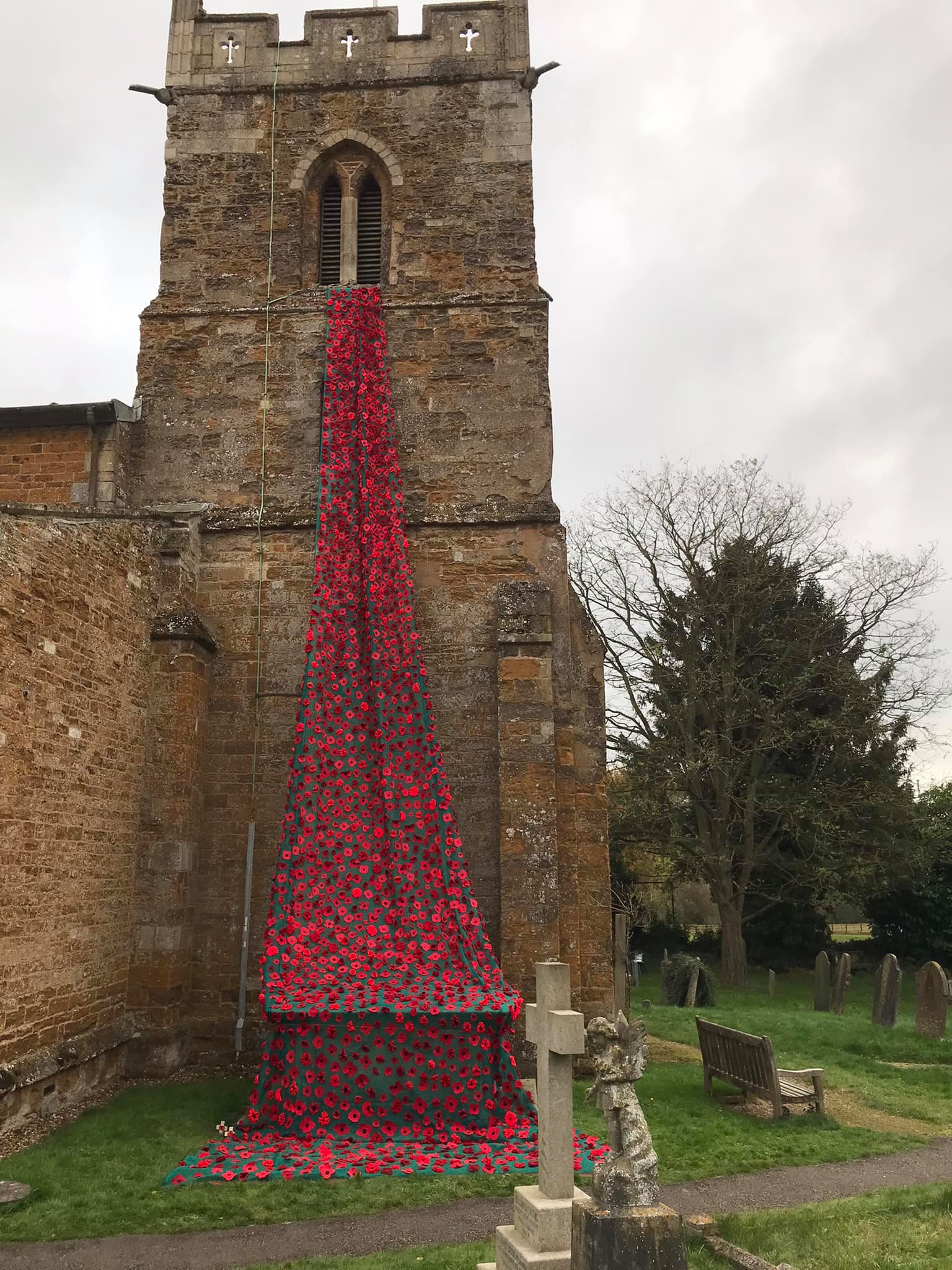 For Stowe Nine Churches WI's birthday celebrations they hosted a Community Breakfast. Everyone in the village was invited and over 70 long-standing and new residents enjoyed WI hospitality. Nationally members were encouraged to focus on friendship and this was Stowe Nine Churches WI's way of extending the hand of friendship.
Their President welcomed residents while members supplied teas and coffees, danish and bacon butties. £80.80 was generated by the sale of homemade cakes.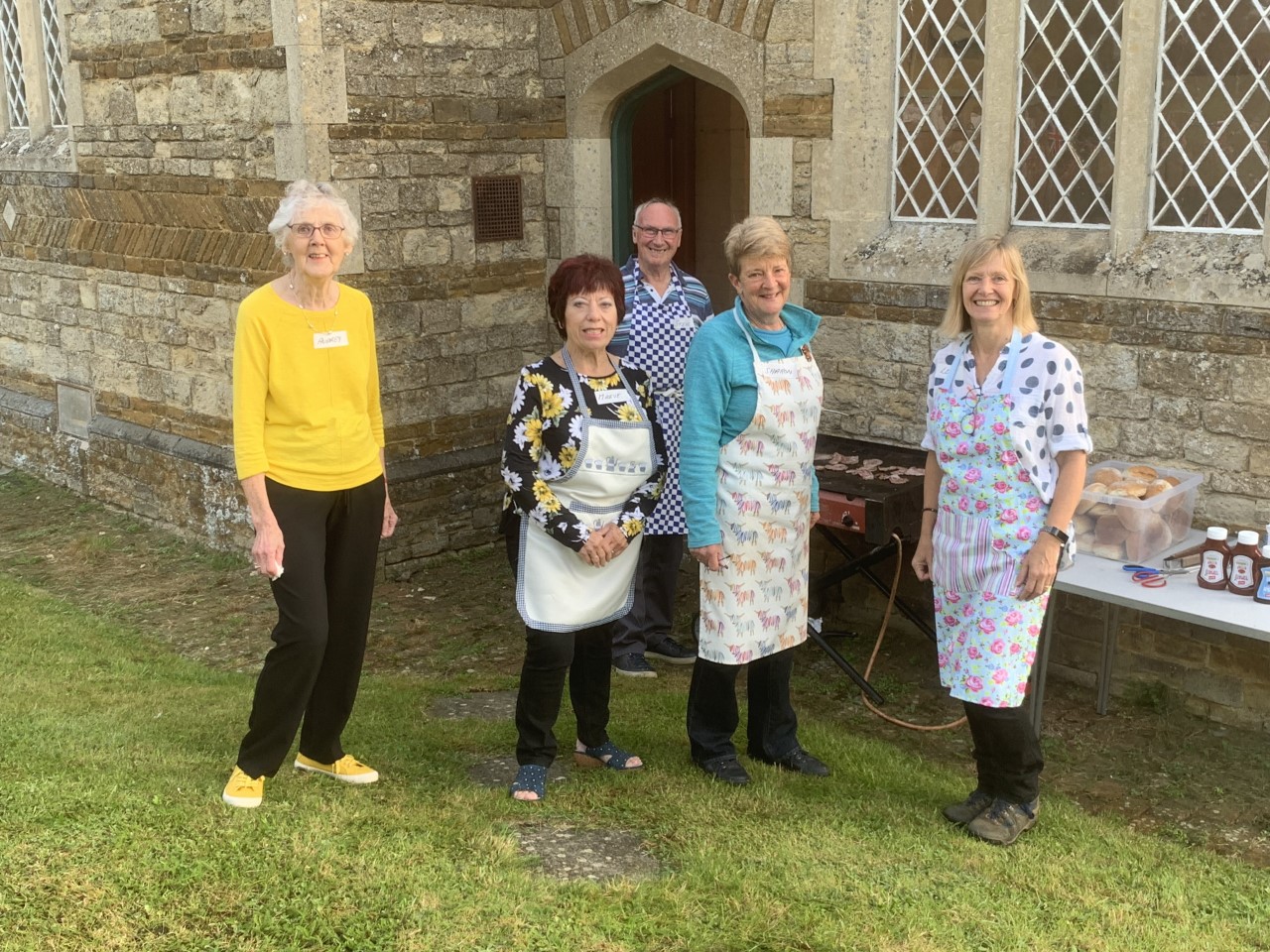 Stowe Nine Churches WI supported the annual Police Unity Cycle Ride by supplying cakes for the 120 riders who stopped off at Towcester Police station for refreshments as part of their marathon ride from London to the National Arboretum in Stafford. The charity event raises money for COPS – Care of Police Survivors and riders cycle in memory of police colleagues who have died in the line of duty. The event culminates at the National Police Memorial with a service of remembrance.
Northamptonshire Health Charity thanked
Roade WI
for raising a wonderful £1,161 for the Do it for Dementia fund. They met Chris Jackson (President), Margaret Smith (Secretary) and Lesley Armstrong (ex President) when they presented the funds.
https://northamptonshirehealthcharity.co.uk/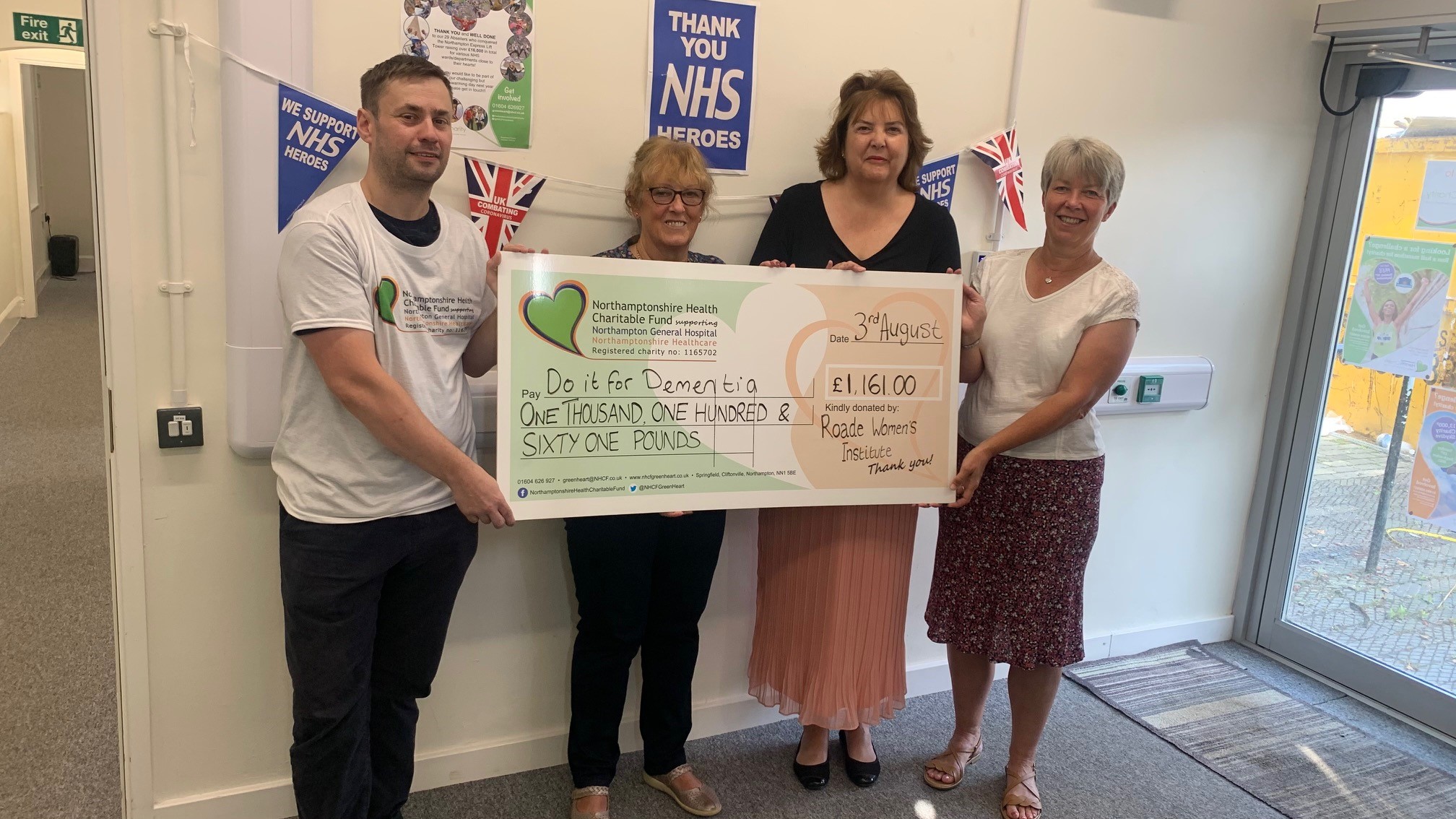 An idea that mushroomed - with magnificent results!
Roade WI wanted to support NHS Day in a positive way that would really make a difference, so chose to support "Do it for Dementia" and to raise funds for dementia friendly spaces around Northampton General Hospital.
They put a call out on Roade local Facebook page.The local pub offered their garden. Local shops and businesses donated raffle prizes. Members family friends and villagers donated cakes, jam, plants, raffle prizes and organised three children's games.The whole community came out to support which turned out to be a tremendous day. An outstanding amount of £1161 was raised in four hours.Thanks are due to all who contributed to this successful day.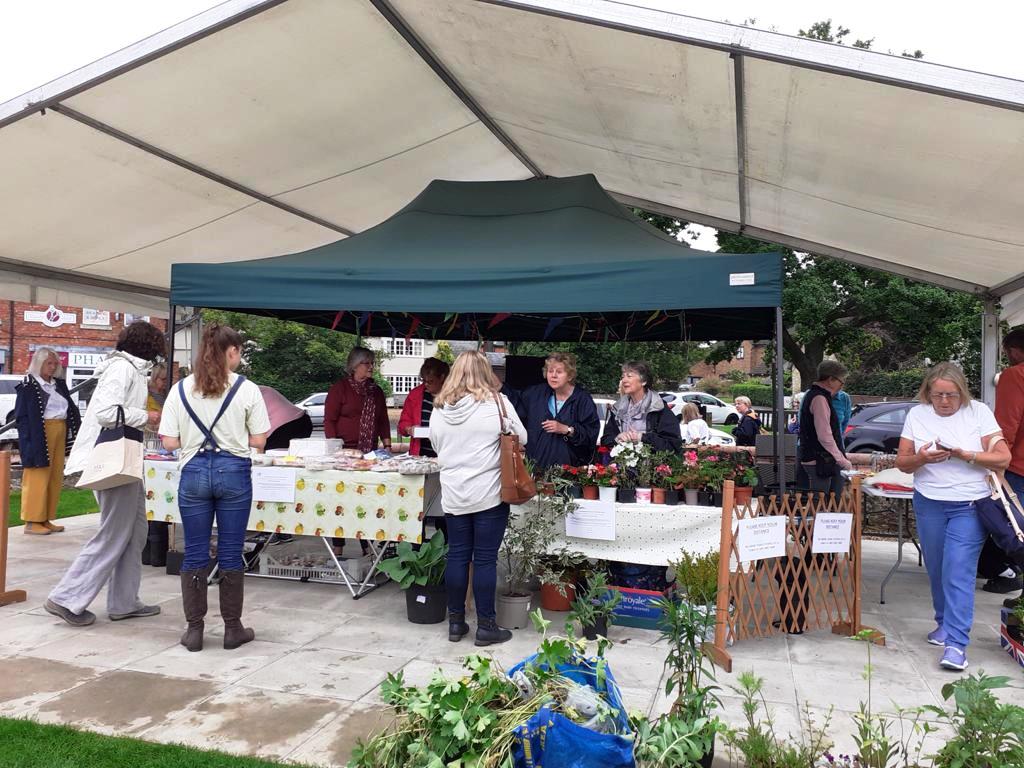 To celebrate NHS day Great Billing WI asked their members to nominate a local NHS worker who deserved a reward for their hard work and dedication over the last year.
President Diana Johnson made a presentation of a bouquet of flowers and spa voucher to Louise Case, a nurse who works in a local medical centre, to say "thank you".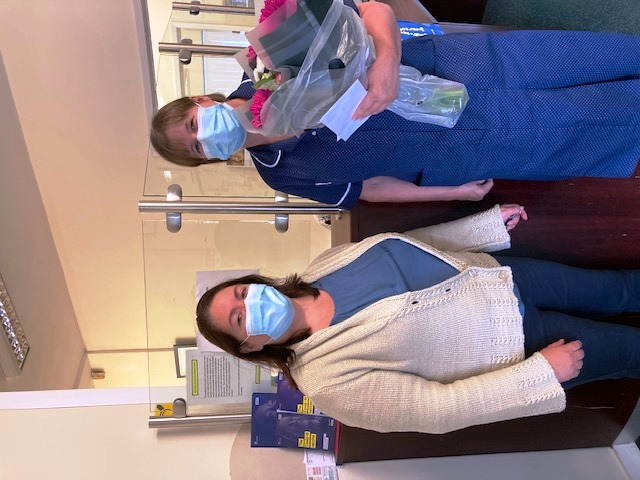 East Hunsbury WI have contributed to a community display outside Hunsbury Library for "Thankyou NHS" day. The WI knitted the yarn bomb and painted some green stones the rest of the stones were painted by local school children.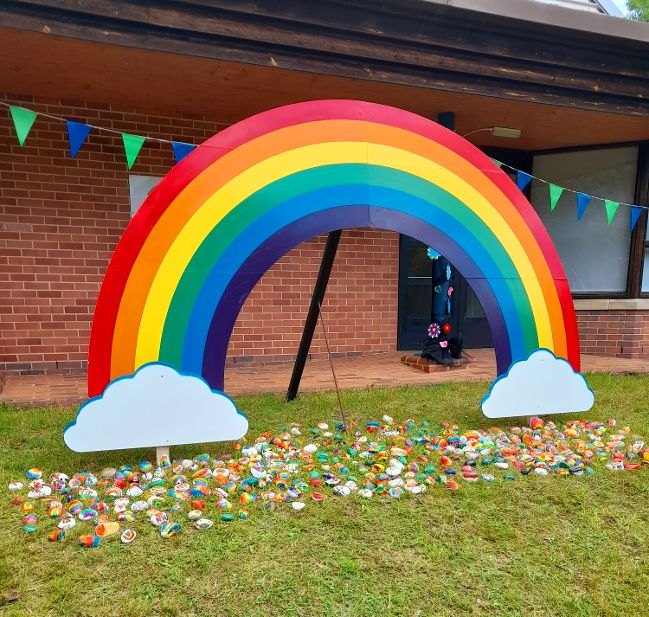 A massive thank you to all NHS, Social Care and Frontline Workers.
Stowe IX Churches WI
members baked a range of cakes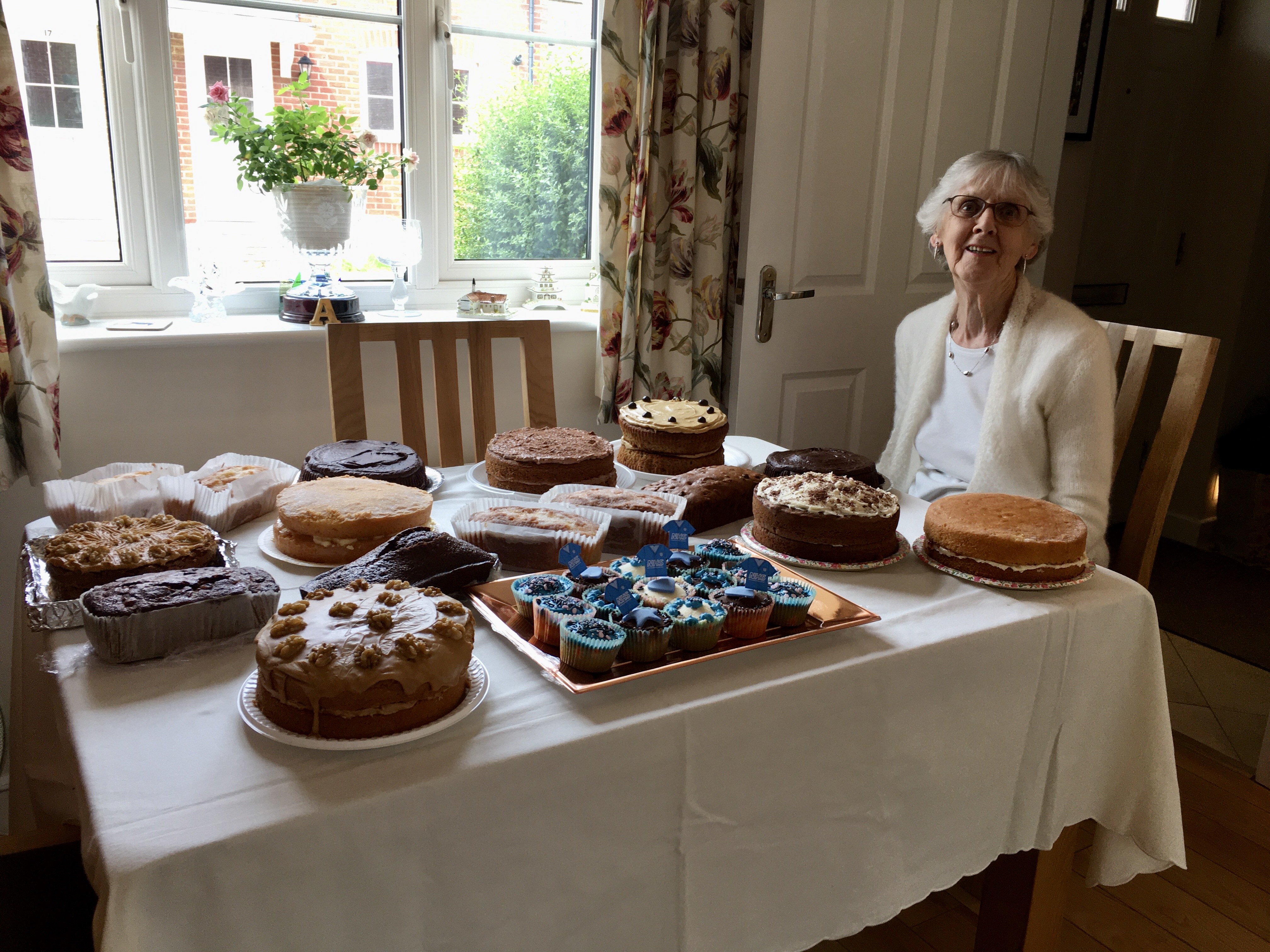 to say thank you to some of our frontline workers to demonstrate thanks and appreciation to the teams working in Longlands Care Home, Brownlands Nursing Home and Wheatsheaf Court Nursing Home all in Daventry.
President Audrey Mason and committee members Lynne Ashby and Lou Stockwin enjoyed a chat and a giggle with staff when out delivering.
Towcester Evening WI delivered home baked cakes to NHS staff and key workers at Greens Norton Vaccination Centre, Towcester Medical Centre, Brook Health Centre, Towcester Ambulance Station, Greens Norton Medical Centre and Ridgway House Care Home. It was their way of saying a big thank you to them all for the care they have given to our community during the pandemic. We hope they enjoyed all the treats. #NHSBigTea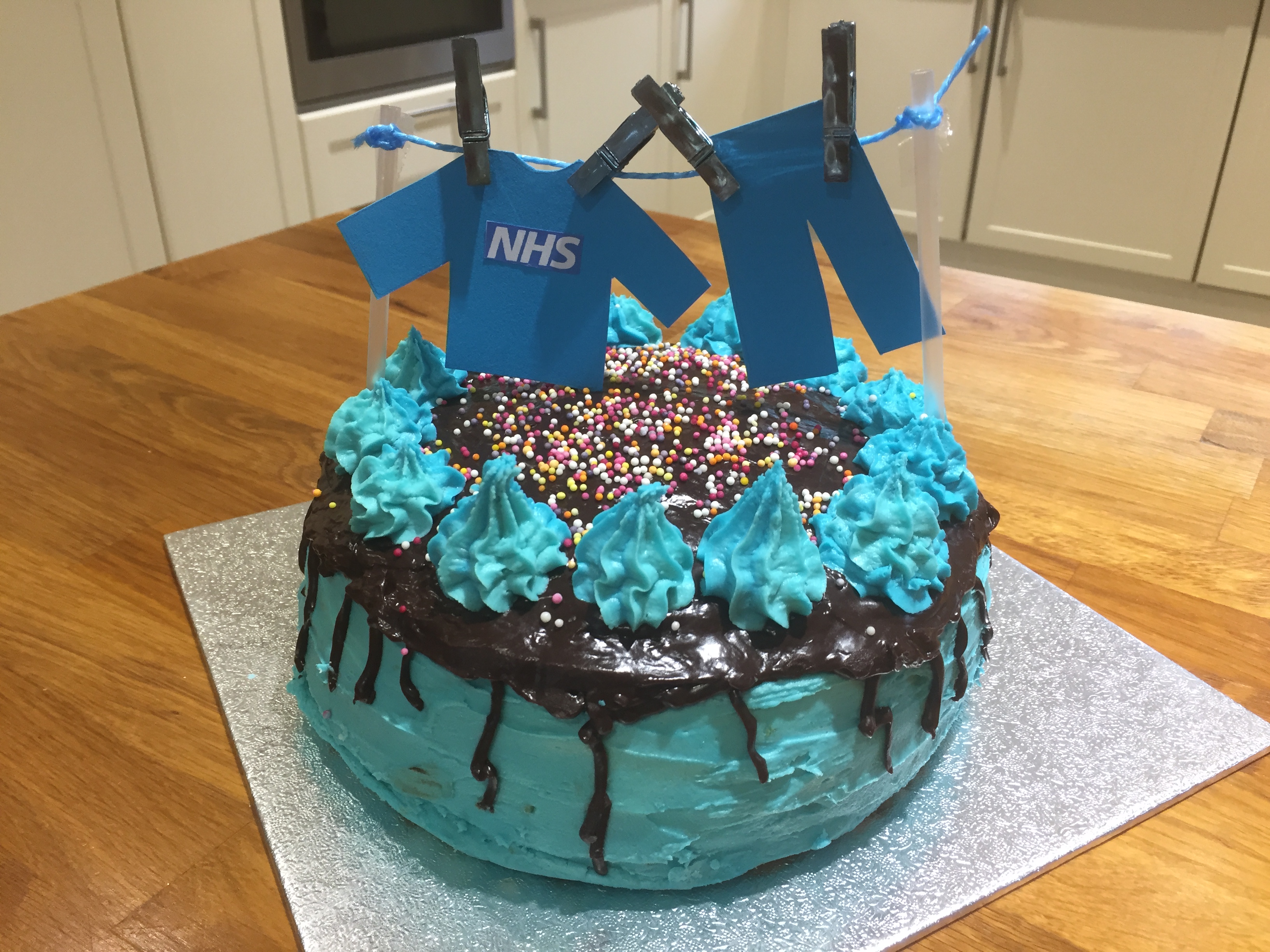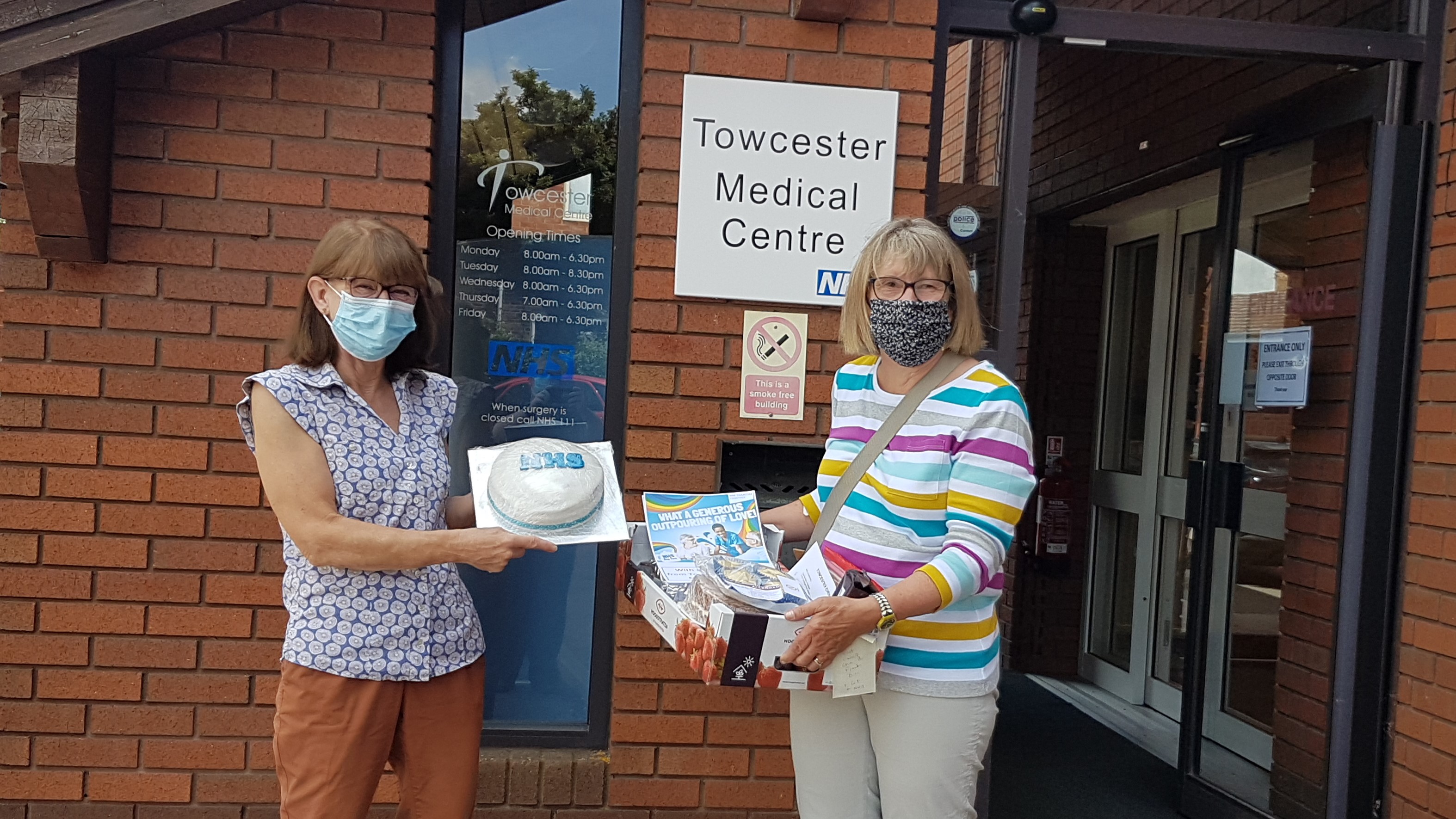 Bozeat WI members enjoying the sunshine on the village green while celebrating the wonderful NHS with wine, water and a blue cake!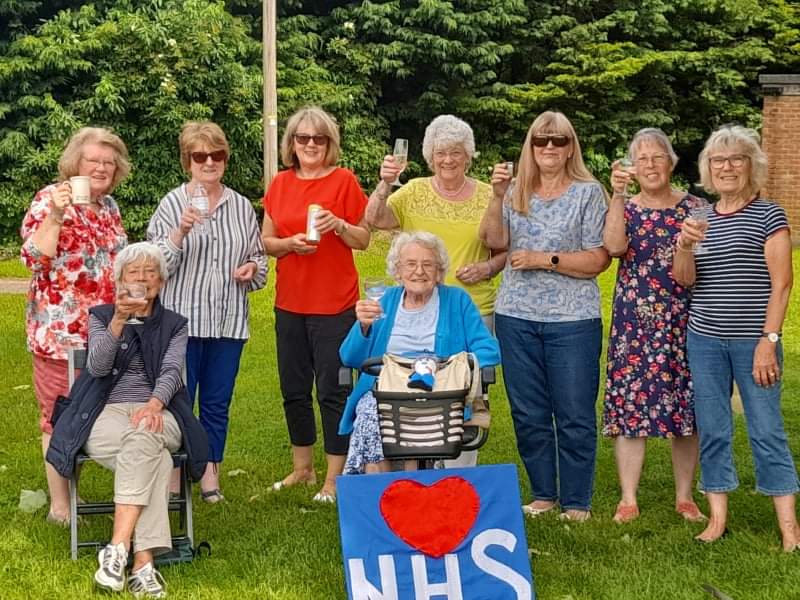 Twenty five members of Moulton Evening WI celebrated the NHS with a Tea Party, their first large gathering after lockdown. Members took the opportunity to dress up, the weather was great and a good time was had by all.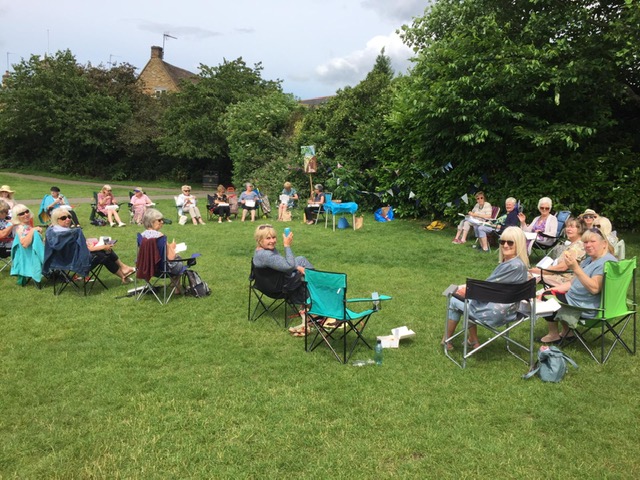 Towcester Evening WI has been able to raise the sum of £350 from the sale of handmade facemasks and these funds are going towards the creation of a Reflective Garden at Northampton General Hospital. This garden will provide a safe and quiet space in the grounds of the hospital and will be dedicated to staff and patients who have died there from Covid-19.The WI also took along 50 facemasks for non-medical staff and patients at the hospital. These were all made by Jenny Liversidge, a member of Weedon Lois WI, who also made all the facemasks that raised the funds for the Reflective Garden.Towcester Evening W I has been in partnership with Jenny since the start of the pandemic and, along with our own members and members of neighbouring WIs, we have also provided facemasks for the non-medical staff at our local doctors'surgeries and dental surgeries too.
Featured in the photo is Zoe Finch from Northamptonshire Health Charity and Sue Hamilton, President of Towcester Evening WI, along with donations of toiletries for patients at Northampton General Hospital collected from WI members.
The other photos feature the facemasks made for the hospital and the toiletries donated by members from Towcester Evening WI for patients at Northampton General Hospital.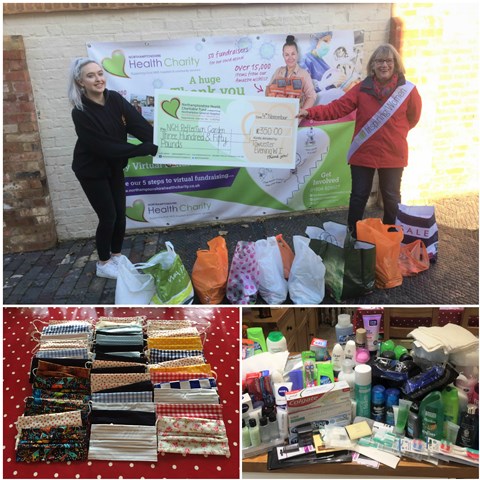 Towcester Evening WI
Thanks go to our members who made these drawstring bags for NHS staff. They were delivered to Northampton General Hospital and were very much appreciated- in fact pounced upon!
It has been great that TEWI has been able to help the NHS in a practical way during this pandemic and it is not just those that have the sewing skills that have contributed but members who donated fabric and did the collecting and delivery of the bags. Great work from Inspiring Women!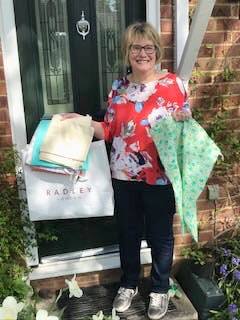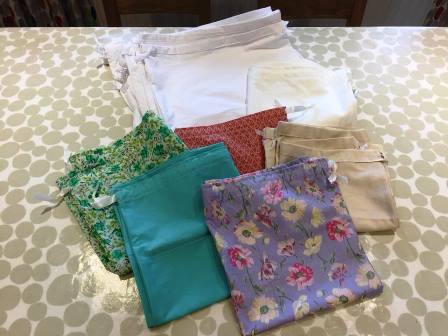 Towcester Evening WI collected hand creams from their members and delivered to the hardworking staff of the NHS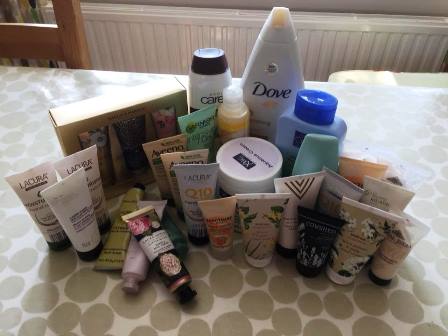 Towcester Evening WI learned that the local Care Home residents were missing seeing fresh flowers, so the Gardening Club delivered a few! Such kindness.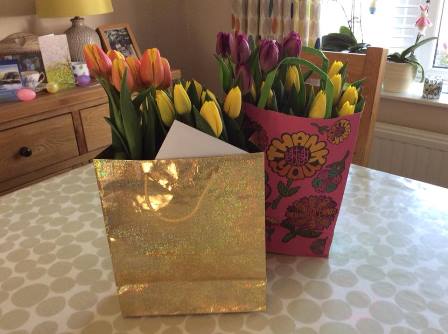 Great Houghton WI shows support for the NHS
A display of blue hearts and pom-poms in High St, created by the WI to show support for the amazing NHS staff and key workers.