ACWW (Associated Country Women of the World)
ACWW (Associated Country Women of the World)
WI members are affiliated to the ACWW movement.
WOMEN WALK THE WORLD on ACWW Day
Photo shows members of Helmdon WI setting out on their 'Women Walk the World' walk . Donations have been received for ACWW funds and the total is still growing. Well done Helmdon WI.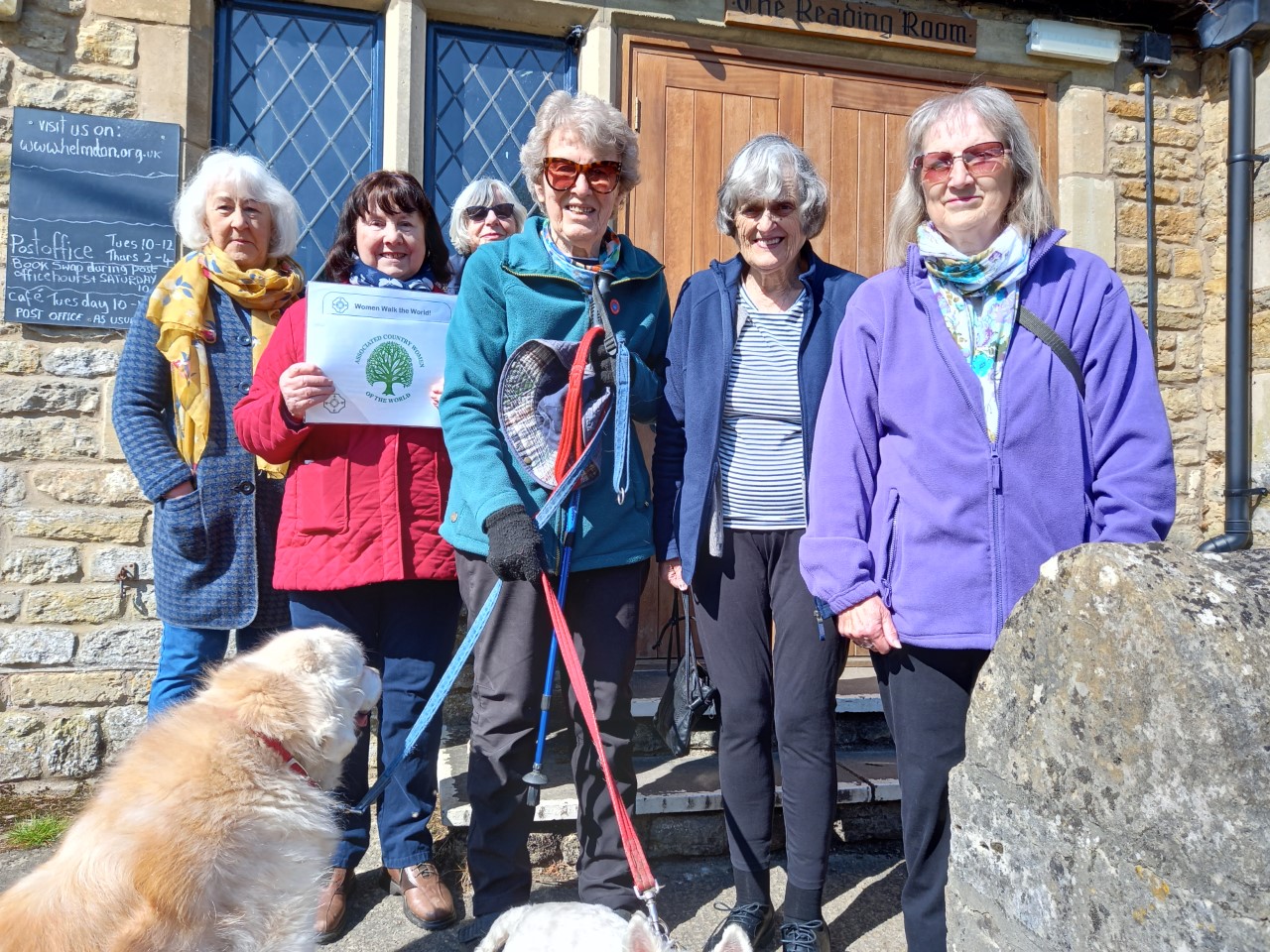 April 2022 update from Jean, your ACWW Officer
As usual I need to thank all of you who have continued to contribute to ACWW, by recycling. The latest sack sent to recyclers for charity provided £99 for us to send off to ACWW. My thanks also for you continuing interest, the invitations to attend your meetings, and I wish you good weather and a happy time if you are Walking the World.
Thank you, Jean
March 2022 update from Jean, your ACWW Officer
I have recently met many members while visiting the WIs who invite me to speak of ACWW at their meetings. Thank you for the opportunity to spread the word about ACWW, and of the amazing work, women achieve helping each other. As you know, our federation is affiliated to ACWW, paying a membership fee on our behalf each January, this way enabling us to donate to this charity. All of the donations made by WI members are "ring fenced", to be used for the benefits of the ACWW projects. However, ACWW still needs to be funded by individual members, where the fees paid can be used to pay other bills, thereby allowing the charity to continue working. Individual membership is £27 per year, or £81 for 3 years, and applications can be made via the ACWW website
acww.org.uk
My thanks again for your donations sent off for recycling for charity, and for your continual support, and if you are "Walking the World", on or around 29 April, ACWW Day, have a lovely time.
February 2022 update from Jean, your ACWW Officer
As I write this on a very cold January day, I am thinking ahead to the pleasures of Springtime. How about planning an event
with your WI Friends to support Women Walk the World on or around April 29. This annual walk was planned so that
women, wherever they are in the world, can take a walk in their locality, and highlight ACWW. This would mean that over a
24 hour period, around the world, women were walking to support other women, either by being sponsored, or by just
advertising this amazing organisation.
My thanks to all of you who have made recent donations and sent items for recycling . Details of how to send off cheques is
in the 2022 Federation Yearbook under Money Matters, page 9, in the paragraph, headed ACWW.
Thank you,
Jean
ACWW regional meeting held in Derby
Jean travelled to WI Derby for an ACWW meeting and was so pleased to meet-up again with Susan Addams. who was her predecessor as NCFWI ACWW Officer.
Susan spoke at the meeting of her first trip to Romania when, after the revolution, help was requested from WI members who had particular skills and could share them. Susan took sewing machines and ran workshops for women and met Afrodita Roman who then learnt about ACWW.
Susan and Afrodita remained friends, with further visits, and Afrodita eventually formed her own Women's Group, The Women of the Third Millennium, who are affiliated to ACWW. Afrodita has worked hard in Romania for women, and now is the European World President of ACWW. It was a pleasure to meet her again, and hear her story at the Derby meeting.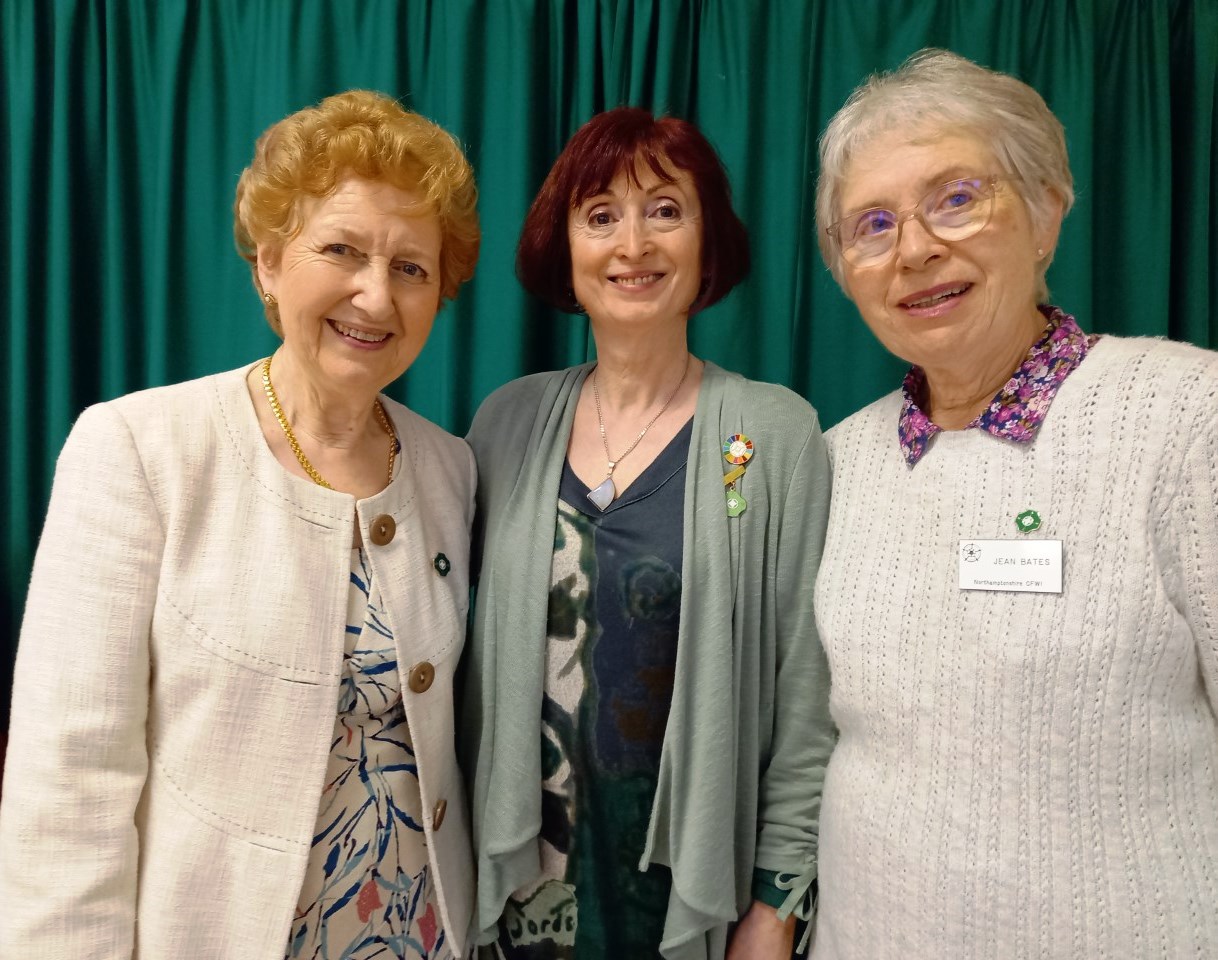 January 2022 update from your ACWW Officer
I have had a busy time recently, representing you all as your ACWW officer. With two virtual meetings discussing food policies, I have learnt so much about how climate change and the virus have made life even more challenging for the women who live life "on the edge". Many women run small farms, to provide food for their families, as well as an income, and lockdown around the world has had an impact on marketing their produce and receiving an income. We also discussed problems of local agriculture and food production and ACWW would like us all to consider to EAT LOCALLY, THINK GLOBALLY. This ties in with WI Resolutions to support British Farmers, so please read labels when shopping and try to buy British. You may remember we had a resolution on food labelling and I do believe we have had improvements.

Another virtual meeting was held to conclude the 16 Days of Activism against gender based violence. Yes ACWW is very involved, as are we in the WI, to publicise the horror of violence against women. This event was organised by UNESCO, with whom ACWW work on this world wide issue, with speakers from many different countries, tackling some issues we see less often. I heard that if a man has paid for his wife and owns her, in some parts of the world this makes it challenging to alter domestic violence practices.

Thank you all for your continuing support of ACWW, also for the items for recycling for charity, there is a list on the next page of items that can be recycled. Thank you, Jean
December 2021 update from your ACWW Officer
Over the many years of my membership, the WI has certainly lived up to its pledge, to educate me! I have just finished a Zoom meeting with women from many parts of the world, our topic, Food and Agriculture. With one member from Jamaica in 85c heat and another in North Dakota, USA having 2 inches of snow, it is only too apparent how challenging farming remains, producing the food we all depend on.
Thousands of small family farms, this includes fishing and forestry, supply the needs of many in this world, and women are often the farmers.
Our Chairman for the Zoom meeting was based on a small Scottish island, and told us about the Sustainable Food Goals, of food sustainability and food sovereignty.
Globally a third more food is produced than the world needs, however 1 in 9 are hungry! Global availability depends on one being able to afford the food, have water to irrigate, access to farm land and good sanitation. This last point is so vital, as poor sanitation can lead to diarrhea which in turn causes nutrition deficiencies, and for the women, poor maternity outcomes. This becomes a vicious circle, with undernourished children unable to thrive. If they do receive an education the outcome can be compromised by poor health.
Food sovereignty is availability of suitable food for your local preference and culture, not crops you are forced to grow, maybe by wealthy foreign investors.
Availability of food and good nutrition is one of the universal declarations of human rights, and please look at www.acww.org.uk, if you would like to find out more, but please remember, any of the funds you raise can be directed to a specific farming or perhaps water project, you choose.
Thank you for continuing to support ACWW.
Jean
November 2021 update from your ACWW Officer
Many of you will recall how some years ago we would "adopt" a specific project to support for ACWW. We now have the opportunity to choose how the funds raised by members are used. By looking at the ACWW website, acww.org.uk, under projects, we will see the WE Funds, women empowered, which gives the 6 categories.
ACWW is also very involved with advocacy work, passing information concerning rural women into the UN system, surveys and meetings.
Another role of ACWW is to follow up the resolutions agreed at conferences. One such is offering free specialist training, challenging the global issue of rabies, supporting the "zero by 30", to eradicate canine-mediated rabies deaths globally by 2030.
Thank you for your continuing support of this amazing organisation, Jean
August 2021 update from your ACWW Officer
Again I start with thanking you for your continuing support for ACWW, and know how much your care will help others less fortunate than us. If you want some reading material during this summer, I would like to remind you that you can download many of the back issues of The Countrywoman, ACWW's own magazine, on their website, acww.org.uk. You will see articles giving information of how your support has been spent, also how other groups, just like us, from all over the world support this charity. Happy summer reading.
Thank you, Jean.
To celebrate ACWW day, seven members of Wootton WI participated in a socially distanced walk around the Brackmills and Hardingstone area in Northampton, raising £150 in sponsorship for ACWW.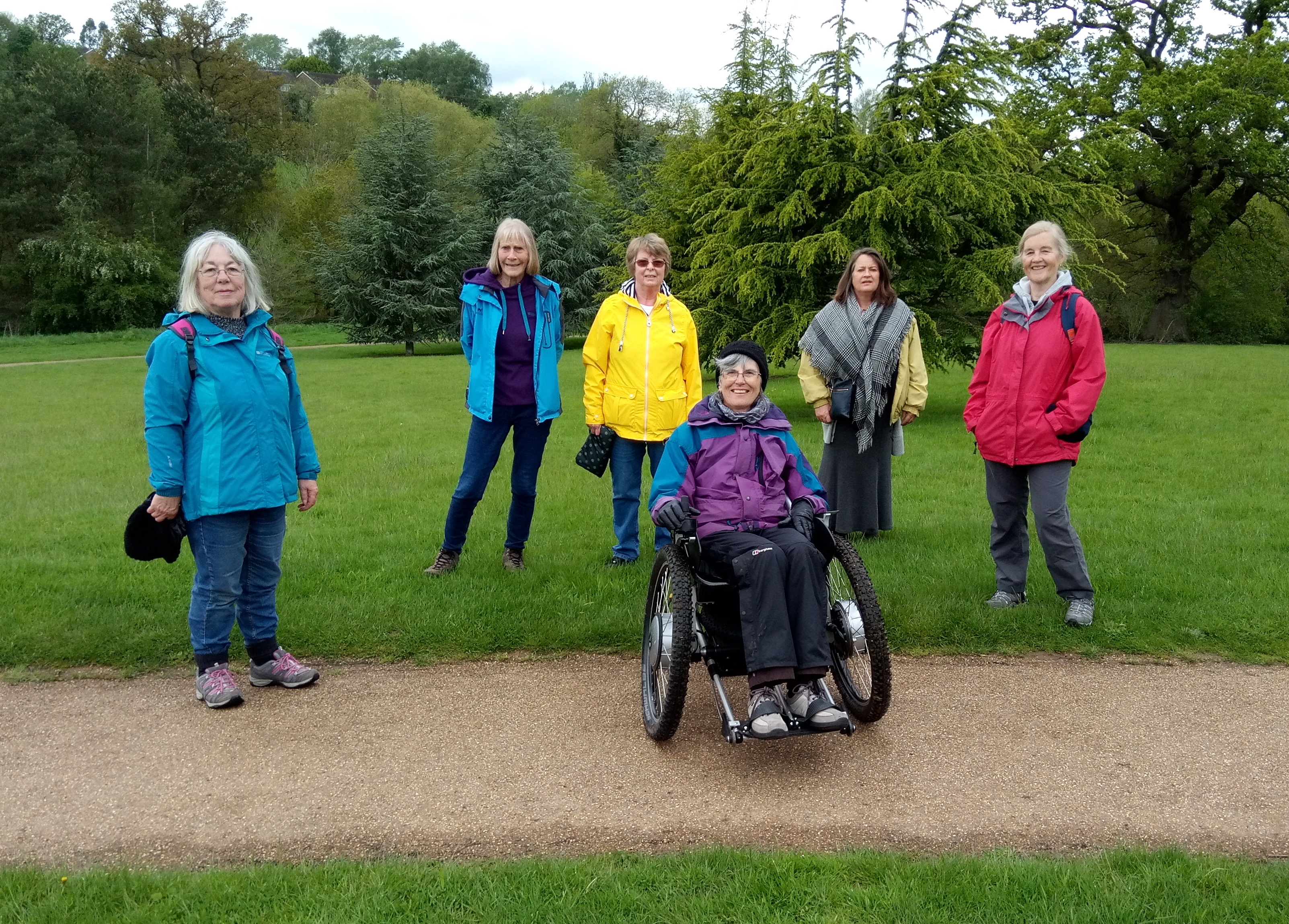 Update - July 2021
A very big THANK YOU this month, to those who have recently contributed to our recycling for charity, and those who have made donations to ACWW. The latest cheque received from the recyclers was for £65. This is often from items that would otherwise be discarded, thrown away and maybe end up in landfill. £65 goes a long way towards one of ACWW's projects, which are often funded by fairly small sums of money.
My thanks also to the WIs who have made recent contributions. I especially want to mention one WI have chosen for their contribution to be forwarded to the WE Fund (Women Empowered) for sustainable water, sanitation and energy. Please remember you also can request which WE fund you wish to support. By looking on the ACWW website, acww.org.uk you can see the list and which may need most help.
Update June 2021
Thanks go this month to those of you who have continued to make donations, both as Pennies for Friendship, and for recycling for charity. Unwanted and broken jewellery, used stamps and stamp collections, old cameras and phones, foreign currency are all items that we can change into funds for ACWW.
As with other charities ACWW has been badly affected by the pandemic. If you can make a donation for the work with women and children to continue, I know how much it is appreciated. Please look at the website https://www.acww.org.uk and see all about the donations appeal, also find out more about projects, resolutions and work with the UN. You can also subscribe for the ACWW newsletter, so please give it a go.
Thank you,
Update December 2020
Good news to share with you all - a bag of your recycling recently made £104 as donations to ACWW, with a previous bag making £30. Thank you all so very much for your items to recycle, stamps, old mobile phones, broken jewellery, watches, and cameras. Stamps can be put in the post box at WI House and, if you have other items to donate, please contact me and I will see if we have a Trustee nearby willing to take them in on your behalf, while WI House is closed.
October 2020
On World Women's Day seven members of Wootton WI undertook a "socially distanced" Sponsored Walk in aid of ACWW (spot the second group in the background!). £140 was raised and Wootton WI has asked for the monies raised to go to Project 1044, Improved access to water in Vollapuram district in India.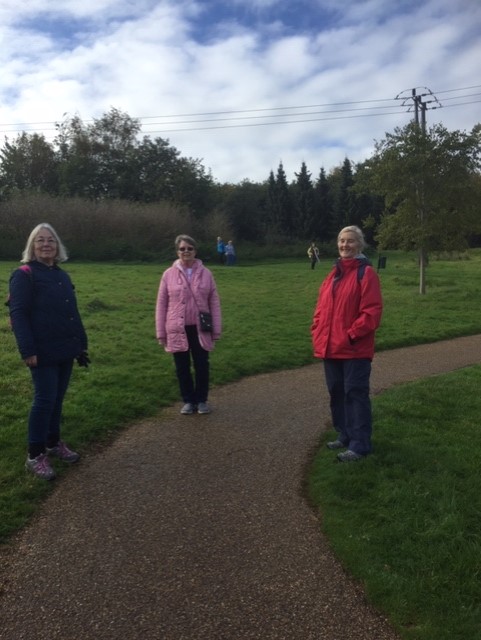 Hunsbury Hill WI also walked for ACWW, along with two dogs, and raised £100 in the process. Here is one of the groups of six.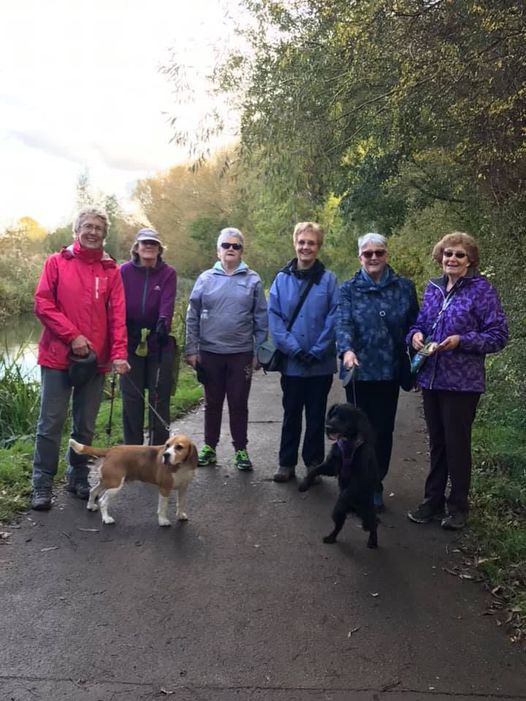 Five members of Irchester WI and two dogs walked for ACWW in Irchester Country Park. They collected £35 in donations and enjoyed a socially distanced coffee when they had finished.
July 2020 update from our ACWW Officer
My thanks and congratulations to WIs who have planned to celebrate Women Walk the World this year, in perhaps a different way, and thank you for your contributions to ACWW funds.
Our last bag of recycled goods, old and unwanted jewellery, watches, cameras, stamps, etc, has turned into a cheque for £63.40, so my thanks again for supporting this most worthwhile charity, where every penny will make a difference to women and children.
As with the WI, ACWW hears members resolutions and recommendations at the three yearly world conference. If any member has such a recommendation for the next conference,due to be held in Malaysia in May 2022, please let me know.
Thanks again, Jean.
Click here for a report of Northamptonshire's activities prepared for the Triennial Conference held in Coventry in August 2016.
Many WIs collect "coins for friendship" at their meetings. This money is sent to ACWW to help provide much needed finance for projects which help women in the developing world.

The Northamptonshire Federation also undertakes to raise funds for a particular ACWW project most years.
A new project was launched at our Annual Council Meeting at Spinney Theatre on 30 October 2012 when we pledged ro raise £2454 for rain water harvesting projects in Sri Lanka. This was achieved within the two year period.
The Federation and individual WIs also hold promotional events throughout the year.
Wootton WI
As well as collecting Pennies for Friendship at their monthly meetings, Wootton WI also holds two annual fund raising events, one in January for re-gifted Christmas presents and a sponsored walk. Photo shows some of the members in Harrold Country Park in May 2019.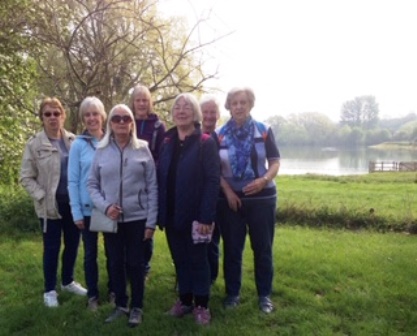 United Nations International Day for Rural Women
The Hall was full at Milton Malsor where we celebrated with a Cream Tea. Jackie Gregory spoke of her monitoring work of ACWW projects and of the Worldwide Triennial Conference to be held in August 2016 in Coventry; it has been 76 years since this Conference has been held in the UK. A chance for UK members to attend. A sackful of old and broken jewellery was collected to be recycled and foreign currency was collected. Also craft items for the "Shop" at the Conference. Jackie makes and sells jam to raise funds for ACWW.
WANTED - Items for "Country Store"
In August 2016 the UK is hosting the World Conference. WI members are invited to donate craft items for the "Country Store" Shop, as delegates may like browse and purchase a souvenier from the Conference. Items should reflect the UK and be travel friendly (no glass, food, wood, etc). Contact WI House for further details.
Meeting Sri Lankan cricket team
Northamptonshire Federation manned a stand at NCCC (Northamptonshire County Cricket Club) when the Sri Lankan cricket team played Northamptonshire. Cricketers inspected the stand which showed the rain water harvesting projects already up and running in Sri Lanka. We also handed out tickets to women spectators for free entry to any WI meeting in Northamptonshire. Photo shows Sri Lankan cricketers with NCFWI members behind our stand.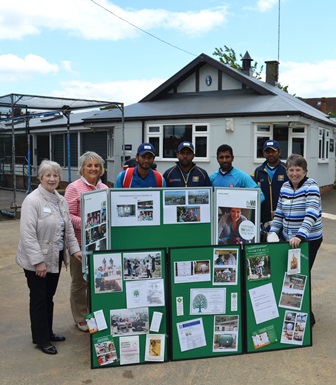 ACWW - Sri Lankan Colonial Tea Party - Tuesday 29 April 2014
ACWW Day 2014 was celebrated with Rochelle Mortimer of Mortimer Teas giving an illustrated talk, followed by sampling various teas. Rochelle explained the whole process of plucking tea leaves, rolling, drying and preparing of the tea. She also spoke of the history of tea making in Ceylon (now Sri Lanka). The Catering Committee excelled themselves by serving a delicious selection of finger sandwiches and individual dainty cakes. The afternoon ended with three donations to ACWW from Great Billing, Stowe IX Churches and Barton Seagrave WIs.
In 2012 an Afternoon Tea with Speaker, held at WI House, when Margaret MacKay, ACWW Projects Manager, explained to members how projects are chosen, how they are are monitored and answered questions.