ACWW (Associated Country Women of the World)
ACWW (Associated Country Women of the World)
WI members are affiliated to the ACWW movement.
August 2021 update from your ACWW Officer
Again I start with thanking you for your continuing support for ACWW, and know how much your care will help others less fortunate than us. If you want some reading material during this summer, I would like to remind you that you can download many of the back issues of The Countrywoman, ACWW's own magazine, on their website, acww.org.uk. You will see articles giving information of how your support has been spent, also how other groups, just like us, from all over the world support this charity. Happy summer reading.
Thank you, Jean.
To celebrate ACWW day, seven members of Wootton WI participated in a socially distanced walk around the Brackmills and Hardingstone area in Northampton, raising £150 in sponsorship for ACWW.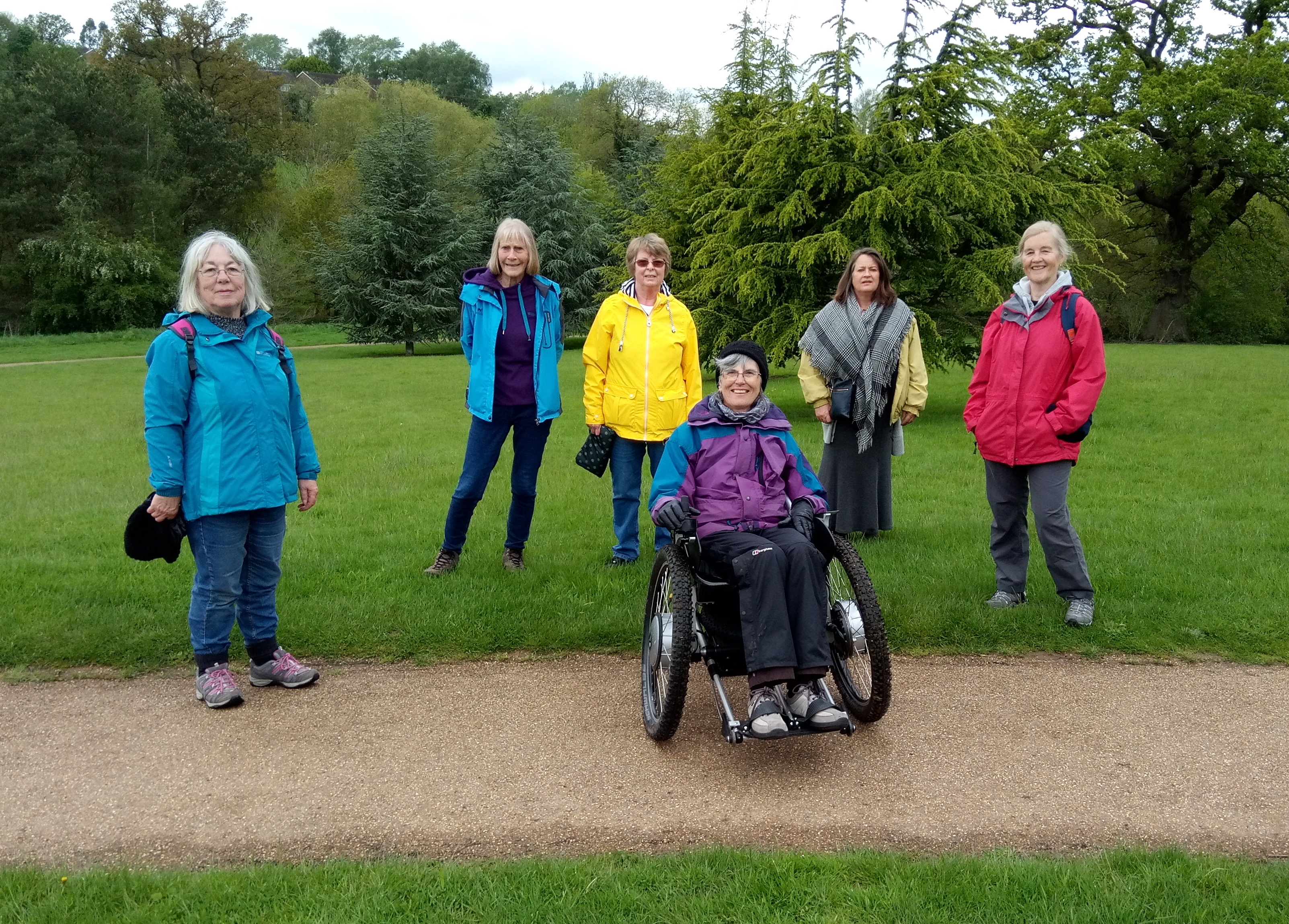 Update - July 2021
A very big THANK YOU this month, to those who have recently contributed to our recycling for charity, and those who have made donations to ACWW. The latest cheque received from the recyclers was for £65. This is often from items that would otherwise be discarded, thrown away and maybe end up in landfill. £65 goes a long way towards one of ACWW's projects, which are often funded by fairly small sums of money.
My thanks also to the WIs who have made recent contributions. I especially want to mention one WI have chosen for their contribution to be forwarded to the WE Fund (Women Empowered) for sustainable water, sanitation and energy. Please remember you also can request which WE fund you wish to support. By looking on the ACWW website, acww.org.uk you can see the list and which may need most help.
Update June 2021
Thanks go this month to those of you who have continued to make donations, both as Pennies for Friendship, and for recycling for charity. Unwanted and broken jewellery, used stamps and stamp collections, old cameras and phones, foreign currency are all items that we can change into funds for ACWW.
As with other charities ACWW has been badly affected by the pandemic. If you can make a donation for the work with women and children to continue, I know how much it is appreciated. Please look at the website https://www.acww.org.uk and see all about the donations appeal, also find out more about projects, resolutions and work with the UN. You can also subscribe for the ACWW newsletter, so please give it a go.
Thank you,
Update December 2020
Good news to share with you all - a bag of your recycling recently made £104 as donations to ACWW, with a previous bag making £30. Thank you all so very much for your items to recycle, stamps, old mobile phones, broken jewellery, watches, and cameras. Stamps can be put in the post box at WI House and, if you have other items to donate, please contact me and I will see if we have a Trustee nearby willing to take them in on your behalf, while WI House is closed.
October 2020
On World Women's Day seven members of Wootton WI undertook a "socially distanced" Sponsored Walk in aid of ACWW (spot the second group in the background!). £140 was raised and Wootton WI has asked for the monies raised to go to Project 1044, Improved access to water in Vollapuram district in India.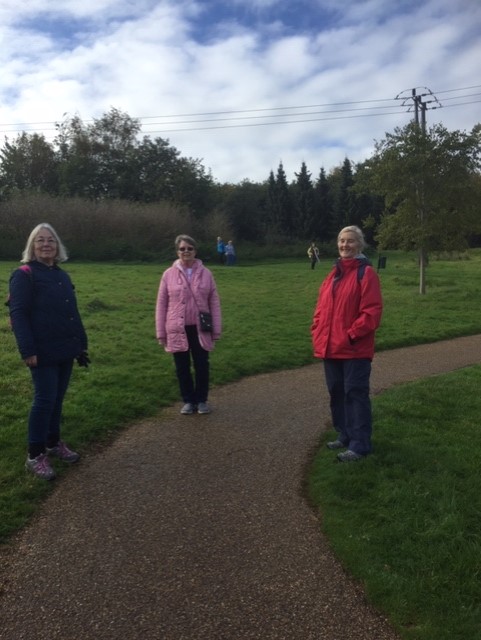 Hunsbury Hill WI also walked for ACWW, along with two dogs, and raised £100 in the process. Here is one of the groups of six.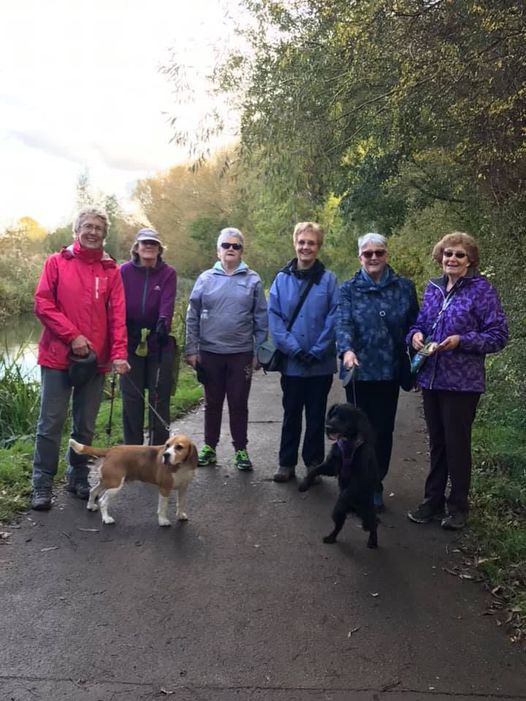 Five members of Irchester WI and two dogs walked for ACWW in Irchester Country Park. They collected £35 in donations and enjoyed a socially distanced coffee when they had finished.
July 2020 update from our ACWW Officer
My thanks and congratulations to WIs who have planned to celebrate Women Walk the World this year, in perhaps a different way, and thank you for your contributions to ACWW funds.
Our last bag of recycled goods, old and unwanted jewellery, watches, cameras, stamps, etc, has turned into a cheque for £63.40, so my thanks again for supporting this most worthwhile charity, where every penny will make a difference to women and children.
As with the WI, ACWW hears members resolutions and recommendations at the three yearly world conference. If any member has such a recommendation for the next conference,due to be held in Malaysia in May 2022, please let me know.
Thanks again, Jean.
Click here for a report of Northamptonshire's activities prepared for the Triennial Conference held in Coventry in August 2016.
Many WIs collect "coins for friendship" at their meetings. This money is sent to ACWW to help provide much needed finance for projects which help women in the developing world.

The Northamptonshire Federation also undertakes to raise funds for a particular ACWW project most years.
A new project was launched at our Annual Council Meeting at Spinney Theatre on 30 October 2012 when we pledged ro raise £2454 for rain water harvesting projects in Sri Lanka. This was achieved within the two year period.
The Federation and individual WIs also hold promotional events throughout the year.
Wootton WI
As well as collecting Pennies for Friendship at their monthly meetings, Wootton WI also holds two annual fund raising events, one in January for re-gifted Christmas presents and a sponsored walk. Photo shows some of the members in Harrold Country Park in May 2019.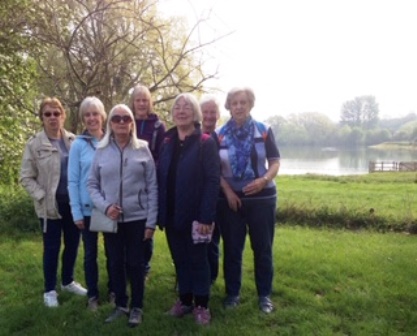 United Nations International Day for Rural Women
The Hall was full at Milton Malsor where we celebrated with a Cream Tea. Jackie Gregory spoke of her monitoring work of ACWW projects and of the Worldwide Triennial Conference to be held in August 2016 in Coventry; it has been 76 years since this Conference has been held in the UK. A chance for UK members to attend. A sackful of old and broken jewellery was collected to be recycled and foreign currency was collected. Also craft items for the "Shop" at the Conference. Jackie makes and sells jam to raise funds for ACWW.
WANTED - Items for "Country Store"
In August 2016 the UK is hosting the World Conference. WI members are invited to donate craft items for the "Country Store" Shop, as delegates may like browse and purchase a souvenier from the Conference. Items should reflect the UK and be travel friendly (no glass, food, wood, etc). Contact WI House for further details.
Meeting Sri Lankan cricket team
Northamptonshire Federation manned a stand at NCCC (Northamptonshire County Cricket Club) when the Sri Lankan cricket team played Northamptonshire. Cricketers inspected the stand which showed the rain water harvesting projects already up and running in Sri Lanka. We also handed out tickets to women spectators for free entry to any WI meeting in Northamptonshire. Photo shows Sri Lankan cricketers with NCFWI members behind our stand.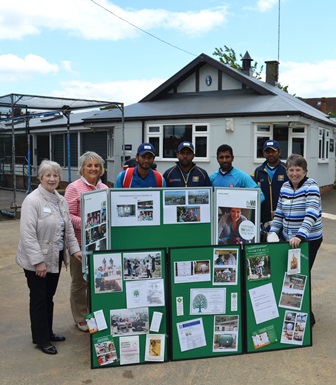 ACWW - Sri Lankan Colonial Tea Party - Tuesday 29 April 2014
ACWW Day 2014 was celebrated with Rochelle Mortimer of Mortimer Teas giving an illustrated talk, followed by sampling various teas. Rochelle explained the whole process of plucking tea leaves, rolling, drying and preparing of the tea. She also spoke of the history of tea making in Ceylon (now Sri Lanka). The Catering Committee excelled themselves by serving a delicious selection of finger sandwiches and individual dainty cakes. The afternoon ended with three donations to ACWW from Great Billing, Stowe IX Churches and Barton Seagrave WIs.
In 2012 an Afternoon Tea with Speaker, held at WI House, when Margaret MacKay, ACWW Projects Manager, explained to members how projects are chosen, how they are are monitored and answered questions.