Programme and Meetings
This page will be updated whenever there are new dates to be added.
You will need to contact us if you wish to join the meeting for a Zoom link - phone our President - see her details here.
February 11th 7pm on Zoom
Kate Mawer will talk to us about Climate Change. Kate is a Climate Change Ambassador for the County WI.
Review of the evening - 16 ladies attended the event, with a couple of husbands listening in out of interest. Kate introduced us to 'Cloudier', who modelled the famous scarf, knitted to show the average changes in temperatures over the last 100 years. It clearly showed that darker colours (warmer) were more prevalant in the later years. She had a Power Point presentation showing how WI members can get involved in activities when we are not restricted to Covid. Several people came forward with ideas at the end of the talk to help the environment.
February 25th 7pm on Zoom
Lucy Phelps will demonstrate how to make a Felt bookmark. You will need to have booked a place at least a week prior to the meeting so that Lucy can get a pack of materials to you.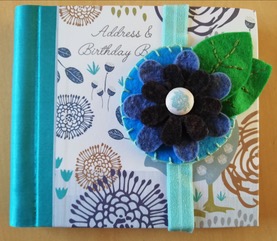 Review of the evening - Approximately 20 people took part in the craft event, enjoying a chat and instruction from Lucy. Some members invited along family and friends to swell the numbers and all enjoyed the experience.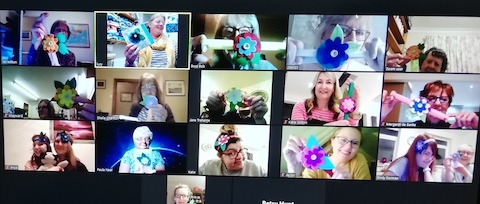 As you can see, some people thought their bookmarks were decorative enough to wear as headbands!
March 11th - Thursday 7pm on Zoom
Margaret de Banke, one of our members has kindly offered to talk to us about her career as an Analytical Hypnotherapist.
In her words......
I worked as an Analytical Hypnotherapist for many years before retiring 11 years ago. I was a member of National Register of Advanced Hypnotherapists (NRAH)
My talk will be in three parts.
First part: How the mind works. The difference between the conscious and the subconscious mind. Why and how problems and habits occur.
Second part: About hypnosis and hypnotherapy. What is hypnosis. What it feels like, how it's induced. Hypnotherapy how it works, the difference between counselling and hypnotherapy, what it can resolve and what you would gain and expect from the therapy.
A case study to demonstrate the process .
Third part: How to relax. What is happening to your mind and body when you are stressed. How to work to gain calm and relaxation.
Review of the evening - Over 20 members, friends. family and local WI members joined our evening talk given by Margaret. Her talk was fascinating and many people were very interested to follow up with books, recordings etc to help with anxious children/grandchildren, sleep patterns and general anxiety. She showed us an easy relaxation technique which we can all do.
March 30th - Tuesday 7pm on Zoom
Nicola Turner Inman will talk to us about the 'Patrons and Collectors with an Overview of the Royal Collection'.
Review of the evening - 22 plus members and friends from Quinton WI plus a few husbands - (keeping out of sight!) joined in the 'evening from Sandringham'. Nicola is the Assistant Curator of Decorative Arts dealing with 3D items of interest within the Royal Collection. Within the Collection are over 1 million works of Art collected over centuries since the reign of Charles 1 to the present day. They are categorised into Photos, Works of Art, Print Room, Pictures and Royal Library and collected in many different ways. They are spread around the royal palaces and museums and often lent out to exhibitions at home and abroad. Nicola has recently been involved in project managing an exhibition at Brighton Pavilion, around the George 4th period.
She spoke about a selection of items in great detail, obviously having a passion for her work. She said that many items are used regularly - sat on, eaten from, particularly at State banquets including the silver gilt Grand Service.
Queen Victoria was responsible for cataloguing, rehanging paintings etc and Queen Mary was the 'First Curator', making notes about many items of furniture, art works, which are still around and used today.
The Royal Collection manages itself and has no public funding. www.royalcollection.org.uk
Nicola studied Art History at St Andrews University followed by an internship with the Royal Collection. After a short time in selling works of art she returned to the Royal Collection, which is a job that she loves.
She regularly changes her mind about her favourite items but three stick in her mind - a red laquer dish, a mosaic Faberge egg and 2 Indian anklets from 1875.
April 15th - Thursday 7pm on Zoom
Ron Howell will talk to us about 'Finding Gold'.
Ron served in the Royal Navy on a salvage vessel as a diver. He has been instrumental in diving on and discovering historical and treasure wrecks around UK waters.
Review of the evening
Ron Howell was our guest speaker from South Devon and originally Woodburcote near Towcester. His subject was Finding Gold - in particular, The Salcombe Gold Wreck. He belongs to the South West Maritime Archeological Group which is a team of divers from Northampton and South Devon. There are thousands of shipwrecks around the south coast and Ron and his team have found several ships and discovered treasure.
In April 1995 his team had planned a dive but the weather was bad and they decided to go around the coast to dive in more sheltered waters. What a find! 500 coins were found on the first dive - a similar one was sold for £385,000 so the excitement was huge.
'Gold can turn friends into enemies' - Another team had found a haul of 80,000 silver coins near the Needles and within a year, all the divers had fallen out.
The team of the day decided not to tell anyone about the find until all the team had been told and a decision as to what to do had been made. Later, 280 more coins, gold ingots, nuggets and jewellery were also found at the site.
Trying to identify the wreck wasn't easy as a Merchant Seal found in the wreck couldn't be identified because all records of the ships of that era were destroyed in the Great Fire of London.
The MCA (Maritime and Coastguard Agency) had to be informed and a detailed site map was drawn up and measured. There was secret diving at the site for 2 years.
Eventually a meeting was held at the Limes hotel on Barrack Road to show their findings. The team made the most of the occasion and let the drama unfold, to the amazed eyes of the guests. Their faces were priceless.
November 1997 brought them 24 hours of fame when the British Museum announced the find at a press conference. Some of the coins are displayed in the Money Gallery, but very much undervalued. £100,000 given to the group but shared between 13 members, wasn't an awful lot. They met several celebrities, joining in a variety of TV programmes and visited Buckingham Palace 4 times, meeting the Duke of Edinburgh.
Several other items have been found nearby from a Bronze Age shipwreck - but, as Ron says, ......That's another story.
May 13th - Resolutions 7pm on Zoom
Linda Brett has been invited to lead us in the discussion on 'A call to increase awareness of the subtle signs of ovarian cancer'.
Information to read before the meeting can be found on MY WI https://mywi.thewi.org.uk or in WI Life. There are discussions, activities etc to take part in.
Following the Business of the evening, Margaret de Banke (see March 11th), will give us part two of her talk on Hypnotherapy. She will tell us about the Emotional Freedom Technique, mentioned briefly in her last talk.
June 10th - Thursday - 7pm on Zoom
Fun facts and stories from wigmaker and former Madame Tussauds employee Lucy. Known as Lucy Pink Hair.
Lucy Swales, Hair and Make Up Artist and Wigmaker spoke on the history of Madame Tussauds and how the figures are made, gleaned from her time working there.
An engaging speaker, Lucy recounted, how, a young French girl, called Marie's special talent as a wax sculptor, nurtured by a physician, skilled in the craft, led to her going as an art tutor to the French Court in Paris. This, in turn, meant that when the Revolution came she needed to escape and eventually settled in London. Having married, she was now Marie Tussaud and opened the original museum in 1835, leading to the world renowned waxworks, so familiar to all.
Lucy went on to explain, with excellent illustrations, the fascinating details of the long process of producing a wax work figure of the highest standard, interspersed with personal anecdotes of her time, working in the wig and make up department at 'Merlin Magic Making.'Various questions and discussion followed.
July 8th - Thursday - 7.30pm - Venue - Lower Road, Milton Malsor. (Zoom as a back up)
Mindfulness with Sarah Giordano. Come along and join in. Everyone welcome.
Review of the evening
On Thursday July 8th at 7.30pm, fortunately a calm, warm evening, fourteen members met in Sue Lowin's lovely garden in Lower Road. This provided the perfect setting to welcome fellow villager, Sarah Giordano, a psychologist and experienced mindfulness practitioner to talk to us. Sitting in a circle of chairs, (Sarah had placed a little bag of well being treats on each one), members listened, relaxed, engaged with their senses and enjoyed the calmness as Sarah shared her knowledge and techniques.
Thoughts and ideas were exchanged and Sarah was warmly thanked by Brenda for a really enjoyable and probably the most relaxing WI meeting ever.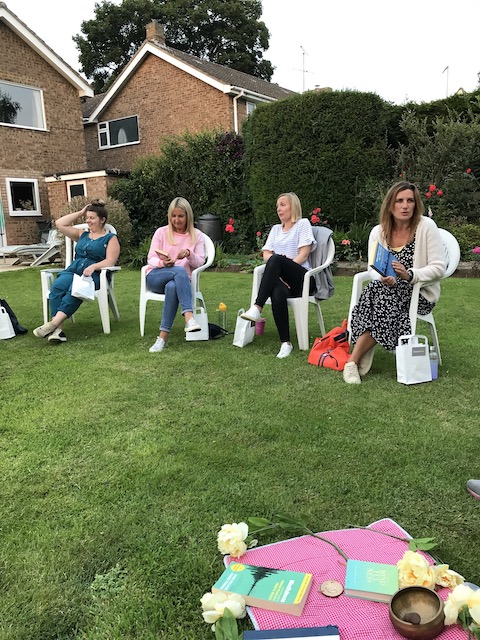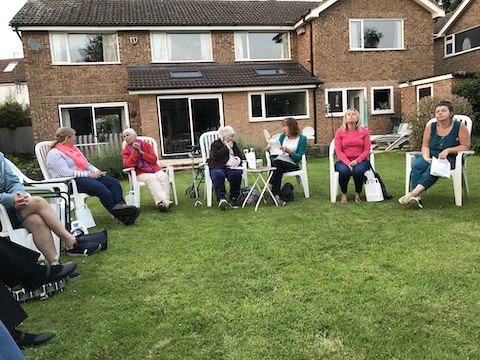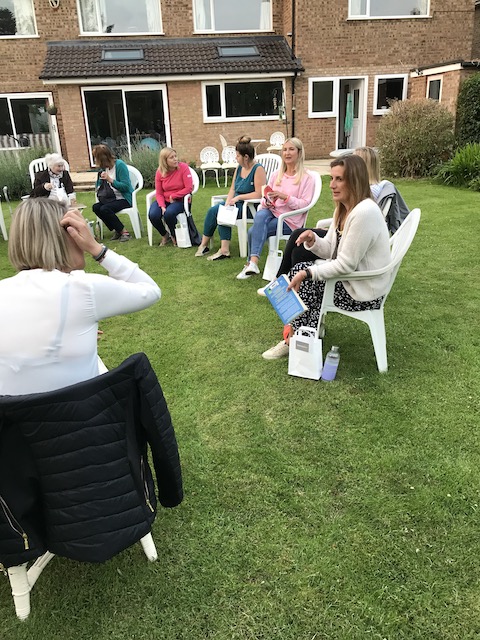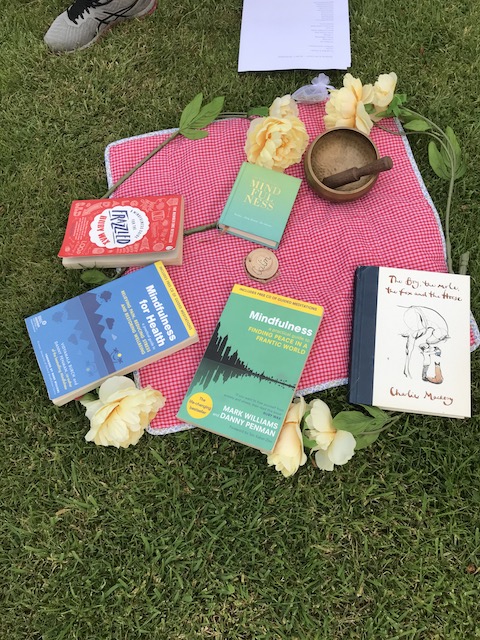 Brenda then covered a few WI items.
We hope to have, reasonably soon (weather permitting) another outdoor gathering (similar to the one on the Green a few weeks ago) on the grass at the top of Stockwell Way. You just need to bring chair/ rug and your own refreshments.
The plan to return to meeting in the Village Hall in September was generally approved and we will be mindful of the situation at the time, use common sense and make every effort to ventilate the hall. Good weather will hopefully enable the outside area to be used as well. We plan a simple creative activity for those who wish to take part, but members are welcome to watch and chat if they prefer.
In addition, there are plans afoot to have an evening in the garden of the Wooden Walls at Collingtree, particularly to attract new members from the village, where, for one reason or another, our numbers have fallen.
Brenda thanked Sue for her hospitality which had provided the perfect place for our meeting. She responded that it had been lovely to share it with others, especially after such a year, when we have valued our gardens so much more and feel so fortunate to have them.
August 18th - Wooden Walls of Old England, Collingtree
A meeting was arranged for interested ladies in Collingtree particularly, to meet members of Milton Malsor and Collingtre WI in the convivial surroundings of the Wooden Walls in Collingtree on Thursday evening. This was to tell them about the interesting evenings and activities we have on offer. 9 members of the Wi plus a visiting friend turned up and sadly were not visited by anyone else despite advertising the event amongst our own members, Collingtree and Milton Village Facebook pages. All was not lost and the ladies enjoyed a catch up and chat for a couple of hours.
September 9th - 7.30pm - Milton Village Hall
We are pleased to say our meetings will restart in the Village Hall from September - good news after such a long break.
On Thursday 9th September at 7.30pm David Brogden will be speaking to us and sharing his expertise on Silver. For a nominal fee he will also give a valuation on small items that members and visitors may wish to bring along. Proceeds will be donated to the Friends of Milton School.
Please bring your own refreshments, as the kitchen in the hall is not currently in use.
October 14th - 7.30pm - Milton Village Hall
On Thursday 14th October at 7.30pm our Annual Meeting will take place followed by a craft session and social time.
Visitors are most welcome - come along and see what WI has to offer.
Review of the evening
18 members joined together to make a successful Annual meeting. Brenda briskly went through the the monthly meeting agenda, followed by the Annual meeting, where our Treasurer stepped down from the committee. She was presented with a beautiful orchid and bag of double tulips, bearing her name.
The committee had provided a supper and drinks for all to enjoy whilst admiring craft items produced by Paula, Lucy, Katie and Jacqui. Archives were laid out for perusal as well as two lovely albums of silk postcards of the World War 1 era, collected by Olwen.
November 11th - 7.30pm - Milton Village Hall
Open Evening - £4 for visitors. Numbers limited so please inform a committee members if you wish to attend.
Steve Pateman of Kinky Boots fame.
'From a small factory in Earls Barton, in Northamptonshire, England to Broadway, New York, USA; this is a story that has inspired so many - the true story behind 'KINKY BOOTS'.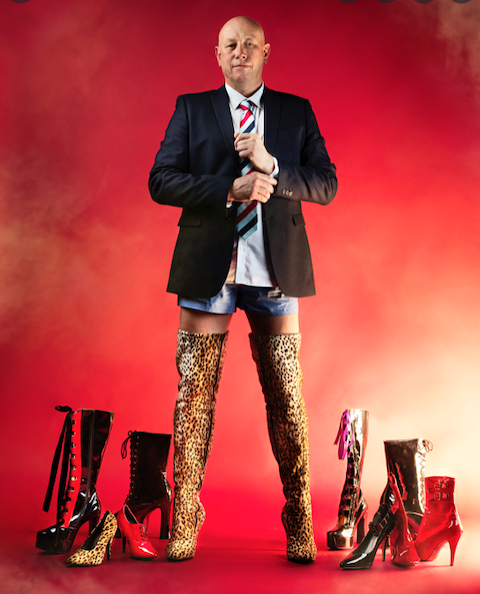 This is the story that inspired the Golden Globe award-winning movie and the multi-Tony Award winning Broadway musical, both based on the hugely successful BBC2 TV Documentary 'Trouble At The Top'.
Follow Steve's story as he enters a world he didn't know existed. Learning to walk in six-inch stiletto heels and shaving his legs are just two of the things Steve had to do to help save his business.
Laugh with him, or at him! Cringe or smile. Steve's journey has changed his outlook on life as it has also changed the lives of millions around the world.'
Review of the evening
Steve entered the hall wearing thigh high red patent leather boots to the delight of the assembled members.
His passion was infectious, his stories outrageous, his audience….. enthralled. He was the speaker who has spoken to us for the longest time, who engaged everyone and no-one looked bored. I looked around several times and everyone was glued to his every word, waiting for the next gem to drop from his lips. He illustrated his talk with photos from the factory, the BBC2 show - Trouble at the Top - , the Film and the Musical. I have heard his talk before and I still enjoyed every bit of this one. He told the story of when the show was at the Derngate and he asked if he could promote his book in the foyer - after all, he was 'Charlie Price'. No, was the emphatic answer so he promoted it in the road outside using the bar at the Premier Inn as his base. (Colin and I met him, wearing his thigh high red patent leather boots outside the theatre and had a lovely conversation, as did Kathryn). A truly remarkable man and a memorable talk.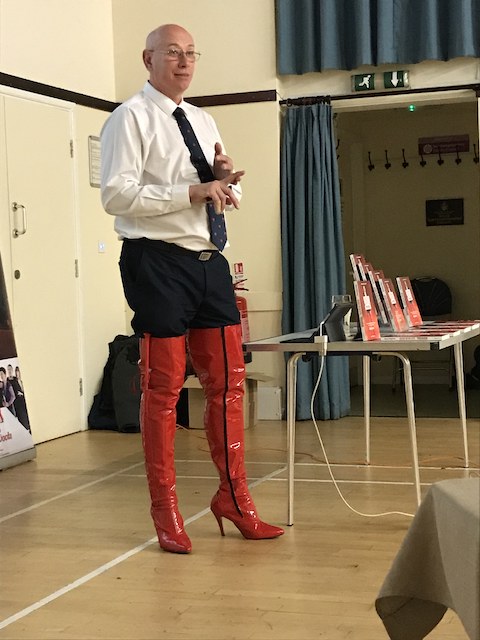 December 9th - 7.30pm - Milton Village Hall
Christmas Social Evening.
There will be Christmas crafts for you to try your hand at if you wish to, seasonal fare to tickle your taste buds and a drink to wish everyone a Merry Christmas and certainly a better one than last year, we hope.
Seasonal music will entertain you and get everyone in the Festive Spirit.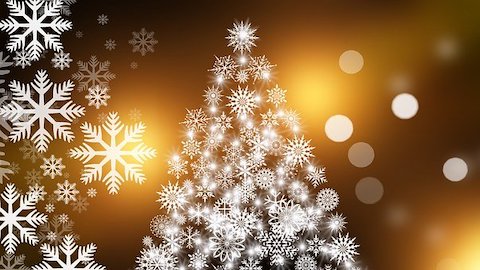 Other exciting talks to follow when details have been formalised.